I've been itching to decorate for Spring and although technically we have a few more weeks before Spring makes its debut, I don't care.  I'm doing some early Spring decorating and want to show you what I've done so far.  Not too much, just a little pre-Spring refresh.  A little goes a long way.
*this post includes affiliate links for your shopping convenience, you can read more about affiliate links by reading my Disclosure*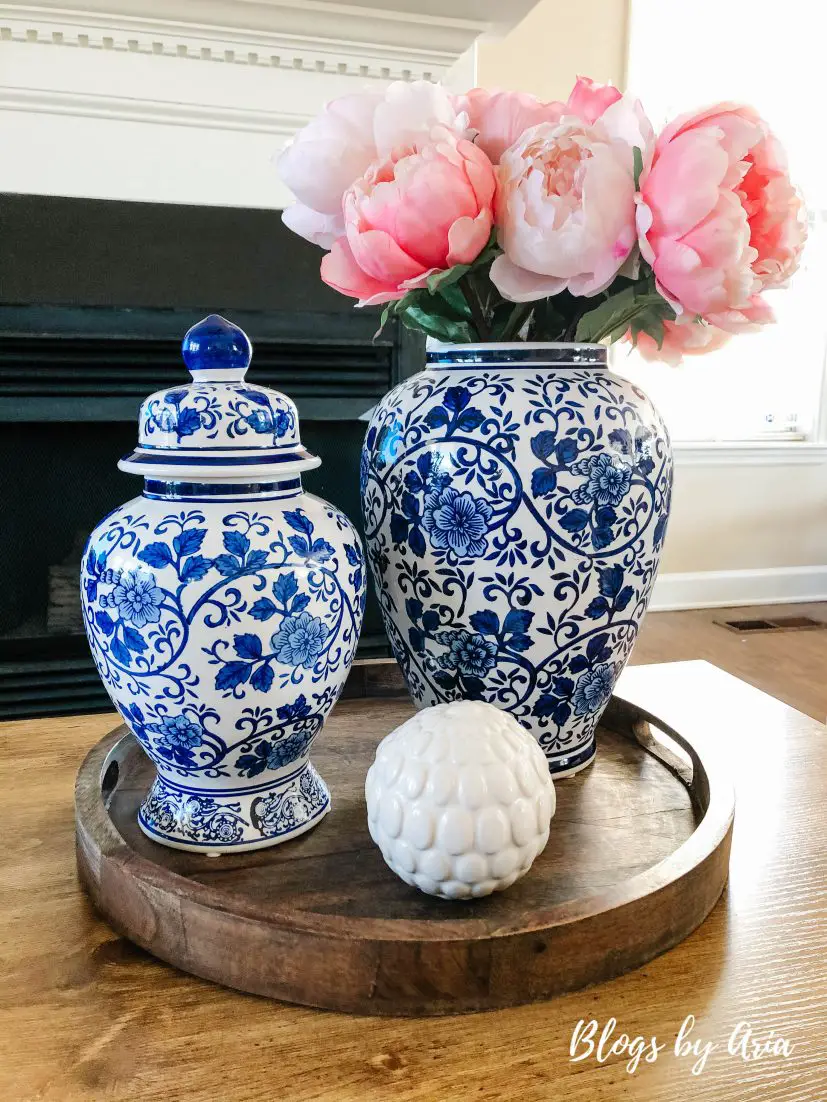 wooden tray (similar here) · ginger jar · larger ginger jar
I've known for awhile now that I wanted to get a few ginger jars to add my decor collection.  But most ginger jars are pretty expensive.  These classic blue and white ginger jars from Kirkland's are an affordable option and I got them on sale for 25% off.
For me, Spring means flowers especially with soft pinks.  I found a few stems of real touch peonies from Michael's.  They're stems are 50% off right now!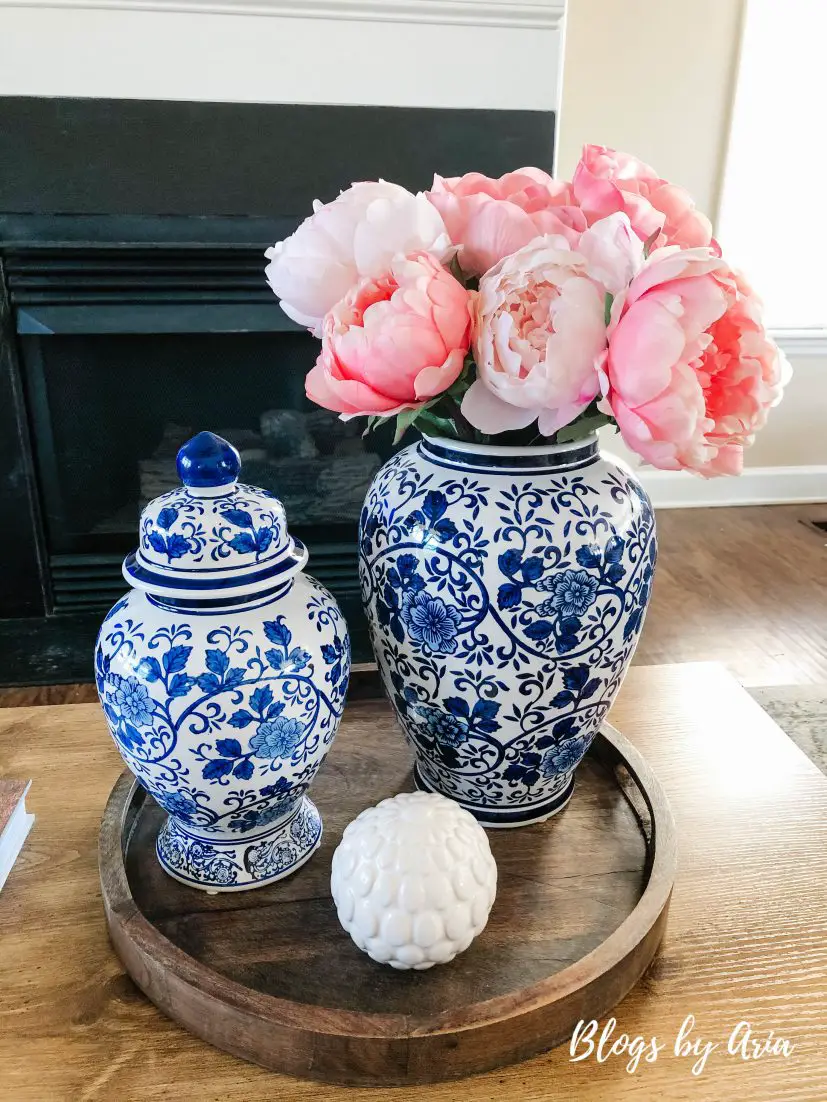 For awhile now I've been eyeing this wood tray.  It's from the Hobby Lobby Spring shop, but this one from Amazon is a similar option.  Last year I used my woven beaded tray, which I love but I wanted to have a different option.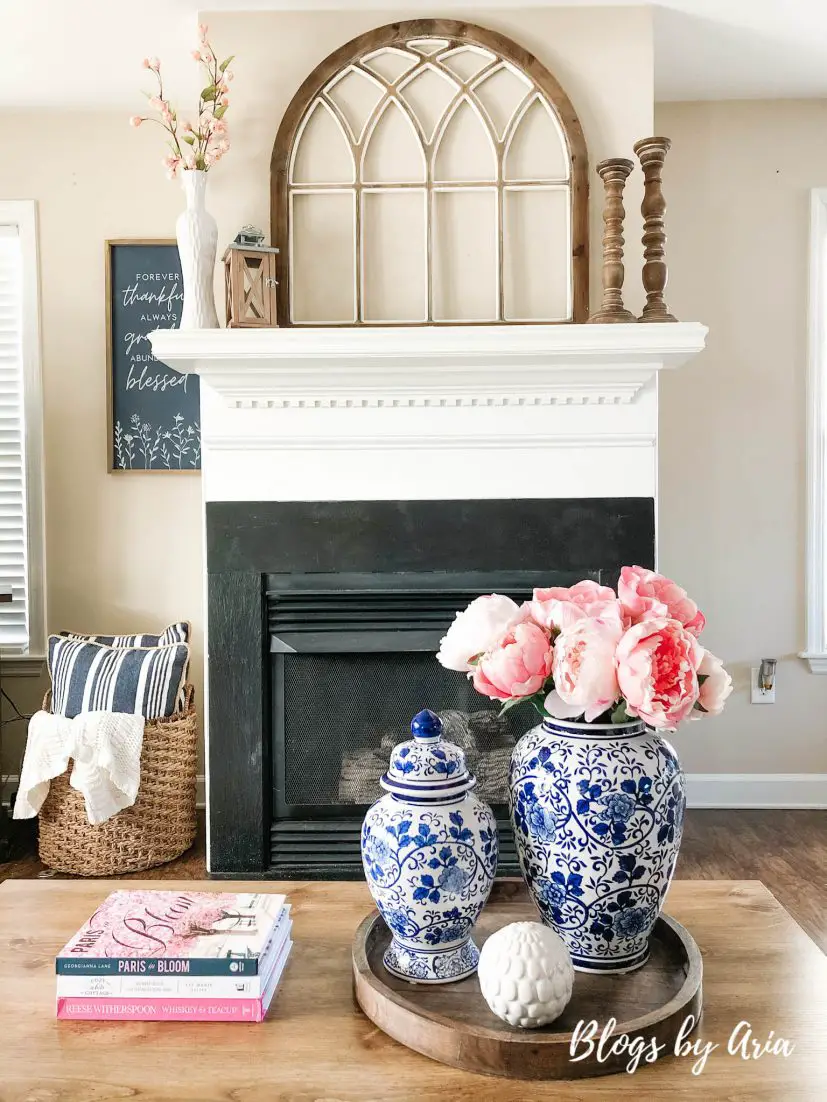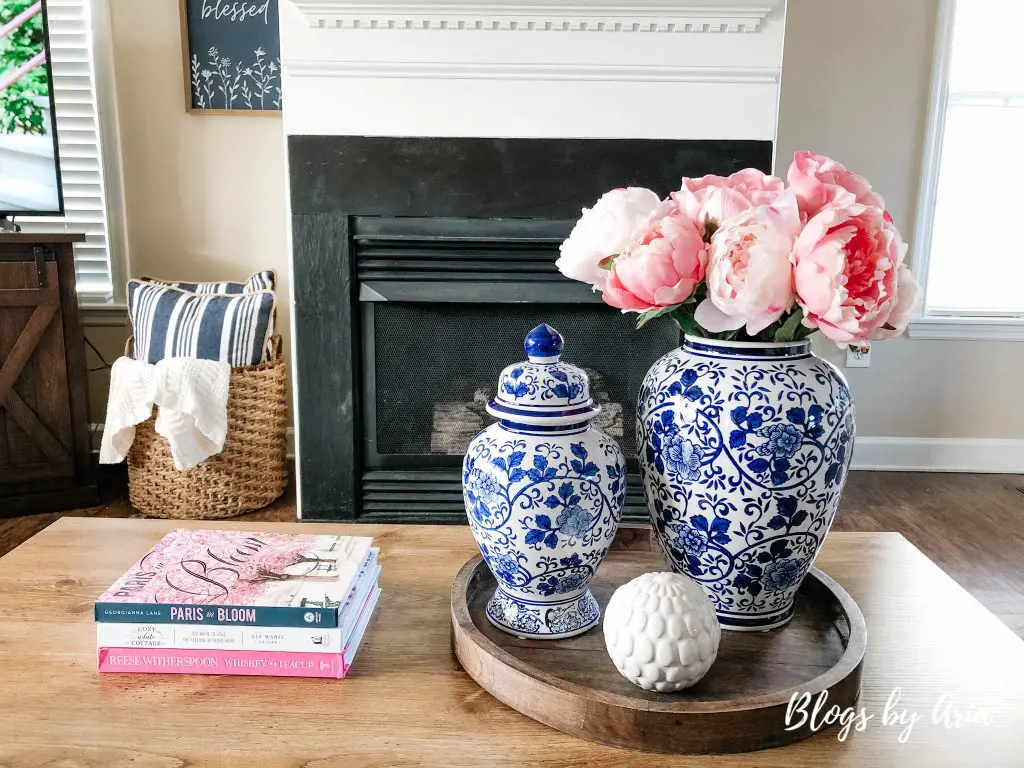 Paris in Bloom · Cozy White Cottage · Whiskey in a Teacup
Do I buy books just for decor?  Yes.  Which is why I don't feel the need to spend a lot on them.  I knew that I wanted to pull in more pink into my decorating for Spring.
Here's more coffee table books in my cart: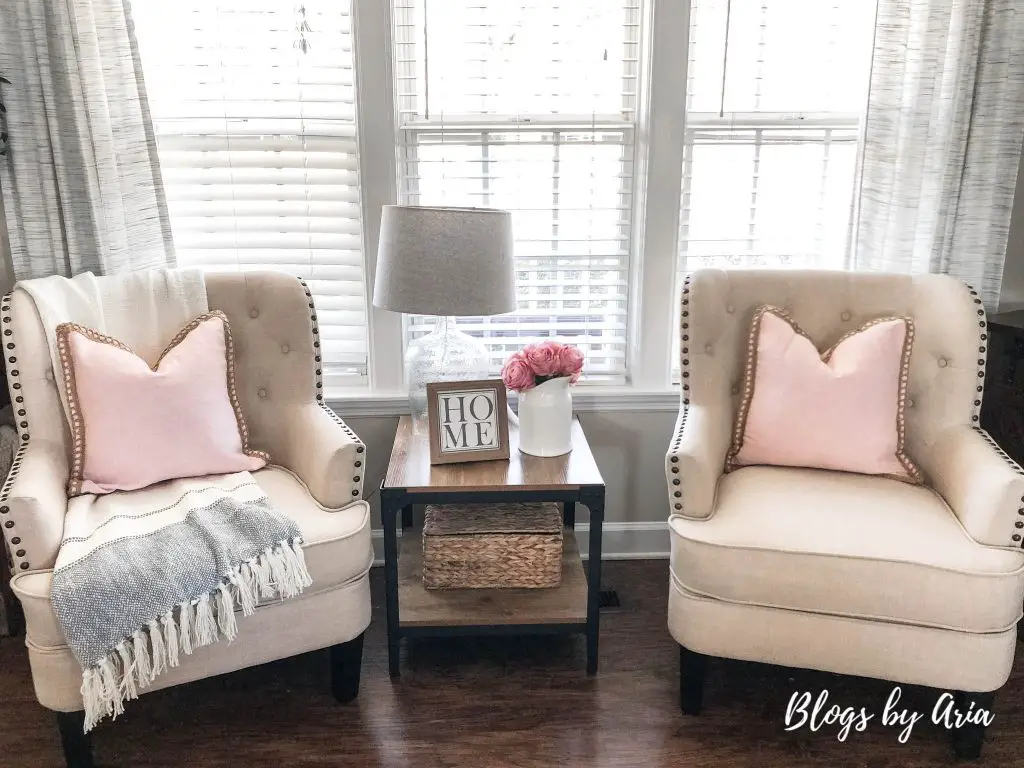 accent chair · throw blanket · pink pillows · side table · glass jug lamp
In case you're not following me on Instagram, I shared that I took those Kirkland's pillows back.  As much as I wanted them to work, they just were too dang big.  Instead I decided to bring in a pop of pink with these pillow covers I got from Amazon.  I love the coloring and the burlap stitching.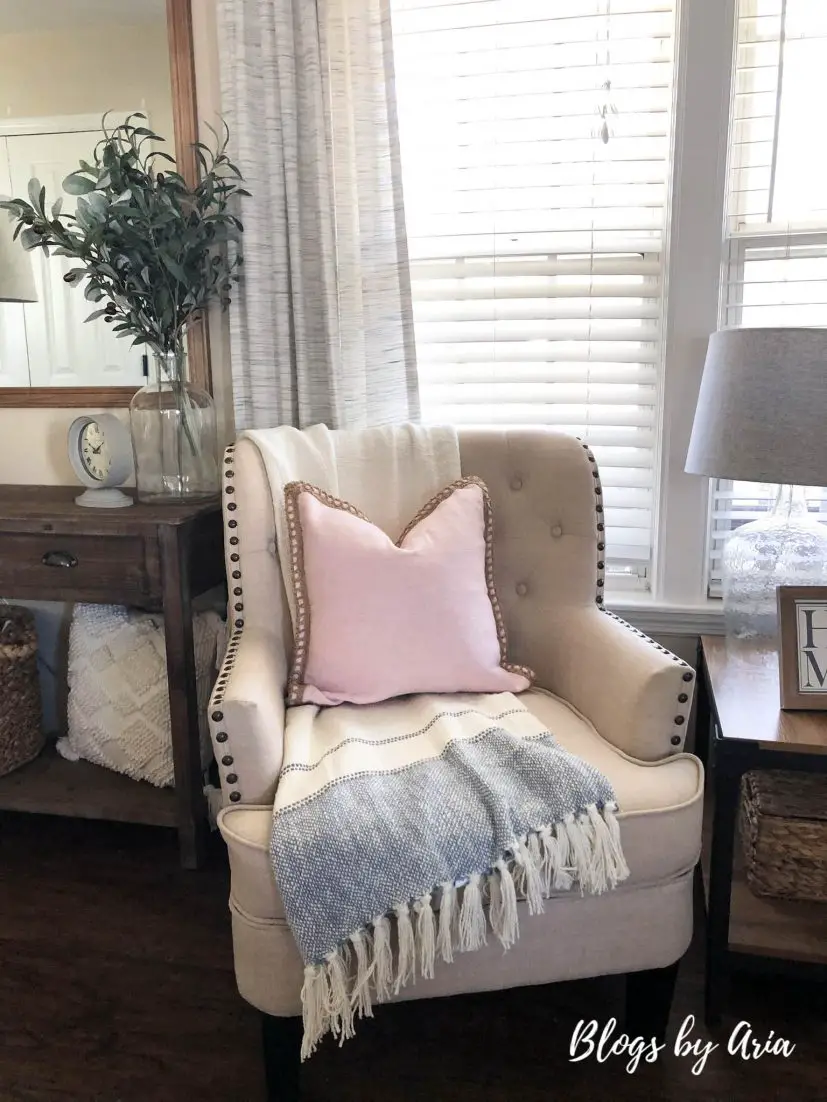 This throw blanket pairs nicely with the soft pink pillow.
One area that I was struggling to style was my sofa console table.  Literally it has been so bare since the holidays.  I just couldn't seem to get it to look how I wanted.
I didn't want the top of the table to be overly crowded or too busy.  So a plant, which you've seen before, I just popped it into a woven basket that I got from the Target dollar spot.  To even out the height, I used a lantern on the opposite side.  We don't really watch TV from the dining table, but I didn't want to obstruct the view.
What I really love is how I styled the bottom of my console table.  Starting with this basket, it was a Home Goods find.  If you know anything about Home Goods, is to buy it when you see it.  And I knew better, but I only bought the one basket when I should have purchased two.
Of course all of my subsequent trips to Home Goods have turned up empty and I was kicking myself!  Then I saw someone I follow on Instagram share a picture of her console table with a basket full of flowers.  Light bulb moment!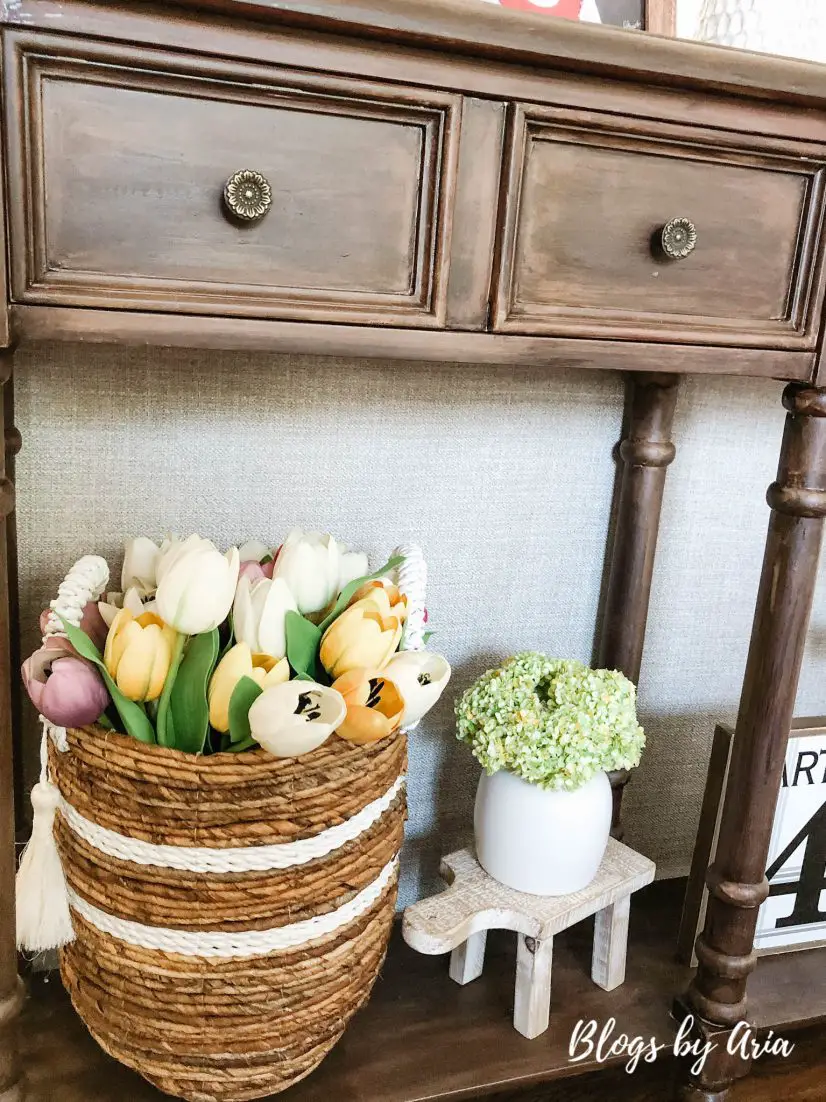 Last year I got so many bunches of tulips from Kirkland's (these Amazon tulips are a great dupe) and when I saw her post I knew the tulips would work perfectly in this basket!  Moving on from there I wanted to figure out how to style the rest of this space.
I used this wood pedestal (similar Amazon option) along with this yellow flower arrangement to create a little height.
On the right side I used this party of 4 sign I got from Hobby Lobby.  My ampersand sign also is from Hobby Lobby and then I just added some simple flowers to my white vase.  I love how it all turned out!
And this is what I see every day since I'm sitting at my dining table working from home.  So I'm not mad at the view 🙂
For now these small touches of Spring are enough to hold me over for a few weeks.  Can you believe it's almost March?  This month has been crazy long and fast at the same time.  I'm just ready for warmer temperatures to stick around!