I'll admit that this past week has been a pretty long and difficult week for me.  The week after moving and working overtime has really taken its toll on me.  Plus I've been feeling pretty crappy overall.  But after getting off from work on Friday evening, I got a burst of energy.  Decorating energy!  The very best kind of energy quite frankly.  Much of my house is still coming together, but I decorated my entryway table!  And I want to show you my entryway table decor.
If you're new around here, we moved into our new home almost two weeks ago.  Now we're getting settled in and trying to find a place for everything.
*this post includes affiliate links for your shopping convenience, you can read more about affiliate links by reading my Disclosure*
entryway table | lamp | vase
When it comes to entryway table decor I think less is more.  But that's relative.  My husband thinks this is too much decor but to be honest, he thinks almost everything I do is too much decor! Ha!
For me, it's about not overcrowding a space.  Depending on how you plan to use your entryway table determines whether you can add more or less decor.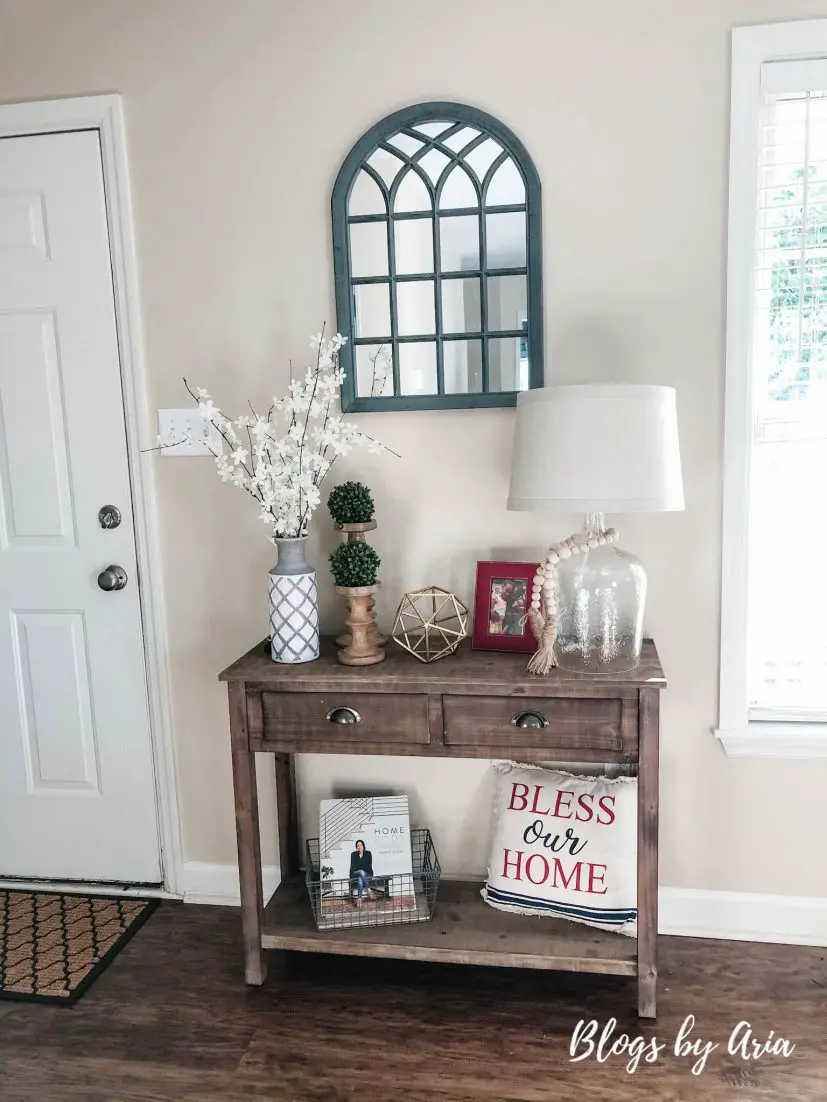 For now I think we can get away with this amount of decor on our entryway table because it's located at our front door.  Now that we have a garage, we rarely use the front door.  Whenever things get back to normal and the kids start going back to school, they'll use the front door.
And that's why I'm glad I got an entryway table with drawers.  For now we have the kids key chains and mail in the drawers.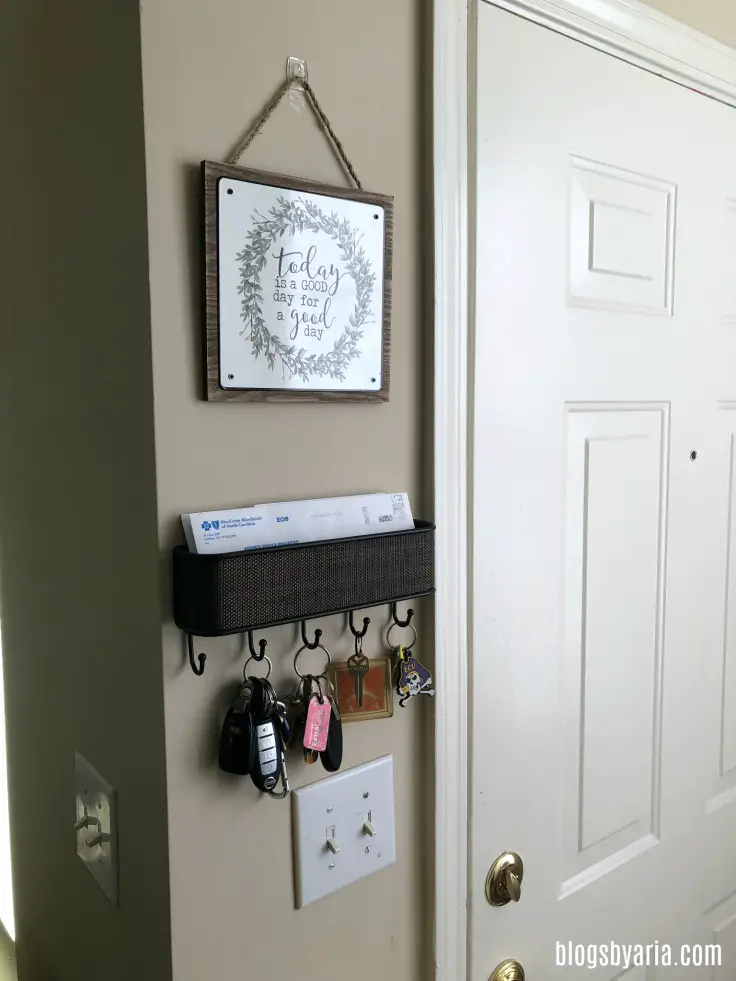 You may recall my mail organizer and key rack from our old house, I have no idea where to put that now!  So that's something I'm trying to figure out.
When decorating my entryway table I shopped my home for what I already had.  But I got this Bless Our Home pillow from Michael's.  It's part of the 4th of July seasonal decor lineup.  I think it will be fun to switch the pillow out each season.
I feel like I'm always on the hunt for the perfect basket.  The hunt can last for months especially with the supply chain as it is lately.  Until I find the perfect basket for this space, I used this wire basket that I usually have on my bookshelf.  I thought it would be nice for my Home Body book to be on display.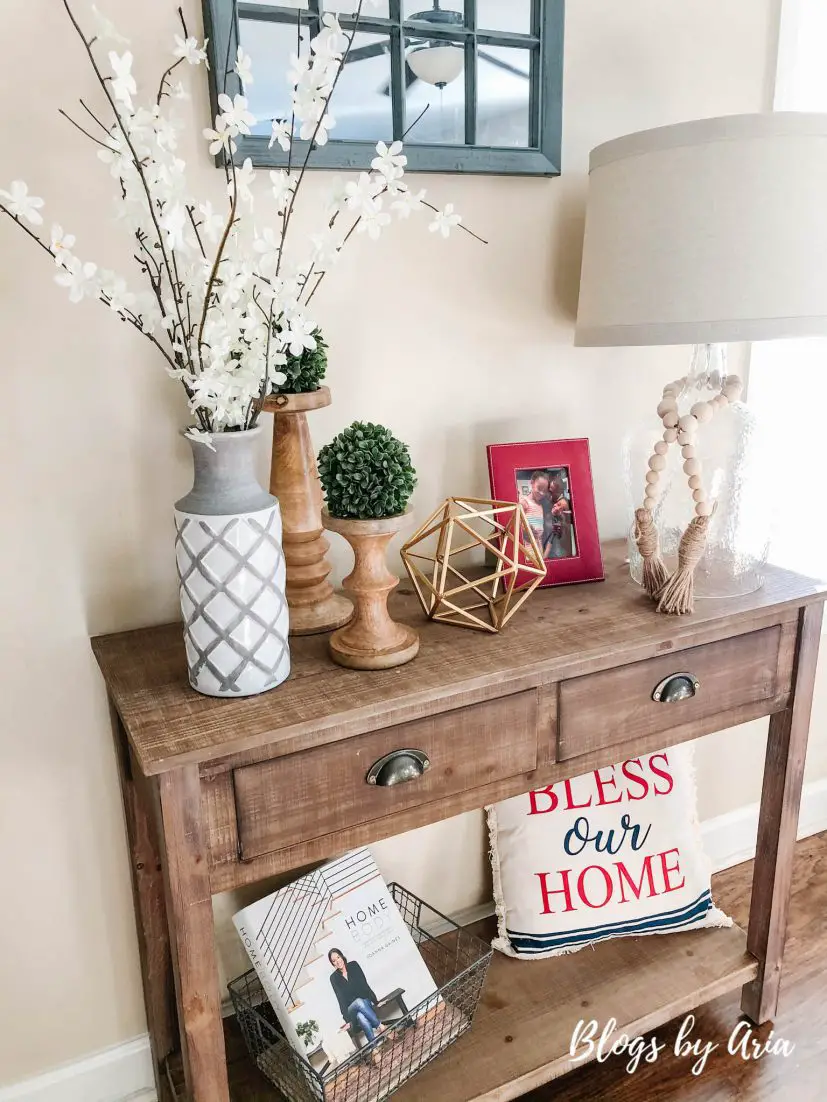 As much as I love my glass jug lamp, part of me would prefer a slimmer profile lamp.  In my mind I'd like to put a clear jug vase for these stems and get this Threshold Lamp instead.  We have the smaller version as our night stand lamps in our bedroom and love them.
I also have this Column Wood Lamp in mind.  But I'm in no rush.  For now I love how this all looks together.
Before we moved I scored these candle holders from Kohl's.  They're from the Scott Brother's line and were on clearance.  I grabbed several of them because they were $7 for the small ones and $9 for the large ones.  To put it in perspective the large size was originally $44!
I've wanted to find the perfect candle holders for so long but so many of them are way too distressed or way too expensive.  So I'm really happy to have found them.  I topped them with these greenery balls I also got from Kohl's awhile back.
I added wooden beads to the lamp to add a bit of farmhouse flourish.  The red frame is an oldie but goody from Pier 1.  I'm so sad they're closing.  But I thought it would tie in with the red from the pillow.
And the gold geometric table decor is from Hobby Lobby.  I linked a similar version from Amazon below.
The mirror was a fun find from TJ Maxx maybe a year ago and it was pretty cheap.  Therefore it's pretty flimsy.  One day I'll upgrade it to a larger, more sturdy option, but for now it will do.
Fun fact about this house…anything I've put up on the walls with Command strips…has fallen.  The walls are not a fan of the Command strips.  So I've had to use picture hangers.  That's actually made it harder for me to decorate because I don't want to add holes for no reason.
I'm hoping that now that I've tackled the entryway table I can move on and get some other spaces completed.  I'm decorating and organizing and clearing out boxes.  And wishing it was all already done!
ENTRYWAY TABLE SOURCES