I'm so excited to share how I updated our entryway decor!  Once I had the space bare for a couple of days I knew that I didn't want to just throw up what we used to have.  After moving a few things around and adding a couple new pieces, my entryway is now updated and refreshed!  If you have a small or non-existent entryway this is a simple way to decorate your entryway.
*this post includes affiliate links for your shopping convenience, you can read more about affiliate links by reading my Disclosure*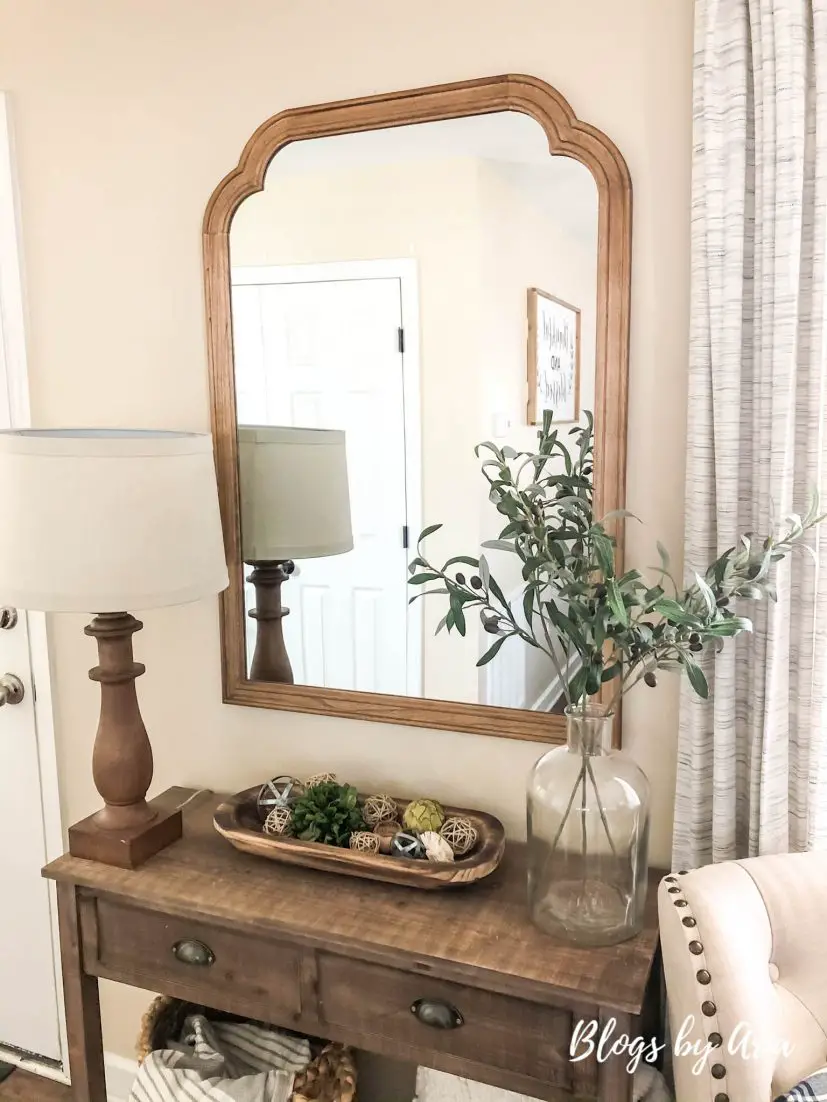 The biggest update in my small entryway is my new mirror from Target.  I've eyed this mirror for several months now.  I love the lines and curves plus the tone of the wood.  What I didn't like so much was the price.
Luckily from time to time I get good offers in the Target Cartwheel app.  I was able to use a 15% off coupon.  Plus because I shopped so much with Target over the holidays I had earned $10 in rewards that I applied to the mirror purchase too.
Basically I got this French farmhouse style mirror for a steal!  And I'm so very grateful I did because for us to have such a small entryway it really makes the space feel larger.  Also since the mirror is the focal point of the entryway, the rest of the decorating can be kept minimal.  When have I ever said that? 🙂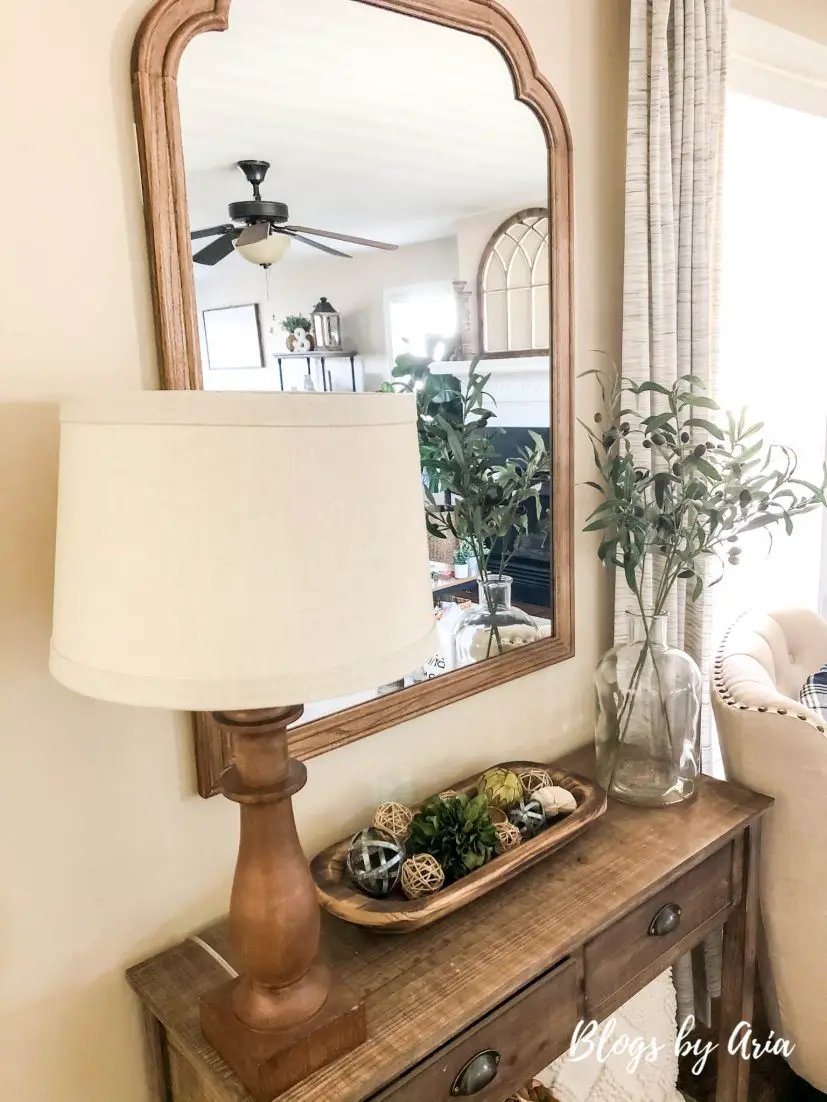 At first I thought about leaning the mirror but it really needed to be higher.  The mirror weighs about 12 pounds so I used several Command strips to overcompensate and ensure it stays up.
I love how much this mirror lightens and brightens up the room and how much height it adds.  The previous mirror that I had was just way too small.  Plus it was annoying to clean with all the panes.
Moving on from the mirror, I added back my wooden base lamp to the left on my entryway table.  I also moved my dough bowl in the middle and filled it with my neutral vase filler.  Soon I'll replace it with Valentine's filler.
To the right I filled my glass vase with a few olive leaf stems I recently picked up at Hobby Lobby.  I really like the look of the olive stems they're perfect for everyday decorating.  When I went to the store it took me awhile to find them and when I did there were only three stems left.  Thankfully that worked out fine!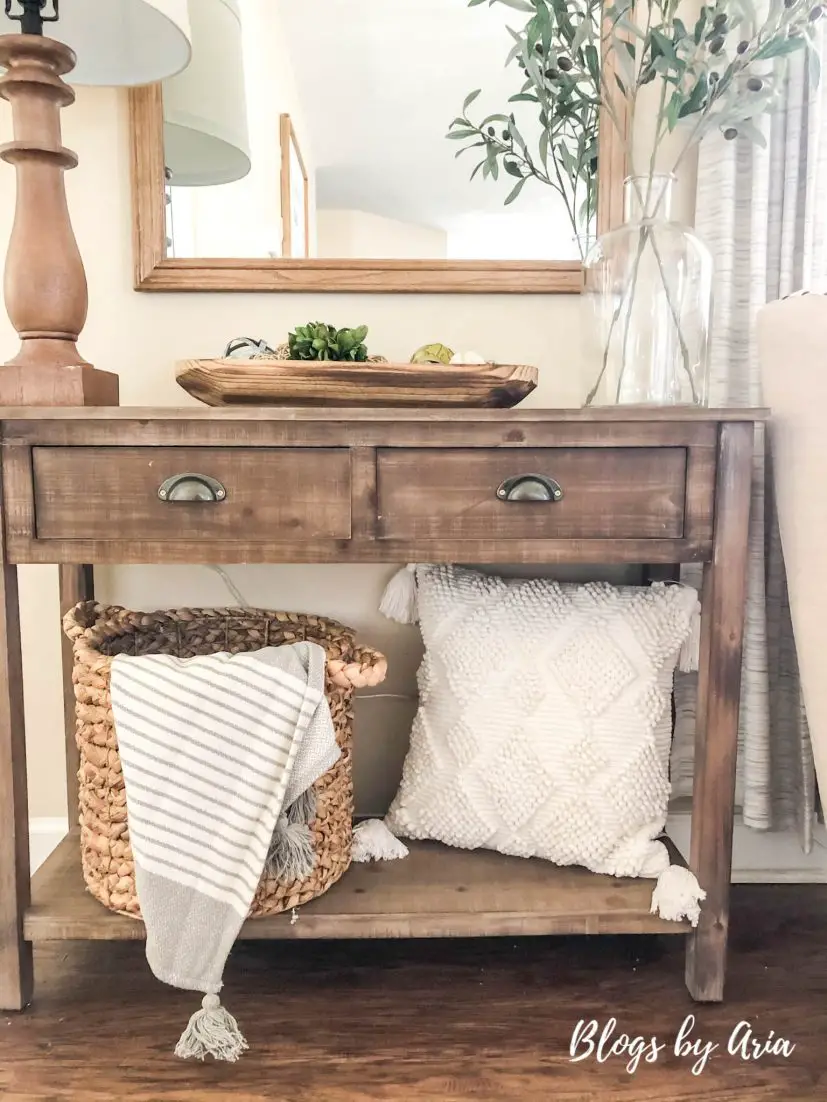 On the bottom of my entryway table I have my trusty woven basket with a simple blanket hanging out of it.  As usual I struggle with what else to put on the bottom shelf.  After seeing this pretty woven pillow at Hobby Lobby, I decided to give it a try.  The pillow is 18X18 and is nice and sturdy.  I'm almost tempted to get a couple more for the couch.  If a lumbar pillow is more your style they have that option too.
If you need more storage in your entryway, I would suggest another basket.  Baskets are perfect for storing everyday essentials.  You can still pop a throw over it and voila!  It's decor!
I like that this entryway is cozy and can work for winter and year-round.  Perfect everyday neutral decor.  That will last a few minutes before I add in a sprinkle of Valentine's decor throughout my home.
Ever since I got this mirror I have loved having it in this space.  It just makes the room.  I don't know another way to explain it.  It's the perfect piece that pulls the entryway together.
Now that the entryway decor has been updated and refreshed I am working on the living room and dining room.  Which I'm hoping I can get those spaces done rather quickly.  But I'm also working on the bonus room.  Either way, something's gonna get done and when it does I'll share it with you here!
I wanted to make this post short and sweet to share how I updated our entryway decor.  Let me know what you think of this simple entryway makeover.  Until next time friend ♥
SHOP POST SOURCES