I was inspired by my friend in my head Erin's recent blog post, over on The Sunny Side Up Blog, where she shared her family's Halloween/Fall book collection.  I commented that I had just received a coupon from Barnes & Noble in my email and had intended to go this weekend and pick up a couple of Halloween children's books to start my own tradition.  I picked up a few books alright…
*this post may include affiliate links, you can read more about that by reading my Disclosure post*
My focus was to get a couple of books to read with my son.  He's in kindergarten and we really need to read more with him.  So first I saw this I can Read TMNT book.  I knew he would love this because they are his favorite and because it's a beginning to read book and will have many of the sight words he has to learn at this stage.
I intended to look more for myself, but due to the timing of this trip, it 
wasn't
 happening.  We stayed in the Children's Section for most of the time.  I found tons of great Christmas ideas for the kids in both books and crafty items.  While Brianna was looking at books she wanted and Jordan was playing with the train set with another child, I was trying not to buy every book in sight!  I found all of the books I had as a child and I knew that I had to get our collection started with these.  Sure, we have books already, but not the classics.  Many of our books we have 
we've
 obtained via the Scholastic book fair that comes to the school.  Well if you're familiar with them, then you know these are paperback books and not very sturdy.  I wanted some real good quality books that I will ensure stay that way.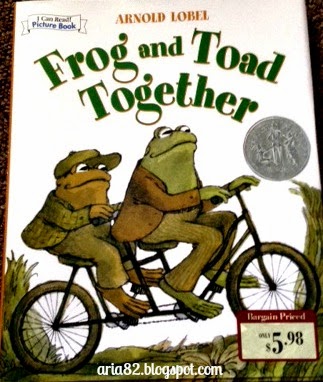 I loved Frog and Toad books as a child.  I decided to pick this particular one up, Frog and Toad Together, because I specifically had this one myself.  It was a favorite of mine for sure.  Ironically enough, I detest frogs with a severe passion, yet love these books.  Go figure.
Danny and the Dinosaur
was also a favorite of mine.  They 
didn't
 have that book by itself, but for very little, I got this 3-in-1 book, Adventures of Danny and the Dinosaur.  It includes three titles: 
Danny and the Dinosaur

Happy Birthday, Danny and the Dinosaur

Danny and the Dinosaur Go to Camp
I know my buddy boy will enjoy these stories. 
J
As I strolled by the children's Halloween books, I saw the display with
Where the Wild Things Are
, and it said that the book, regularly priced at $18.99 was $8.99 with purchase of any other children's book.  Well, it's a classic that I too had as a child, and I 
couldn't
 pass it up.  As an added bonus, the cashier took the coupon off of this book because it was the most expensive.  I always appreciate that.
Lastly, I saw this sweet book called
That's When I'm Happy
.  I thumbed through it and thought it was just too precious of a story not to get.  So I got it and said it's definitely time to go.  I 
wasn't
 trying to spend a lot of money on books.  I saw quite a few that I added to my wish list for the kids.  As I was checking out, as usual I was asked if I wanted to join the B&N Membership.  It's something 
I've
 always intended to do and just haven't.  I decided why not go ahead and do it?  Plus, what they never mentioned before, (perhaps because I am usually sans kids when I go) was that there was a kids program that gives rewards points for each children's book that I buy.  Since I want my buddy boy to read more, and Brianna is already an avid reader, that's definitely a reason to take the plunge.  Then when he said I would get coupons in the mail soon for signing up, it was a done deal! Lol
The next time I go, I will go without the kiddos.  And I'll buy a book for myself.  I really want to get a new Bible, either the NLT or the Message, eventually I want to have both.  I also want to get some books for personal growth and to freshen up my knowledge in some areas.  I still want the books I talked about in my Lit Chick post too.  All in due time.