Merry Christmas Eve!  Just in the nick of time I'm sharing the last of my holiday decor this year.  I'm sharing my Christmas kitchen decor and more!
*this post includes affiliate links for your shopping convenience, you can read more about affiliate links by reading my Disclosure*
CHRISTMAS KITCHEN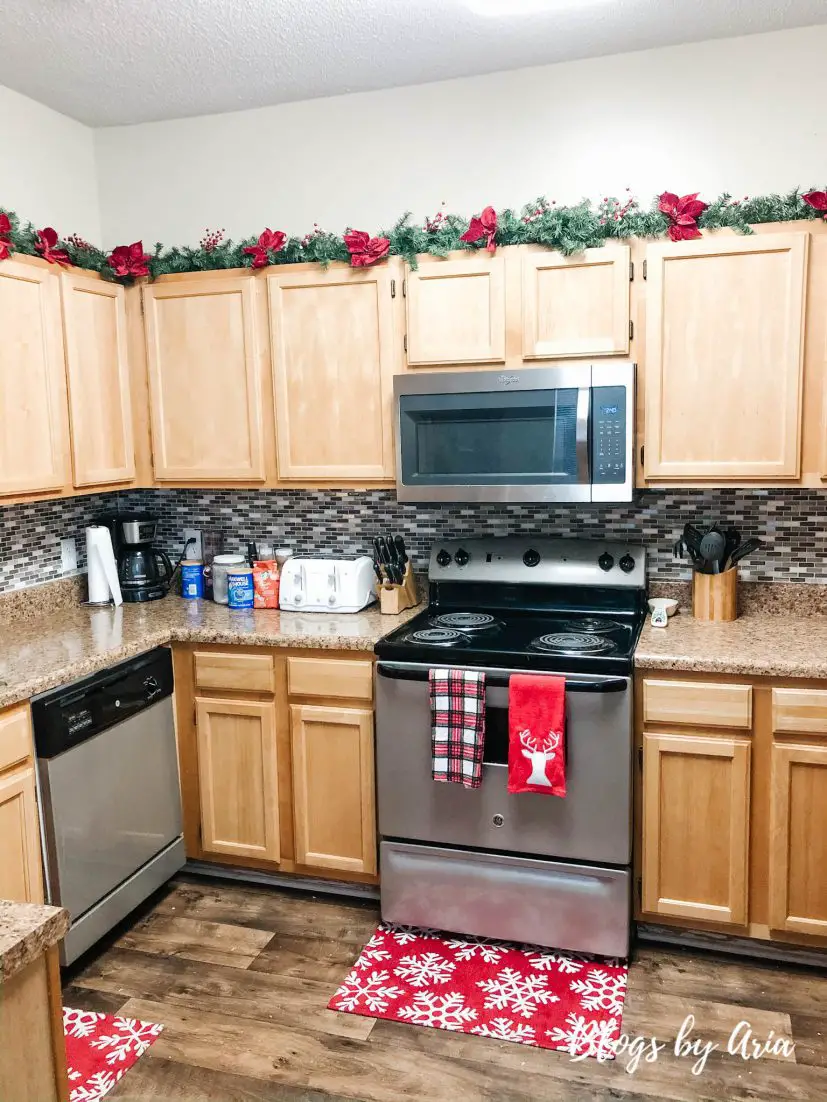 The biggest change this year in our kitchen holiday decor from last year is the garland over the cabinets!  They add such a festive touch don't you think?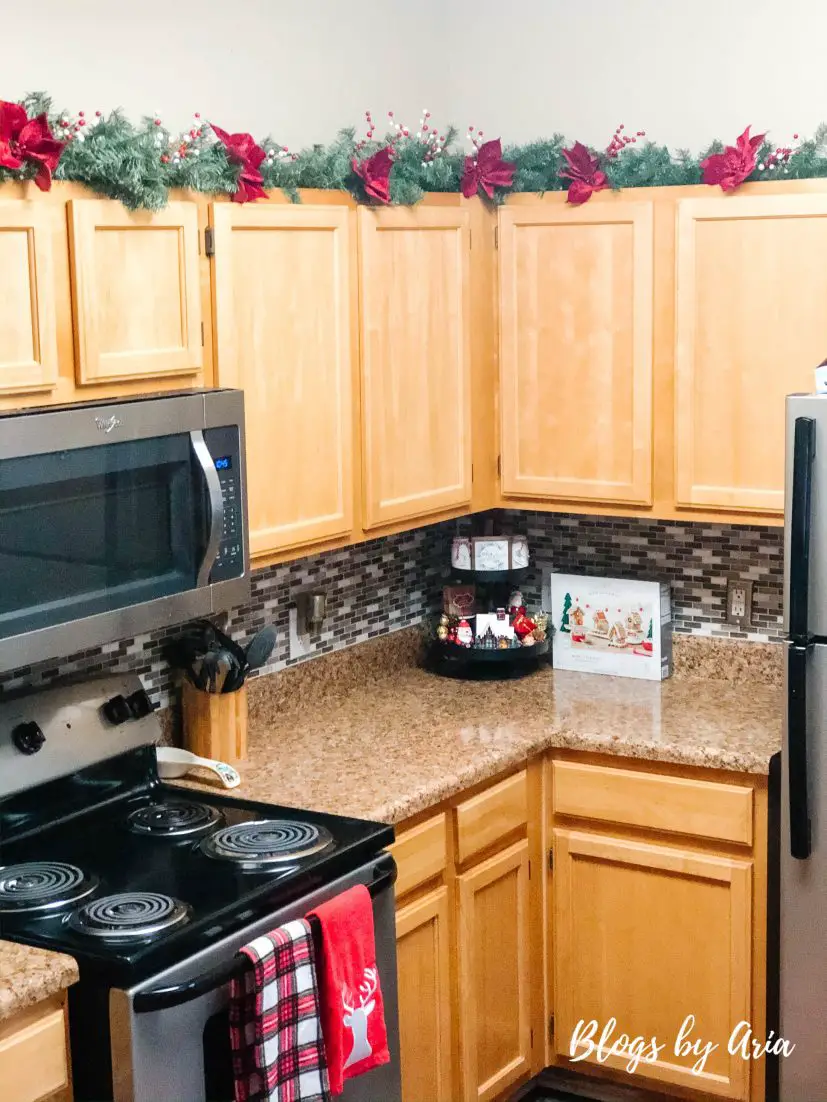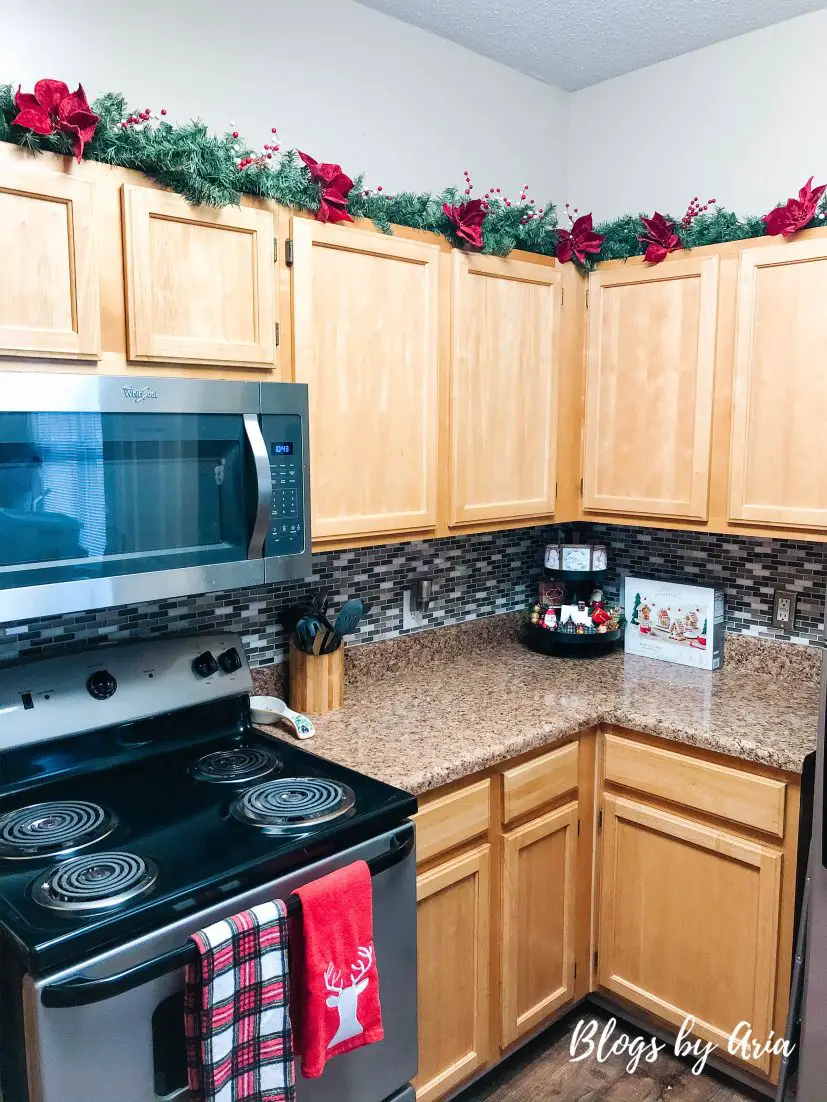 Simply adding a few strands of garland that I got from Walmart and some poinsettia picks from Hobby Lobby made it all come together.  I also used the berry picks that I used on my holiday garland last year.
Since this is standard garland, I also added a few strands of battery operated lights that I have set on a timer.
The only downside to using garland for our Christmas kitchen, is that I am always finding little pieces of garland on the counters or the floor.  But that's okay because it's only for a short time.
In the corner you can see my Christmas tiered tray and this will be our first year making gingerbread houses.  I found a mini village gingerbread house kit at Target and thought it would be nice for each of us to make our own.  Fingers crossed that everyone is feeling well enough to do it today (on Christmas Eve) since a few of us have been under the weather the past few days.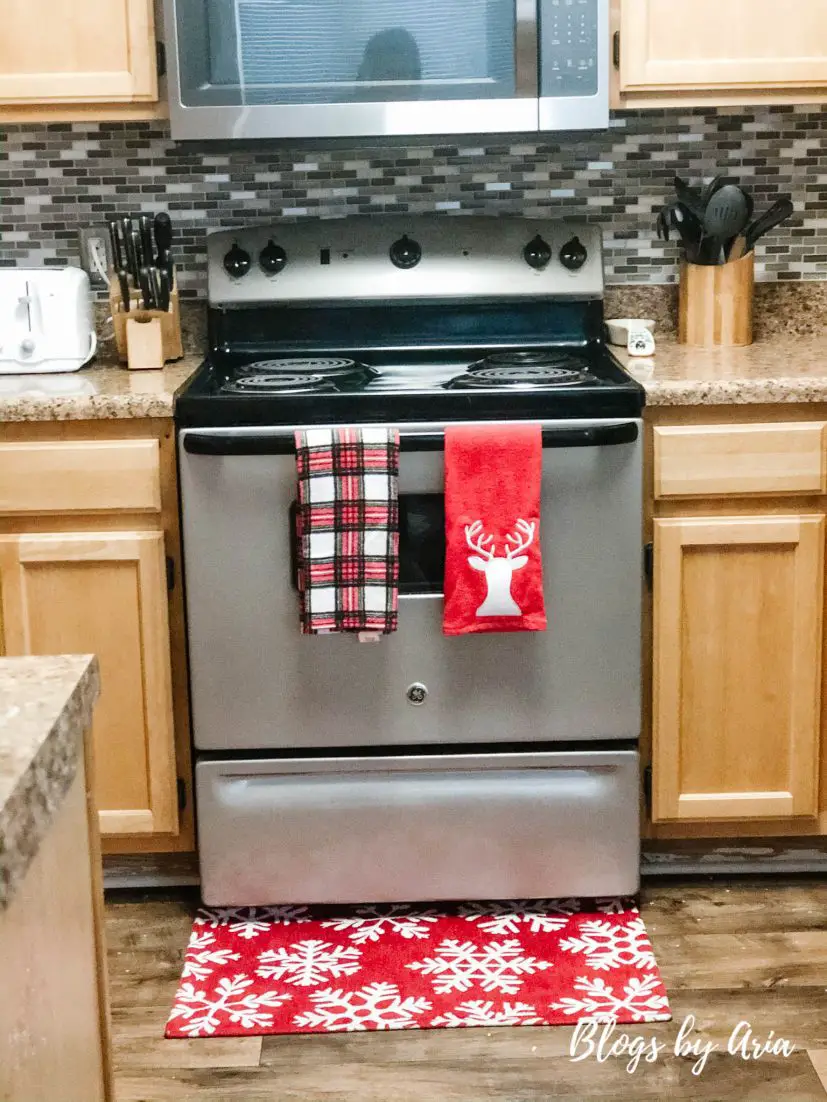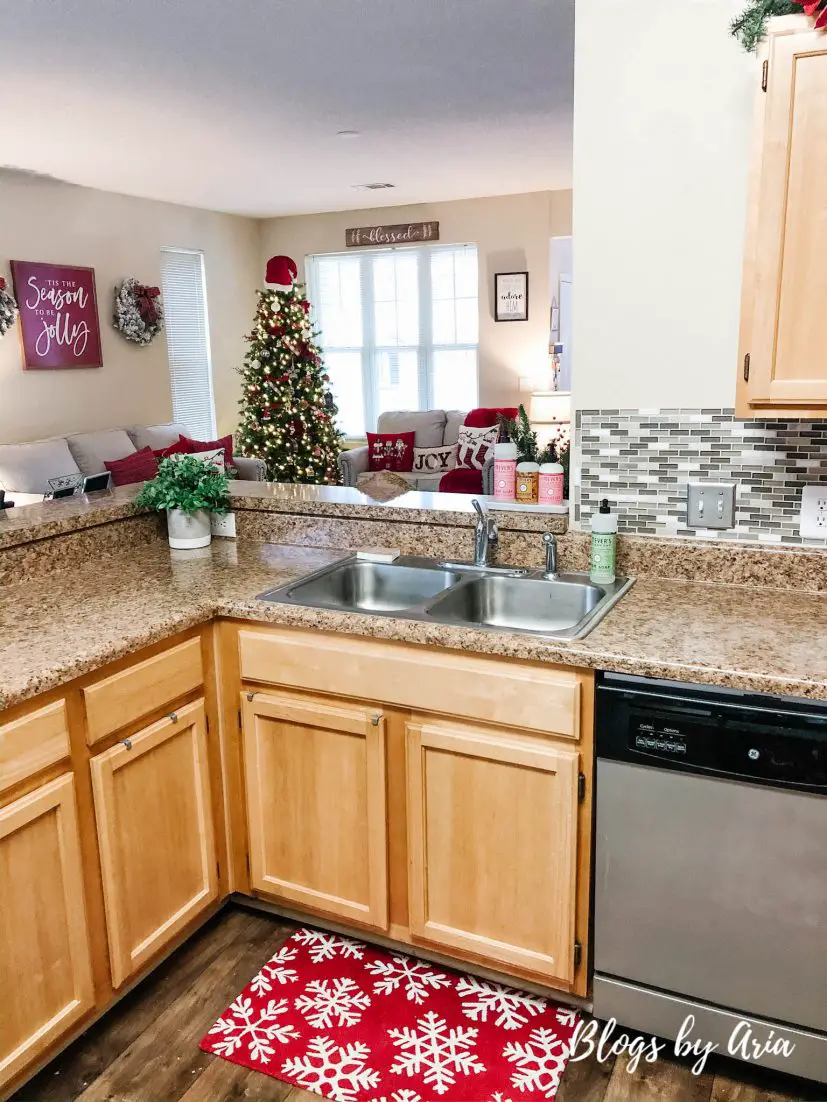 Also new Christmas kitchen decorations are these simple mats that I got from Big Lots.  They're not comfortable at all, but they're cute.  The holiday dish towels I got last year from JcPenney.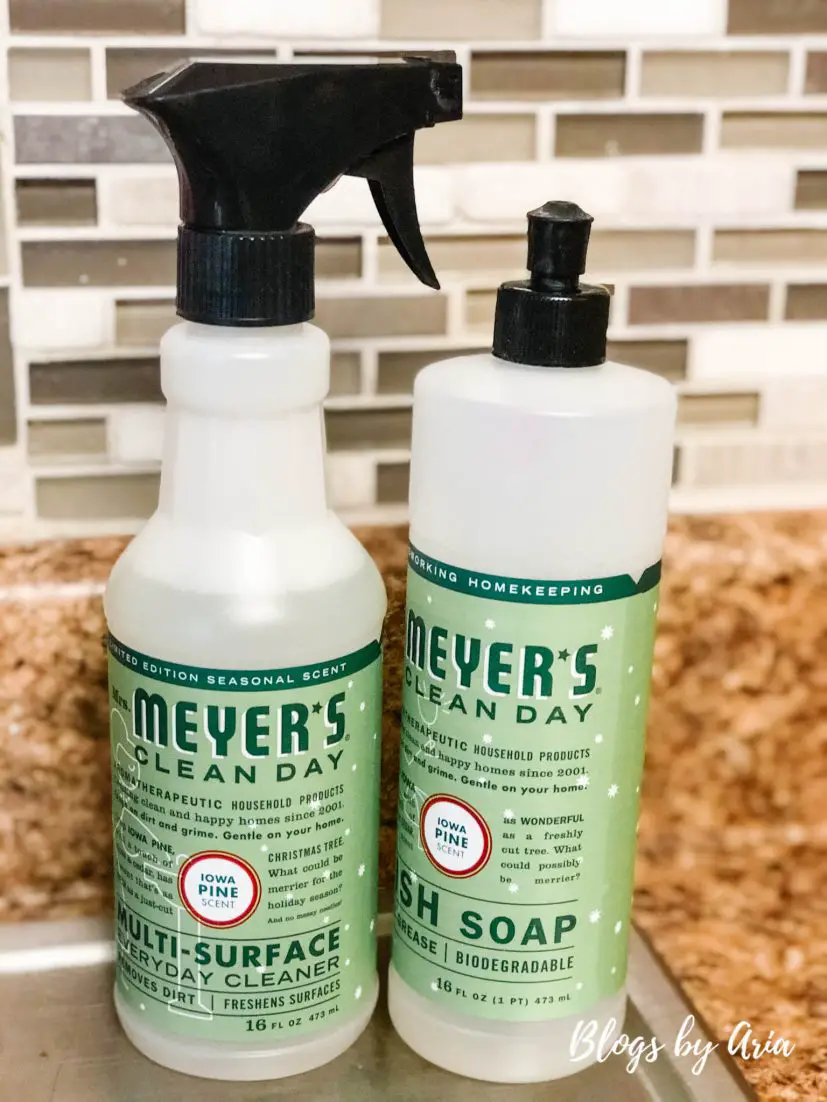 I decided to give a couple of the holiday scented Mrs. Meyer's products a try.  I like the Iowa pine scented dish soap and everyday cleaner.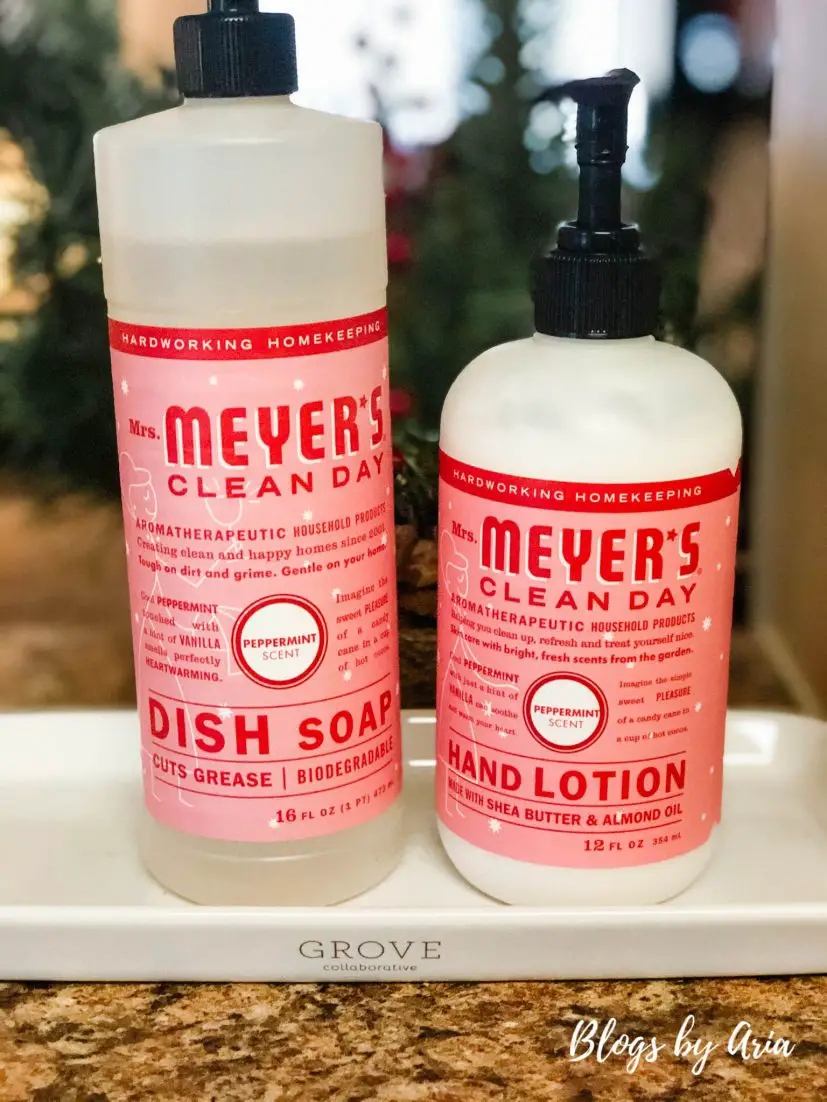 My favorite is the peppermint scent!  I have the dish soap, the hand lotion and the everyday cleaner (it's upstairs).  I thought I purchased the hand soap too but I think I forgot to hit add to cart.  I certainly won't be able to use up any of these this year so I'll be happy to pull them out again next year.
Believe it or not, but as much as I hate washing dishes, having really fun scented dish soap that still cuts through grease makes me want to actually wash the dishes.  Who knew?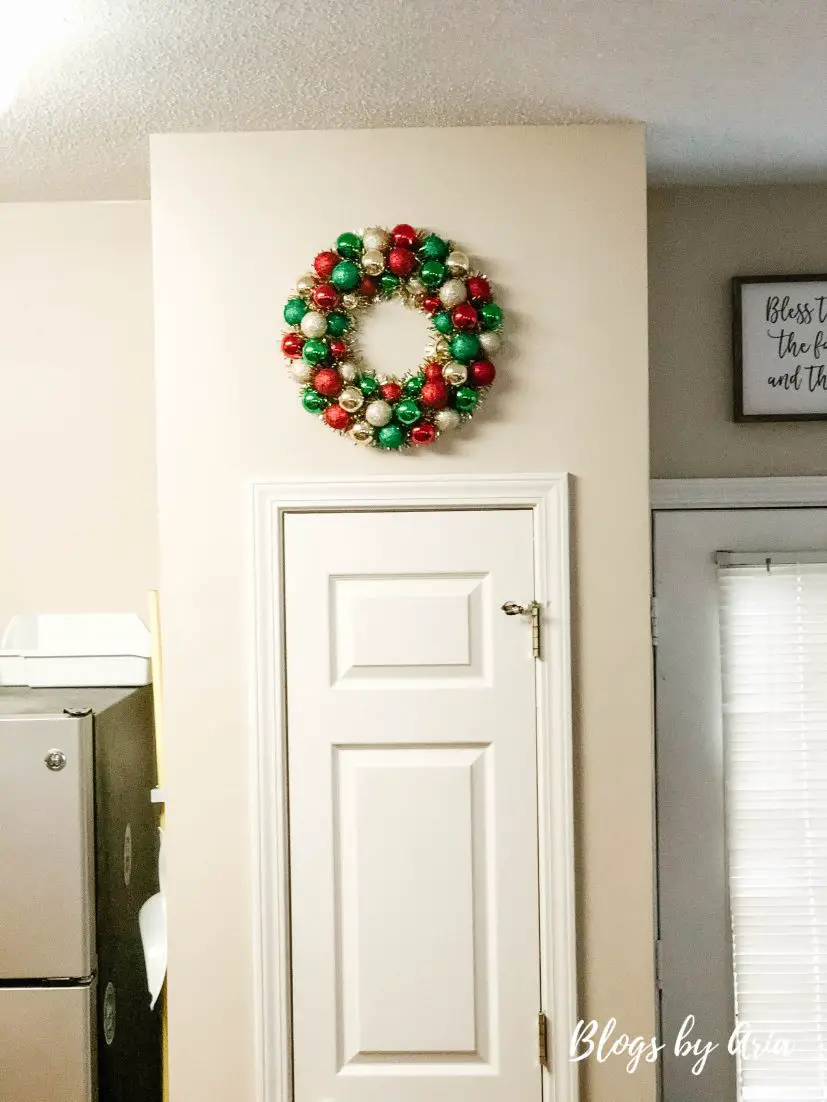 I added this simple ornament wreath over the pantry door.  Originally I had planned to use it in our powder room but on a whim I put this wreath up and felt this was the perfect spot for it.  The wreath was an inexpensive find from Big Lots.
POWDER ROOM
Speaking of the powder room, there's been a few new additions in here too.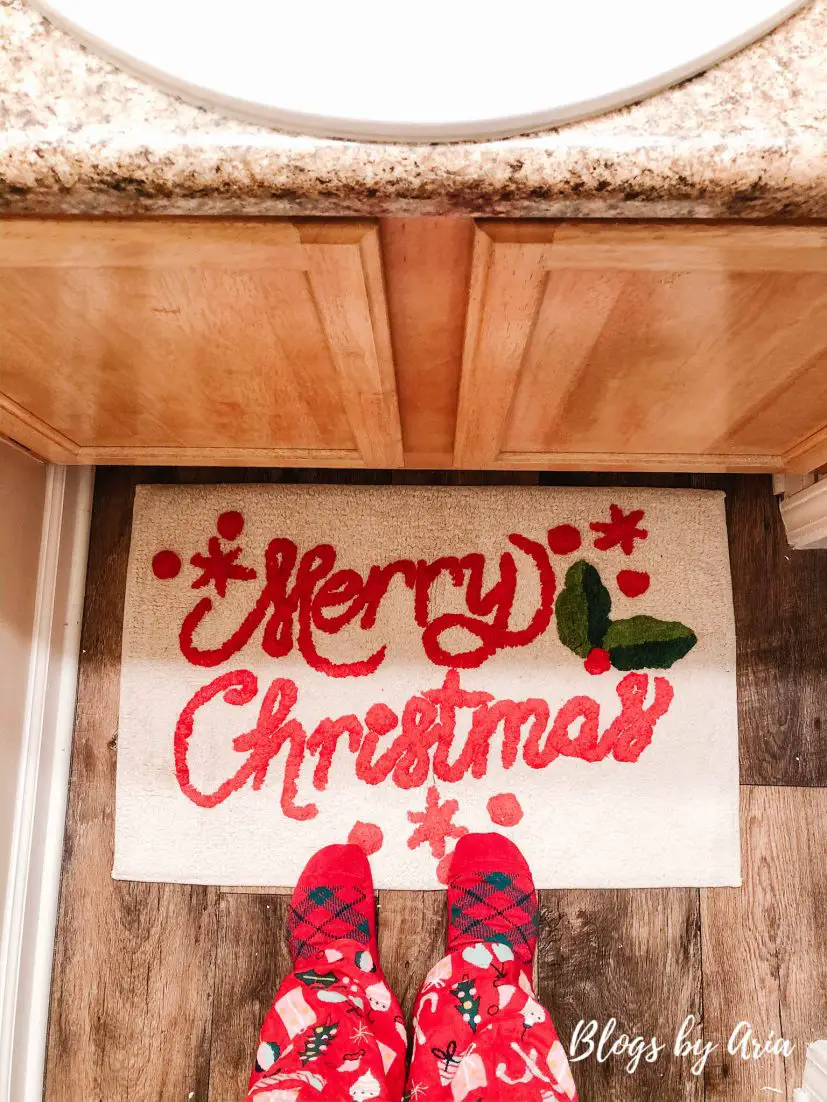 I really wanted a new bathroom rug and early in the season was having a hard time finding one that I loved.  I decided to check out Kohl's and found so many that I loved but decided to come home with this one.  Since our powder room has so much brown and beige colors I felt this one would work the best.  And yes I'm showing off my Christmas pajamas and comfy socks 🙂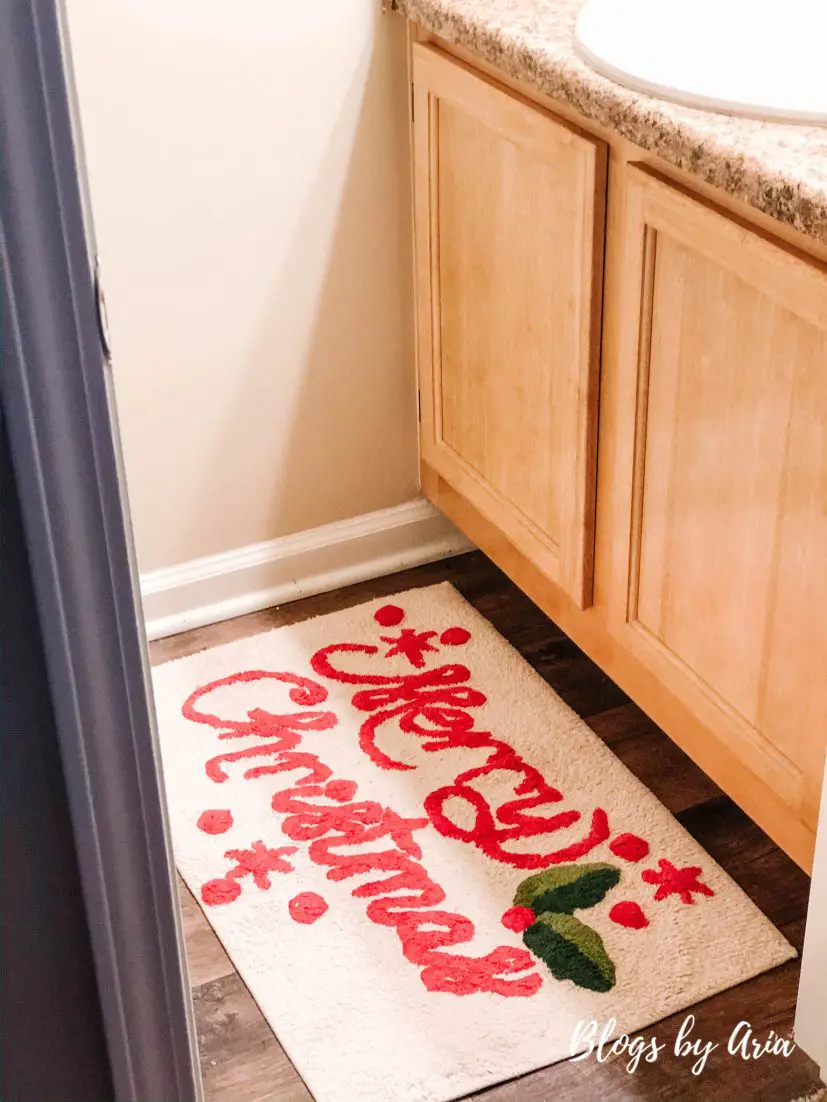 It's a bit three dimensional too because the letters and decor elements are raised.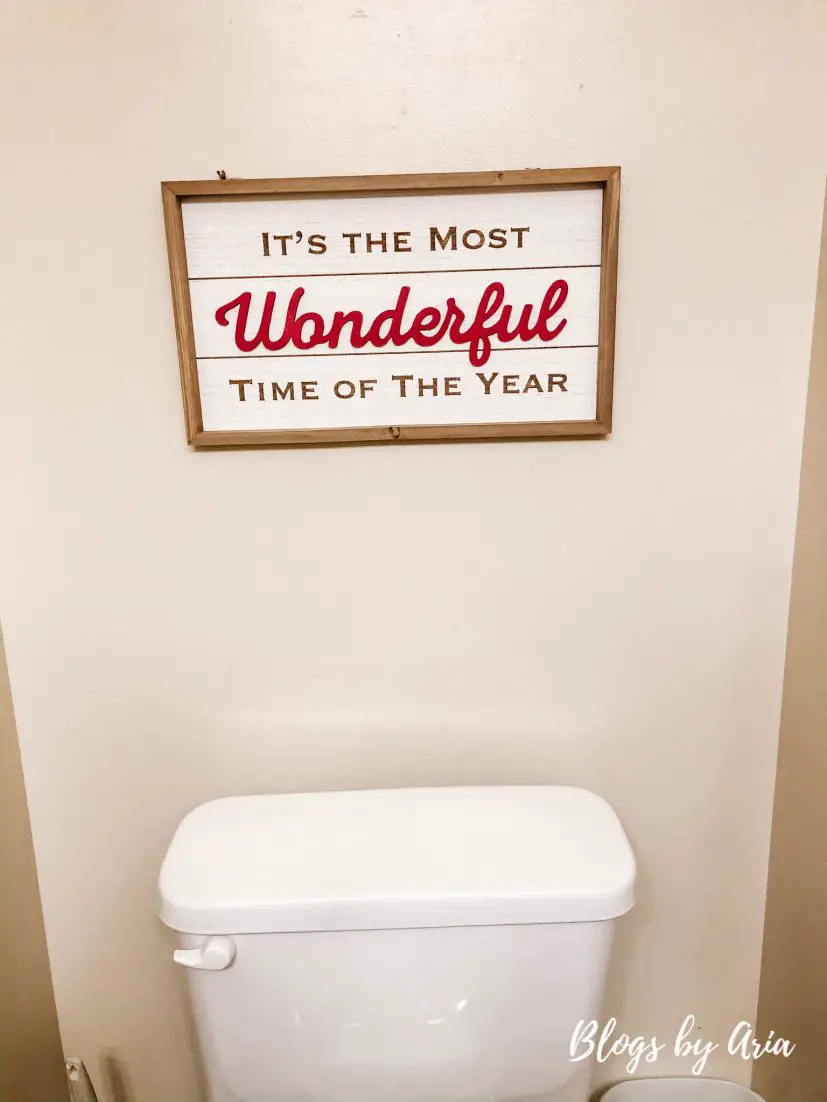 This sign from Joann's is a new piece.  I love this saying if you didn't know.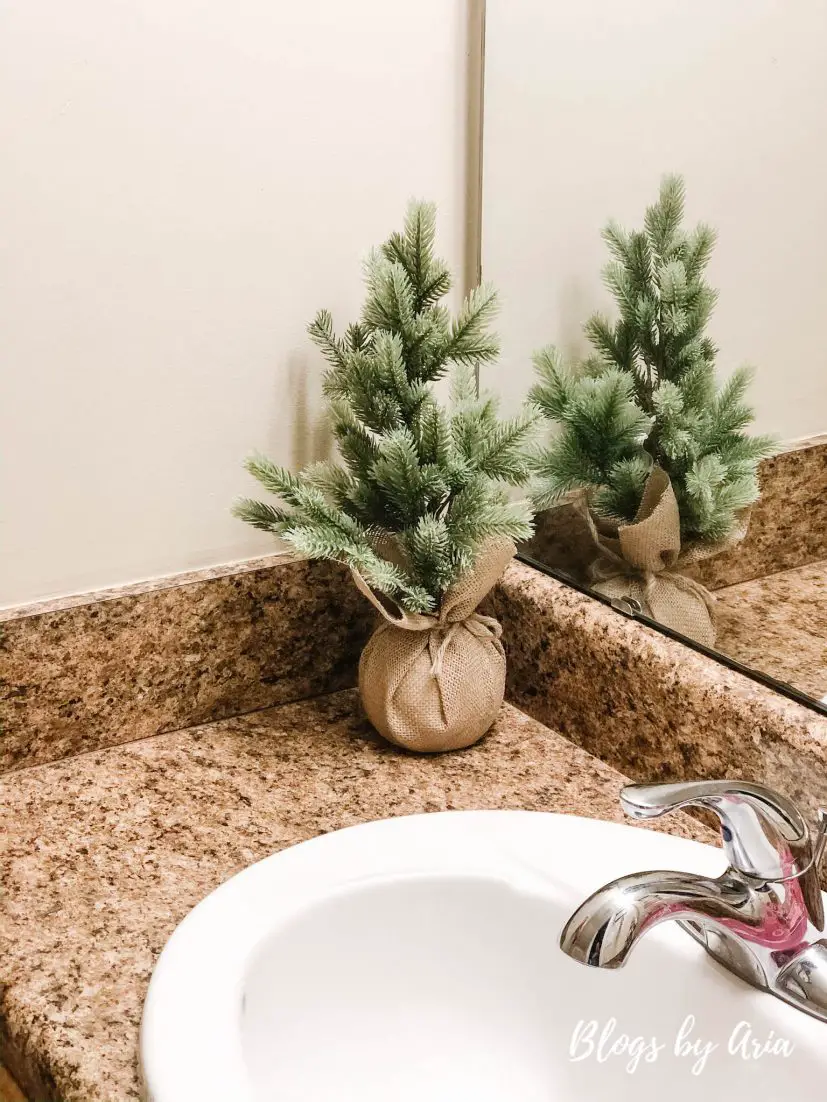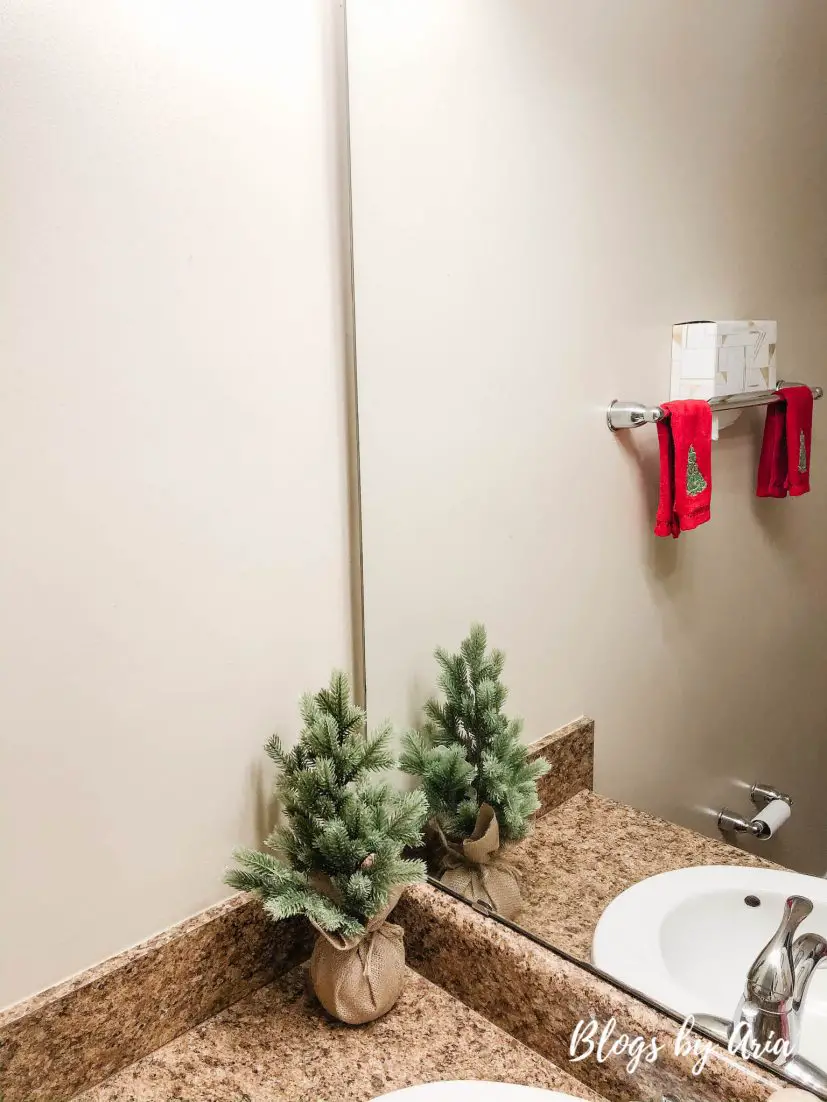 These mini Christmas trees are perfect just about anywhere including the bathroom!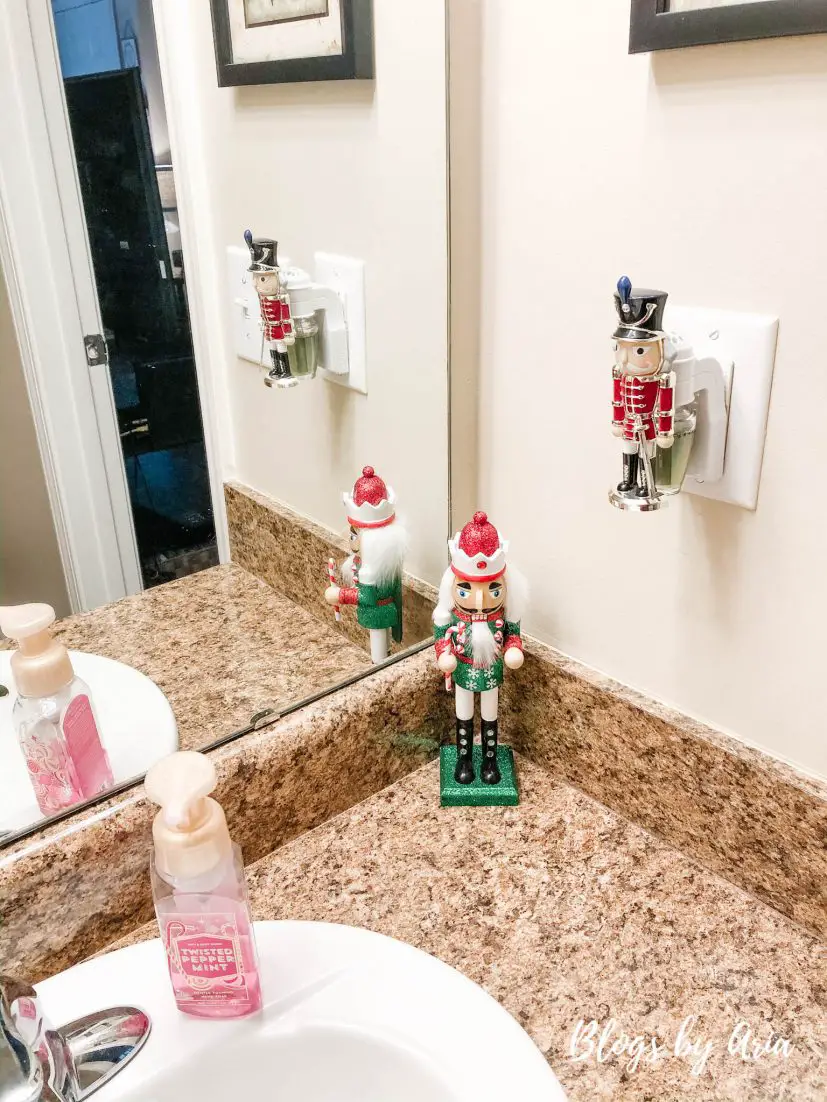 My nutcrackers had to make an appearance.  I did debate buying another wallflower plug cover but I just love my nutcracker too much to put something else in his place 🙂
OUR NATIVITY SET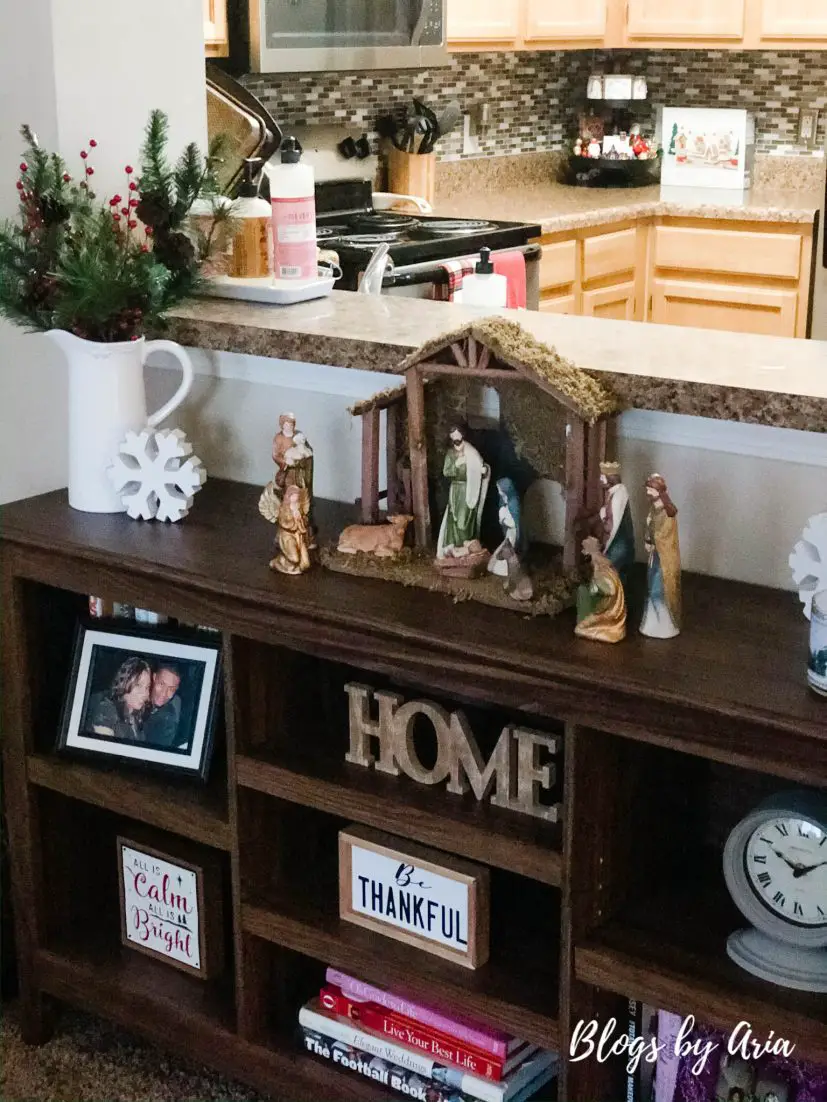 I really wanted to get a Christmas village and knew it would look perfect on my bookshelf.  But I just couldn't bring myself to buy it and it was never going on sale.  Maybe I can snag it during the after Christmas sales.  I remembered that I had this nativity set and this spot would work well for it.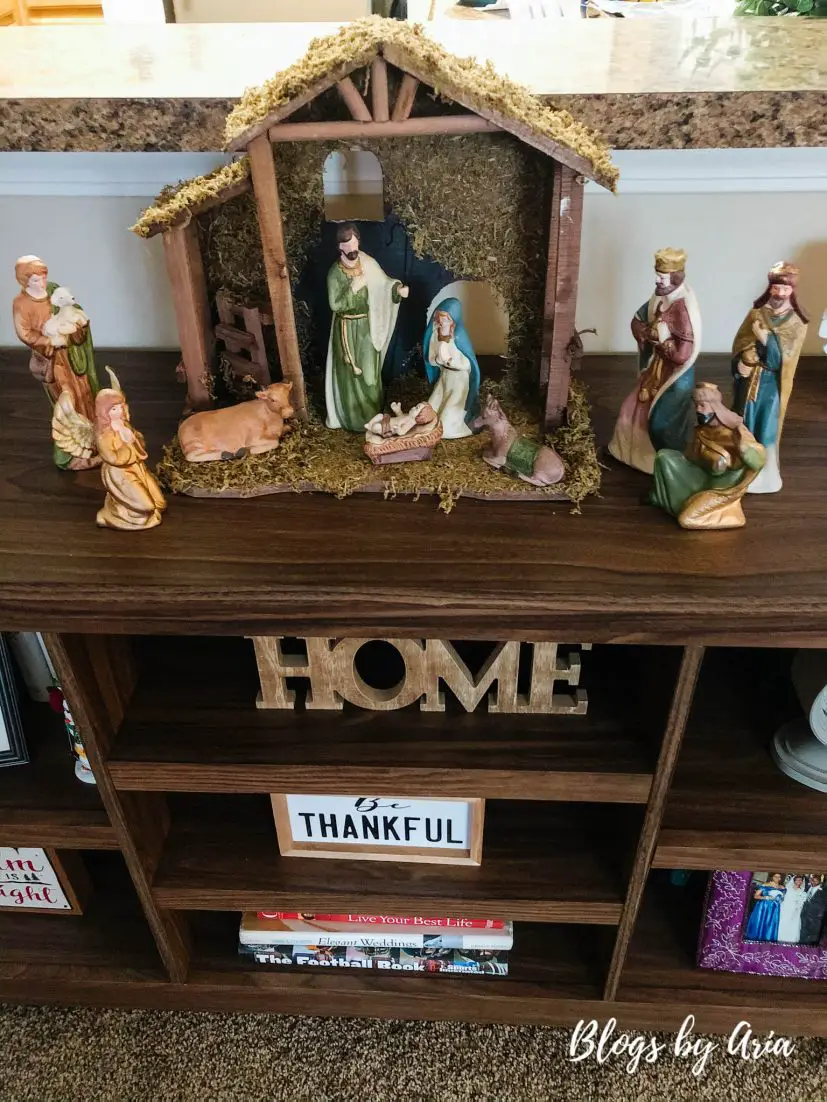 We got this nativity set several years ago from Michael's.  I really want to get a larger, nicer set but for now this will do.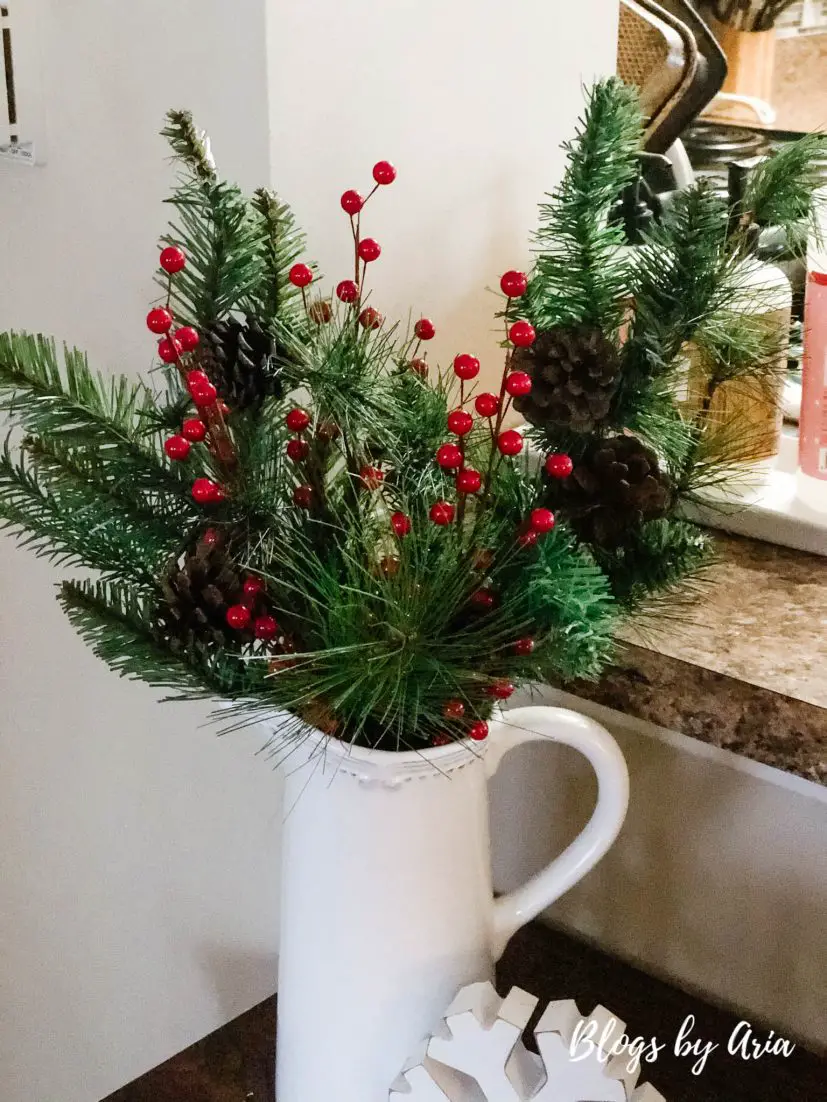 To add some festive color I add some simple Christmas greenery and red berries from Hobby Lobby into my white farmhouse pitcher. (sorry you can see dishes in my dish rack, lots of cleaning going on over here)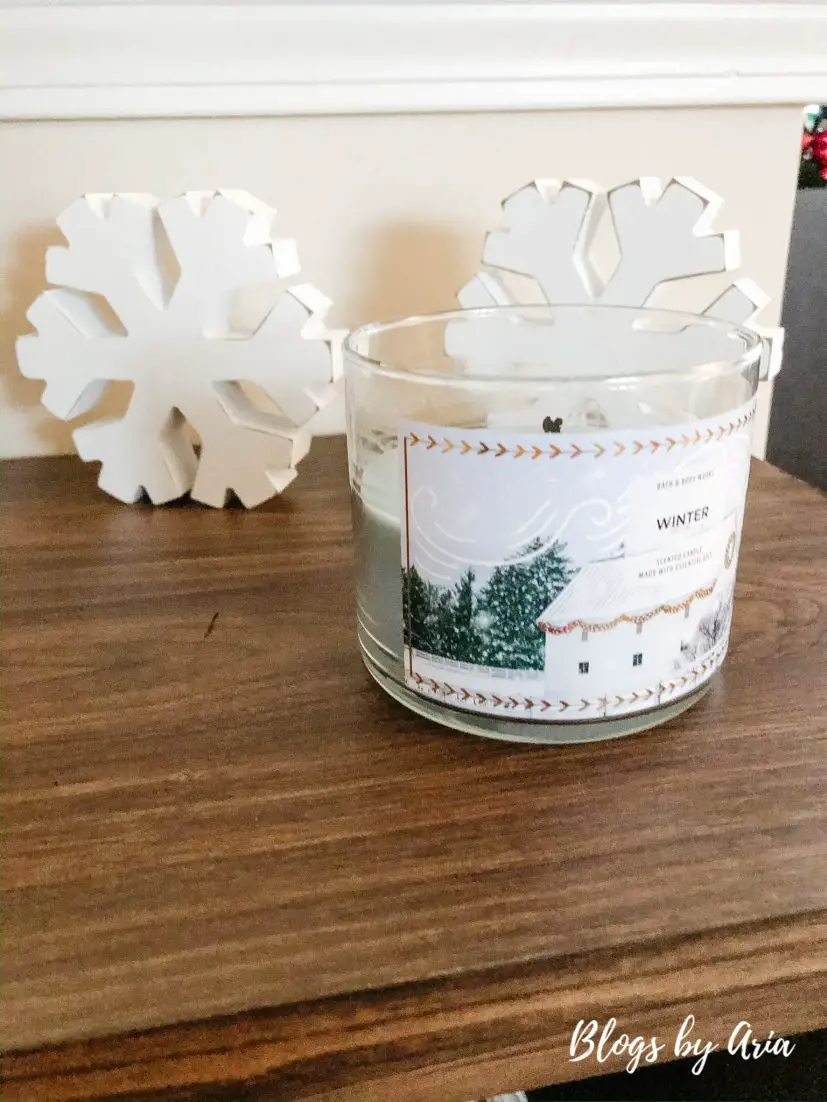 Not that snowflakes go with Bethlehem, but I added these snowflakes I got from Hobby Lobby along with my winter candle to spread out the decor across the bookshelf.
The only other holiday decor is this "all is calm and bright" sign I got from Michael's, you can see it in the pictures above.  I was a bit let down by their Christmas decorations this year.  Hopefully next year they'll have a nicer selection.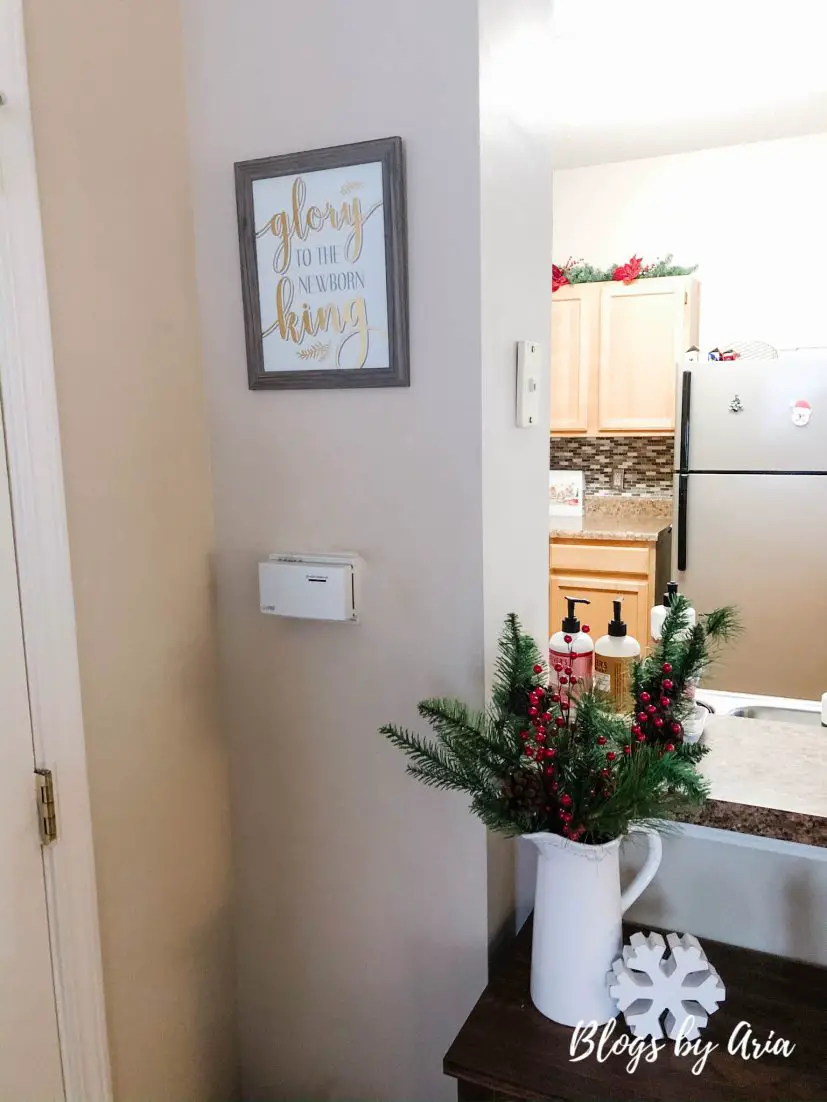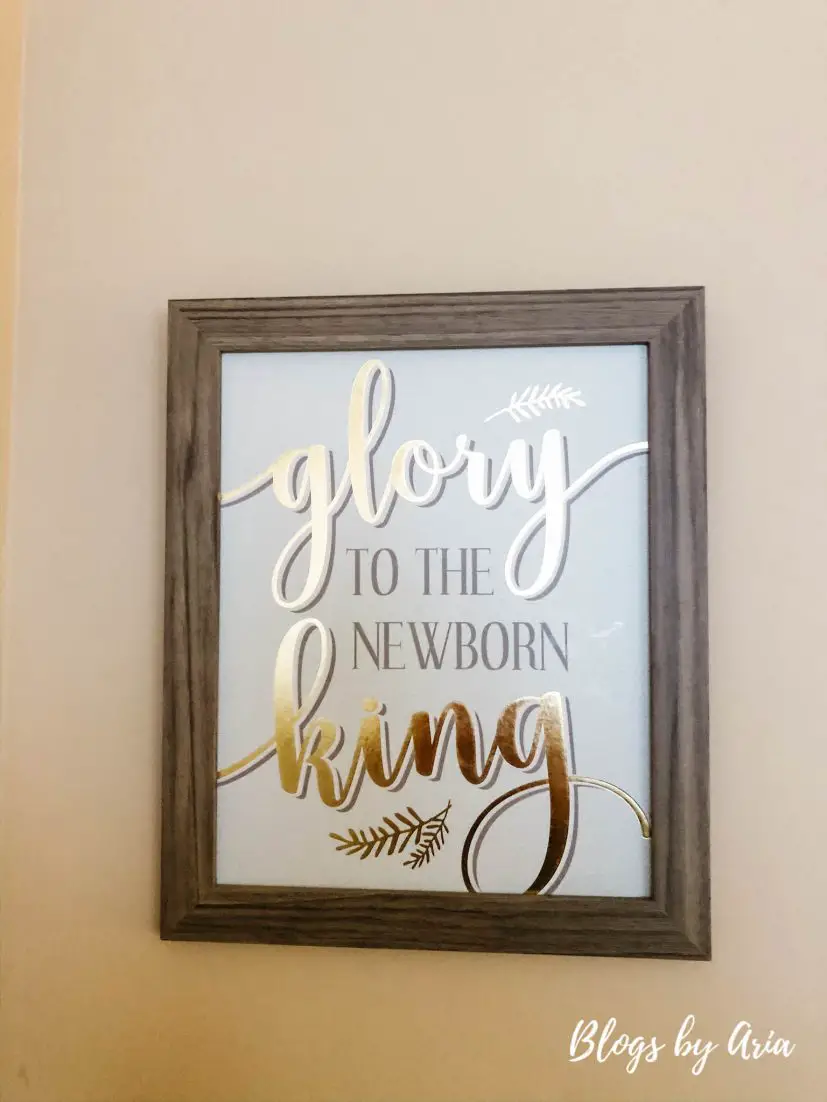 Also in this corner is this cute "glory to the newborn King" sign from Walmart.
CHRISTMAS FAMILY ROOM
The lighting today is pretty overcast so my shots aren't nearly as bright as they were when I shared our Christmas living room decor.  But there were a few pics I realized I didn't get to share…because I hadn't taken them.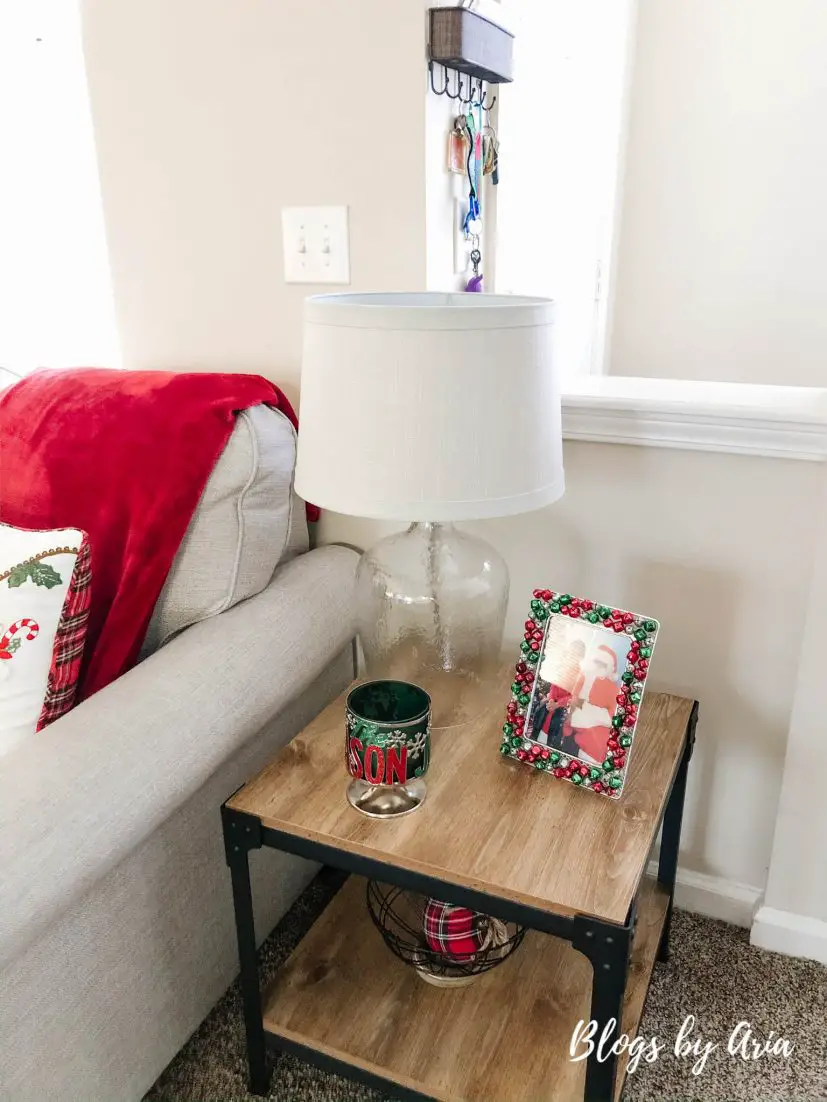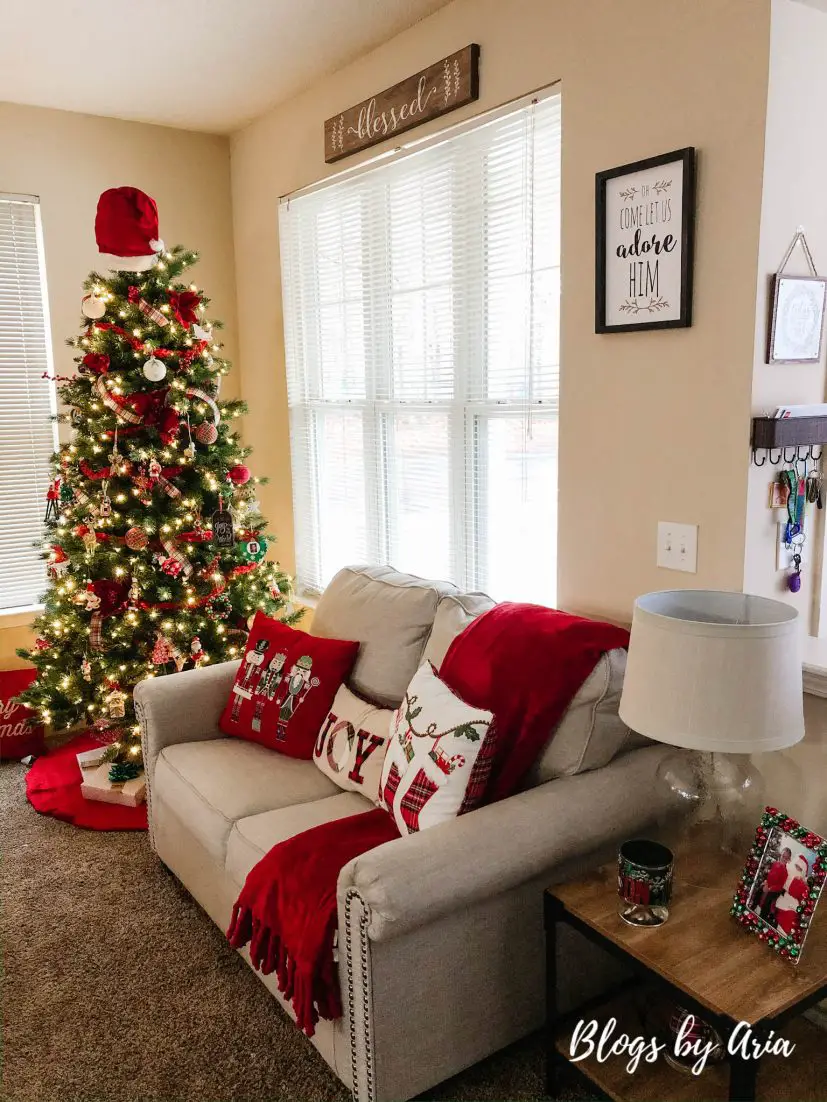 I love this sign from Hobby Lobby.  As much as I love Hobby Lobby, I felt that a lot of their Christmas decor was a bit too farmhouse for my liking.  But this sign is simple and is from one of my favorite Christmas songs.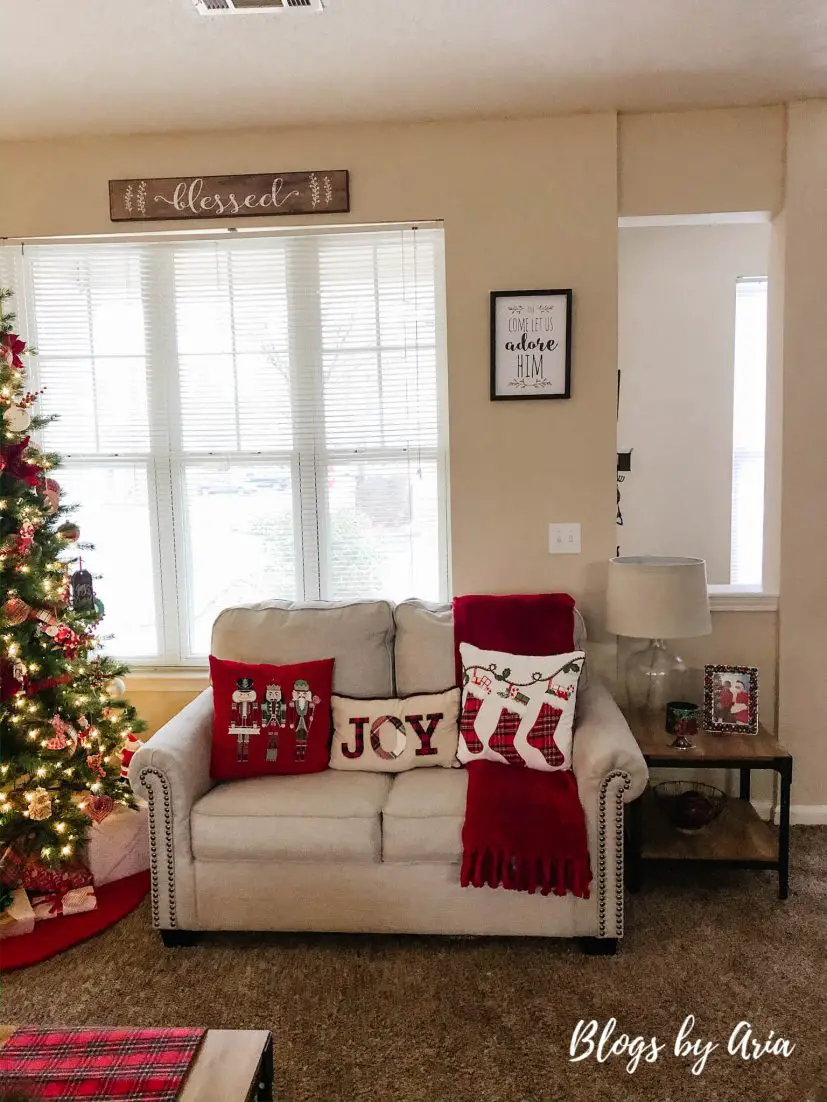 CHRISTMAS PORCH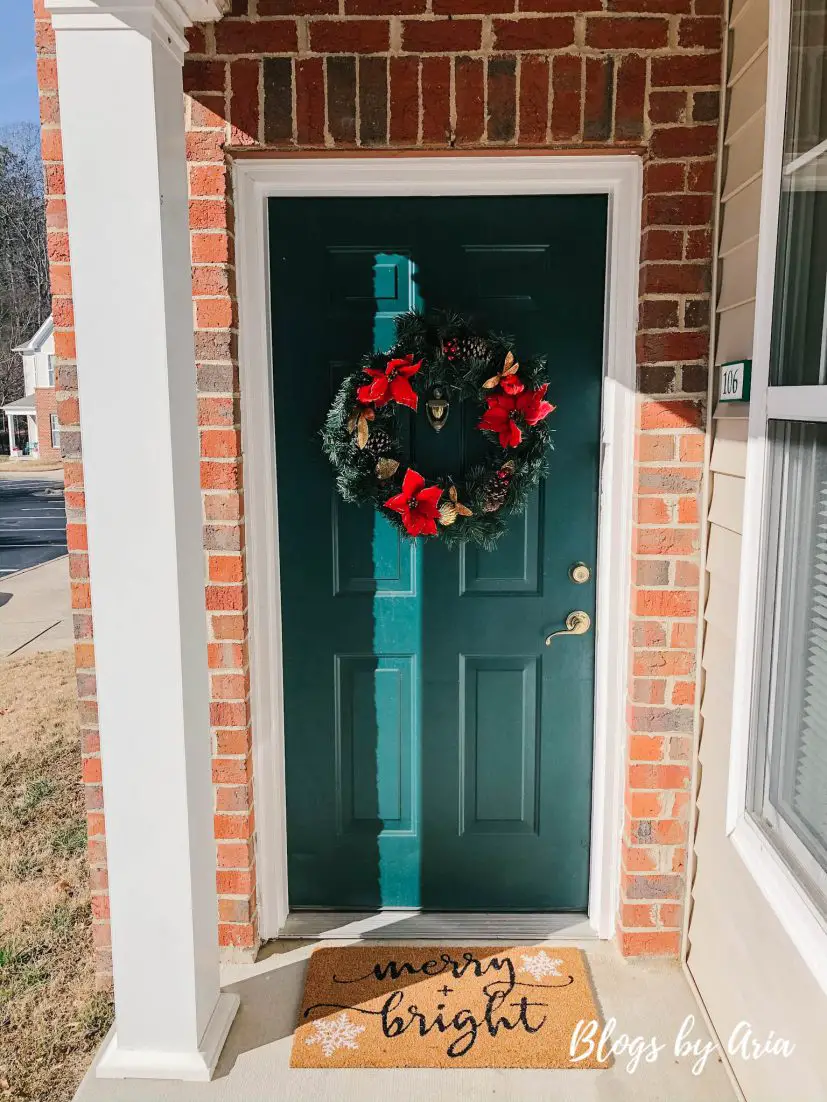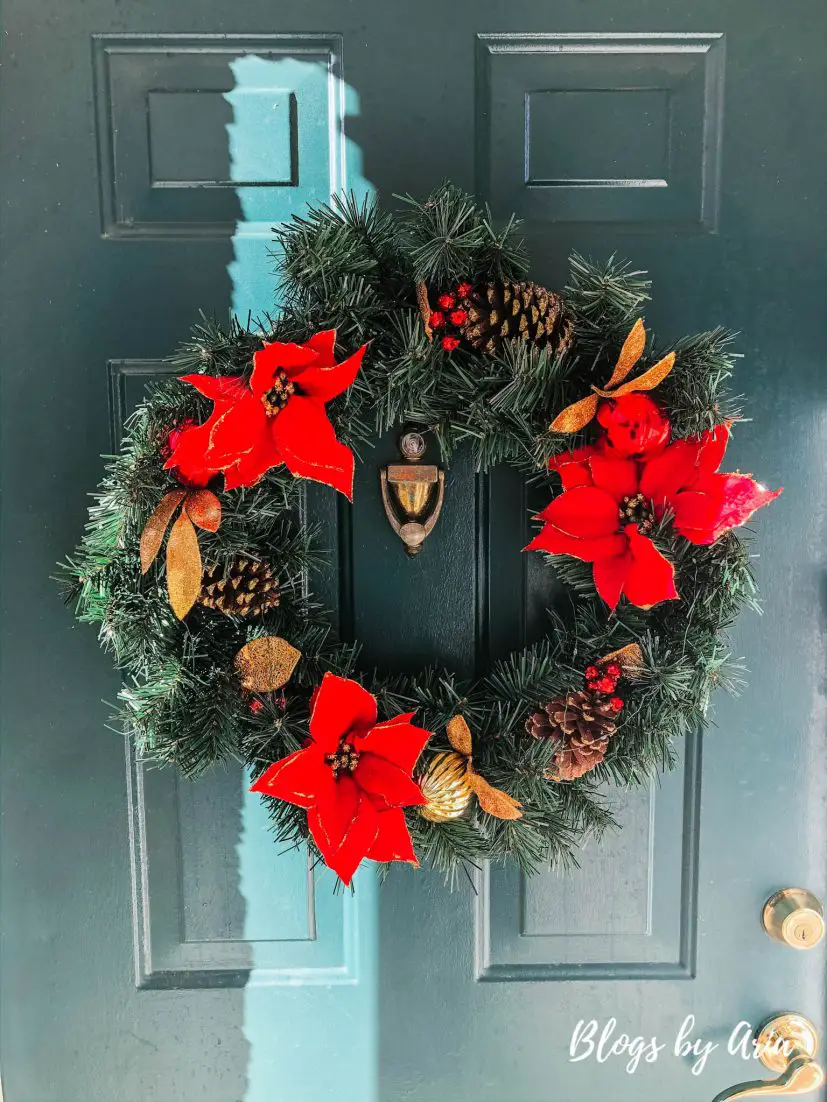 Lastly I want to share a couple of new goodies I got for our Christmas porch.  I got this cute wreath from Big Lots.  You may recall that I really had my eye on a different one but I couldn't pass up the price of this one.  I got it on sale for under $20!!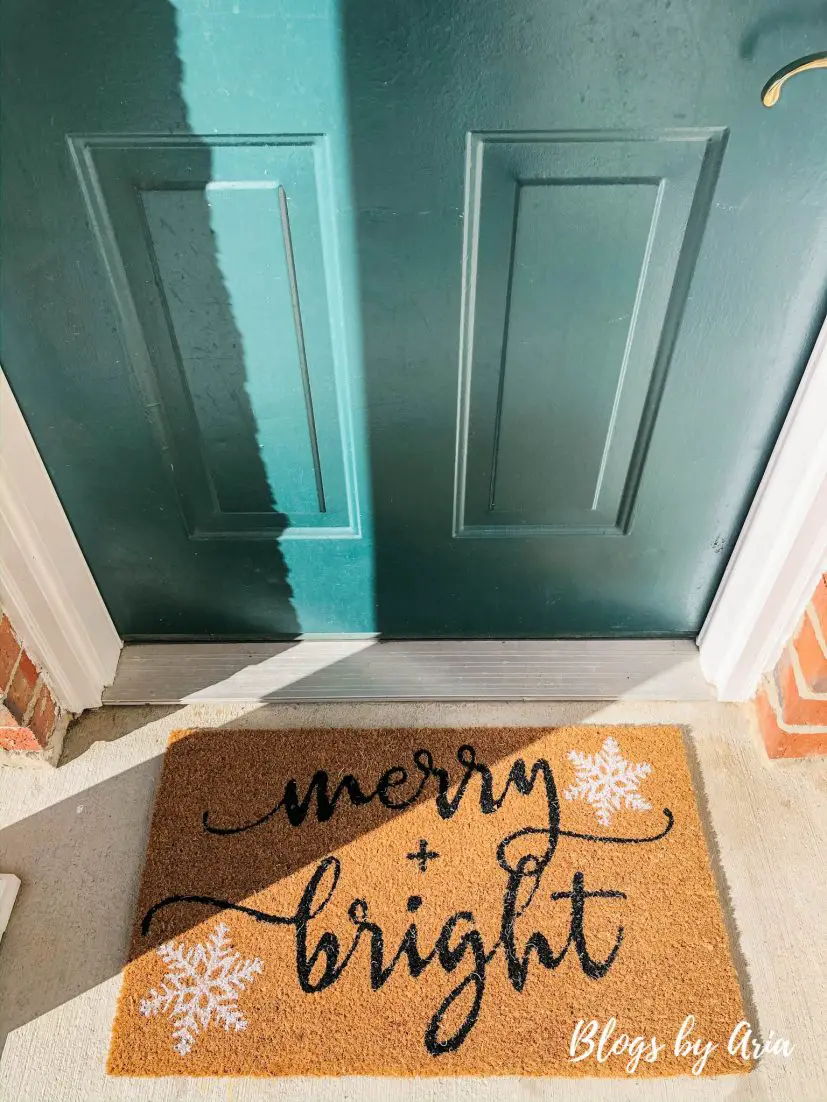 I also purchased this Merry & Bright  Christmas door mat from Kirkland's.  It may be one of the few items that doesn't have any red in it.
It's hard to believe that Christmas is already here!  I'll admit it felt like it arrived really quickly since Thanksgiving was late and we didn't buy our new tree until Black Friday.  I'm already thinking about what I want to do next year!
But as much as I love all of my festive Christmas decor, there is a part of me, albeit small, that is ready to take down the holiday decorations and have a blank space.  In the meantime, I'll enjoy it while it lasts.  Because let's face it…it's the most wonderful time of the year ♥
I wish you the happiest of holidays!