Friends! I'm so excited to share my new blog planner with you!  It's the Erin Condren Horizontal Life Planner!  Of course you knew it was going to be from Erin Condren, I let the cat out of the bag when I shared how I use my Deluxe Monthly Planner as a blog planner.  But you maybe didn't think I'd go with a full Life Planner.
Let me share with you all the details about why I chose this Erin Condren horizontal life planner.
*this post includes affiliate links for your shopping convenience, you can read more about affiliate links by reading my Disclosure*
WHY THE HORIZONTAL LIFE PLANNER 
First, a little history…
Of course you know I love my Erin Condren Vertical Life Planner.  I'll always be #teamvertical when it comes to my primary planner.  It was the first Erin Condren planner I discovered and I've stuck with it for all of these years because it's exactly what I need and it works for me.
When I knew that I wanted a separate planner for my blog, the first planner I thought of was the Erin Condren Horizontal Life Planner.  As I write out tasks for my blog and things I need to do I knew I needed more room than the vertical planner would allow.
I debated back and forth and honestly didn't want to spend that much money on my blog planner.  I knew eventually my blog would be my business and that I would need to dedicate more planning towards it, but at the time I didn't think it was the right thing.
Which is a good thing because working a full time job and being a wife and mom meant that my blog couldn't always take priority in my life.  Therefore it couldn't take priority in my planning.
You know that I ended up going with the Deluxe Monthly Planner as my blog planner.  I used it one year, then attempted to go with the Monthly Planner, found that didn't work well for me, and went back to the Deluxe Monthly Planner.
Now that my time is coming to an end with the calendar year of my Deluxe Monthly Planner I had to make a decision.  Order a new one or go with something different.
Recently I was talking with my friend who also was debating which planner to go with for her business needs and I looked at and discussed a few other options.  By the end of the conversation my mind was made up.  I was going to venture out and get the blog planner I wanted to from the beginning.
I decided that even though it costs a little bit more money that in the long run it would be worth it.  The Deluxe Monthly Planner works well for me but when I'm working on the blog every day (like I am now and is my goal to work on most days of the week) I need more for the day to day purposes not just a monthly planner.
2019-2020 ERIN CONDREN HORIZONTAL LIFE PLANNER
Long story short, here we are with the Erin Condren Horizontal Life Planner.  Let me share with you the details on the planner and how I plan to use it.
I also picked up the designer tape paper duo.  I was hoping to get the kaleidoscope print that went with this year's theme, but they were sold out.  So I got the hexagon version instead.  Something that has always been on my list, is the snap in bookmarks.  I got them in the kaleidoscope option.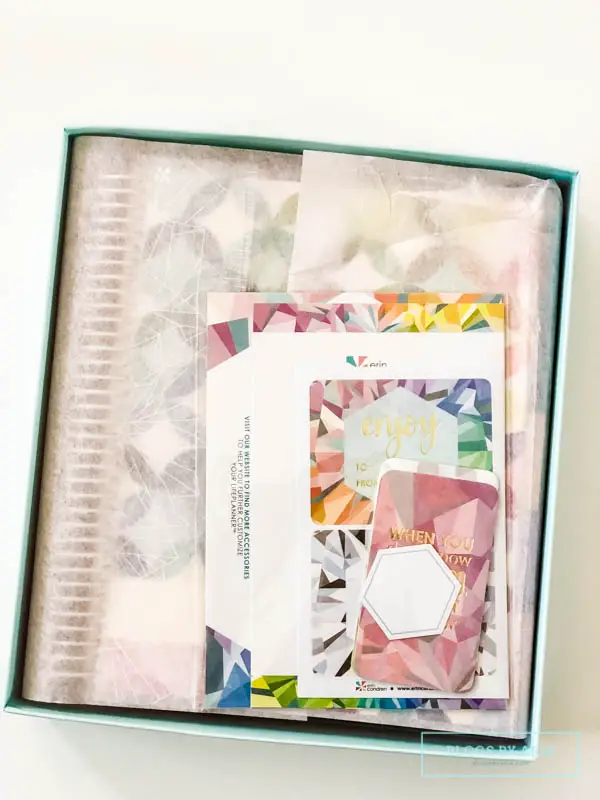 Erin Condren always has nice packaging.  This year with the new Life Planner they come in a keepsake box.  I'm debating using it for my interchangeable planner covers or some of my planner accessories.  We'll see.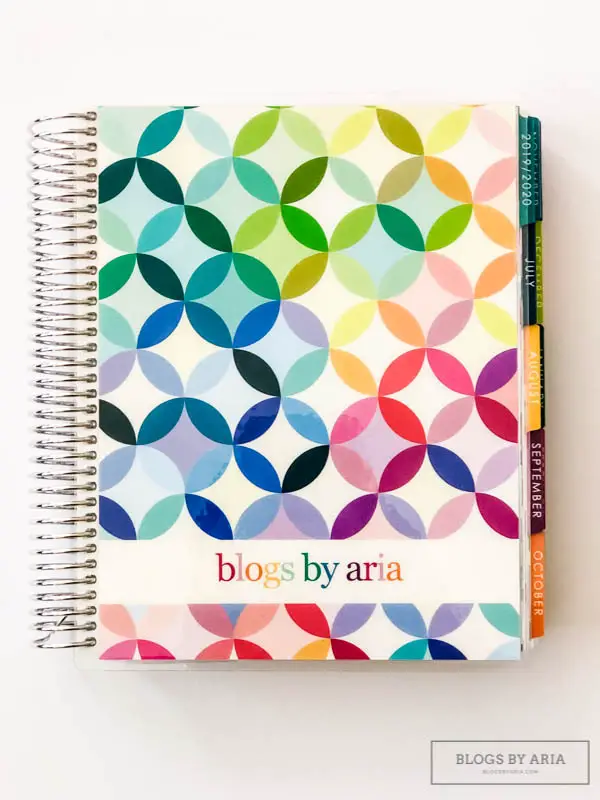 I decided to go with the classic mid century circles option for my cover.  It just makes me smile when I see it : )
I've had my new blog planner for a couple of weeks now and I'm all moved in.  Here's how I've used it and set it up so far.
One of the biggest changes with the Erin Condren Life Planner for 2019/2020 is this notes page before each month.  I can't say how I'll use it moving forward but I decided to put a snapshot of my monthly stats.  Analytics, goals and growing my social media.
My week started out like this.  With a lot of post its with all the ideas I had for the week.  There's always a bunch of post its!
When I plan in my vertical Life Planner I am a sticker girl all the way.  I knew that with my blog planner it would be mostly pen.  But as I was going through my first week, I wanted something to stand out a bit to show when a post went live.
For the monthly pages I plan to put what post went live on what date.  Sometimes I will use my trusty post it notes to get an idea of what I want my month to look like.
I'll also put down any blog related expenses that I need to keep track of, especially monthly recurring ones. ( I should probably go ahead and get on that!)
I write it down in my monthly view.  During the week I decided to use these cute post it style stickers from Chic Street Sticker Boutique.  I discovered her shop through a Little Miss Paperie Mystery Box.  So I dug through my sticker stash and found them and they work perfectly.  The goal is to have at least two posts a week but for now I want to be sure I can be consistent with one post a week.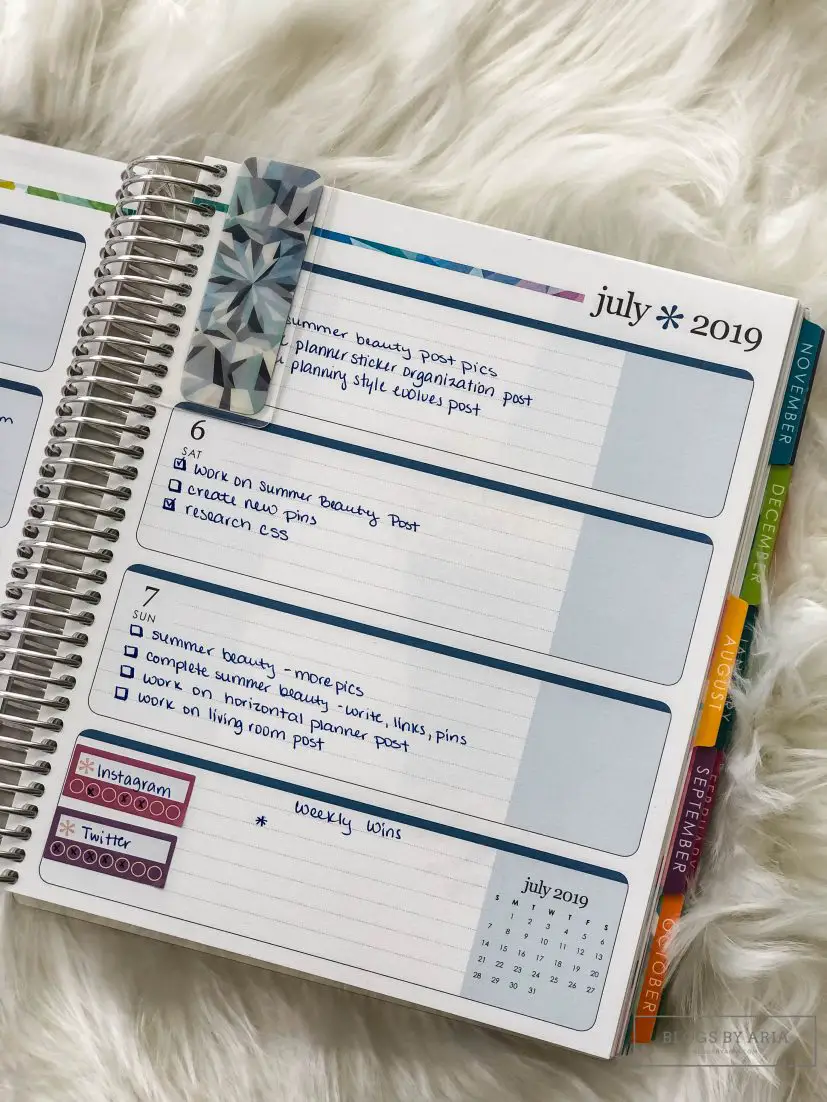 I started off the week thinking I'd track my social media sharing on the day but I think a habit tracker will work better.  These are from the back of the planner.  I also thought I'd keep a tally of my weekly wins and maybe I'll add a weekly focus but I'm not sure yet.  I certainly have time to work out the kinks.
BUYING MY NEW BLOG PLANNER
Before I forget, I wanted to share with you about the cost aspect.  I know a lot of people don't understand spending money on a planner.  But even I didn't want to spend Life Planner money on my blog planner.
Since I've been a shopper with Erin Condren for several years now, I've had a lot of orders.  I had completely spaced that there are rewards codes for returning customers.
I have referral codes, but I usually save those until I order my Life Planner for my birthday.  There's the EC Insider Rewards program that you earn points with each purchase to get $5, $10 or $25 off.
And then there's the original rewards codes (I don't know what they're called anymore) where you get dollars off based on what order number you're on.  Over the years I've ordered over ten times and there's a sweet reward for $50 off your purchase.  So my out of pocket cost was minimal and mostly was shipping.
Needless to say, I'm glad I remembered that program and didn't have to pay full price.  Since the new Life Planners recently launched I knew there wouldn't be a sale on them anytime soon.
P.S.  Around October Erin Condren has their Friends & Family sale and then they have Black Friday and Cyber Monday Sales.  If you want to get a Life Planner on a deal that's the best time to buy.  Which is why I wait to buy my Life Planner around my birthday. (Plus I am a Jan-Dec planner girl)
There you have it!  I'm all moved in to my Erin Condren Horizontal Life Planner.  I'm already in love with it and can see big things for our (me, my blog and my planner) future!