It's always an exciting day when the newest Studio McGee collection launches!  Although I just shared the Summer Collection, I'm very excited about the 2022 Studio McGee x Target Fall Collection.  If you love all things Fall decor like me, let's take a deep dive into the newest collection.
Since I've become a lover of all things Studio McGee over the years, it's the Fall launch that steals my heart.  Last year so much of my Fall home decor I used came from Studio McGee.
*this post includes affiliate links for your shopping convenience, you can read more about affiliate links by reading my Disclosure*
STUDIO MCGEE FALL COLLECTION 2022
The collection launches on Sunday, June 26th.  Your local store may have a few items already but the official launch will be this weekend for the majority of the collection.  A few items will release on July 3rd and October 6th.  I wouldn't be surprised if more will release between now and then since it's such a large gap of time.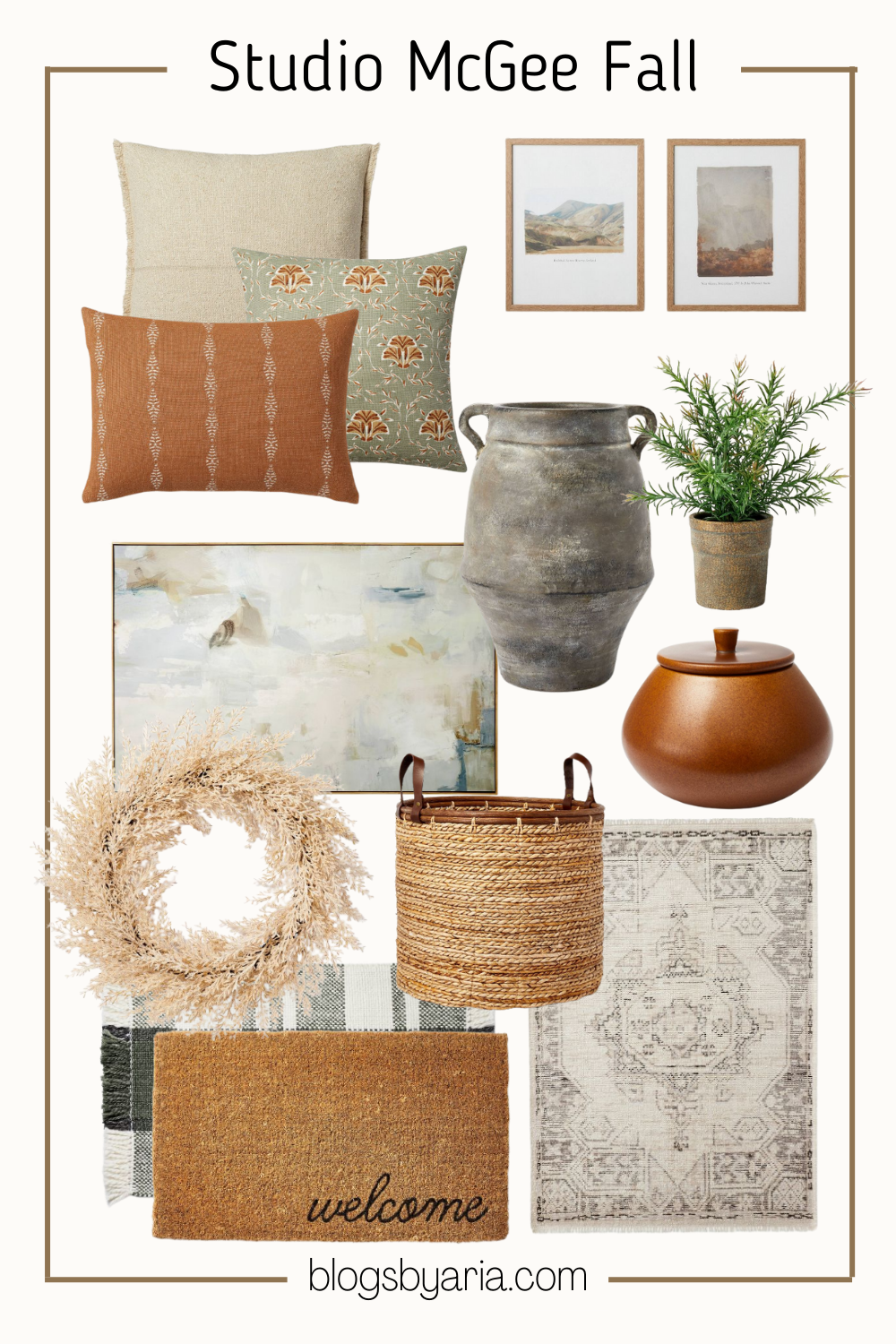 oversized woven striped pillow • floral print pillow • woven geo striped throw pillow • set of 2 glass textbook photo frames • tonal abstract framed canvas • terracotta vase • small leaf potted plant • small canister • xl grass wreath • leather handle basket • handloom with fringe rug • welcome door mat • knolls persian style rug
I love all of the muted colors for Fall!  They all blend in perfectly with almost any existing decor to transition into the Fall season.
One of my favorites from the artwork available is this abstract framed canvas.  It has beautiful colors and I think could work in so many spaces.

WHAT I'VE GOT MY EYE ON
floral block printed pillow • woven striped textured lumbar pillow • oversized space dyed striped lumbar pillow • small brass tray • large magnolia leaf arrangement •  rattan rectangle woven tray • color block boucle throw • small magnolia leaf arrangement • small carved cream vase • large carved cream vase • east bluff woven console table • wood lidded candle • branch arrangement
These are the items that I have my eyes set on from the new Studio McGee Fall collection.  A few of them anyway 🙂  I won't lie, I love so much of the collection.  I'm already thinking about what I can purge from my existing collection in order to add to it.
The floral printed pillow would coordinate well with the Studio McGee pillows I purchased last year.  So would the oversized space dyed striped lumbar pillow and the woven striped textured lumbar pillow.
I think this small brass tray would be perfect on my entryway table or dining room table.  I'll need to do something I rarely do…check the dimensions.  The rattan rectangle woven tray I'm thinking would be good for my coffee table.
There are two magnolia leaf arrangements in the collection and you know I want them both!  I also really like this autumn branch arrangement.
I'm drawn to this color block boucle throw the most out of the options available.
Both of the carved cream vases I love.  But I probably won't get both.  I also love the look of this candle.  Even if it doesn't smell good, it sure is pretty and makes for nice decor.
Finally I really like this console table.  I don't have a place for it at the moment…doesn't mean I won't soon 🙂

STUDIO MCGEE FALL DECORATING IDEAS
Here's some of the great fall decorating ideas with the Studio McGee collection.  These images are from Target and are great to get an idea of how an item will look in your space.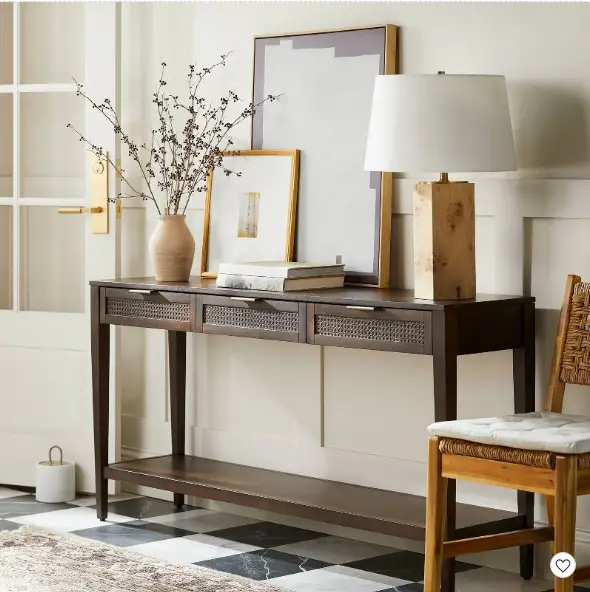 east bluff woven drawer console table • antique brass wall frame • abstract shape framed canvas • burl table lamp • branch arrangement • marble door stop • temescal valley wood and woven dining chair
This console table would be so much fun to style in so many different ways!  I wish my entryway was large enough to accommodate it.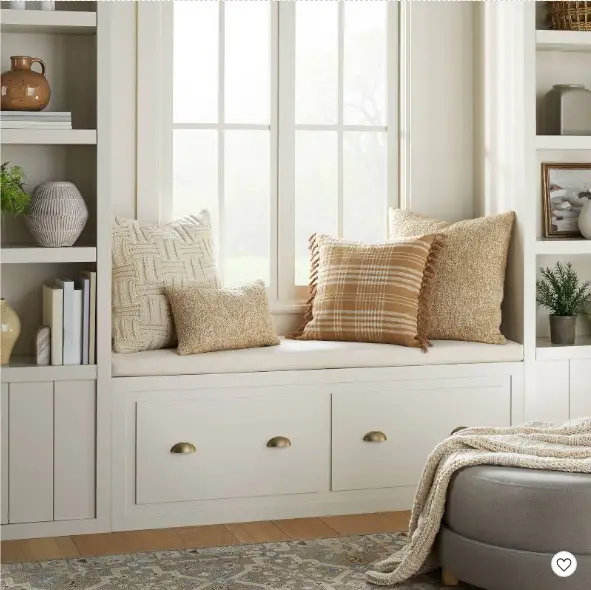 oversized basket weave knit pillow • woven plaid throw pillow • textured boucle throw pillow • woven striped knit throw • upholstered round ottoman
I'm obsessed with this woven plaid throw pillow!  I think it's definitely coming home with me and will look great with my existing fall pillows.

burbank wood console table • leather handle basket • branch arrangement • terracotta vase • modern brown ceramic vase • woven striped throw blanket
I love the extra detail of the leather handle added to this woven basket to make it stand out.  There are lots of beautiful darker toned baskets in the Studio McGee Fall collection like this rattan round basket and rattan trunk.

branch arrangement • tufted persian style mushroom runner • palmdale woven door console table • small brass tray
The woven detail on the doors of this console table really make the piece special.  I like pieces like this where you can decorate the top and hide a lot inside!

 thousand oaks wood scalloped desk • metal wall sconce • gallery wall frame • round bone table frame • set of 2 soapstone bookends • banyan potted plant • santa monica rounded back upholstered office chair
There's lots of great furniture pieces in the Fall collection including office pieces and decor.  I really like this upholstered office chair.  The palmdale desk is another great desk option for your home office.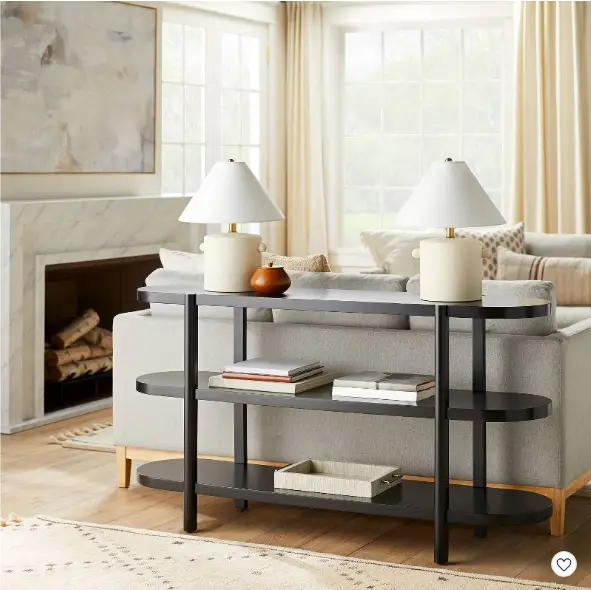 portolla hills 3 shelf horizontal bookcase • ceramic table lamp with knob tan • small canister • linen tray • tonal abstract framed canvas • tufted natural rug
A slim bookcase or console table is great behind a sofa to add extra storage.  I've been looking at smaller lamps like these to pop behind my loveseat.

If you haven't been able to tell I'm beyond excited for the new Fall collection!  As much as I've shared here today there's so much more from the full collection.  I'll be sharing even more over on my LTK, so make sure you're following me there.
What are you planning on picking up from the Studio McGee Fall line?  Let me know in the comments!
If you'd like to get even more home decor inspiration and finds and all things random, be sure to follow me here:
Facebook | Instagram | LTK | Tik Tok | YouTube