Often times I get planner stickers and it will be several weeks before I use them.  And I know I like to watch planner sticker hauls on YouTube because if someone posts things they got recently it's a good chance it's still available and I can get my hands on it.  So I've decided to start sharing hauls when I get a few kits in the mail that I won't be using for a while.  A lot of things are sold far in advance in the planner community.  For example, a lot of Fall kits started coming out at the beginning of August.  So if it's something you want to get your hands on it's a better chance for you to do that.
In no particular order…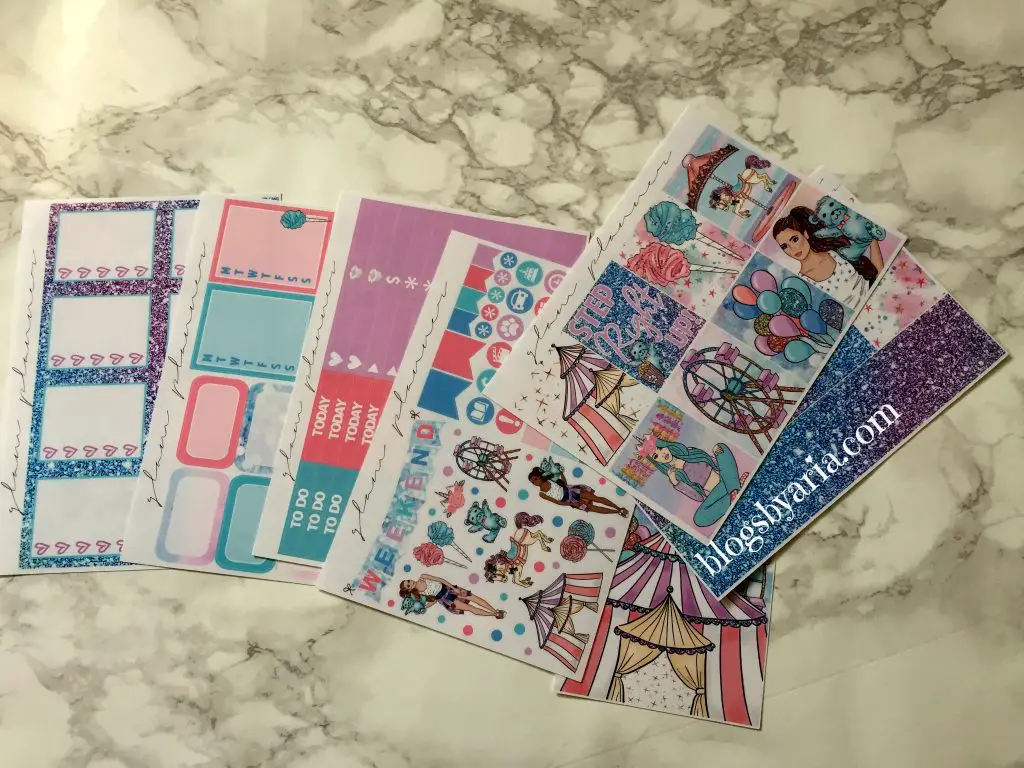 I think I shared this before, about Glam Planner stickers.  There are two shops… The Glam Planner which is for stickers that are available now, so to speak and oftentimes for glitch sales.  I shared about her glitch stickers here.  Her second shop is Glam Plan Prints which sometimes houses printable stickers (you buy the file and then you can print them yourself) and pre-sales.  Pre-sales are going to test your patience.  So if you want it badly enough you should go ahead and get it and then you'll get your stickers within six weeks.  Sometimes she'll re-release her stickers for people to buy and every so often there are glitch sales.  Honestly in order to stay on top of it all, you have to join the Facebook group.
So after saying all of that, this is the Carnival kit by Glam Planner.  I got this as a pre-sale so that means I ordered it back on April 28th and I received it June 16th.  I got it because I thought it would be cute to use for the week we go to the State Fair.  I love the colors and I'm obsessed with the glitter bottom washi and the glitter heart checklists.
*this post may include affiliate links, you can read more about that by reading my Disclosure post*
This is the August Little Misstery Box from my favorite shop Little Miss Paperie.  I'm not going to use it this year because when I got it right before vacation, I was already finished planning with my summer kits.  The good thing is that I know that this kit will fit the boxes and sizing of my next Erin Condren Life Planner.  I wanted to share this kit because 1) I have it and got it recently and 2) because there is a buy/sell/trade Facebook group for Little Miss Paperie.  You may like the kit and want to get it, and there's a chance it's available.
Click here for 10% off at Little Miss Paperie.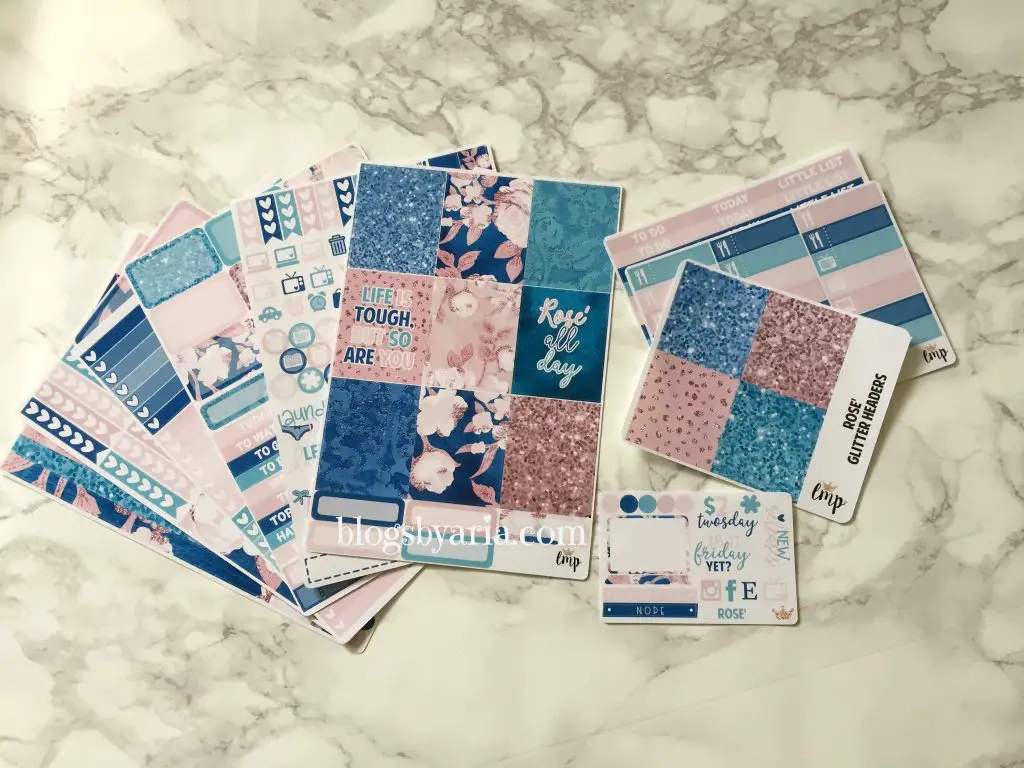 Speaking of Little Miss Paperie…the next few kits I'm sharing are from her shop.  This is the Rose' kit.  I loved the colors and I got it in glossy.  I'm not sure when I'll use this kit, but I wanted it in my collection.
Also in glossy this is the birthday kit.  I thought it would be perfect for my birthday week.  There are quite a few birthday kits out there but I really like hers.  I am used to her kits overall and they are my preferred kits to use so I am glad I was able to get this kit and tuck it away for that special week in November 🙂
She also has a monthly kit that's similar in print that says "birthday month" instead of saying the specific month so it's perfect for whenever!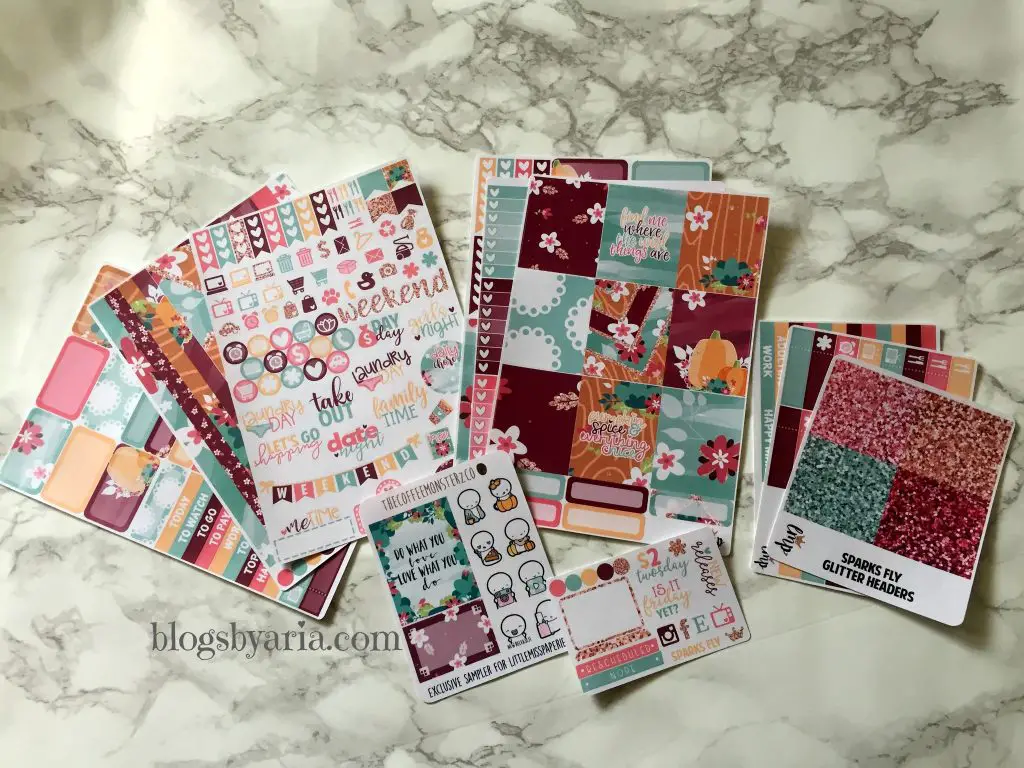 Rounding out this Little Miss Paperie train is my first fall kit of the season from here.  It's called Sparks Fly.  What makes this kit even better is that I got it for free!  I shop so much with her that I turned in some of my rewards points and got this for free.  It also came with this cute emoti sampler from The Coffee Monsterz Co.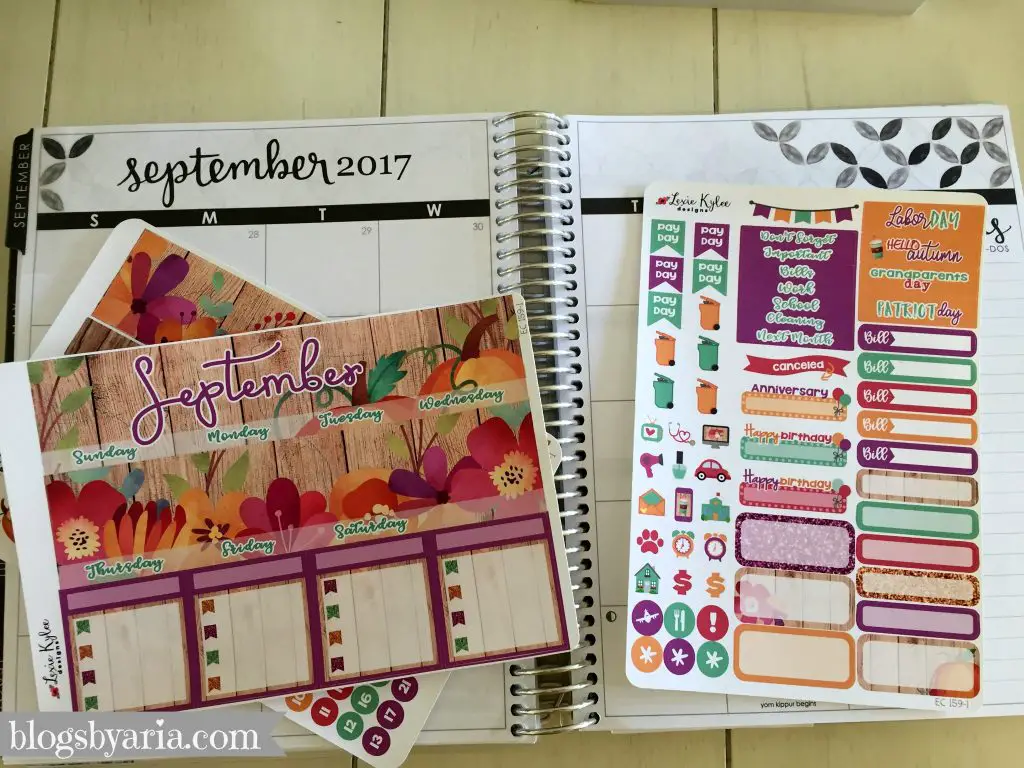 I took a picture of this before I started using it.  It's the September monthly kit by Lexie Kylee Designs.  I have one of her October and November kits in my cart that I'll be ordering soon.  They're so pretty!  She always puts out two options for each month.  I have a bonus for you!  Use the code WIFELIFE15 for 15% off $10 or more!  I don't know how long that code will last but I hope it's long enough for me to get my order in! 😉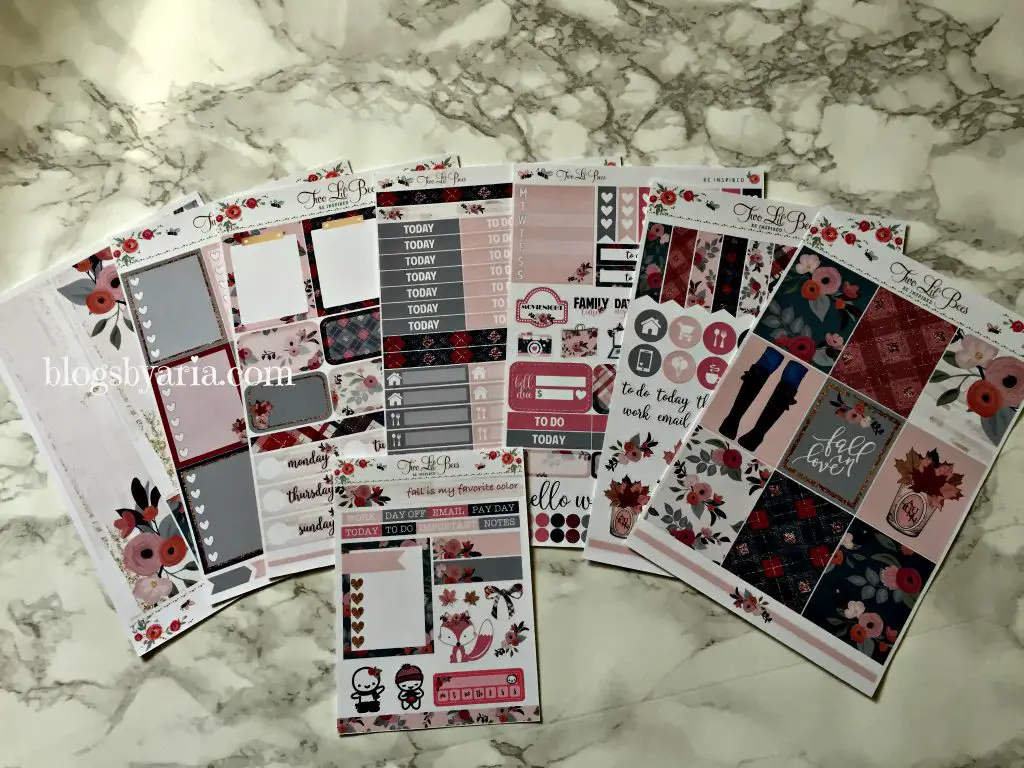 I love this kit!  It's from Two Lil' Bees and it's her July Limited Edition kit.  Which means, no you can't get it, but if you like her style of kits you should join her Facebook group.  I know, I know, but the Facebook groups are how you know what your favorite shop is up to and when there's sales and discounts and all of that good stuff.  That's how I knew when this kit was releasing and was able to get it quick.  Maria is about to have a baby in about a month so I think she has about a release left before she'll be taking maternity leave.  By joining the group you can be the first to know when she'll have more kits for you.
Click here for 10% off Two Lil' Bees.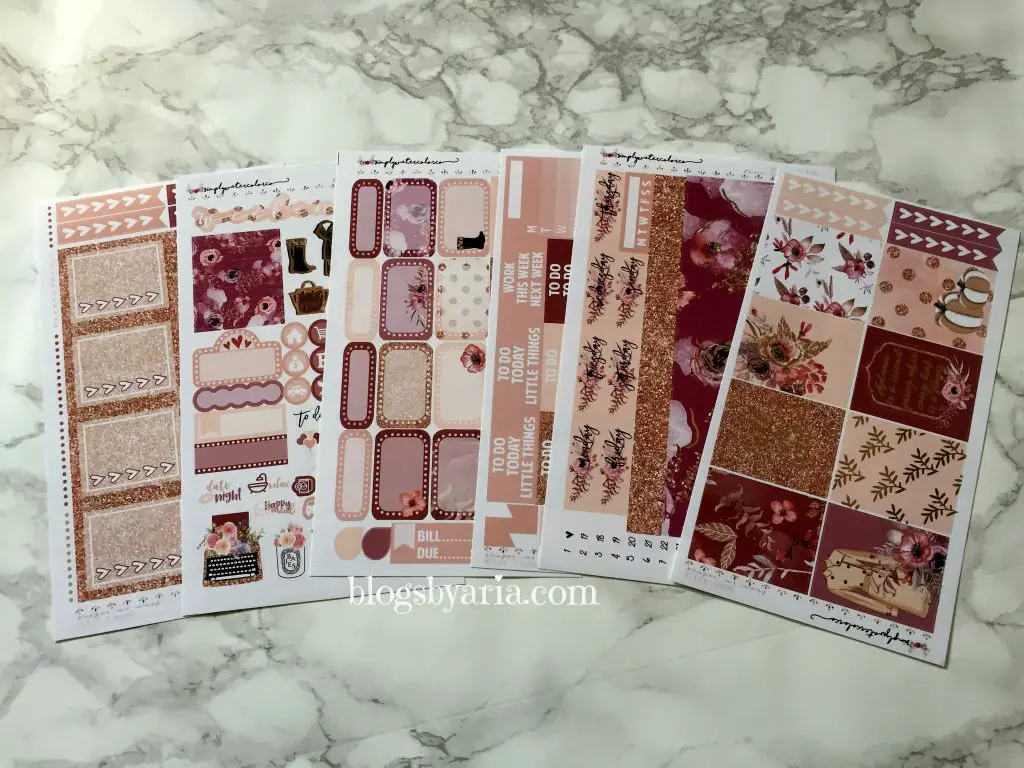 I follow Simply Watercolor Co on YouTube and Instagram primarily but I recently joined her Facebook group.  I'd say I find out the most on Instagram.  This isn't my first kit from her but it's my first one that's glossy.  To be honest, when I got the other two kits from her I loved them online but not so much in my hands and I was disappointed.   So I said, when she comes out with another kit that I LOVE then I will get it in glossy and give her another chance.  Now, that's not normal for me.  But with the first order I ordered the foiled confetti half box (similar) in glossy so I knew that her glossy stickers would be better.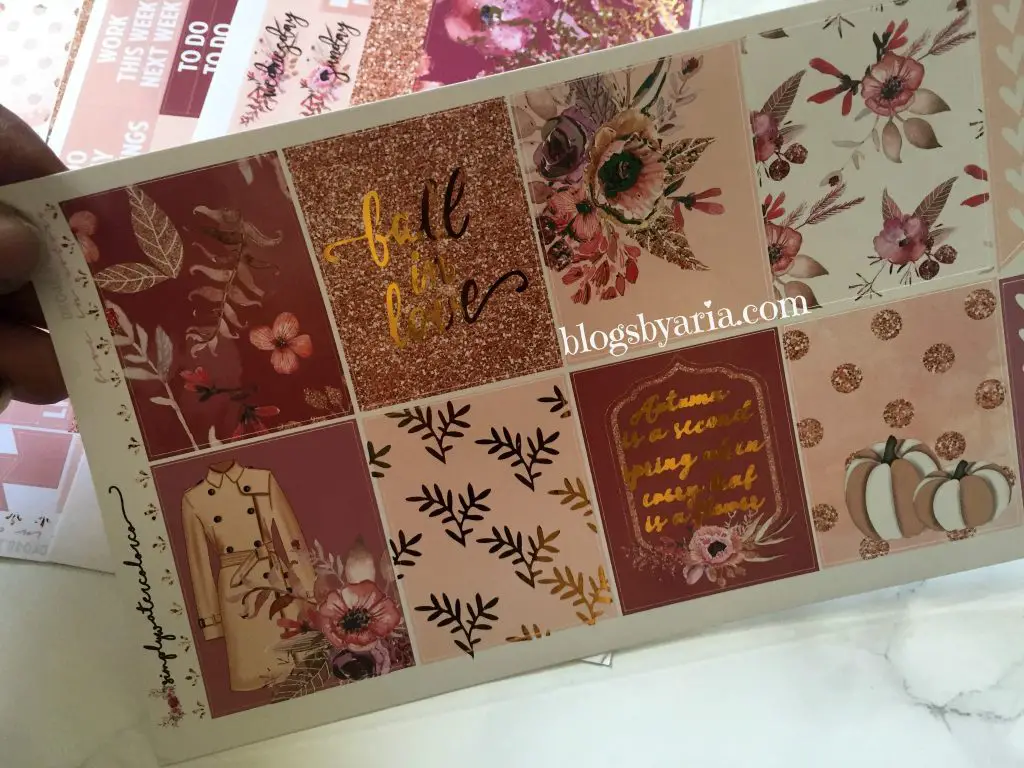 Needless to say, I'm glad I gave her a second chance 🙂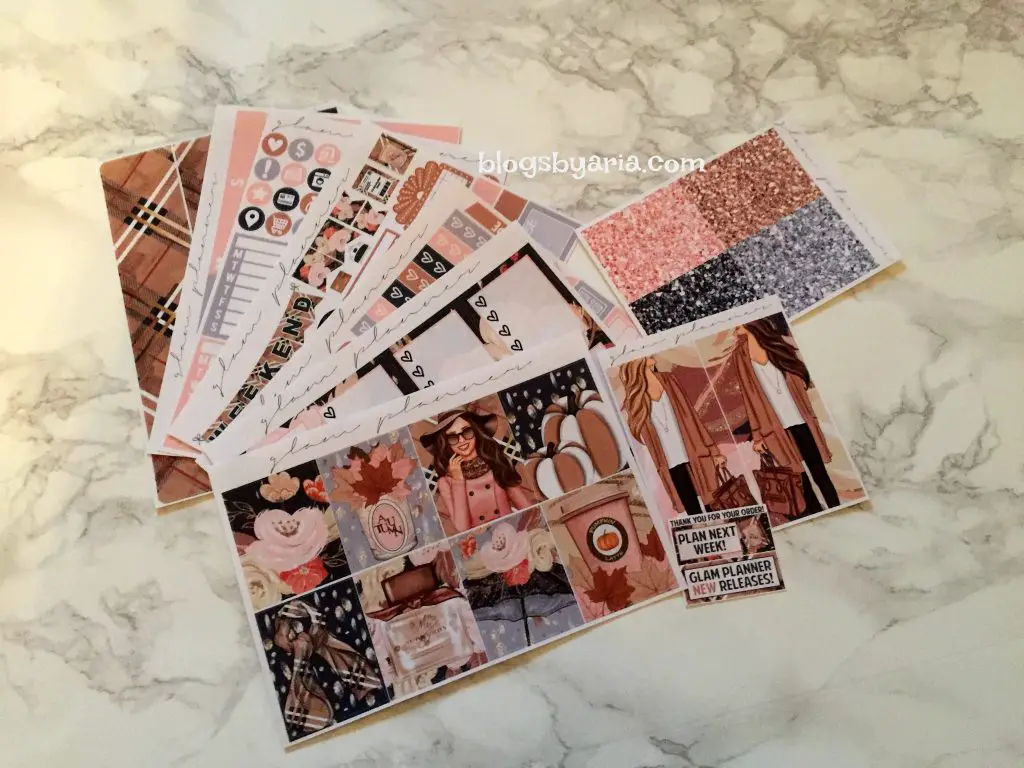 Last but not least, is this kit I just received called Blushing Fall from Glam Planner.  And yes I got it as a pre-sale. 🙂
I have one more Fall kit that hasn't shipped yet from Little Miss Paperie and I'm excited for the September and October Little Misstery Box that I've seen sneaks of in her Facebook group.  They're both fall themed.  I also have a couple, I think it's only two, more Fall kits from her that I want to purchase soon.  But for now, that's it for my planner sticker haul.  What did you think?  See anything you love?  Want to see more posts like this?  Let me know!  And as always, I thank you for spending some time with me today! 🙂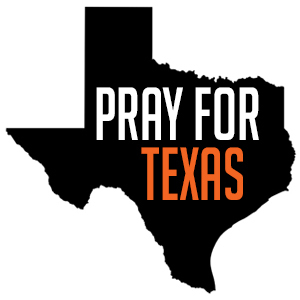 I would be remiss if I didn't share that for anybody who doesn't already know, please pray for Texas and support.  I'm going to be sharing some charities and organizations on my Facebook and Twitter pages over the holiday weekend.  I'd say one of the easiest ways to help is to text HARVEY  to 90999 to donate $10 to the Red Cross.  I know there is a lot of concern as to whether The Red Cross is the best organization to donate to, based on Haiti, but if you feel helpless like I do, it's the easiest way to give.  Like I said, stay tuned to my Facebook and Twitter pages to find ways you can help.  As I know all to well, the worst is definitely not over with the flooding and it will take quite some time to rebuild.  But Texas is strong and so is America.  We come together to help those in need.