I've had quite a few posts lined up for this three day weekend going into next week.  However, this post needed to go up first.  I was reading a blog last week that would write a confessions post every few weeks and I thought a confessions post would be the best way for me to share some thoughts I've had and what's been going on in my life.
Chipotle
Where to start…let's start with Chipotle.
I love Chipotle.  I've tried most of the meats: the chicken, the steak and the barbacoa. I've always preferred the barbacoa.  Which I assumed was slow roasted beef.  Months into my "eat all the Chipotle" crusade my friend says to me, "Do you know that you're eating sheep?"  Imagine my horror after I adamantly denied that it could be sheep and after some googling that she was right.
Let me say that I believe animals are meant to be eaten.  We as humans are to rule over them and use them for our benefit.  We eat chicken and cows and pigs and animals of the sea.  Heck, our teeth are shaped for eating meat for crying out loud.  Yet how could I eat a sheep?  After first finding this information out, I stayed away from Chipotle.  I mean, I can't seriously continue to eat ba ba black sheep can I?
Turns out that yes, I can and I have.  And somehow this conversation came up at work recently.  My co-worker sent me this meme: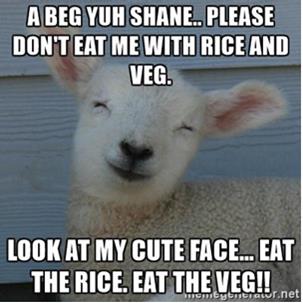 Oh the horror! I really had been feenin for some Chipotle.  But now I'm back to feeling guilty for eating the sheep.  So the other day I got a burrito and I got chicken.  And it was good however it doesn't take up enough space in the burrito.  Here I am, at a crossroad, to eat the sheep or to just stick with the chicken.  If only they served ground beef none of this would be an issue.
Beyonce
I love Beyonce, I do.  I am not a part of the Beehive.  I'm not that loyal.  I just feel that she has been going through leaps and bounds in order to show that she is really carrying these twins.  Over and over she posts all of these pictures on Instagram to show that she is indeed with child(ren).  I want someone (close to her) to tell her to sit down somewhere and for the love of God take the heels off!  I mean come on already.
You may be wondering why I even have anything to say on this matter.  I'll tell you why.  I don't know if you recall when she was "pregnant" with Blue Ivy.  There was a certain video clip where she was in another country for an interview.  And when she sat down, her "pregnant" belly how do I say…flattened, I don't have the right word to describe it.  Here's the receipts:
New video of Beyonce from a TV interview in Australia hit the internet causing some people to question if B is really with child.Now there are a ton of consp…
In case you've never been pregnant allow me to explain…when there is a baby in your belly, and the baby looks like a baby if you were to get a sonogram, you can no longer suck in your tummy.  It will not smoosh or flatten or change shape in that way.  So that is why she has been sharing all of these "look at me I'm really pregnant" pictures.  Clearly she has something to prove.  I can tell she's pregnant.  Her features have really changed as she has progressed in this pregnancy, as they do with most women.  To me she is really #teamtoomuch right now.  Just my thoughts.
Anyone else who was this far along with twins wouldn't want to go anywhere, like to sit courtside at a basketball game, or to an event in stilletos, heck no.  You can't even tie your own shoes at this point.  Give me the remote and keep the air conditioner as low as I want it because I'm carrying twins for crying out loud.  If it's not to go to the doctor's office for my appointments then I'm not going anywhere.  Again, just my thoughts.
The deer who hates me or vice versa
Moving forward.  Ugh. Life will flip on you won't it?  Let me just say that I have always had a great relationship with deer.  They like me.  They know I don't hunt them.  They know I don't eat them.  They know that I am their advocate.  I have pictures in this post to show that they are my friends.  When I've seen them near my road I've stopped for them.  I've waited for them to go back into the woods to make sure they don't get hit by a car.
So when a deer decided to hit my car Friday on my lunch break I was in shock.  I still am.
I was on the road near my job hoping to get my food and be back in time for me to have a 30 minute lunch.  I hadn't even gotten to the full speed limit when boom boom BOOM! A deer pounded into my car and looked at me in my eyes and trotted on away into the field.  As I sit in shock.  First thing that happens in my mind when something like this happens is: Oh my God I don't have the money for this!  Seriously.  That's what I thought first when I got in my car accident in November and this time.  Like come on man!  I have enough on my plate and now this.
I moved my car over to the side of the road and I hear the scrubbing.  The scrubbing of car parts that are rubbing the ground.  Dangit.  I just got this car!!!  I'm pissed.  I text DH and then I call Geico.  Thankfully I have full coverage, as per the law.  Within the hour I have a tow and a rental car.  Geico was on it.
It's crazy because we all know that we have insurance but we don't want to have to use it.  I have never had to use my car insurance as an adult.  So this was all new to me.  I called them when I got hit in November but it was the other party's fault so Geico wasn't really involved.  The woman I spoke with that day was awesome.  She put me at ease and she got everything taken care of in a 20 minute phone call.  At least everything that could be that day.  She asked me to make sure that nothing was leaking and if the car could be driven at that time.  So I get out the car and I look and oh man.  Again, I just got this car man!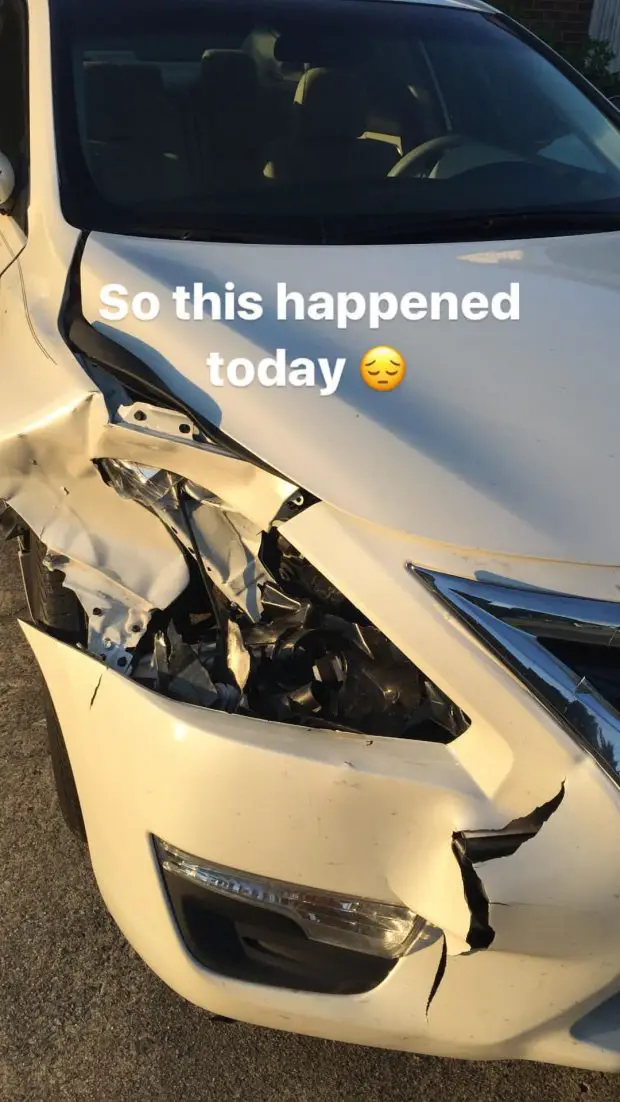 Anyway, so here I am.  I am driving a 2017 Hyundai Santa Fe Sport now.  And I go into this week knowing I'll have to deal with a lot with finding out what's next.  What's the financial damage going to be?  I know I'll get through it.  I'm still perturbed by it all.  I still don't understand why that deer did this to me?  But whatever, everything isn't meant to be understood.
So many things have been running through my mind.  Like how do I trade in a car that's been involved in an accident?  I've never had to do that before.  I've never actually traded in a car before.  Is my car going to ever be the same?  Enough questions for tonight.  This post is long enough.