I'm dreaming up a home office today friends!  As a blogger my dream space in my home, aside from my kitchen, walk-in closet and master bathroom, is my very own home office.  When we're blessed to be able to build our dream home I can't wait to have my own space.  I'd prefer for it to be my own space.  Not sharing it with the kids or with the husband.  But I'm willing to compromise.  Let's look at some of my favorite home office inspiration…
I want my home office to be both functional and pretty.  What I like about the office above is that it has the desk island type of set up.  That space is perfect for wrapping gifts, filming plan with me's and having space to spread out in.  I also like the built-in bookshelves which are perfect for me to have more feminine decor pieces that wouldn't necessarily work throughout the rest of our home.
This office gives me both my desk space for my computer, with natural light and a craft table.  I like that you can see there's already a built-in gift wrap station and I can imagine that those drawers underneath are perfect for wrapping paper and accessories.  This space is more function over design in my opinion.
I love the natural light in this home office.  It looks like there are french doors (my fave!) leading into the office so I can be separate but not closed off from the rest of the house.  That light fixture is a no go.  I would probably not have the two sets of chairs in the middle here, that's where I may would put a craft table like
this one from Pottery Barn
.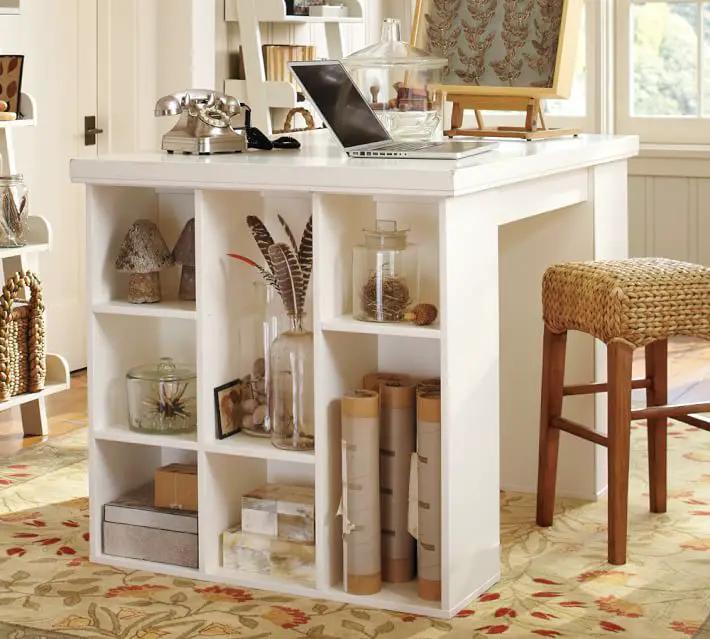 It doesn't take up a lot of space, which is perfect.  It's just a nice size table option with adjustable shelves on the side.
This home office option is if I really don't have a lot of space to work with.  The paint color would change but it gives me what I need in my home office.  It gives me space for my computer and printer and my file cabinets.  And I love a pin board.  Which I would have regardless in my office.
Here's some pin boards/memory boards I'm loving right now:
The last office space I want to share today I love thanks to all of the built-ins.  I of course wouldn't go with this paint color but I love the board and batten bookshelf design.  It's a classic touch that says "you're in the boss lady's office" haha 😉  It offers plenty of storage options and I have a space for my computer and a working desk that I can spread out on.
What do you think?  Do you have a home office that's both functional and decorative?  I like to share posts like these because until I can be a home decor blogger, I can share things that inspire me ya know?  Stay tuned because I have a lot in store 🙂  Thanks for spending some time with me today I appreciate you for it!