Admittedly I've done a lot of shopping for fall this year.  Recently I shared how I was planning to decorate for fall and those ideas have helped in giving me a direction.  I have done a bit of damage shopping for fall.  Although I've already started decorating, I wanted to share a fall decor haul with you to show you what I've purchased new this year.
I've mostly shopped at Hobby Lobby because they have had such a great selection of what I've wanted.  From fall floral stems to pumpkins to wall decor, I mean they have just knocked it out of the park!
*this post includes affiliate links for your shopping convenience, you can read more about affiliate links by reading my Disclosure*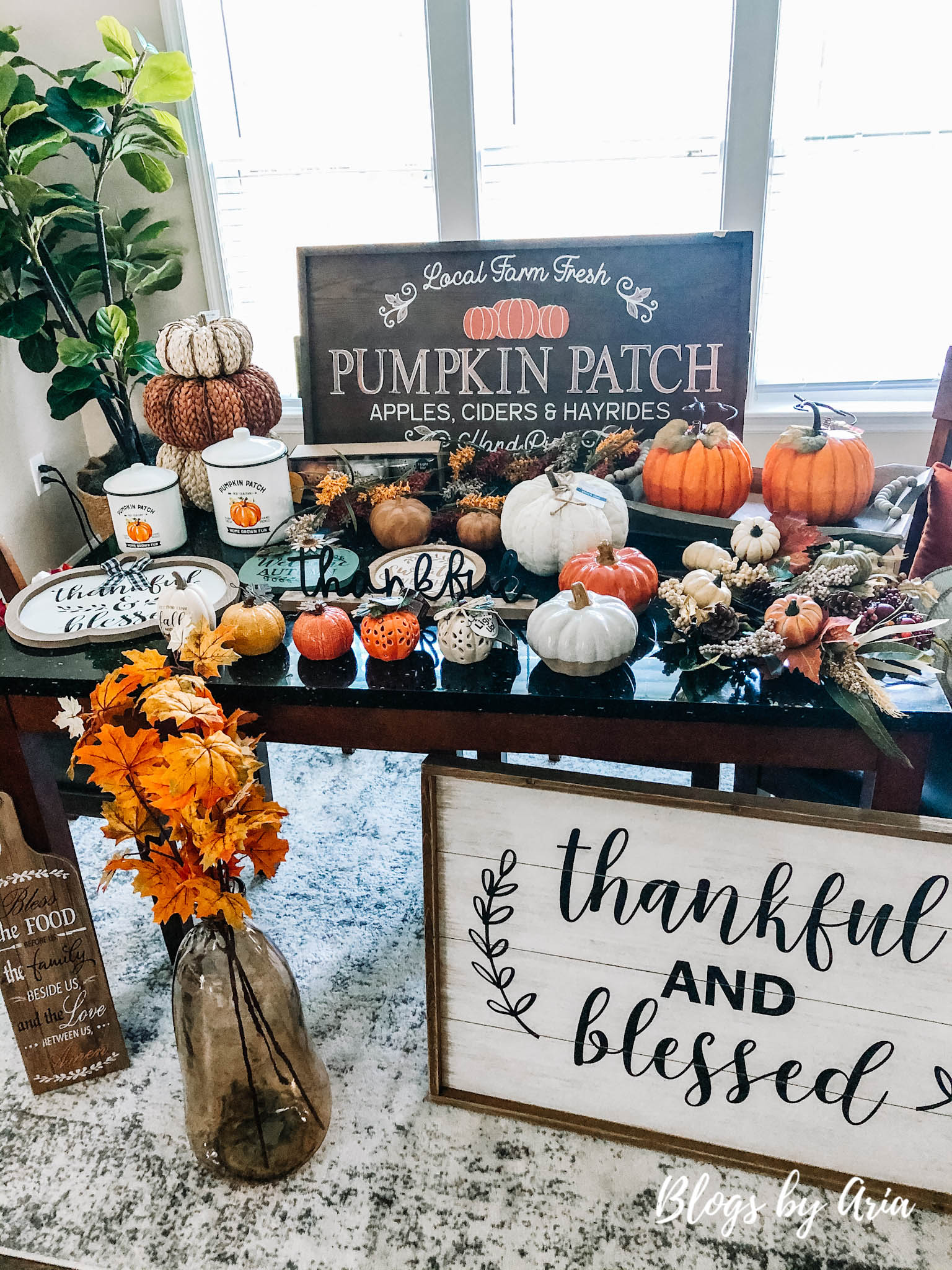 You may be saying this is a lot.  And I'd have to agree with you.  Each year I don't think it's necessary to buy this much.  But I'll remind you that it's my second year decorating for fall.  And last year I didn't really go full out.
Plus, I could have waited for things to go half off, but I would much rather get what I can get now at 40% off when the selection isn't completely picked over. Also as a blogger, and lover of fall decor, I don't want to wait for the sale to go down by another 10%.  I want to get my content out there early and decorate early so I can enjoy it longer.  So let me show you what I added for my fall decor.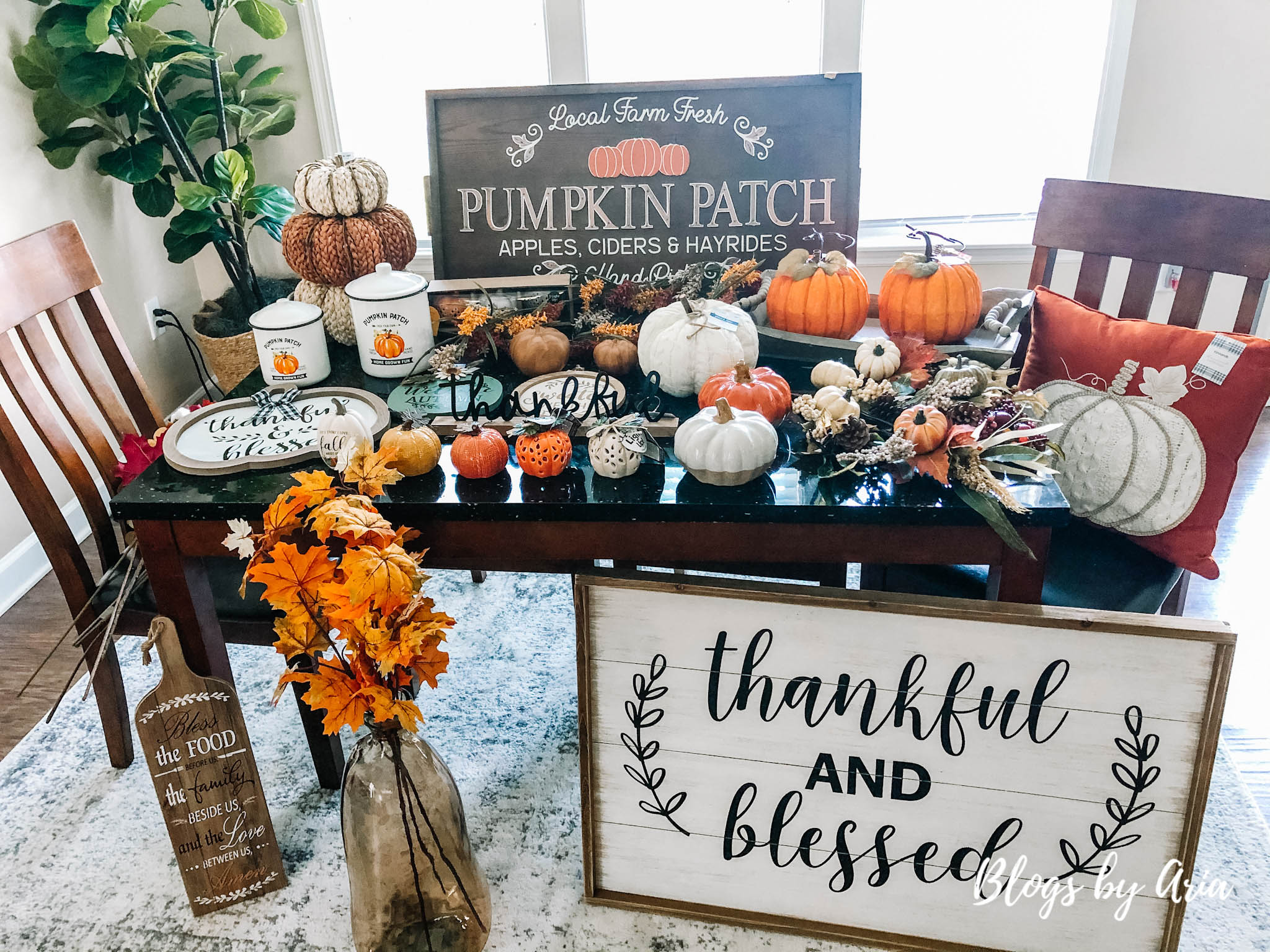 The majority of what I purchased this year is from Hobby Lobby.  Some items are new this season but many of the items were available last year and I missed out on them.
Probably what stands out the most are the two large signs.  If you follow me on Instagram (which you should) then you may have caught my Stories where I asked which sign you preferred, of this dark wood option I got and this white one.  My kids and husband liked the white sign more, but I just loved how the dark wood looked with the pumpkins.
This thankful and blessed sign I've wanted since I saw it in a lot of Pinterest and Instagram posts last year.  I got it on sale for $35 and the wooden pumpkin patch sign I got for $30.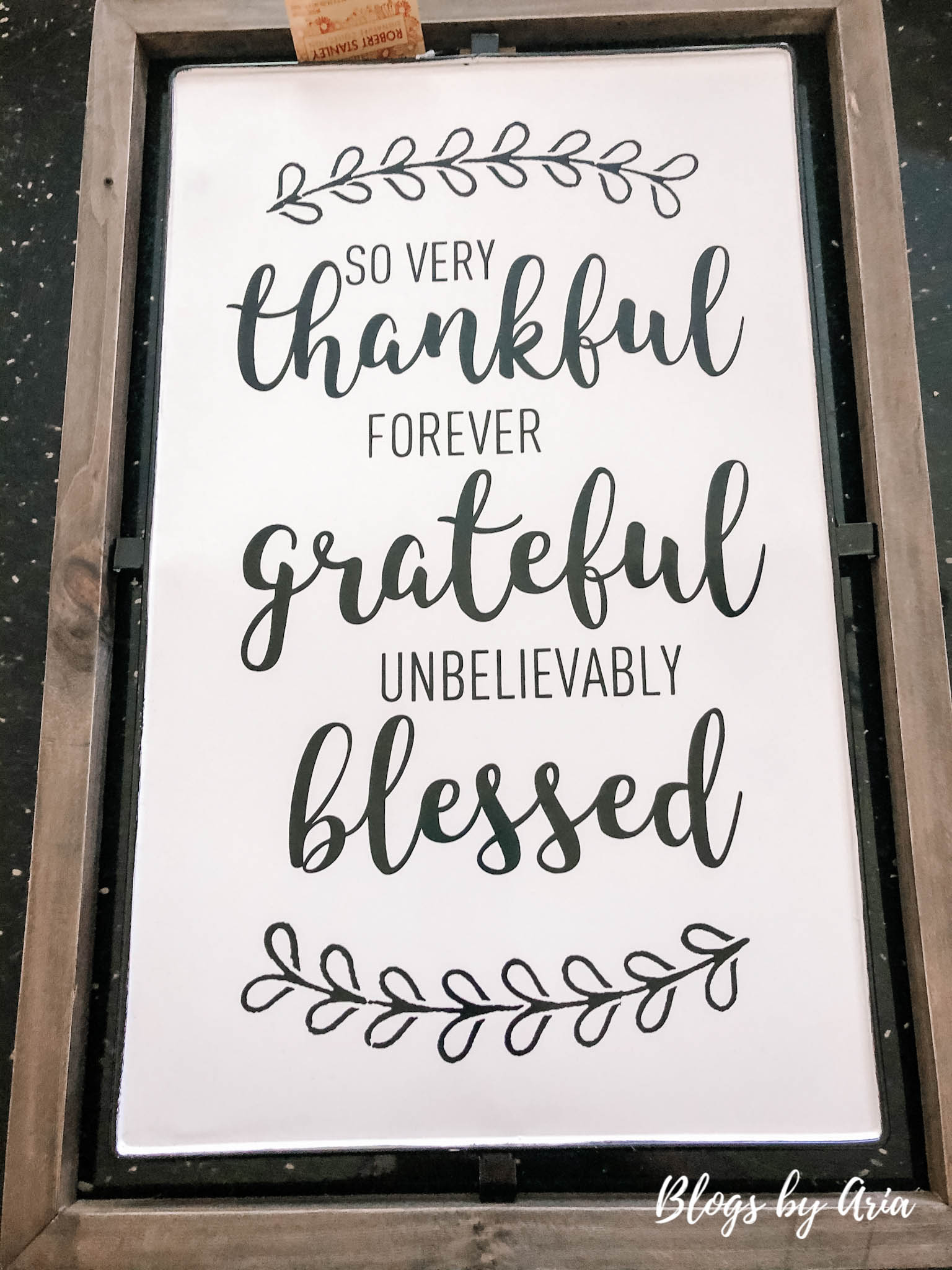 I forgot to include this thankful, grateful, blessed sign in the haul picture.  It's one of the first items I bought this season because I loved it so much.  With both this sign and the thankful and blessed sign, they're in the fall collection but they're perfect for year-round farmhouse decor.
This wood bead tray was something I had gone back and forth on.  I decided to go ahead and get it because it has more of a fall vibe than the woven beaded tray that I am currently using on my coffee table.
I got a few more picks with some of these heirloom pumpkins.  I've been adding them to my garland that I'm working on for my mantle.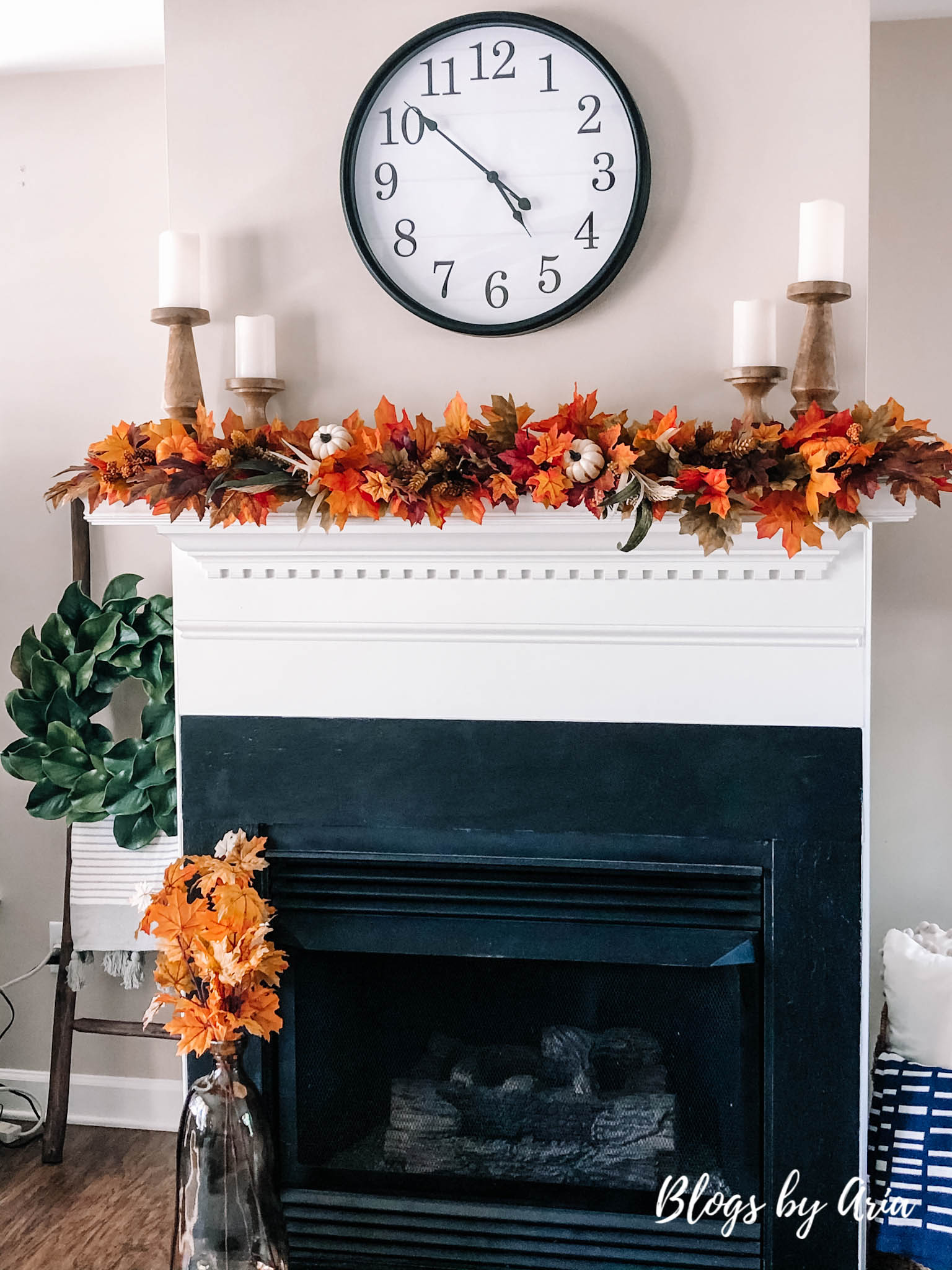 This is a progress picture of my fall mantle.  I'll include a link for the base garland I used below.  There's a combination of different fall leaf picks of different colors and styles, some hops and some of the pumpkin picks.
The fall stems are also from Hobby Lobby and I found this light amber colored glass vase from Home Goods this week.  I was looking for a floor vase and got it for a steal at only $15!
Not fall related, but on one of my recent Hobby Lobby trips (there's been several) I got this gorgeous magnolia wreath.  It's not going to stay here on my blanket ladder, but I got it on a week when wall decor and floral were half off so I paid $30 and it's just so beautiful!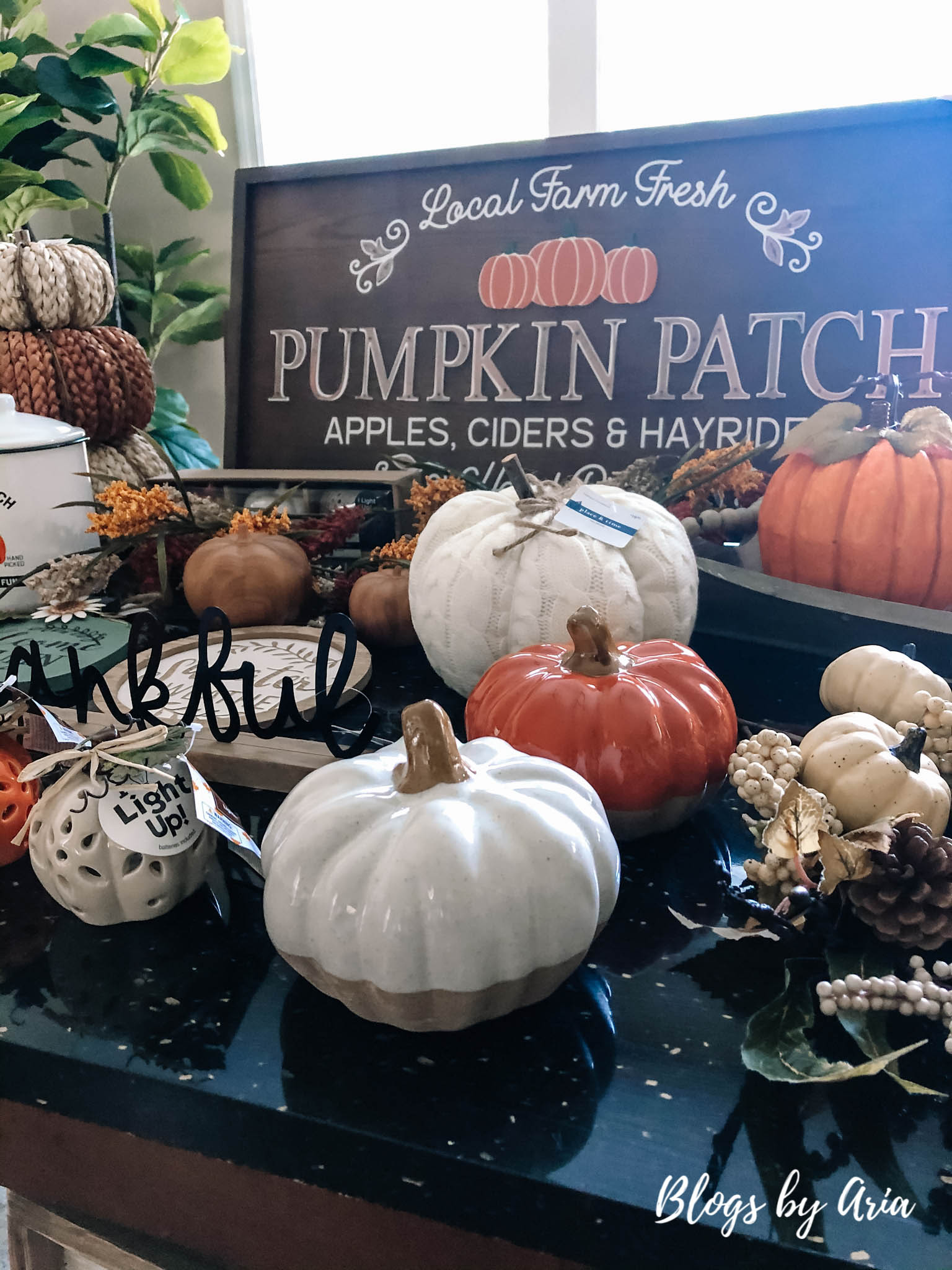 A lot of pumpkins were added to my collection this year.  I realized I didn't have many standard pumpkins from last year.  Some of my favorites are these cream and orange two toned pumpkins that look like they're dipped.  And peep those super cute wooden pumpkins!  They're from Joann's.  I looked online and couldn't find them but I'll keep looking.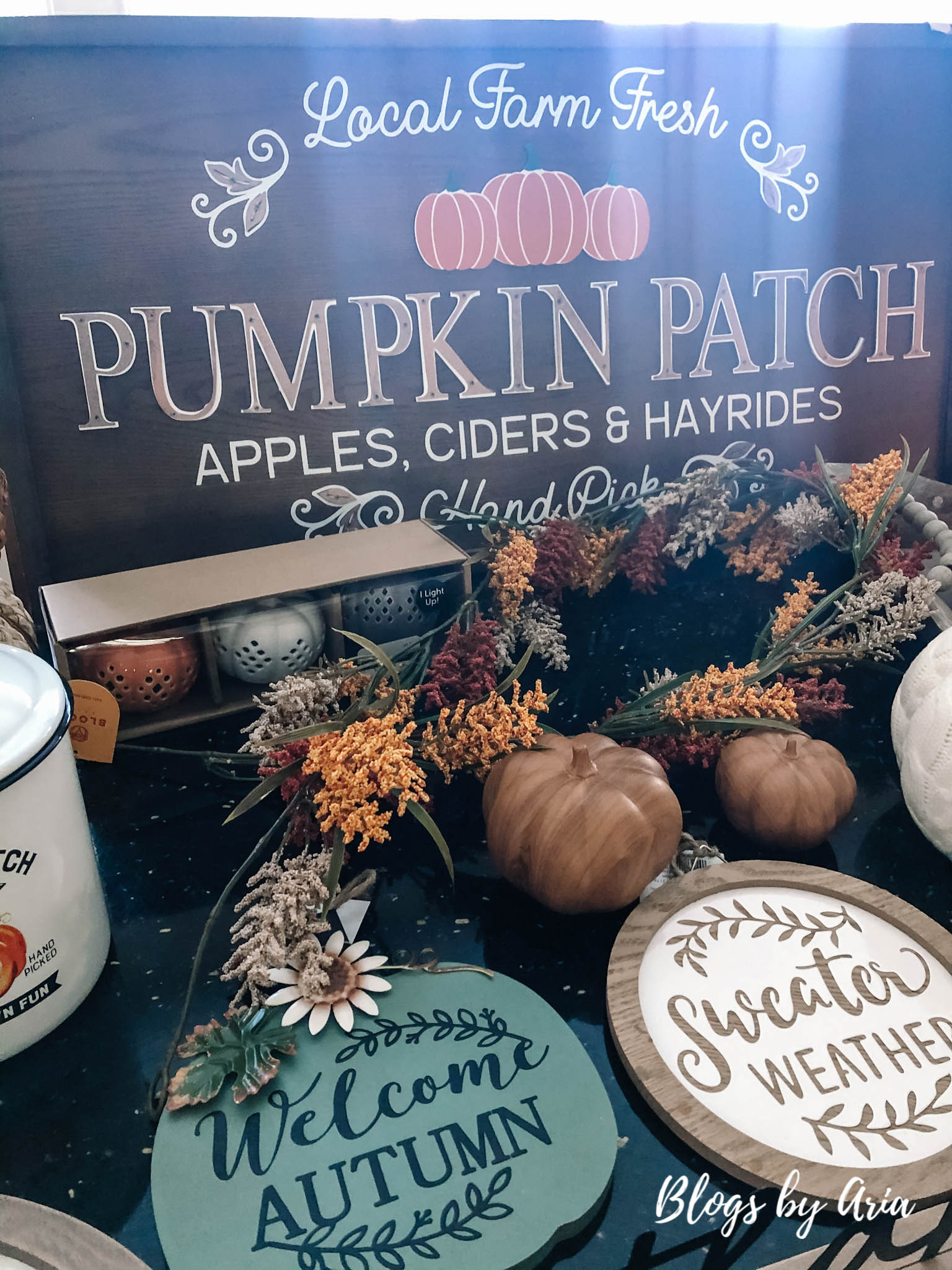 This fall berry garland I got from Joann's.  I'm going to use it with my garland on my mantle.  Which means I'll be taking my garland down but that's okay, it's easy to do.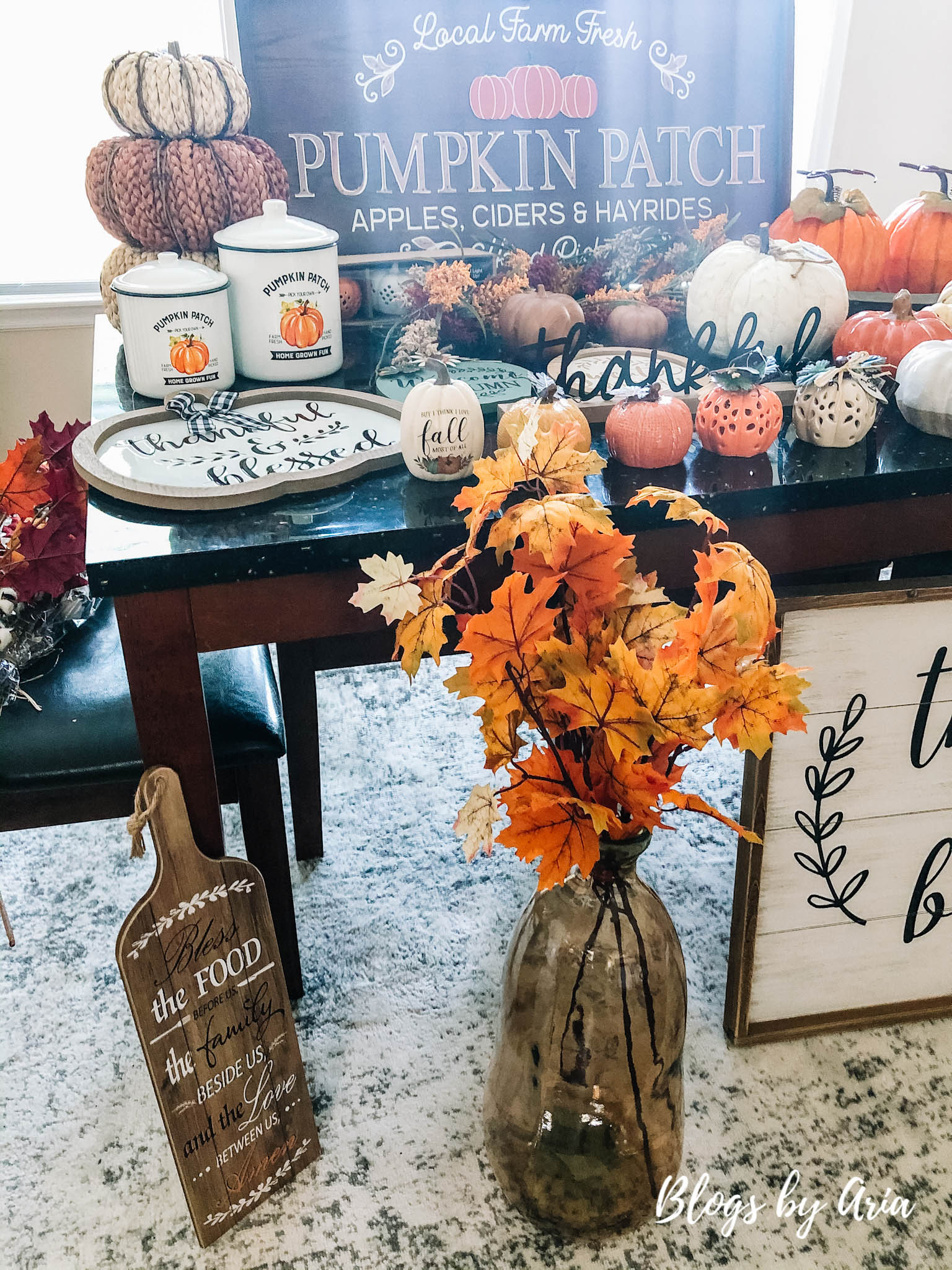 Those woven pumpkins are favorites too!  The super cute pumpkin patch canisters are from Michael's along with the bless the food sign.  I went to Michael's this past weekend to get this bread box and it's part of the fall collection.  Everything from the Michael's fall collection was 30% off.  Yes I could have waited, but I knew the bread box would sell out so I went ahead and grabbed a few more items.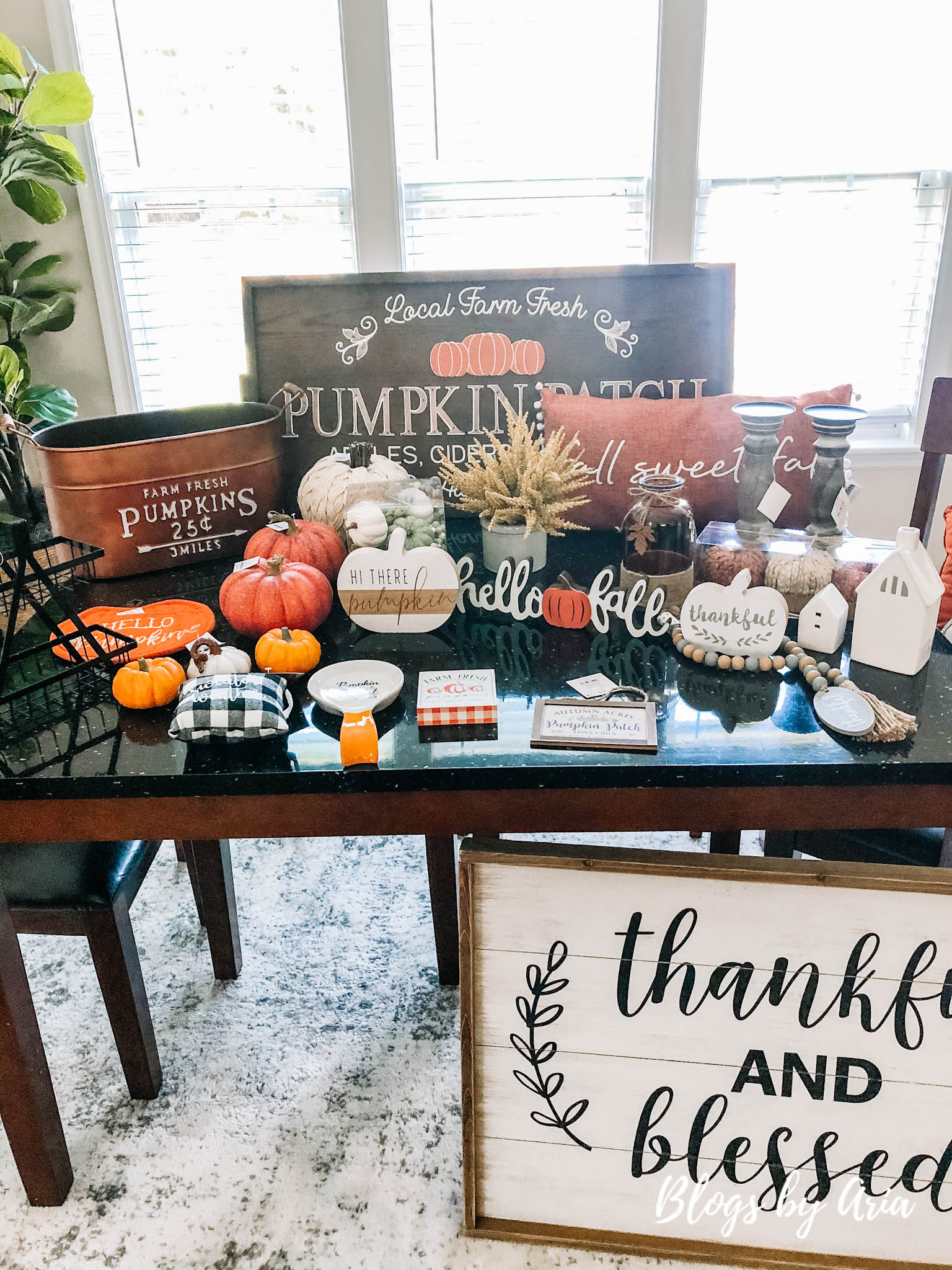 Round 2!!  My favorite is this gorgeous copper pumpkin tin from Kirkland's.  Also from Kirkland's is this fall sweet fall pillow and earlier you may have spotted this orange sweater pumpkin pillow.  I'm probably going to get a second one when they have another good sale.  I got these at either 20 or 25% off.  I'm always a sucker for Kirkland's pillows!  So many cute ones for fall that you can see in my fall planning post.
The copper tin comes in a pack of two online but in store you can purchase the small or large tin separately.  I got the large tin.
KIRKLAND'S FALL PILLOWS I'M LOVING
A lot of these are smaller options, some that will be used in my tiered tray.  This autumn acres sign on the bottom is a tiny version of a sign that they have as a larger sign.  It's so cute and I wanted the larger sign but since I got the other two signs I didn't feel it necessary to buy it.  This small one was a great compromise.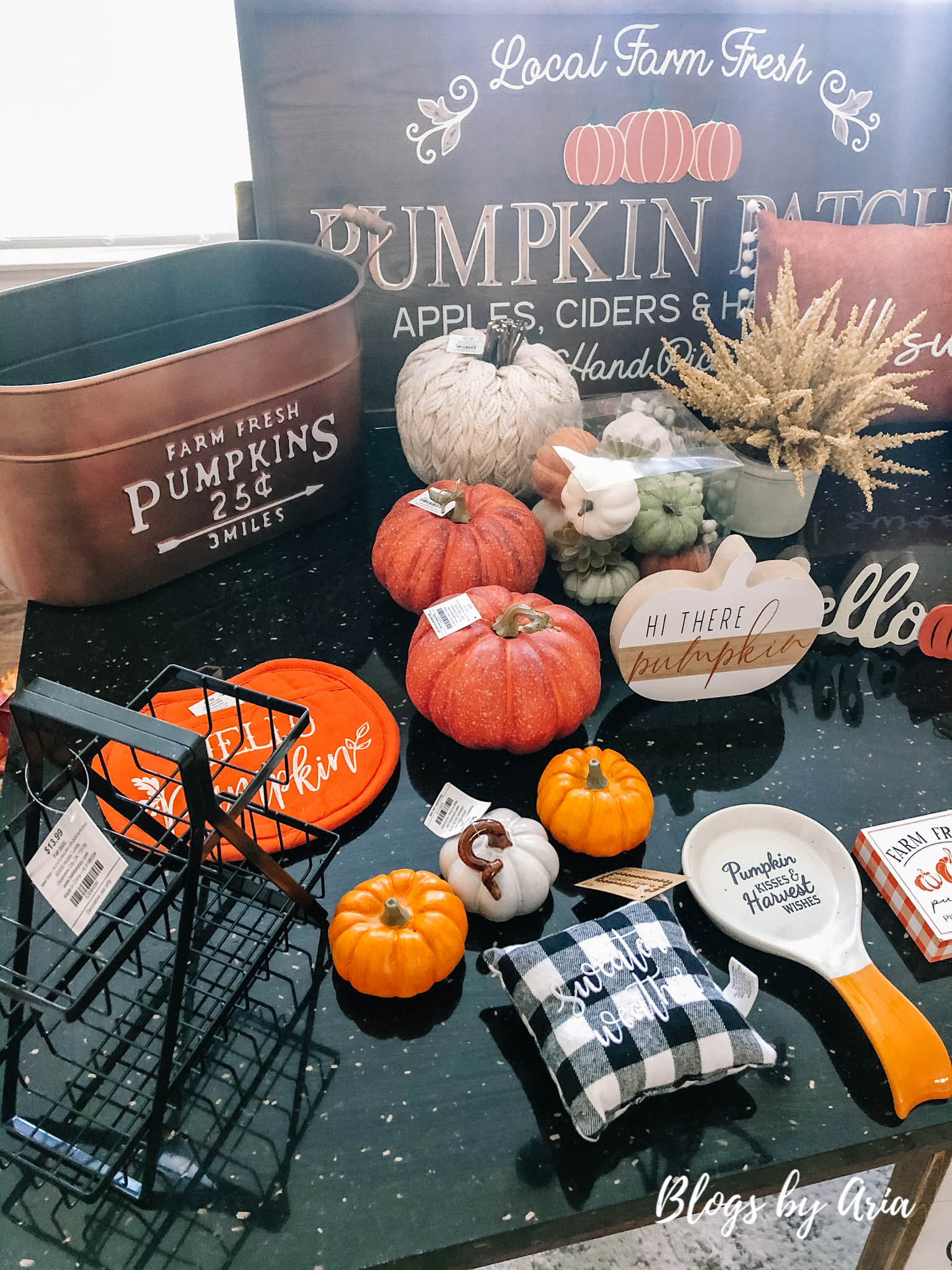 I got this little black tiered tray that can be used in a number of ways.  I'll probably use it in my kitchen with a few of the small pumpkins.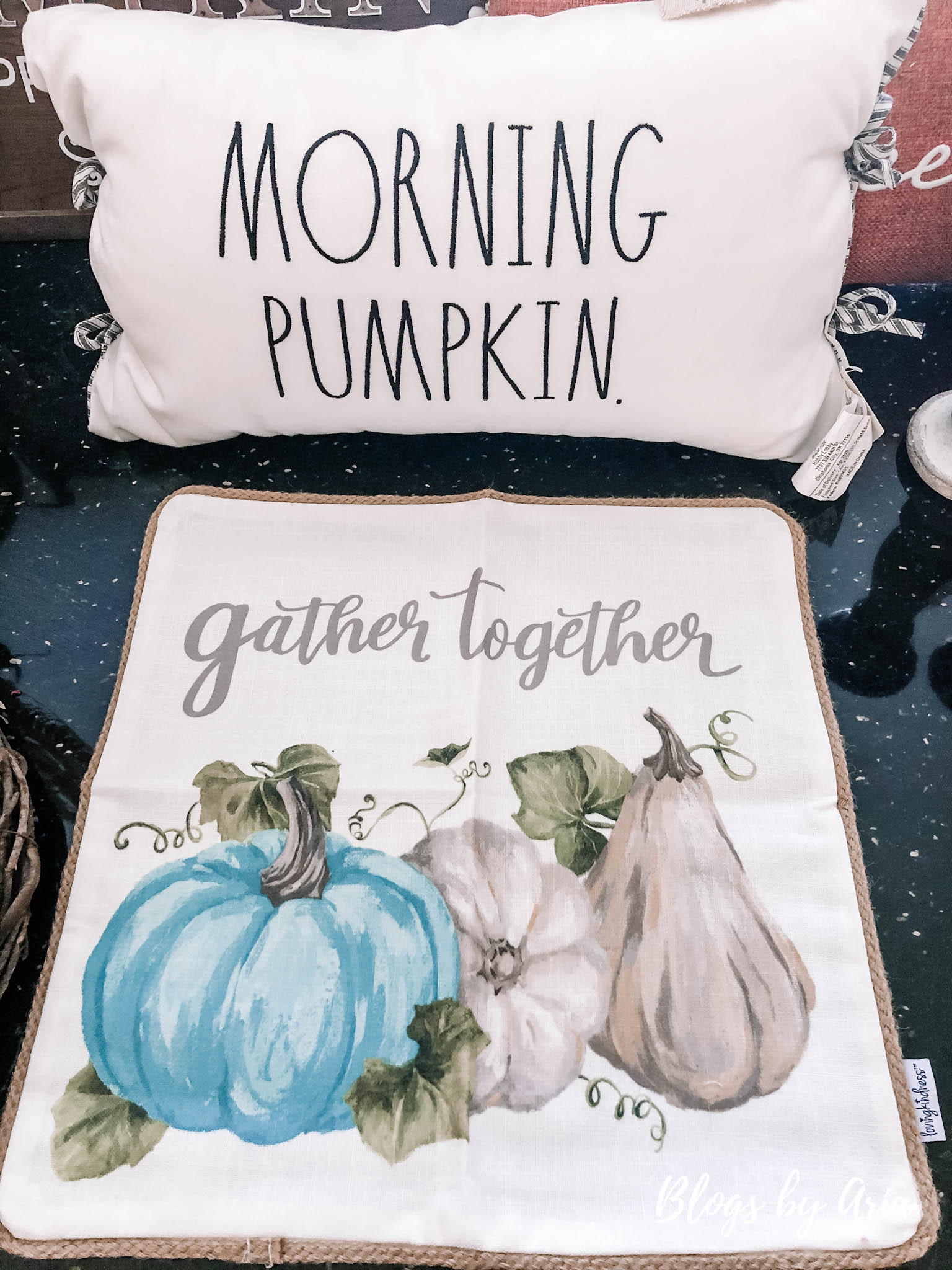 The first item I bought for fall this year was this Morning Pumpkin pillow.  It's Rae Dunn and I don't know if you know, but I am not a fan of Rae Dunn stuff.  But this pillow caught my eye and I couldn't stop thinking about it.  I'm going to add it to our bedroom.
Also this pumpkin pillow cover is from Hobby Lobby.  I only got one because I was thinking of just using it as an accent pillow to go with the neutral pumpkin pillows I have from last year.
From the first time I saw the harvest collection online from Kirkland's, I fell in love with this navy and cream buffalo check pumpkin wreath.  There's so many gorgeous fall wreathes to choose from but this is the one I couldn't stop thinking about.  I'll need to find my receipt to confirm if I got it for 20 or 25% off.
In addition to the golden fall leaves stems, I also got these more reddish-hue stems, cotton stems and these leaf spray stems too.
I'm not so skilled with putting floral stems together.  So I did order a few fall bouquet options from Joann's along with a couple more garlands.  I figure I could use them on our TV stand, or our entryway table or my new sofa table.  I'd really like to add one to our bed, if I can get away with it. 😉  I'll report back!
Last but certainly not least, I got this cute hello fall kitchen mat.  It's so cute and comfortable.
Aside from waiting for a few items that I ordered from Joann's to come in, this is pretty much what I'm working with.  This also doesn't include a few outdoor items.  I do want to get a porch leaner sign, but I'm trying to decide which one I want.  And a yard stake, yard flag and some mums will round it all out.  Hopefully I can get some good pumpkins from Trader Joe's.  But the fall porch will be the last space that gets decorated.
Now I'm going to share all the links I haven't already below.  I will say, a lot of items are already showing sold out online but they're available in store.  Since it's the beginning of August, hopefully things will be restocked.  But the way this year has been going, one can't say for sure.
FALL HAUL SOURCES
4″ ceramic pumpkins – Michael's
pumpkins with succulents and berries (vase filler) – Hobby Lobby
3 pack braided pumpkins – Hobby Lobby
braided stackable pumpkins – Hobby Lobby
Simply Grateful Pumpkin metal wall decor – Hobby Lobby
hello fall pumpkin script – Hobby Lobby
light up pumpkins – Hobby Lobby
cream woven pumpkin – Hobby Lobby
Welcome Autumn pumpkin wood wall decor – Hobby Lobby
mini glazed top pumpkin – Hobby Lobby
small orange pumpkin – Hobby Lobby
sweater weather sign – Hobby Lobby
sweater weather buffalo check mini pillow – Hobby Lobby
pumpkin kisses spoon rest – Hobby Lobby
leaf spray stems – Joann
orange and green maple garland – Hobby Lobby
pumpkin and pinecone pick – Hobby Lobby
cream pumpkin and pinecone pick – Hobby Lobby
brown maple leaf pick – Hobby Lobby
pumpkin pick with raffia – Hobby Lobby
pumpkin, berry and leaf pick – Hobby Lobby
rustic pumpkin pick – Hobby Lobby
maple leaf pick – Hobby Lobby
distressed green pumpkin pick – Hobby Lobby
farm fresh pumpkins small wood sign – Hobby Lobby
SHARE THIS PIN ON PINTEREST!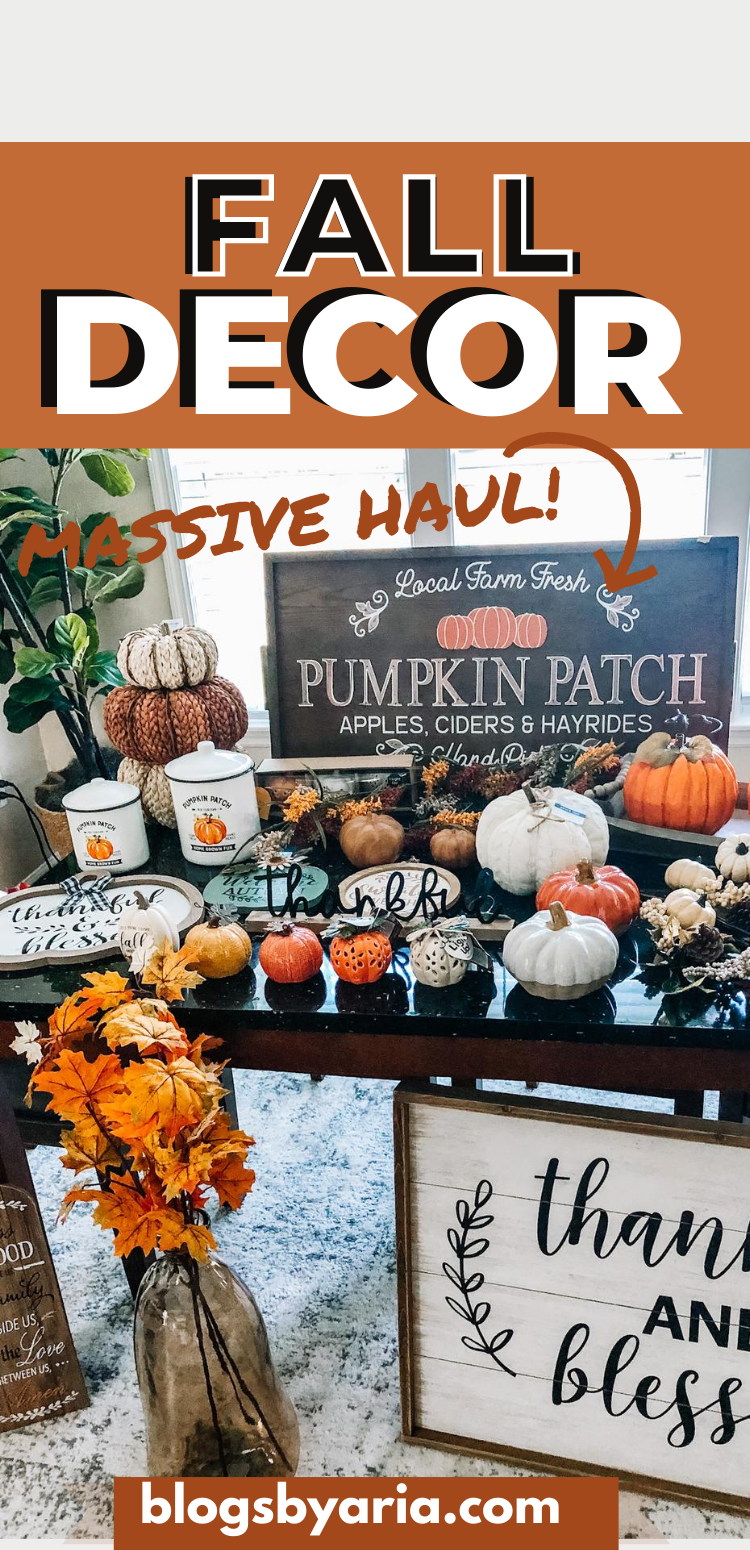 Are you ready to decorate for fall?  If not, I hope you found this post helpful in doing your fall home decor shopping.  If there was a link for it, I found it.  Unfortunately everything isn't available online.  Now I'm going on a Hobby Lobby no spend!  At least until next month when we start decorating our front porch.  Most of those items will be real so there won't be too much I'll need to get from Hobby Lobby.
Even though I've started decorating, not by much, it will take me a couple of weeks to complete the process.  I'll be sharing small spaces here and there leading up to my final fall home tour.  I am so excited!
Let me know if there's anything you've got your eye on! 🙂