It's that time of the year again!  I love the holiday season and holiday decorating.  As much as I love enjoying the Christmas decor in my home this time of year, I don't enjoy spending a lot of money on it.  Today we're going to talk holiday decorating on a budget!
It's our first Christmas in our new home and I'm excited to decorate this space differently than in our previous home.  And as much as I'd love to be able to buy all new holiday decor for our new home, I just can't do that.  And many people can't do that either.  It doesn't take much to add a little holiday cheer in your home.  I also don't feel that you need to buy a whole house full of decor.  Just a few new pieces each year should do the job.
I've been scouring the web looking for inexpensive holiday decor to add to our home.  I figured I'd share some of the holiday decor I've been finding with you.
*this post includes affiliate links, which means if you click on a link and make a purchase that I get a small commission that helps support this blog and my family. You can read more about affiliate links by reading my Disclosure post*
CHRISTMAS PILLOWS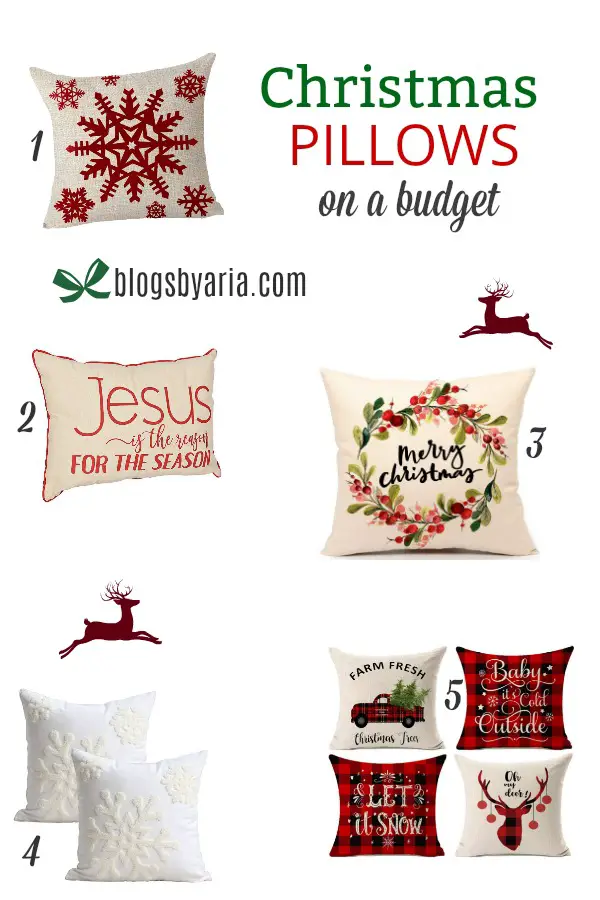 1. Red Snowflake Christmas Pillow – I love that this pillow is neutral so it can work with many different color palettes.
2.  Jesus is the Reason Accent Pillow — This pillow is simple but the meaning is everything.  I definitely like a lot of Christ centered decor for Christmas in my home.
3. Merry Christmas Berry Wreath Pillow – This pillow is super cute and it has a light and airy feel.
4. Christmas Winter Snowflake Duo – These white snowflake pillows are perfect if you don't want to go with traditional red holiday decor.
5. Kithomer set of 4 Farmhouse Holiday Plaid Pillow covers – This is a great bonus set of pillow covers because you're getting 4 that you can spread throughout your home.
Holiday decorating on a budget tip:  Buy decorative pillow covers and a few pillow inserts that way you can switch out the decor quickly and inexpensively.
Plus when you are ready to put away your holiday decor you simply fold the pillow covers and store them which takes up less space than having several pillows to have to store.  There's so many pillow inserts to chose from, but the ones I've ordered are these Acanva Hypoallergenic pillow inserts.
HOLIDAY GARLAND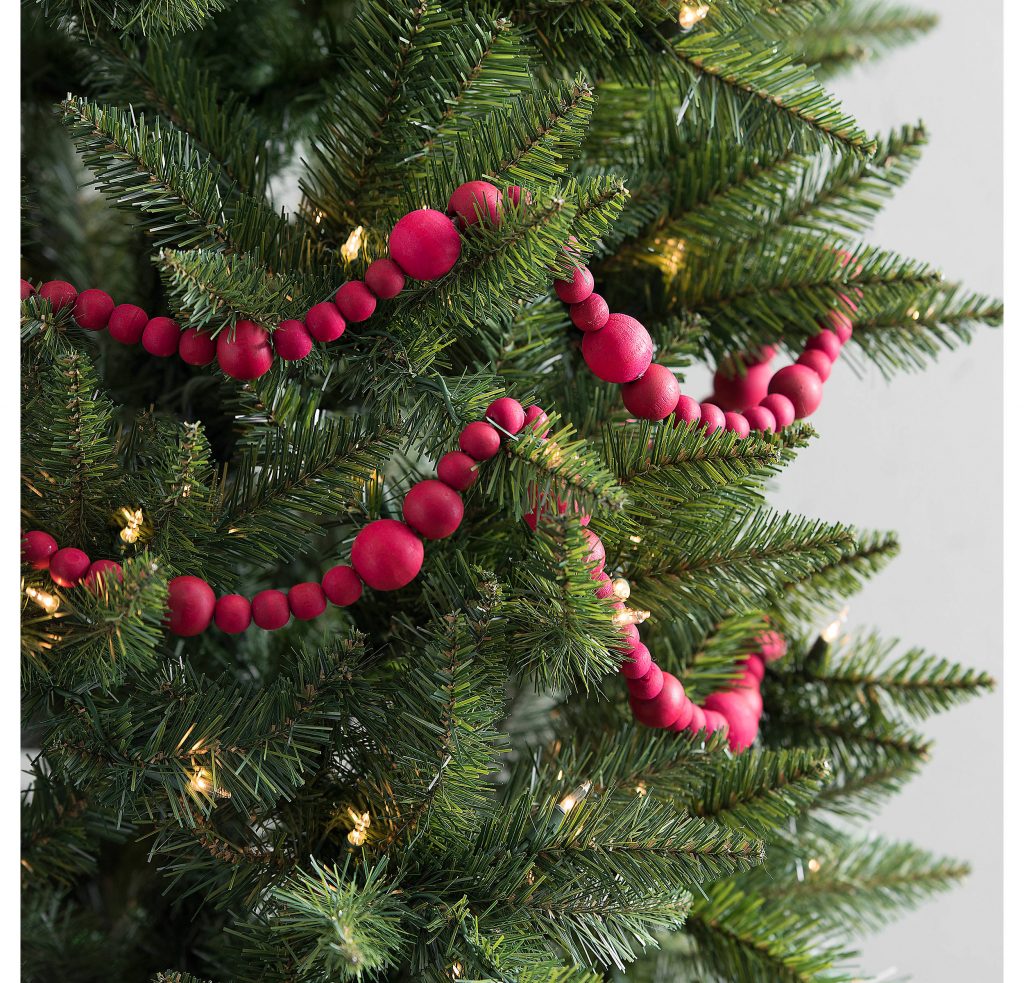 One way that I like to change up my holiday decor is with garland.  It's an inexpensive way to update the look of your Christmas tree.  This red wood bead garland is from Kirkland's and currently on sale!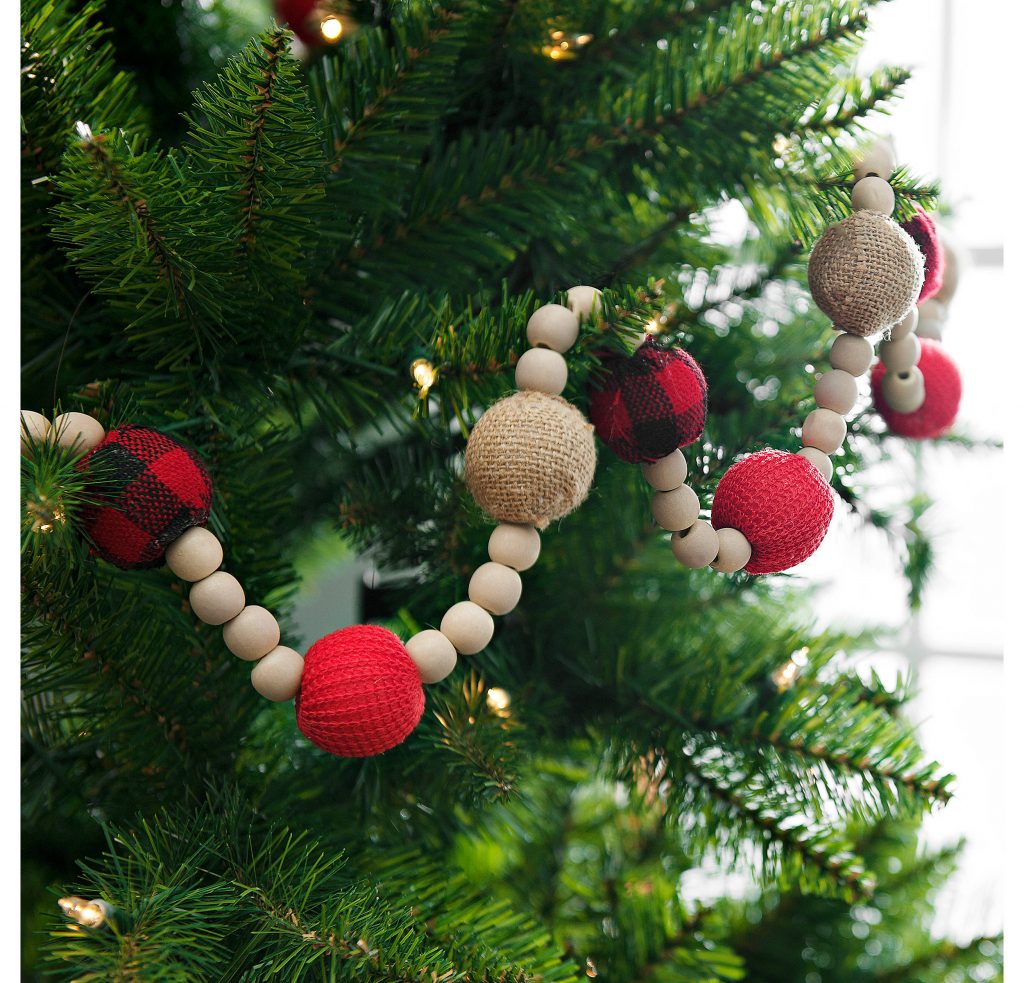 Red and Tan Fabric Beaded Garland
This is another option also from Kirkland's (also on sale) to give your tree trimming an inexpensive update.  I can't decide which one I want to get I like them both.  Over the past few years I worked with ribbon on my tree and I don't really feel up to that this year.  It's a lot of work.
HOLIDAY DECORATING ON A BUDGET
Holiday Decorating on a Budget tip:  Rome wasn't built in a day and neither is your holiday home.  Patience is key.  Buy a few things each year that are meaningful to you and in a few years you'll have a good amount of holiday decor.
Also isn't this Snowman Toilet Cover Set the cutest?  I showed it to my son and he said he wants us to have it!  And it's not expensive at all, perfect for holiday decorating on a budget while adding some whimsy to the bathroom.  I also saw a Santa version too if you'd prefer that.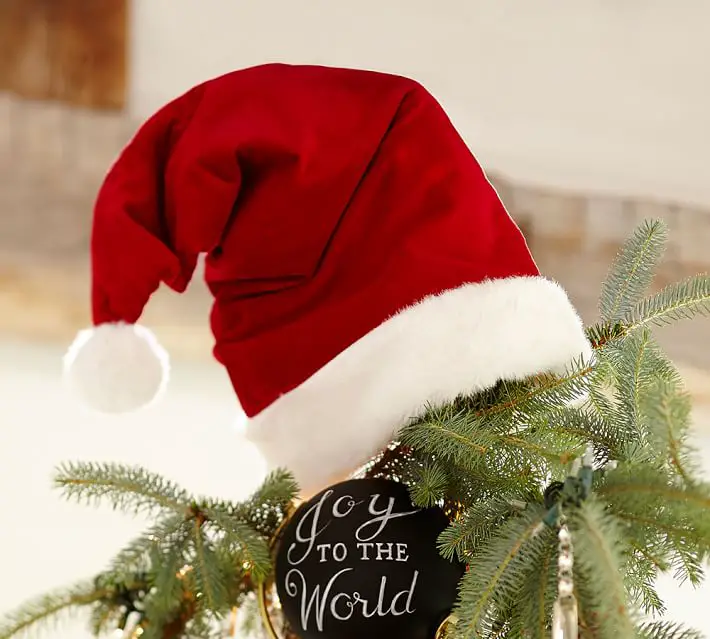 These are just a few of the holiday decorations I've seen browsing around online looking for inexpensive options.  I haven't had a lot of time to go around and look in the stores.  I also love looking at the pricier sites and stores like Pottery Barn for example and every now and then you'll get the right email at the right time and snag a great deal.  Like I did last year with the Pottery Barn Santa Hat tree topper.  I got it for under $10 Cyber Monday last year and it normally retails for around $40!  It pays to get those emails 😉
Let me know in the comments below if you have any tips for holiday decorating on a budget!  I feel like Thanksgiving is way early this year.  It's next week!!!  Which means it's time to start putting up the holiday decor for me.  Which is why I love that a lot of the items I've shared today are available from Amazon and that means Amazon Prime!!  I love that 2 day shipping it has been a life saver time and time again.  If you don't already have a Prime Membership, click on the banner below to sign up for your 30 day trial.
Until next time friends, have a great rest of your week 🙂