Today I am sharing with you my thoughts and comparisons between the 2017 Hyundai Santa Fe Sport and the 2017 Kia Sportage.  Keep reading to see which crossover comes out on top in my book.
Today I am sharing with you my thoughts and comparisons between the 2017 Hyundai Santa Fe Sport and the 2017 Kia Sportage.  I've had the opportunity to drive both of these cars thanks to my car being in the shop.
You may be wondering why I have driven these two cars in this time frame.  Well, a couple of weeks after I was driving the Hyundai I got a call from Enterprise to say that the Santa Fe was due for an oil change.  I was given a few options and I decided to take the option that would allow me to swap the Santa Fe for another car.
When the day came for me return the Hyundai Santa Fe Sport for another car I was given the choice of any remaining vehicle on the lot.  Which wasn't much.  I ended up getting the 2017 Kia Sportage.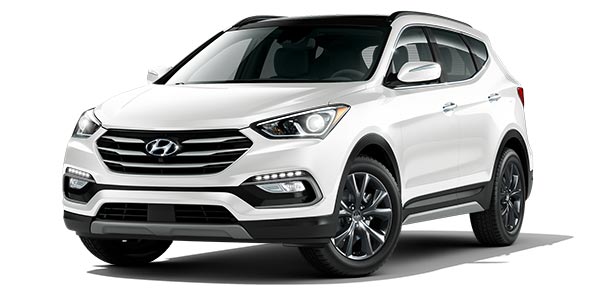 To be honest, I had already grown accustomed to driving the Hyundai Santa Fe Sport.  I really liked driving that car.  It was like driving a regular car but just being a little higher up on the road.  It handled like a car.  I was comfortable in that car.  It reminded my a lot of my beloved Toyota Highlander circa 2010-2013.
I really didn't want to exchange the car for another one.  I chose the Kia Sportage because it was the similar vehicle just a different brand.  I thought that it would be nice to try something new.  Well, in the first week of driving this car I've noted that there are a lot of similarities between the two cars.  But I am partial to one over the other.
Similarities
They are both compact SUV's
They both look very similar on the dashboard with similar functions
They are both great on gas
Neither of the models I had were push to start.  It took me over a week to get used to using car keys again.
The 2017 Hyundai Santa Fe Sport averages 21 city/27 highway mpg.  We had to drive to Greensboro while I had this car for my daughter's cheer competition.  Not only were we all very comfortable for the ride, the display showed that we averaged 27.5 mpg on that round trip.  And both ways left us with about 35 miles left in the gas tank.  Not bad.
I didn't take a trip with the 2017 Kia Sportage but according to google it averages 23 city/30 highway mpg.  That's impressive and it almost makes me want to take a quick trip to test it out!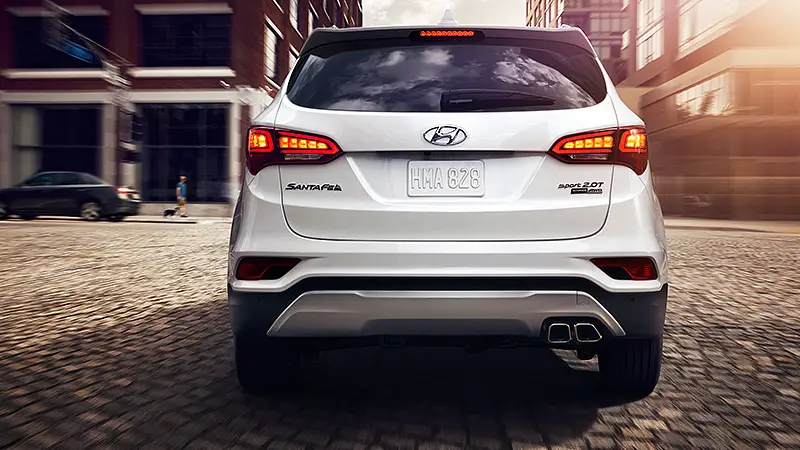 What I like about the Hyundai Santa Fe Sport
very easy to maneuver.  I felt like I thought the car was bigger than it was.  When it came to parking this car it is definitely like driving a small car, like a Honda Civic.  I really liked that.
easy to get in and out of.  I've driven bigger SUV's before where you have to get used to getting in and out.  It is very much like getting into a car.  No need to hoist yourself into this car.  And I can slide right out.
the cargo room in this trunk is amazing.  If it was my car I would have to get an organizing system because everything slides around back there.  But if you need good storage in a car without having to lower the second row seating, this is pretty darn amazing. 35.4 cubic feet of cargo room behind the second row seats per Hyundai to be exact.  That's impressive.
the second row seating was very roomy for the kids.  They loved it.  The seats have the option to recline which I thought was a great feature, and of course, so did they.
What I didn't like about the Hyundai Santa Fe Sport
there is no indoor button for the trunk.  You can only open it via the key fob.
the trunk is not power.  You are pulling a latch at the back of the car and you are pulling it down with a handle when you want to close it.  I expected it to be a power open/close.  (The technical term for this is Hands-free Smart Liftgate with auto open)  Which is available on a higher trim level.
My vehicle was a base level.  It starts at $25,350 msrp which is not bad at all.  If you do want a lot of the bells and whistles we come to expect in this day and age, like the safety features of lane departure warning, pedestrian detection brakes, and comfort features like proximity key and remote start are available on higher trim levels.  That will put you closer to $36,000 but if you have a small family and you want a compact SUV I think it's definitely worth it.  You can check out the trim levels and all the details here.
I am definitely interested in testing out a Hyundai Tucson and the Santa Fe non sport option.  And DH is interested in the Santa Fe for his next vehicle.  We shall see.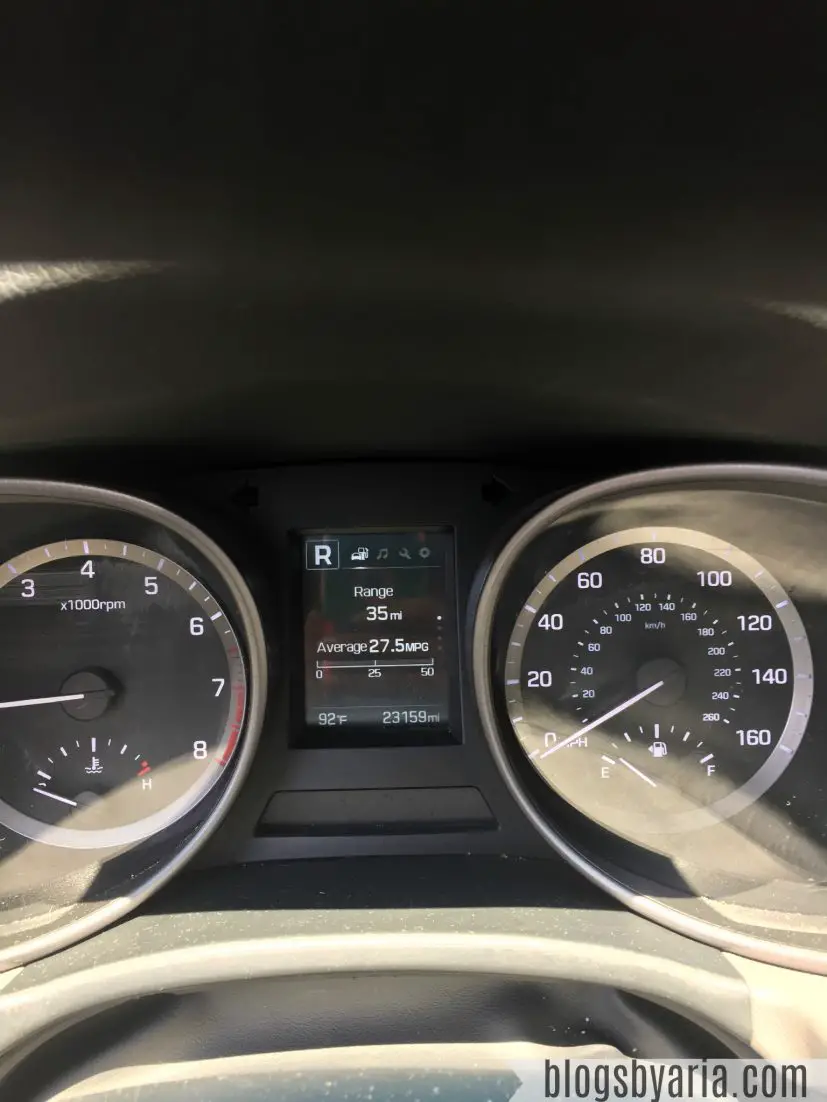 Let's talk about the Kia Sportage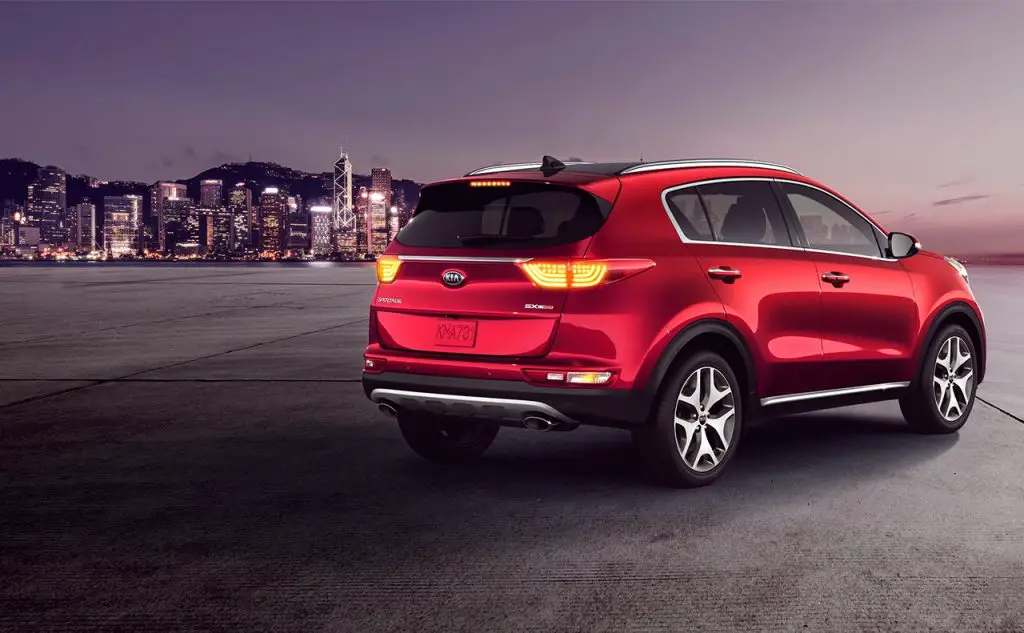 I don't really have much that I liked about this vehicle.  Like I said earlier, they're very similar in the basics.  I bumped my head getting into the car the first few times I did.  The space to enter the car was smaller than the Hyundai.
I couldn't adjust my driver's seat as easily as I could with the Hyundai.  No buttons, just levers on the bottom and side that didn't really work that great.
And call me picky, but you know how most cars for the driver's side the window button is a power button.  Meaning one touch up and down and it automatically finishes going up or down.  Well, this car only let it be a power down.  Not up.  That made no sense to me.
This vehicle didn't have much get up and go.  It definitely takes a while to ease up to the speed limit.  I'm used to being able to really go when I press on the gas.  Not think about it for a few seconds before it decides it's ready.  You can really feel the shift between gears in this car.
The back seat was smaller, not as roomy as the Hyundai.  The kids were not a fan at all.
I think it's safe to say that we all enjoyed the comfort and roominess of the Hyundai Santa Fe Sport.  The Kia Sportage was a huge disappointment.  I know a lot of people who drive Kia's and they enjoy them.  So I don't want it to seem as if I'm bashing the brand.  I just expect a certain level of comfort with a newer car.
The good news is that I have my car back.  I've learned a lot of lessons during this time.  I don't want to see Enterprise anytime soon, unless I actually choose to rent a car.  Which I've never done so why start now.