Something that I'm looking really forward to is the end of summer.  I know, sounds strange right?  Well the reason why is because by my first paycheck in August my car will officially be paid in full!!!  That's such a wonderful feeling!!!  Honestly, if it wasn't so slow at work and overtime was being offered, I could have it paid off in July because I owe less than $1000.  But unfortunately, I gotta work with what I got.  Aside from the fact that I won't have to shell out that car payment each month anymore, it is totally gonna free up some extra change ya know.  So yes, I will be using that extra money to go towards our saving up for a new apartment and that rent.  The goal is to not have to buy another car for a couple of years.  And when I do, it will be used and payments under $300.  Anyway, the first thing I will be purchasing is a new computer.  We desperately need one and it can't be put off any longer.  


The original plan was to get one on our state's tax-free weekend which is usually the first weekend in August.  But the more I thought about it, the more I'm leaning towards buying one on QVC or HSN.  Primarily because of the software.  You get so much software bundled in when you get it from one of them.  So I'm not sure which way I will go.  At least with QVC or HSN I can do a payment plan without having to obtain financing.  For now it's still up in the air.  But one thing I came to a conclusion on is that we will be getting one and it will be an All In One.  Regardless of if I get one on that weekend or I do a Today's Special Value from QVC…idk, but this is what I want.  And from my years of watching QVC, I know that Sunday's are usually days for electronics to be TSV's.  So once my car is pif, the monthly payment for the computer would definitely be an easy pill to swallow…so I guess as I'm writing this post I'm actually making my decision!


I've done some research over the past few weeks, and yes, the All In One is what would work best for our family.  Here's an example of what I'm talking about…it's today's TSV on QVC…would be nice if I wasn't currently broke!!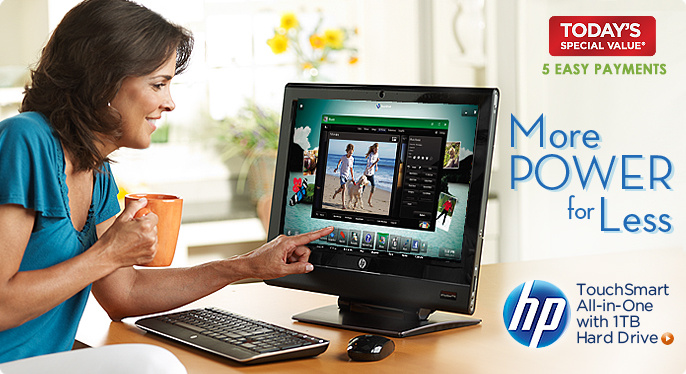 Have you ever purchased a computer from QVC or HSN?  What was your experience like?  Please leave a comment below!