It's officially that time of the year where I'm itching to decorate for Fall!!  I know, I know, it may not be your thing and you may think I'm crazy.  But I'm okay with that.  But I'll be honest with you.  I've been thinking about Fall decor for almost a month now.  And I've already started shopping and planning.  I'm taking a strategic approach and planning for fall decorating this year.
Last year was my first time really decorating for Fall and I loved it.  I've always loved Fall.  Naturally I enjoy making my home feel warm and cozy.  For me, Fall means football, sweaters, boots and gorgeous leaves.
PLANNING FOR FALL DECOR
There's a few ways to plan for Fall decor. Or decorating for any season really.  I don't think there's a particular order. Or any right or wrong way.  But this is how I've been planning so far.
Get Inspiration
We have a few new spaces in our new home that will require a different way to decorate.  We have a fireplace and mantle and we have a front porch.  I'm really excited to decorate in a new way!
Even if we were still in our last home, I still am always looking for new ideas.
I like to get inspiration in a few ways.  First I watch YouTube Fall Home Tours and Fall Decorate with me videos.  I have a few favorite decorating YouTube channels but when I'm looking for inspiration, I watch all kinds.  From minimalist, to farmhouse, to glam and everything in between.
Pinterest is also a place I go to gain inspiration.  I have two boards dedicated to fall decorating.
https://www.pinterest.com/aria82/fall-home-decor/
My fall decor board is for anything and everything fall related.
https://www.pinterest.com/aria82/neutral-fall-decor/
Then I have my neutral fall decor board that I created last year when I wanted to stick with a neutral color palette.
Sometimes I will search specifically, like fall porch ideas or fall centerpieces and other times I search on a broader level.  At this stage, I'm really just looking for something that sparks creativity.
I'll also search fall related hashtags on Instagram and see what comes up.  I'll save what I like if I didn't already find what I was looking for on Pinterest.
Another way to get inspiration is to look in stores.  Hobby Lobby notoriously puts out seasonal decor way ahead of season.  So I've been looking at their fall decor for a couple of months now.  (They're already stocking Christmas, so the same rules apply for getting ideas)
By walking around the stores and seeing what they're putting out, you can get ideas of what you might want to add to your seasonal decor stash.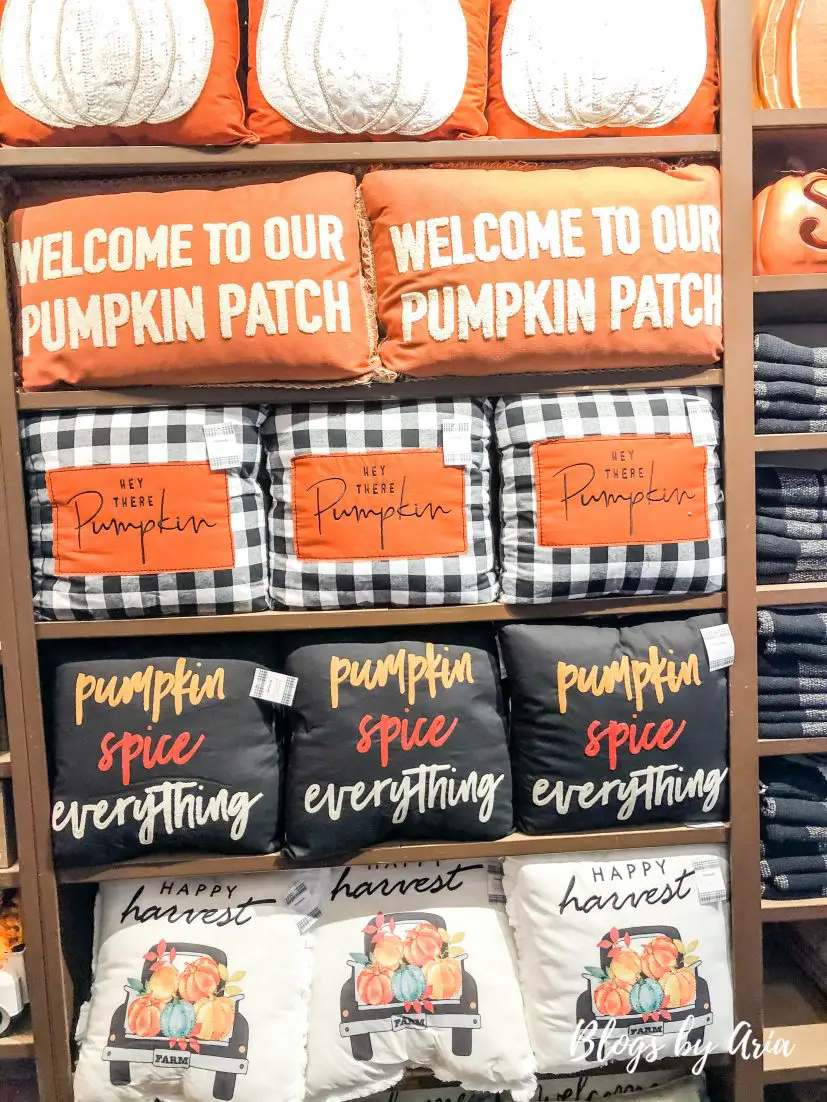 In case you weren't aware, there are a lot of YouTube channels that will show you what stores have.  That's a great way to do some window shopping especially when you can't get out and go from store to store.
I enjoy watching these types of videos and when I see something I like I'll either go to that store or see if I can order it online.  I'm still waiting for Michael's and Joann Crafts to fully put out their stock.  So far I've seen a couple of videos from each store but they're not fully stocked yet.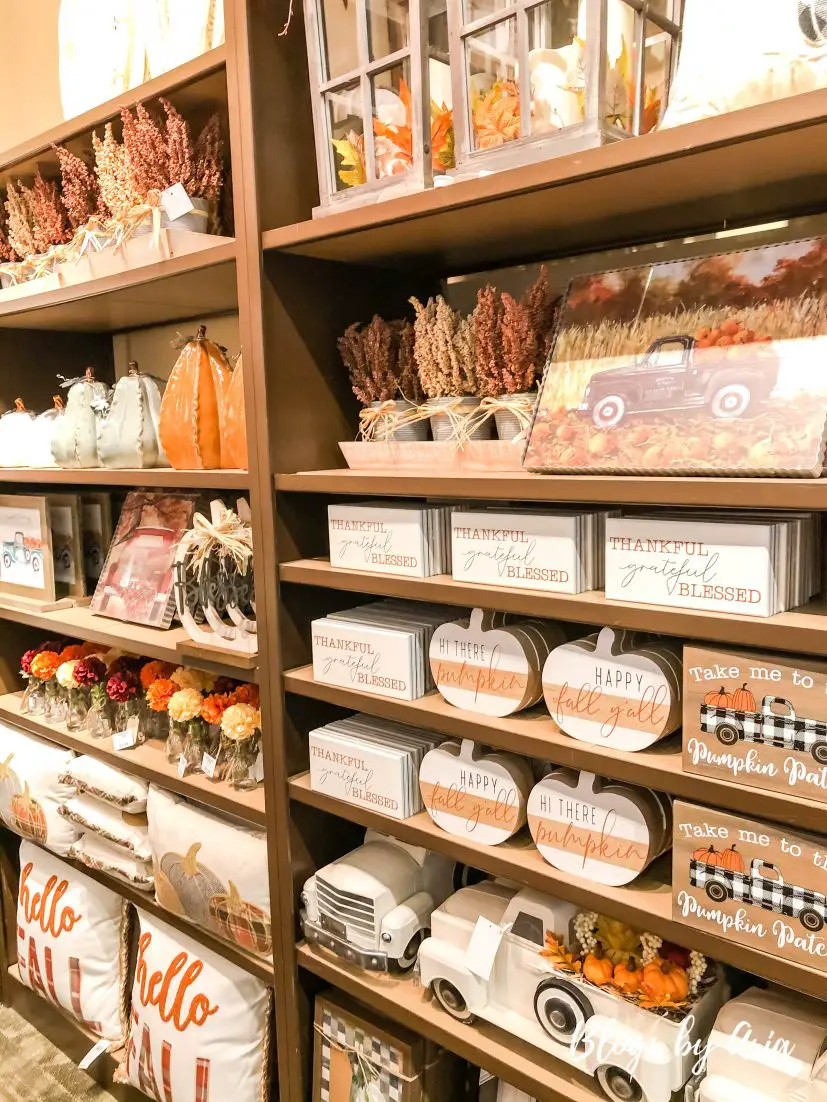 I took these pictures at Kirkland's in Apex, NC.  It's HUGE!! So much bigger than the stores closer to me.  It's a good idea to go look in store when you can versus just looking online.  You need to get a sense of scale, coloring and more.
Now that you have some inspiration and some ideas of what you may want to do for your fall decor, it's time to move on to more planning.
WALK YOUR HOUSE
Determine what areas are you going to focus on with your decor.  Are you going to spread everything out?  Would you rather concentrate on a few specific areas?
Walk around your house and see what areas are your priority.  For me, it's the living room.  That includes the entryway area and fireplace.
I also want to focus on the front porch and I'll add secondary touches to the kitchen, dining and powder bathroom.
Think about what you did in previous years and if you want to go in a different direction.  Or maybe you want to add on to what you did or perhaps you wouldn't change a thing about how you decorated.
SHOP YOUR STASH
If this isn't your first year decorating, dedicate some time to pull out what you already have for fall decor.  Decide what you want to keep or toss.  Even if you did some decluttering at the end of last season, you may not want to keep what you thought you wanted.
After seeing what you have, decide what you want to use this year.  You may want to go in a completely different direction.  Or you may want to replicate a space you did before or just add on to what you used before.  Kind of like I just mentioned.  If it's not broke don't fix it!
SET A DECOR BUDGET
Now that you have an idea of what you want to use of your own, it's time to make a list and make a budget.  You certainly don't have to spend a lot of money to make your home cozy for fall.  I always shop for decor on sale or on a great deal.
Keep in mind some things are going to cost more than others so you have to decide where you're going to splurge and save.
For example, I really want a nice fall wreath.  But I'm not willing to pay a lot of money for a wreath and they can get pretty pricey.  For me, I'd rather get something budget friendly now and at the end of the fall season see if I can score a more elaborate wreath on clearance.
I didn't take any pictures, but I've had my eye on a wreath from Kirkland's and I'm glad I was able to see it in store to see if it's really something I'd like.  Spoiler alert:  it is!
HAVE FUN AND DECORATE!
Now that you've planned for fall decorating you can go forth and shop for what you want.  Since you have a plan you won't just be picking up everything that catches your eye.
Even if you have already started shopping (like me) keep your receipts because what you've already purchased may not work with the rest of your decor.  I'm never afraid to return something!
Decorating for fall is so much fun for me and I'm so excited to get started!  I can't wait to share how it all comes together.