I certainly did not plan to take a break from the blog, especially with all the fall content I had planned!  But here we are and it's already October that's crazy!  Prepare for some fall overload.  Today I'm sharing our powder room decorated for fall!
I've gotten so much love on my fall date ideas post!  I'm glad so many people loved it and got some great ideas!
FALL POWDER ROOM DECOR
Our powder room is small and awkward to photograph but I love decorating it for the seasons.  We're in here so many times in the day I just love being greeted with the fall feels every time.
Also the lighting in here isn't great for pictures.  We'll make do though right!
Decorating our powder room for fall really can be as simple as adding a pumpkin and a hand towel.  Overall this space is pretty simple so this will be a quick post.  The few items I have added in our guest bathroom makes me so happy every day.  Come on in and let me show you!
*this post includes affiliate links for your shopping convenience, you can read more about affiliate links by reading my Disclosure*
HELLO PUMPKIN
Walking into the powder room the first thing you see is this super cute hello pumpkin sign I got from Joann's.  This is the first time I've ever shopped at Joann stores.  I have been watching fall home tours on YouTube since early August and so many people mentioned buying seasonal decor from Joann's.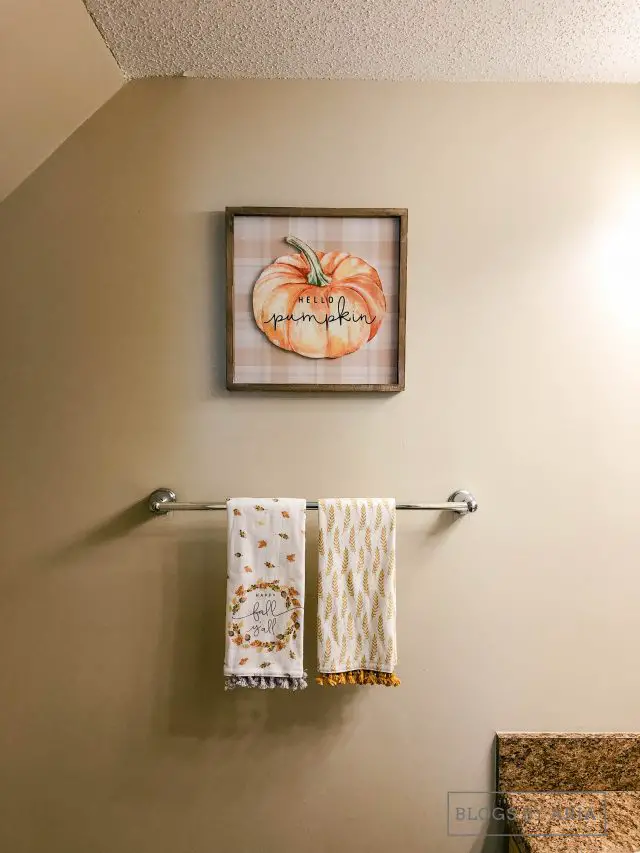 wall decor | happy fall hand towel | wheat hand towel
One weekend mid-August I popped onto their website and they were having a 60% off sale all of their fall decor.  That's when I got this cute hello pumpkin sign and I knew it would work perfectly in our guest bathroom.
The hand towels are also from Joann's.  They're for decoration only but I just love the colors and the little tassels.
MORE PUMPKINS PLEASE
I was recently walking around Target on the hunt for our entryway table.  That ended up being a bust (if you follow me on IG Stories you already know the deal) but because I was in a Target I don't typically go to I wanted to peruse the aisles.
I spotted this cute pumpkin bathroom mat and it was only $8!!  I had to have it to complete this space!
As many times as I've been in my local Target on an almost weekly basis I've never seen these bathroom mats in there.  That's one of the benefits to having so many Target stores around.
harvest cream pumpkin tufted bath rug
FINISHING TOUCHES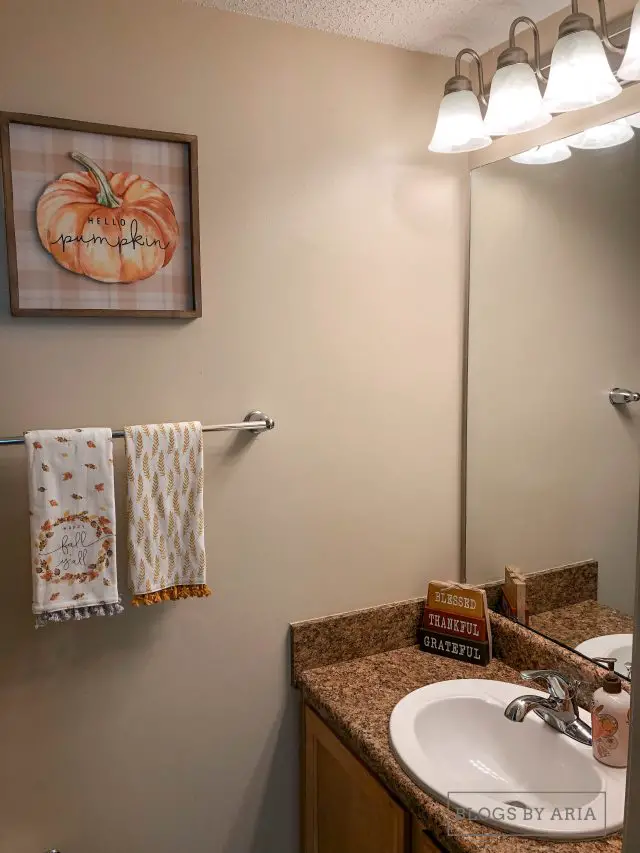 The blessed, thankful and grateful sign is something that I won in a charity basket raffle at my job.  I actually won two baskets!  One was fall themed with a couple of fall hand towels and pumpkin spice coffees and the other was a Betty Crocker based basket with lots of baking tools, many that I needed 🙂  I don't know if you can tell from the mirror but the other side says love, faith and family.
I had tried to have a couple of pumpkins here but nothing really completed the space.  In this case less is more and I think this sign was the perfect addition.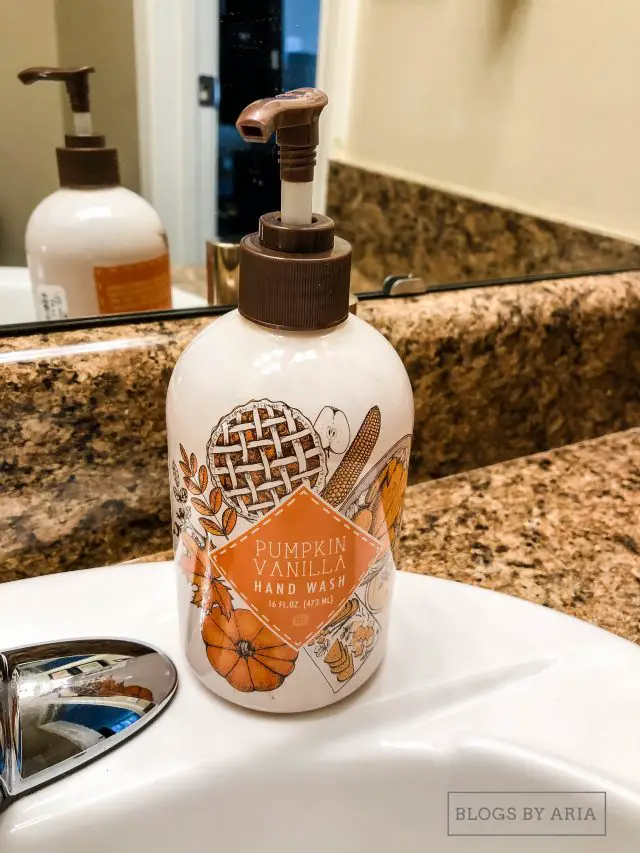 This pumpkin vanilla soap was a TJ Maxx find.  It smells lovely.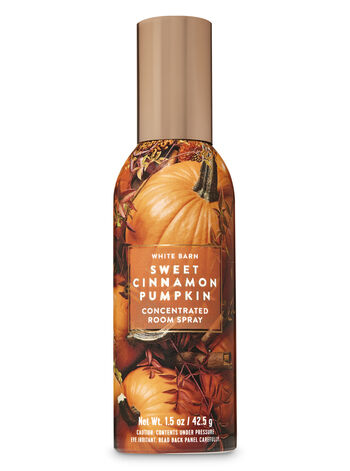 I got this Sweet Cinnamon Pumpkin concentrated room spray from Bath & Body Works to try out.  It's one of my favorite fall candle scents and I wanted to see if I liked it as a spray too.  One spray is the perfect amount if you spray it twice it is way too much.
Lastly I always have my wallflowers from Bath & Body Works.  I think this scent is Autumn or Harvest.
I thought about getting a special pumpkin wallflower plug, and I still might, I just haven't as of yet.
Short and sweet, that's our powder room decorated for fall!  I'm working on getting pictures of the rest of my home that is decorated with all things harvest so that I can share them with you.  I've loved how cozy everything feels and looks!
I've just been enjoying cozying up with a throw on our couch with my Sweet Cinnamon Pumpkin candle from Bath & Body Works making the whole house smell wonderful ♥
In no way am I rushing colder weather…but the only thing that would make it feel even more fall-like, is a nice sweater, boots and a pumpkin spice latte 🙂  I've been drinking them even in our 90 degree weather!
Happy Fall Y'all!!