Have you ever gone down the rabbit hole on YouTube watching what's on my iPhone videos?  Well I have.  Since I don't currently post videos on my own channel I thought it would be a great blog post.  So today I'm going to share what's on my iPhone 6.  Yes I said iPhone 6.  But your girl just upgraded my phone so no biggie. 😉
I don't really have a ton on my phone because I don't have a ton of space.  Which is the main reason why it was time to upgrade.  I feel like I have been eligible to upgrade my phone for at least two years but I procrastinated for so long.  I'll talk about my new phone I'm sure in an upcoming post, so let's just get into what's on my iPhone shall we?
*this post includes affiliate links, which means if you click on a link and make a purchase that I get a small commission that helps support this blog and my family. You can read more about affiliate links by reading my Disclosure post*
WALLPAPERS
Starting with my lock screen and my home screen wallpapers.  I don't change my wallpapers too frequently.  My lock screen is usually a picture of my kids or something Christmas-y around the holidays.  Both of my current screens' wallpapers I got from the Little Miss Paperie Facebook group.  I have quite a few and I change them from time to time.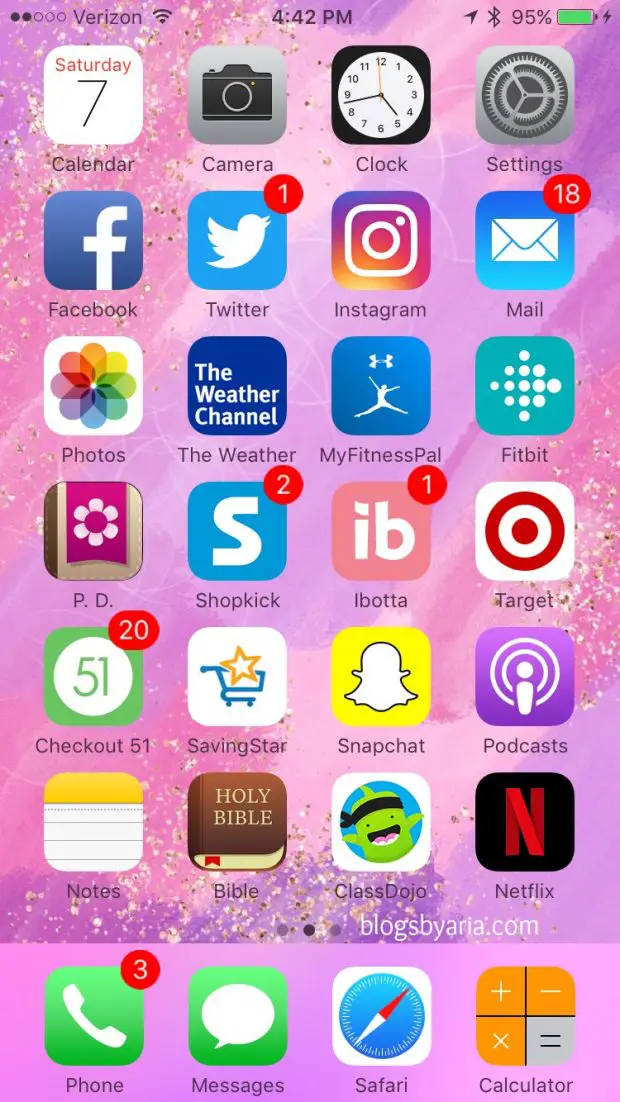 FIRST SCREEN
On my first screen I have my most used apps.  I only use two screens on my phone simply because I don't have enough apps to move to a third screen.
You can see all of the basic self-explanatory apps like camera, Facebook, Twitter, Instagram, mail etc.
The Weather Channel — I know a lot of people use the weather app that comes with their phone but from my experience The Weather Channel app is much more reliable.  I get alerts for severe weather and fog and I just prefer this app.
My Fitness Pal — I use this to track what I eat in a day.  (When I actually use it smh, I have got to do better)
Fitbit — This is for my Fitbit, pretty self-explanatory unless you don't have a Fitbit.  If you don't have one you should get one.  I currently use the Fitbit Charge 2.
Period Diary — tracks my period and ovulation.  I've tried other apps for this and I prefer this one.  It's pretty accurate.
Shopkick, Ibotta, Checkout 51 and SavingStar are all savings apps for groceries and shopping.  I use the Target app for Cartwheel because they got rid of the Cartwheel app and integrated it into the Target app.
Snapchat needs to get their life together or I'll be deleting that app.  I hate when apps update and completely change the flow.  It really makes me wanna say I don't need you.
Podcasts — You can see my recent post about my favorite podcasts here.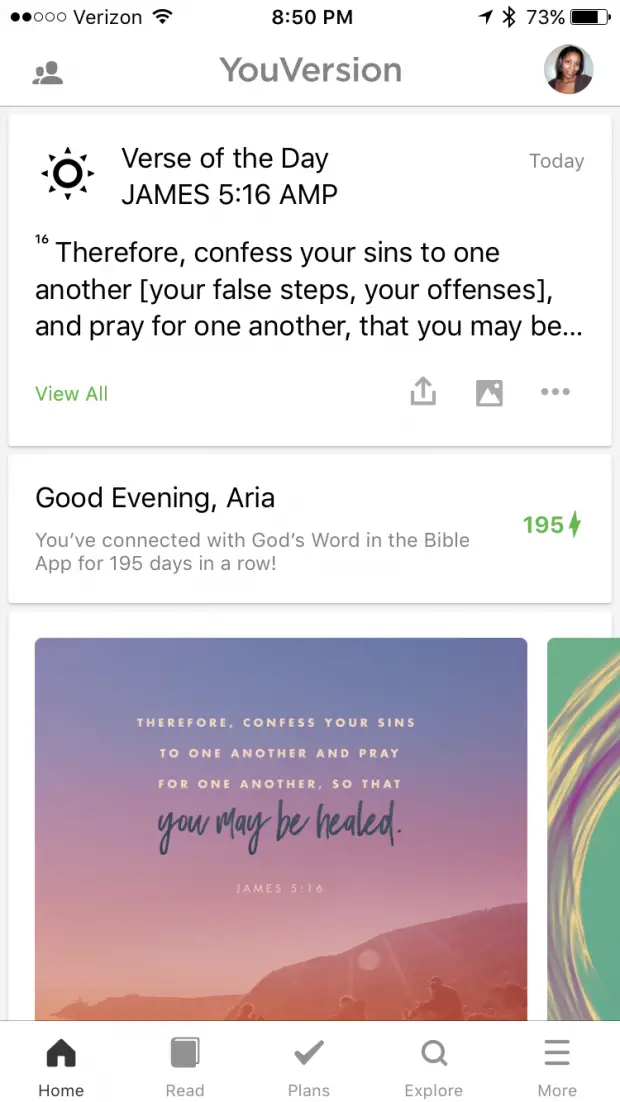 Bible — I use the Bible app for my daily scriptures.  It has Bible reading plans and devotionals too.  It has every translation of the Bible available which is great.  I prefer the NLT version (new living translation) but that's also the version of my actual physical Bible so I like to switch between that and the Amplified version.  This has something called streaks, and it motivates you to read in the app daily so you don't break your streak.
Class Dojo–  This is an app that my son's teachers use to keep in contact with the parents and track the student's behavior.
Netflix– I use this because I can watch Netflix when I'm away from home or my computer.  You can download shows/movies on your wifi and then watch it anywhere and not use your data.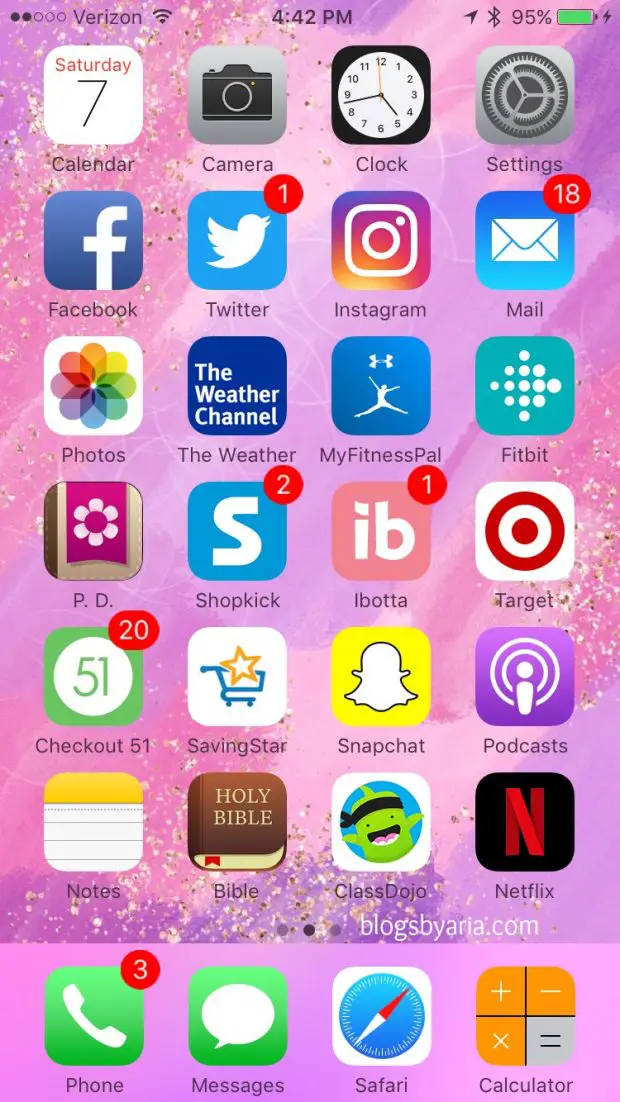 MY BOTTOM FOUR
I don't know what this part of the screen is actually called but if you have an iPhone you know what this section is.  I keep my four most used items here.  So that's my phone, my text messages, safari (internet) and calculator.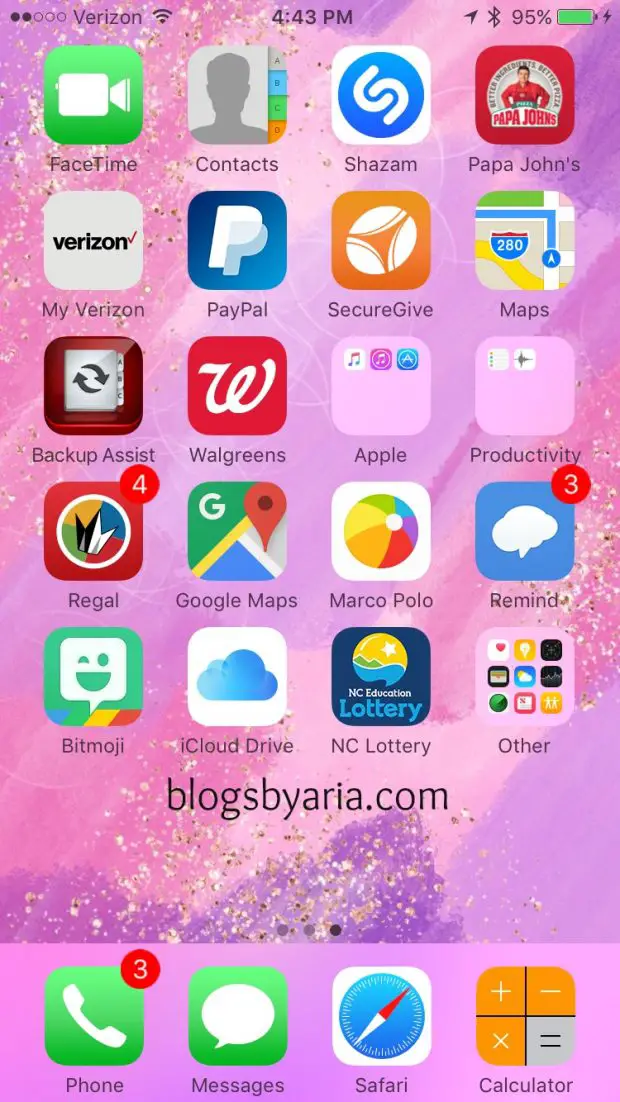 SECOND SCREEN
My second screen is where items that I don't use as frequently reside.  The apps that I have grouped in together are ones that I really don't use.  The only one that I do use sporadically is the iTunes app store.
Shazam — I'm sure most of you know what Shazam is but in case you don't know, it's an app that when you hear a song on the radio or tv or wherever you can hit Shazam and in seconds it can tell you what the name of the song is and the artist.  I love this app.
Papa John's — We order Papa John's a lot and get rewards by using the app for free pizzas.  Although if we didn't live close to a Papa John's I probably wouldn't have this app.
Secure Give — At my church we can pay our tithes and offering at church with cash or check but we can also pay it electronically.  I like to pay my tithes as soon as I wake up on pay day.  That's just me.
You see I have two maps apps, I should have the maps by iPhone in the "other" folder because I don't use it.  I use Google maps because the regular maps has screwed me a time or two.
Walgreens — I use the Walgreens app for two reasons, 1.  I like to print pics from my phone and when they have a good sale I'll do that.  2.  to easily refill my prescriptions when I have to use them.
Regal — For when we go to the movies I earn points that I can use towards free or reduced concessions or can earn free movie tickets.
Marco Polo — This is like FaceTime for people who don't have iPhones.
Remind — Similar to Class Dojo like I mentioned earlier but this is for my daughter who is in middle school, this is how some of her teachers keep us aware of assigned homework.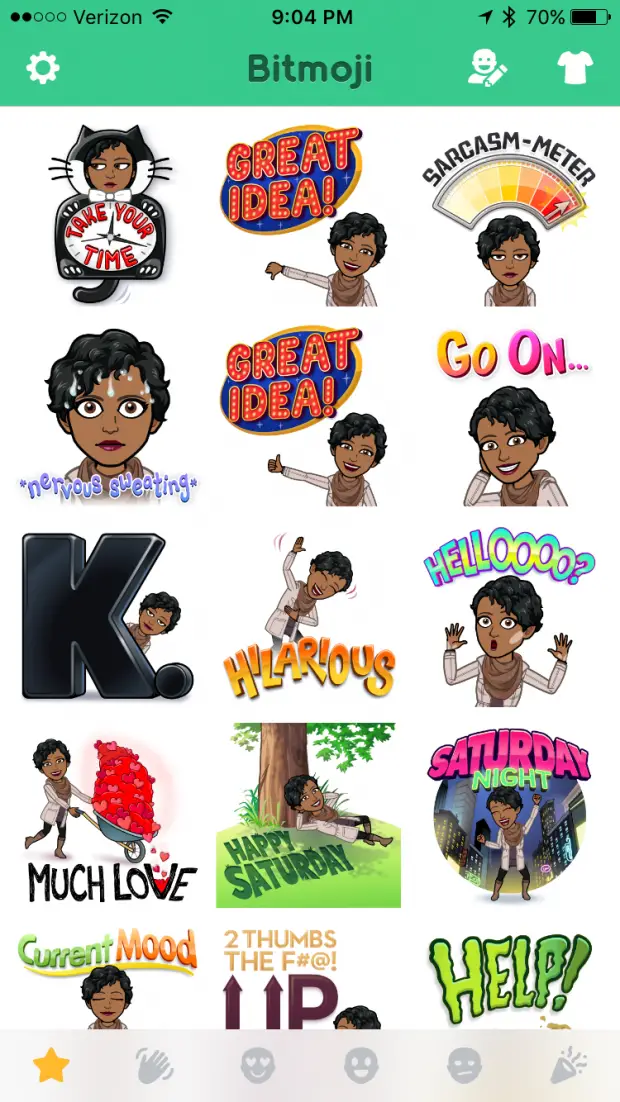 Bitmoji– I use this with my Snapchat.  Do you think she looks like me?
NC Lottery — I'm sure you're like umm why do you have a lottery app on your phone? lol  I'll tell you why.  When you buy a lottery ticket whether you win or not you scan the ticket into the lottery app and earn points to enter into second chance drawings.  You can do that without the app but instead of typing in the info I can just scan it.
So that's what's on my iPhone 6.  I don't think I have too much that's out of the ordinary.  I'm excited to have more apps on my new phone.  I'm not big on playing games on my phone but I do want a little something.  I used to have Pinterest on my phone and I'd like to have it again.  So if you like this post let me know and I'll be happy to share what's on my new iPhone 🙂