It's the fourth quarter of the year and that means a lot of things.  From a planner standpoint, for me, it means it's time to start thinking about the new year ahead.  Typically it's around this time of year that I start to think about purchasing my new planner.  Today I'm going to walk you through a couple of Erin Condren planner options for 2021.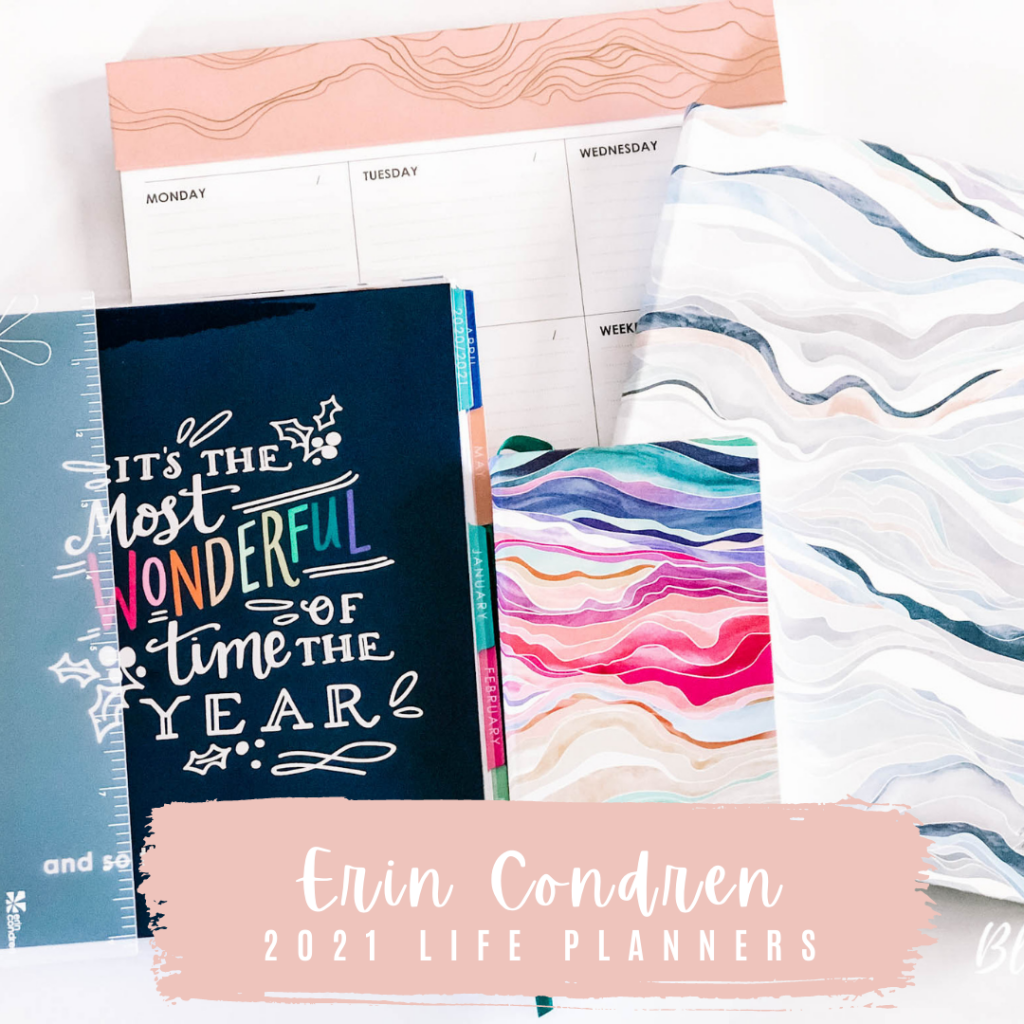 I am so grateful to the Erin Condren Team for providing me with the products mentioned in this post to review.  All thoughts and opinions are my own!  *this post includes affiliate links for your shopping convenience, you can read more about affiliate links by reading my Disclosure*
Let's start with the OG…the Erin Condren Life Planner.  Now if you've been around here for a while you know that I do love the Erin Condren Life Planner in the vertical layout.  It's the style that I fell in love with way back in 2015 when I first discovered the brand and purchased my very first Life Planner.
Each year there's a few changes and modifications to the planner and with each change comes different options to choose from.  Back then there was only a colorful option.  Over the years there's been the option to go with a colorful or neutral option.  As well as choosing between a vertical, horizontal or hourly layout.
For the last few years I've gone with a neutral colorway.  When Erin Condren launched their new 2020-2021 Life Planners in June, I was thinking of going back to the colorful.
The Erin Condren team sent me the 2021 Colorful Life Planner in the vertical layout with a gold coil. I've never tried the gold coil before!  Let me give you a quick peek.
I love the vibrant colors this year!  Now this year you can choose from the neutral layers, the colorful layers or flower power which is another colorful option.  You really can make your planner your own!
Between each month is a notes page and a productivity page.  In the previous version of the Life Planner this page specified what each section was for, like goals and birthdays.  I'm glad they removed the words so you can use it however you'd like without having to white out words or use stickers over them.
The way they've updated the colorful vertical Life Planner reminds me of what I loved about the planner to begin with.  I particularly like that the colors don't overtake each page because I do like to plan with planner sticker kits.  I like that they removed the mini monthly calendar on the bottom of each week too.
This is the vertical layout, you can also see how I'm using the horizontal life planner.
Everything that is standard in the Erin Condren Life Planner is still included like the year at a glance, the goal pages and additional notes pages.
Also in each Life Planner there is a sturdy pocket folder and a few sticker sheets.
One of the newer planners to the Life Planner lineup is the softbound life planner.  The softbound Life Planner comes in two sizes, an A5 size (5.8" X 8.3", a little smaller than the traditional Life Planner) or 8″ X 10″ (think, a regular paper size.)
You can choose to have it dated or non dated and choose from a colorful or neutral layout.
The softbound Life Planner also has a layflat binding so you don't have to worry about the planner not being flat when you write on it.  Everybody doesn't like coils, so if that's the case for you, then you may want to give the softbound Life Planner a try.
Everything else is what you've come to expect from an Erin Condren Life Planner: thick and rich paper quality, motivational quotes, monthly notes and productivity pages and everything you need in your planner like monthly planning pages, year at a glance pages and more.
You won't get a pocket folder or the planner stickers with the softbound Life Planner, just so you know.
Maybe you're looking for a planner but don't need a lot of space.  Perhaps you just want something to keep in your handbag to reference the essentials such as appointments, meetings and birthdays.
That's where the new Erin Condren Pocket Planner might be the planner option for you.  It is 3.5" x 6.25" and features the same lay flat binding as the softbound Life Planner.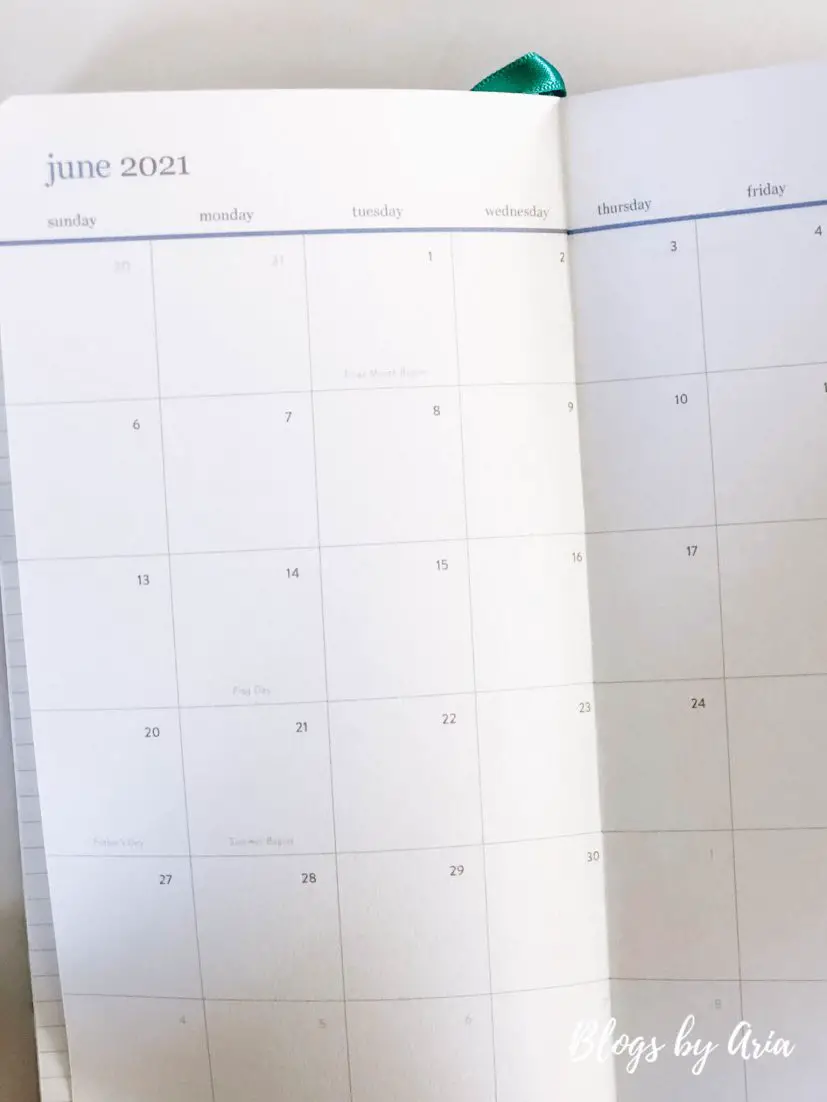 It comes in a 12 month format and features dated monthly and weekly spreads, mini months and notes pages.
Just for size reference, I stacked the softbound Life Planner, the Life Planner and the Pocket Planner.
Whether you plan a lot or a little, I do like this Erin Condren designer schedule pad.  You may work from home or in an office or you are planning out your meals or your workouts or your kids activities.  The options are endless.
Sometimes (or many times in my case) you just need to do a brain dump at the beginning of the week so you can get everything out of your head and onto paper.  That's where a schedule pad like this comes in handy.
In addition to the planner options I've shared today, there are so many more to choose from in the Erin Condren lineup.  You can compare all of the Erin Condren planners and decide which one is best for your needs.
ERIN CONDREN OFFICE ACCESSORIES
The team at Erin Condren also sent a couple more items I wanted to share with you.  Because Erin Condren offers more than just planners.  They have a lot of organizational and stationary items too.
Including file folders, writing tools like this mechanical pencil and office accessories like this trinket bowl.
FINAL THOUGHTS
I've talked a lot about Erin Condren Life Planners over the years.  A lot of my friends use their planners now too because I wouldn't shut up about them! 🙂  I rave about them because I love them.  The biggest reason anyone has given me as to why they didn't want to try a Life Planner is the cost.
And I can understand that.  But to me it's worth the money and it's not as expensive as you may think.  Can you go to a store and buy an inexpensive planner?  Of course.  But the quality is not going to be there.  Trust me, I know.
I've looked into other planners that I have seen a lot of the planner community raving about and when I saw the cost I almost dropped my phone!  Over $100 just for the planner itself.  That didn't include buying inserts or the cost to print your own.
If you want to try an Erin Condren Planner and it's your first purchase, you can get $10 off your order when you register to be an EC Insider.  And I always buy my planner in October or November when they have their Friends & Family Sale or their Black Friday Sale.  That's just me and that's what I tell my friends too.
Hopefully you got an in depth look at some of the new planner options from Erin Condren for 2021.  I know so many of us have had an interesting planning year with all of our plans going out the window!  I'm believing and have my fingers crossed that 2021 will be a much better year and I'm looking forward to filling my planner up with not only the day to day plans, but some trips and special events that we just couldn't do this year.  Happy Planning! ♥