Happy weekend friends!! And happy August!!  Today I am sharing my July monthly planner spreads round up.  I'm watching a Keeping up with the Kardashians marathon and deep conditioning my hair, so I think now is a good time to pop in with this post.
*this post may include affiliate links, you can read more about that by reading my Disclosure post*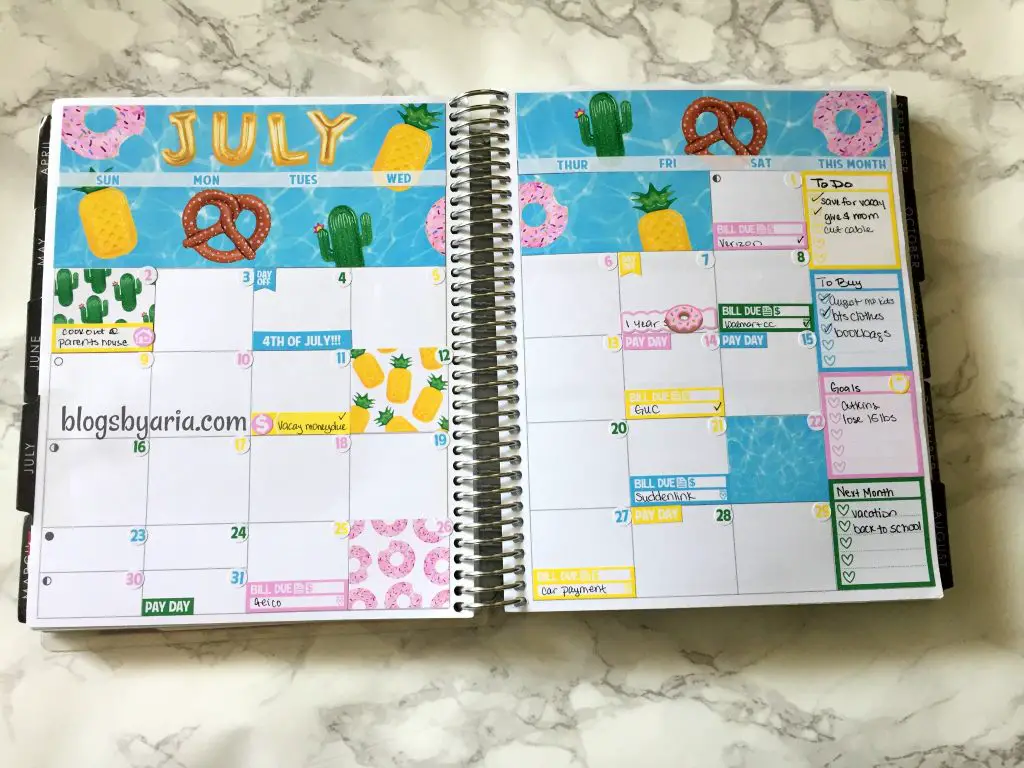 I saw this monthly kit on Caress Press's Instagram and I said I have to get this kit.  To be honest, I really just love the pool water and the July balloons.  The monthly kit overall isn't as functional for me as the ones are from Lexie Kylee Designs are.  I'm sorry if I sound like a broken record each month when it comes to the monthly kits.  I like what I like.
This is the July Little Misstery Box (LMB) from Little Miss Paperie (LMP).  This was the week I got my car back from the body shop.  Everything in this spread is from LMP except the Binge Watch sticker which is from Nicole Hutch Designs.  The munchkin on Monday was a from a special edition munchkin sheet from the LMB which is from Once More with Love.  A word on munchkins… the planner community is full of planner girls who are obsessed with these munchkins.  You can get them doing all kinds of activities from the Once More with Love shop on Etsy.  Now that I've started using them with my sampler from the LMB, I am low key obsessed.  I plan to put in an order pretty soon.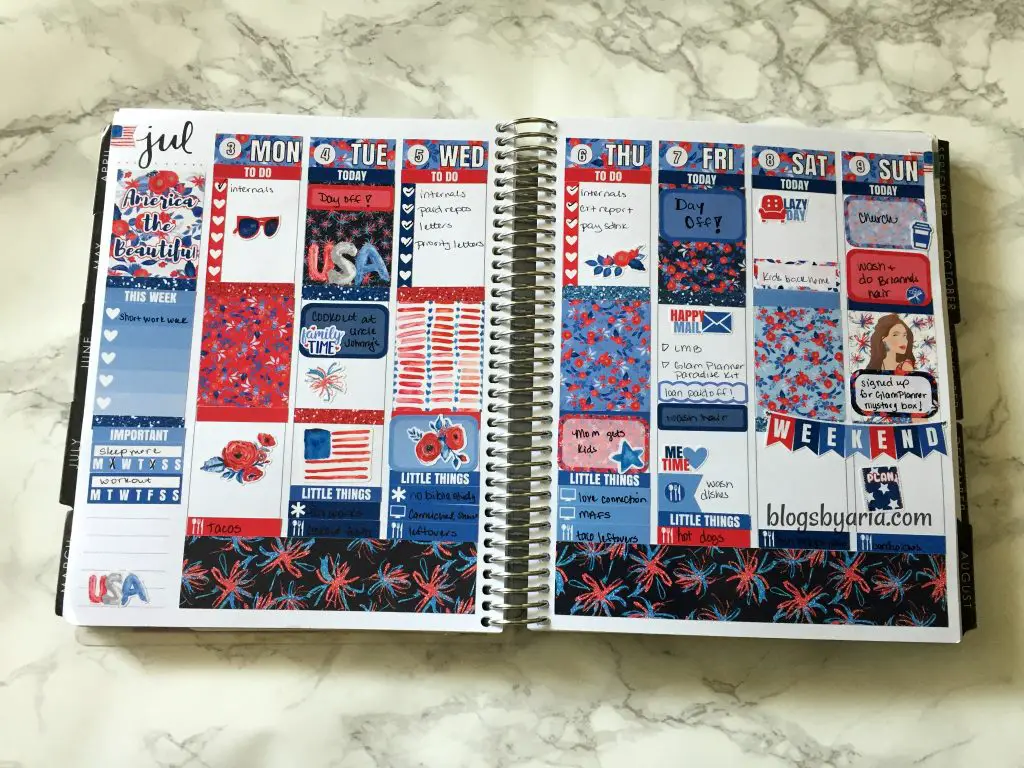 Let's talk the Fourth of July spreads.  Even though I saw so many of them on Instagram I kinda wasn't really paying attention and next thing I knew I realized I didn't have a kit for the Fourth.  When it comes to holiday sticker kits I like to be very prepared.  I ended up getting this kit from a shop on Etsy called Maritza Dominguez Shop.  She had the kit on sale and shipped it super fast.  I appreciate her shop for coming through in a pinch.  I didn't have a lot going on this week, it was a short work week, so I really just wanted something festive.
One thing that happened this week was that I finally signed up for the Glam Planner Mystery Box.  I took the plunge.  I follow her group on Facebook and I get her text alerts so when I saw that she was going to open up spots on Sunday I decided to jump on it. Spots are rarely opened up. She has so many different options available and I signed up for the Luxe kit.  Basically it's the same kit that I get from her with a few extras.  So I am now signed up for two mystery subscriptions.  I'll let you know how it goes.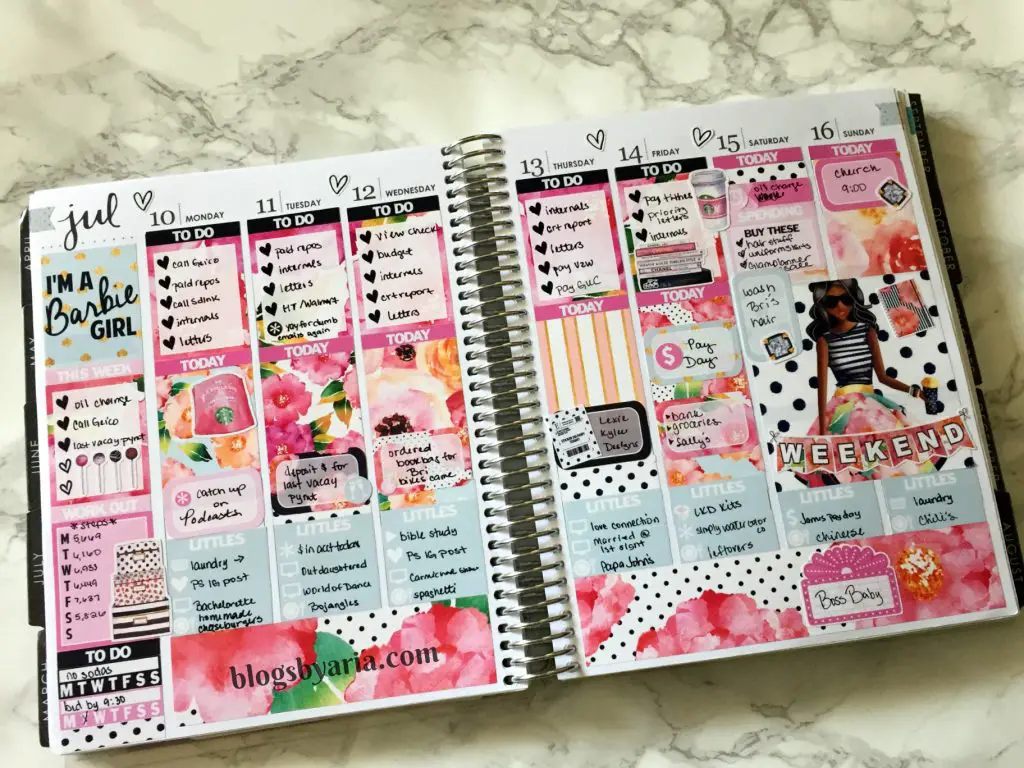 Speaking of Glam Planner this is the Barbie Girl kit.  What I like is that she will often give a full box option and sometimes it will be a black girl.  As a black planner girl I really appreciate that.  Because all planner girls are not white.  Another shop that does this is Scribble Prints Co.  I've hoarded this kit for a while and decided to go ahead and use it.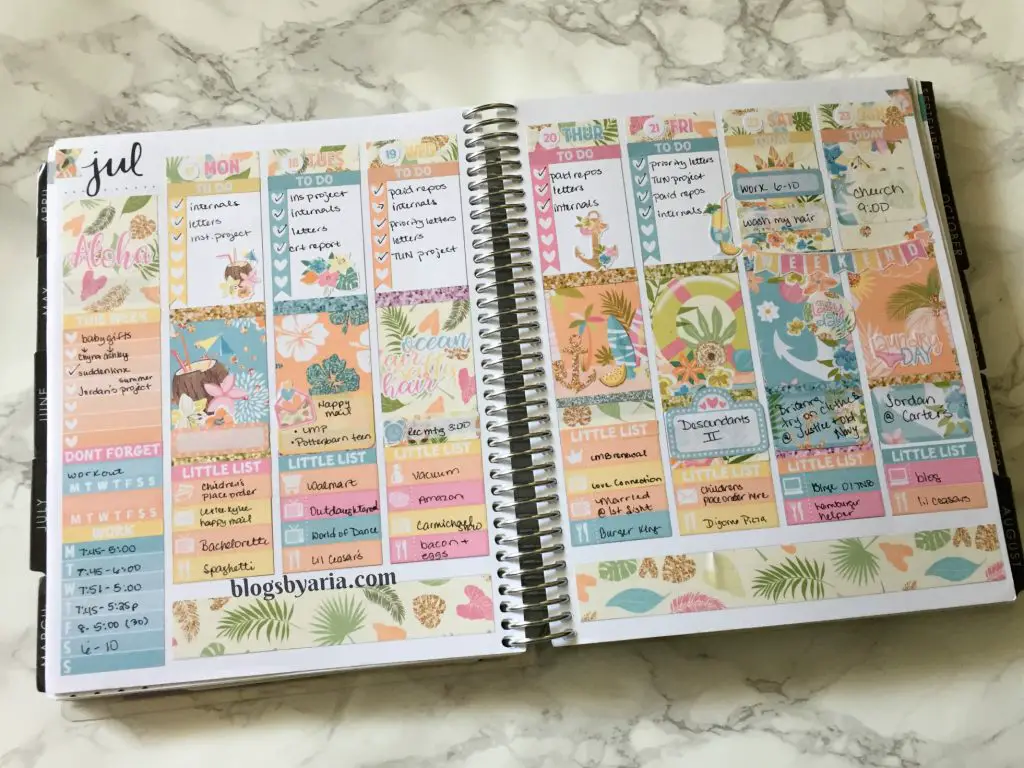 The following week I used the Aloha kit from Little Miss Paperie.  This week we experienced a horrible heat wave and I just wanted to feel like I was in Maui. 🙂  I mean, is there anything worse than being ridiculously hot and not have a pool?  I didn't think so either.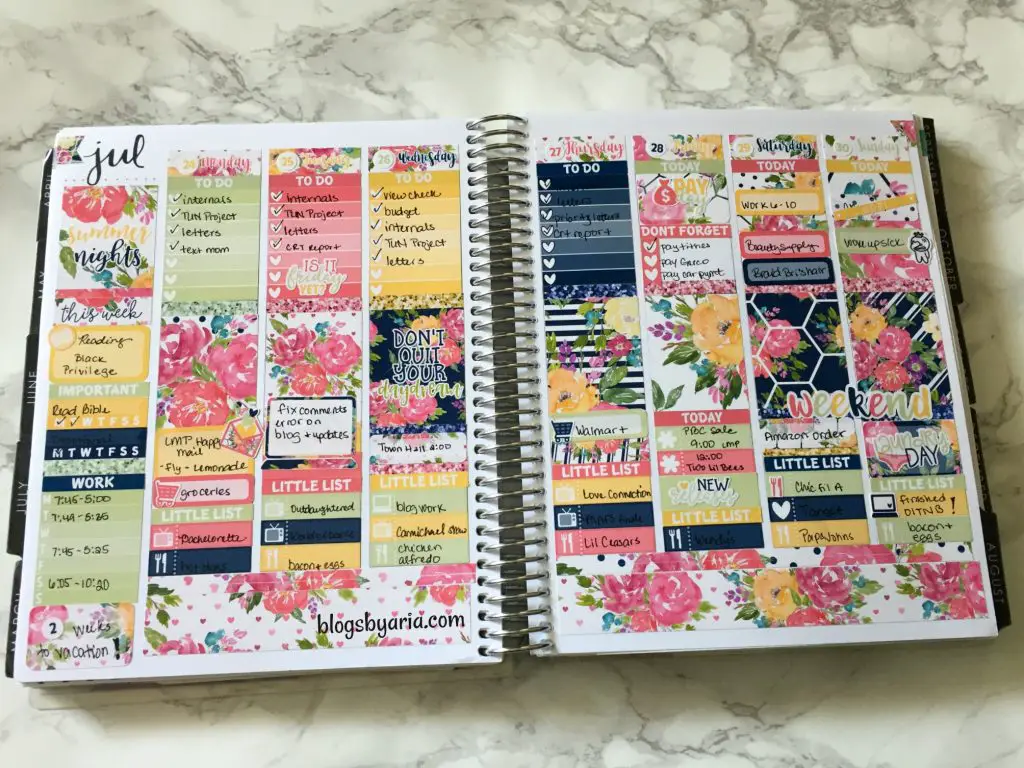 Wrapping up the full last week of July I used the Summer Nights kit from Little Miss Paperie.  I really loved this kit.  I got it in glossy and I really thought the colors were pretty.  I finished Orange is the new Black this week and officially started the countdown to our beach vacation.  I also fixed a blog error that was happening with my comments that I didn't know about until my friend told me.  So that's cleared up and you should have no issues leaving comments!  Be sure that when you do leave a comment you check the box for getting notified for follow up comments.  That way you know when someone replies to you.
Thanks for spending this time with me! Which kit is your favorite? I have so much to do this week I already want to take a nap. 😉