Happy weekend, no um whatever day of the week it is!  I did not plan to go all week (and then some) without touching my blog but it's been quite a week, let me tell you.  In my mind I wanted to get the post up today, which as I type this is Friday, but it's about 8pm and I just want to go to bed.  All week I've been a total zombie but my sleep has been trash.  Whew!  Let's catch up and pretend we're out getting drinks on a Friday night 🙂  Or whatever day I can finally get this post up…
*this post includes affiliate links for your shopping convenience, you can read more about affiliate links by reading my Disclosure*
HOME DECOR UPDATES
For starters, I want to share some of my updated home decor with you.  A few weeks ago, Kirkland's (one of my favorite stores) started offering curbside pick up.  Which is perfect because I shared before how so many of the items I've wanted to purchase from the website were in-store pick up only which was bumming me out.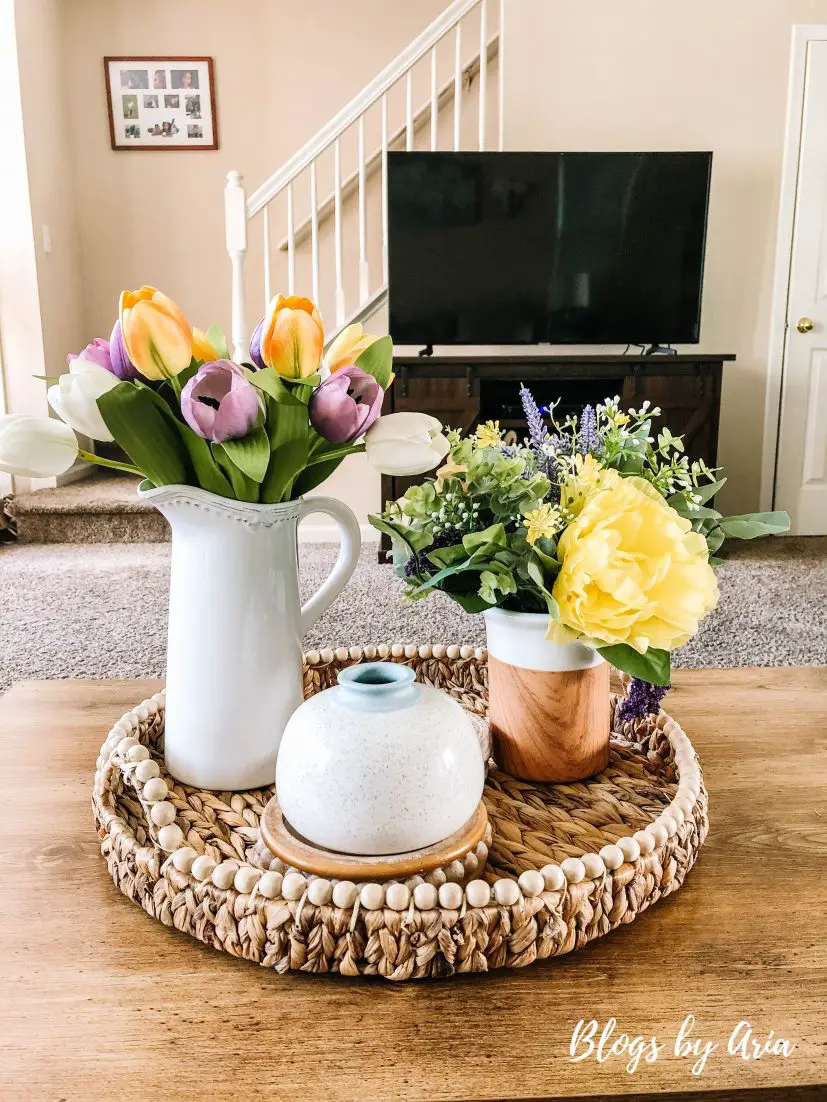 beaded tray | tulips | floral arrangement
Not only did they offer the curbside pick up, but at the time I think the sale was 30% off!  So I placed a few orders to pick up at different stores and had one item shipped to me.
The black tray I used to have on my coffee table was a placeholder from At Home.  I couldn't make up my mind of the right wood tone that would work with the coffee table and I just wanted to get a simple, inexpensive tray until I found the one I loved.
When I purchased this beaded woven tray from Kirkland's I knew I wanted it for my coffee table but if it didn't look right, I thought it would work out for our dining table.  It lays pretty flat, which I love.
The floral centerpiece I ordered early during the shelter in place and had it delivered.  It's just such a pretty arrangement.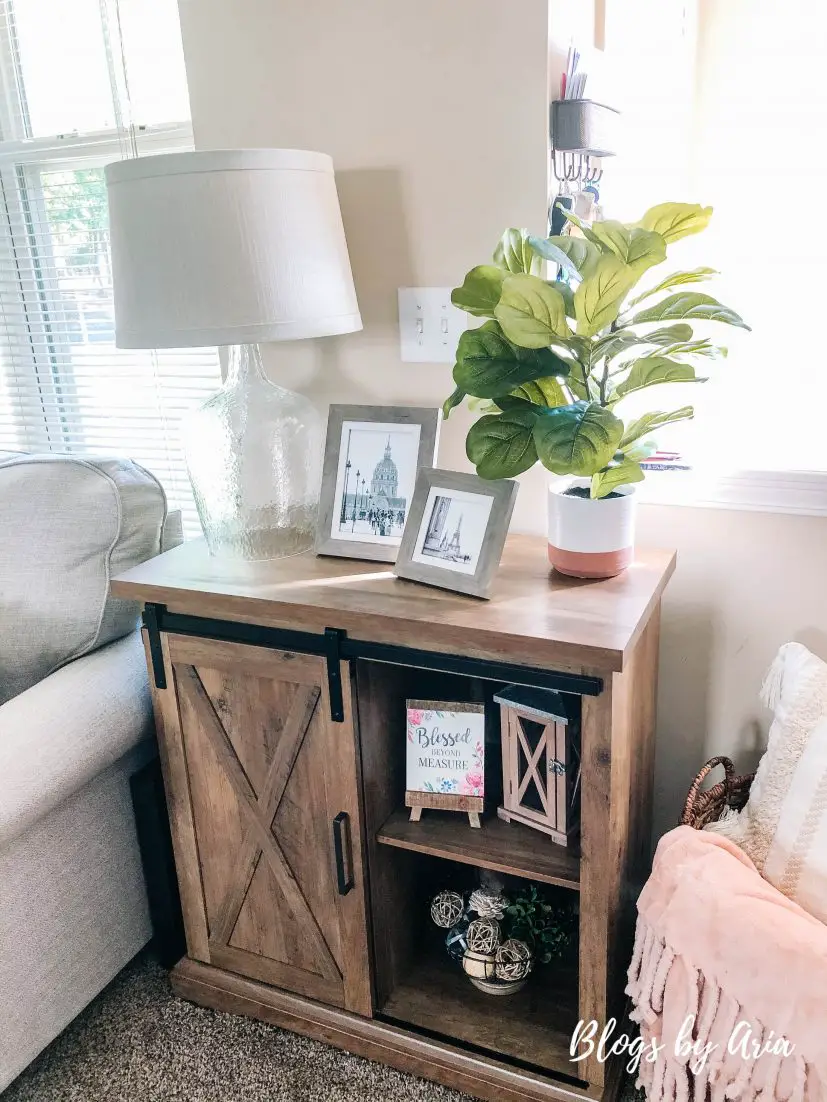 accent table | lamp | fiddle leaf fig plant | throw blanket
I am obsessed with fiddle leaf fig plants.  Soon I hope to get this fiddle leaf fig tree one day but until then, I'm all for getting fiddle leaf fig plants.
The picture frames I got from TJ Maxx a few months ago but didn't switch out the pictures.  I don't mind because I love Paris, so for now it's working out fine and I like this little set up.
entertainment center | blessed sign | boxwood plant | orb
I finally figured out the best way to decorate the shelves in our entertainment center.  The blessed sign I've had for a little while now but what I was really hoping to add to this space was some greenery.
This boxwood plant  was one of the items that was sold out online but only available for in store.  So I jumped on it!
TIERED TRAY UPDATES
Our state is phasing into opening up starting last weekend (two weekends ago at this point).  As I drove past Hobby Lobby to get to Target I saw the parking lot was packed!  As much as I have missed Hobby Lobby, I wasn't going to be one of those people.
On Monday I had to pick up a small Walmart grocery pickup order after work.  I thought it would be a good time to browse around Hobby Lobby to see if I can find anything to use for tiered tray decor.
Recently I shared on my Stories what I got, but here's a quick picture to show you some of the new items I picked up to use for my non-seasonal tiered tray.  I do want to do a Summer tiered tray and Patriotic tiered tray but I also wanted to get some staple items.
Everything I picked up was from the Spring Shop at 50% off.  In a few weeks the Spring Shop items will drop to 66% off!  I tried to find the links to what I got but I can't find them online.  The worst.  If you have a Hobby Lobby near you go check out the selection (preferably on a weekday during off peak times).
MOVING UPDATE
Just a couple of weeks ago I was sharing that we were debating on moving during quarantine.  At the time we had looked at two houses.  Since that post we have looked at two more houses.
The third house we looked at was looking like a real contender.  I'll be honest with you…I didn't love it.  But I liked it enough and the rent was lower than the house we liked the most.  It was larger in square footage and it had a bigger yard.
The more I thought about it, the more I felt I was trying to convince myself it would be a good house for us.  Shortly after, maybe a few days later, it was off the market.
I was okay with that because I knew it would go fast, it was priced right but something about it…I just wasn't loving.  It just wasn't clean enough/well maintained, or in the best shape.
Last weekend I was coming home from doing a Target drive up pick up (best invention ever) and saw that a house was being prepped to be listed.  It's with the same company that manages the other houses and I said hmmm.  That's a pretty house.
Mind you, I drive by this house all the time.  It's not tucked away in the neighborhood like the other houses like I'd prefer but it's a nice house.
When I got home I looked on the website and I saw that it was "coming soon."  On Wednesday morning I decided to look at the house again online.  I told DH and we decided we'd go and look at it after work.
I also looked at our lease and saw that it was time to make up our mind whether we would agree to end our lease or renew.  Our current lease requires a 60 day notice.  Ugh the worst.
After work we all went to look at the house.  When we pulled up, someone was already there looking at the house FaceTiming with someone.  That was a first.  In all of these other houses we toured it was just us.  For this to be new on the market and we're already seeing competition…my spidey senses were aware.
We waited for her to finish and then we toured.  I liked what I saw.  I compared everything to the house we liked the most, which just so happened to get reduced in price right before we left to tour this one.  I couldn't keep saying "I like that house but this one is less."  Because now they were the same price.
I'll admit I felt overwhelmed while we toured the house.  Probably because I wanted to be clear in my thoughts and everyone was talking and I just wanted to be able to process.  So I took pictures and made notes.  I knew I really liked the house.
Once we were home I looked back through the pictures I took.  I reviewed the notes between this house and the first house.
And I got excited.  Really really excited.  I ran upstairs and told my husband, I really really like that house I think we should apply.  He was on board.  Although he really didn't care, he was just ready for us to move out of our townhouse and either house he was happy with.
Remember this was Wednesday night.  Our notice to vacate was due by Thursday.  I said, I think we should have faith and go ahead and put in our notice to vacate tonight.  We'll apply for the house tomorrow and we'll go from there.
I guess you can figure out by now that WE ARE MOVING!!!!
I am thrilled to be able to share the news!!  We're really excited and my sleep has been crazy.  My mind won't shut down at night.  My skin is breaking out like crazy.  But we're moving into a house and I couldn't be happier!!
Over the next several weeks we'll be packing up everything and moving.  I want to try to make time to blog because just typing this out now makes me feel more calm.  But we'll have to see how it all goes.
I have a to-do list a mile long!
Whew!!
Lots of decorating and organizing posts will be coming your way because I'm so excited to decorate a new space!!  But first things first…we got to get packed up!  And I need to get on top of that to do list 🙂
Oh and by the way, the picture above is of the house I shared in my house hunting post.  I didn't take a picture of the house we will be moving into (again I was overwhelmed) but you'll see it eventually.  I can't wait to decorate the front porch!  We have a porch!!! 🙂