Is there anything more classic than a beautiful white kitchen?  Not in my book.  I'm sharing some white kitchen love, some of my favorite kitchens I've seen!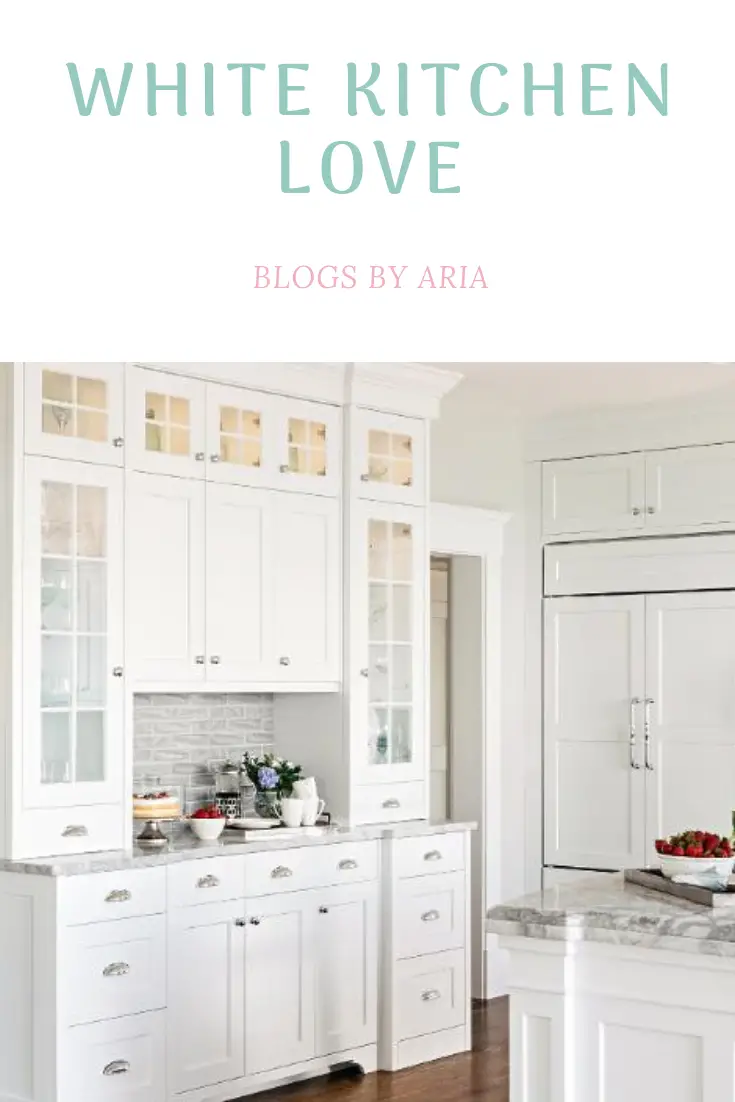 I am obsessed with white kitchens.  There I said it.  And with the Parade of Homes Tours coming up on the calendar soon I am beyond excited to share interior design pictures.  So today I'm sharing a few pictures that I've had on my computer (some since last year) as an ode to my white kitchen love.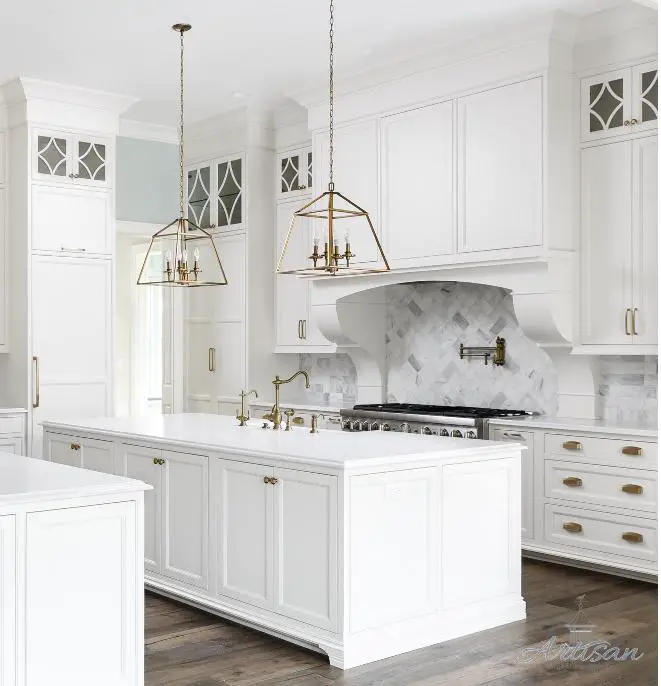 I follow Artisan Signature Homes on Instagram and I really dig their architectural style.  I love this kitchen.  Although I wouldn't have the detail on the clear cabinets and I wouldn't have clear cabinetry at all really.  Maybe only on the top ones near the crown molding but not with that detail.
I'm torn on whether I would want one or two islands.  But I certainly like these.
I love love love the marble herringbone back splash.  That's totally my taste. Along with the marble subway tile back splash.  I'm a huge fan of both looks.  I'm not a fan of the brass trend with the lighting and hardware.  And I don't care for the separation of the fridge and freezer.  What do you think about that look?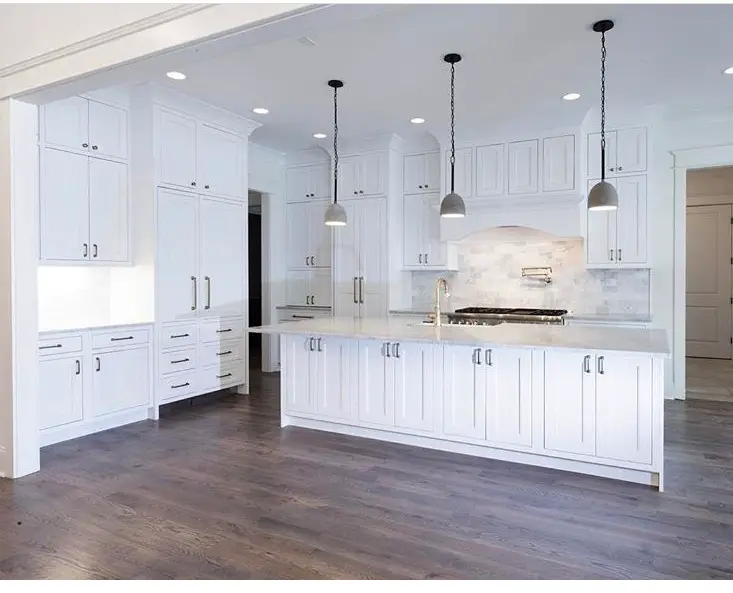 In my mind most kitchens aren't able to have a complete U shape, which is my dream.  To me, this is the next best option.  I always love when the island has extra cabinet storage.  I like to maximize my storage space.  Again I love the vent hood and the marble subway back splash.
What stands out to me about this white kitchen is the walk through pantry.  And all of the counter space and cabinet space.  I am always happy with the kitchen sink in front of the window.
This pantry is dream worthy!
The cabinetry is so simple and elegant.  I love this vent hood with shelf and corbels.  Unlike the kitchen I showed above by Artisan Signature Homes, the clear cabinets on the top are more my style.  This wolf range is my dream 🙂
I saw this kitchen on Home Bunch and I simply love it.  What stands out to me is the cabinetry.  I love simple inset panels and I like that they go up to the ceiling.  I also like the layout of this kitchen and the substantial island is great.  The only thing I would change about this kitchen is the back splash and the lack of symmetry with the cabinets over the range.  I prefer it to be a larger vent hood which I think could be accomplished if the range was more centered.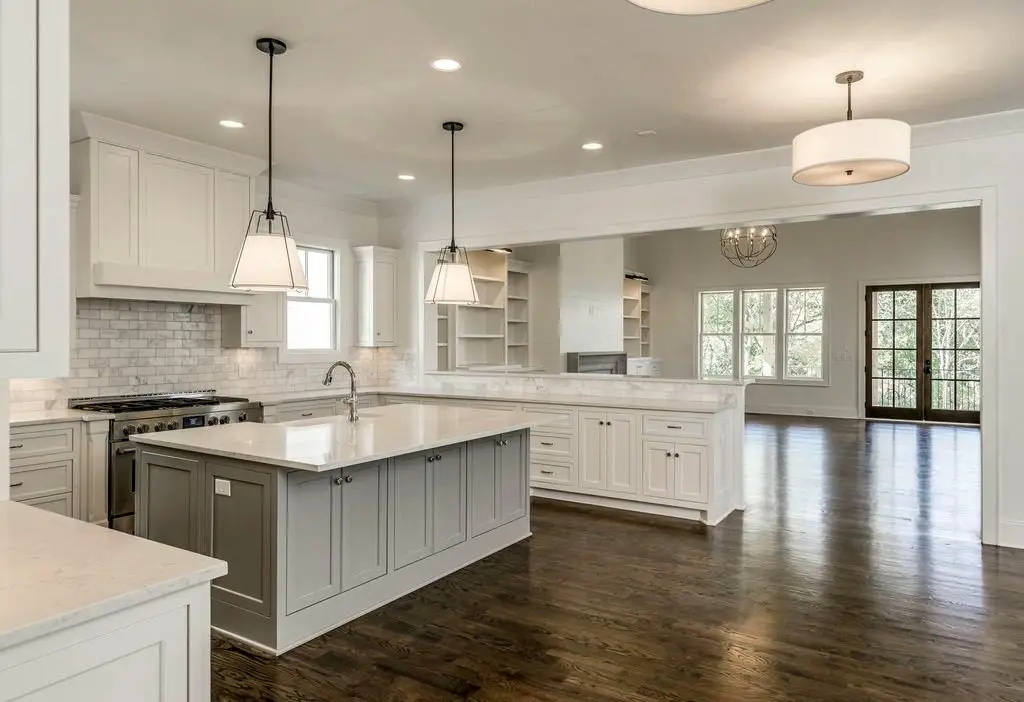 This is my U shape kitchen that I love.  It's not completely white but it's close enough.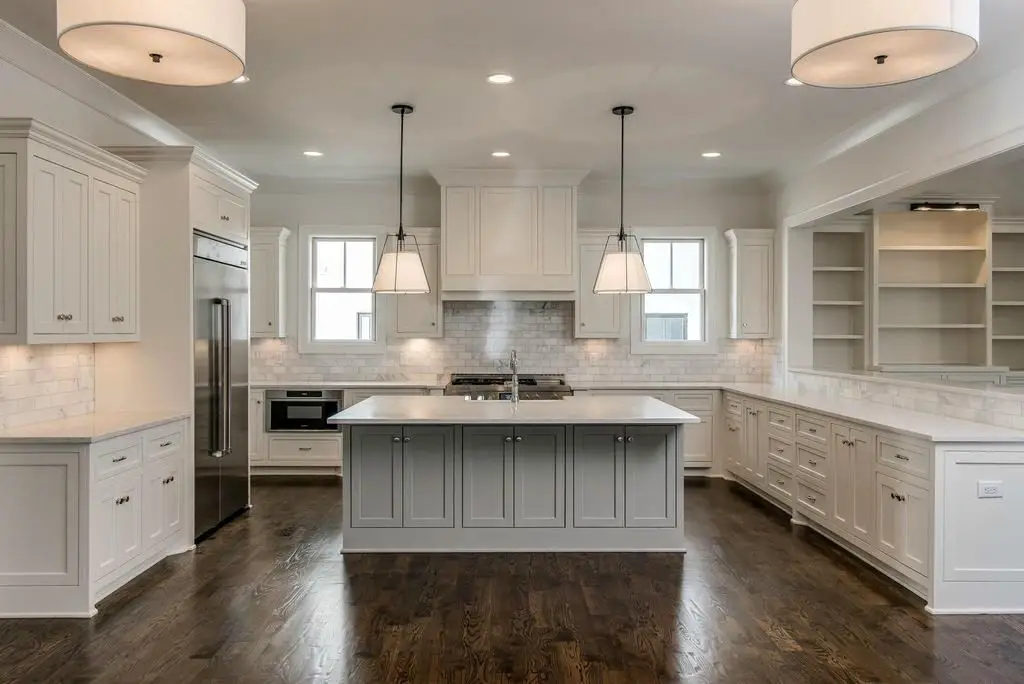 Here's the other view of this kitchen.
I'd be more than happy to have any of these kitchens.  I like to think that with the right kitchen I could be inspired to develop a joy of cooking.  I could enjoy making delicious meals for my family at least five days a week, maybe even six.  I'd even clean it several times a day to keep it looking pretty.  All I want is adequate, if not more than enough counter space and cabinet space with wonderful appliances and that my friends, is what would make me happy.
Did any of these kitchens call out to you?  Let me know in the comments below!  Until next time friends 🙂
P.S.  Parade of Homes is coming up this weekend and I'm beyond excited!!! 🙂