Your friend is having a baby!!  Whether it's a baby shower gift or a new baby gift, I think it is important to be a blessing during this time.  Most parents to be will take the time to register for what they want.  Don't be the person who doesn't take the time to look at their registry.  I thought it would be fun to round up a few tips, or a complete guide rather, on how to shop baby registries.  Yes, there's an art to it.
A couple of weeks ago I found out a former co-worker is expecting twins.  We're not close, but I knew that I wanted to give a gift.
*this post includes affiliate links for your shopping convenience, you can read more about affiliate links by reading my Disclosure*
Everyone loves Target right?  Of course they do.  So I looked there first to see if she had set up a baby registry.  She had and then I got the idea for this post : )
Did you know there's an etiquette to buying baby shower gifts?
According to several websites there is one big question that everyone wants to know.
HOW MUCH SHOULD I SPEND ON A BABY SHOWER GIFT?
The consensus that I've found is it's based on the relationship:
Co-workers and acquaintances $25
Friends and cousins, extended family $50
Close friends and family $100+
A COMPLETE GUIDE:  HOW TO SHOP BABY REGISTRIES
Let's take a deeper dive into how to shop baby registries.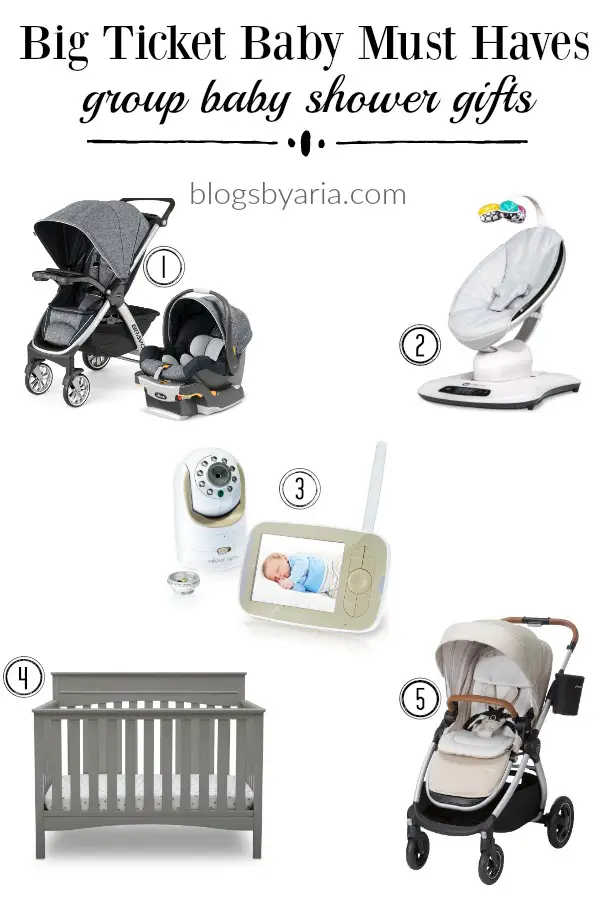 Group Gift: Whether it's a baby shower or your office wants to pool money to buy a big gift, this is an awesome way to give mom to be something that may be a financial burden to get.  I've had the pleasure of being the chairwoman of a few office pools.  I look at their baby registry and pick a couple of larger ticket items like a stroller or swing.  Take the price of the item and divide it among the team.  I then send them an email or spread the word to see who wants to participate and based on that I gather the money over a couple of weeks (no more than a pay cycle, people tend to forget and it's not fun being a nag) and go buy or order the gift.  I pick two items because the closer you get to the due date or maternity leave, the less items are left available.  So it's nice to have a backup option.
A group gift is also a good option if you're going to a baby shower with a friend and want to get something that would be out of your budget alone but going half on with a friend works better.
Get the Deal: Hopefully you have enough time before the baby shower or the due date to wait for some items to go on sale.  If you do then there's a good chance you can get some items on sale from the baby registry.  The recipient doesn't know that you got their gift on sale.  They just know that you got them something off of their registry.  Don't forget the gift receipt!
Get a bunch of smaller items: What if a lot of the larger or mid ticket items are already purchased?  Or what if you can't afford to get much but you want to get something?  Perfectly fine.  Every expecting parent registers for bottles, pacifiers, baby wash and the like.  You can buy some gift sets like this Baby Dove Set or you can get a  few random small items.
Note:  Don't be afraid to buy a lot of different brands, like Baby Dove, Johnson & Johnson, Aveeno, etc.  The parents don't know what their new bundle of joy is going to like until they try it out.  Works perfectly if you coupon or shop sales and they feel like they got a lot as their gift.
Stick with a Theme:  A great idea is to get some hooded towels, wash cloths and baby wash or a bath tub.  They're all items that they will need and it's shows you put some thought into it.
Diapers:  When it's all said and done you know what new parents never have enough of?  Diapers!  Let me tell you as a mom, we always are happy to receive diapers.  I stocked up before I had my babies but I also received a lot of diapers at my baby showers and I can't tell you how much of a godsend they were!  Get all sizes (NB, 1,2 and 3)  I wouldn't get higher than that.  If they're expecting multiples get preemie sizes too.  Don't forget the gift receipt!  If they need to exchange them it'll be easier for them to do.  Thanks to my stocking up and getting them as gifts I was good on diapers for a while.  With all the expenses that come with having a newborn, it's nice to have one taken care of.
Note:  Let's say they register for Pampers brand only and you're a mom and had success with Huggies.  I say it's okay to get the Huggies.  Here's why…every baby is different and I had success with Pampers with my daughter and Huggies with my son.  Had I not had either or I wouldn't have known that unless I went out to buy them.  Does that make sense?  Either way they will get used and if not, they can exchange them on their next Target run.
P.S.  Every diaper needs a wipe!  If you buy a pack of diapers go ahead and pair it with a pack of wipes, they go fast!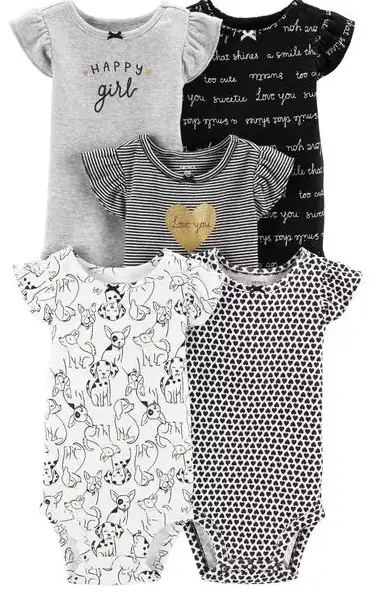 Carter's 5 Pack Flutter Sleeve Bodysuits
Cute Baby Clothes:  Sometimes the new parents to be add clothes to the baby registry and sometimes they don't.  But you're in the store and you see the cutest little outfit.  I get it.  It's okay to buy baby clothes that aren't on the baby registry.  BUT, my word of advice is to pair it with something that is on the registry.  For example, you buy a couple of outfits from Carters (I love that store!) and pair it with a grooming kit, or pack of bibs, or Dreft or diapers.
And for every cute outfit you get, it's a good idea to pair it with something practical like onesies or white tees.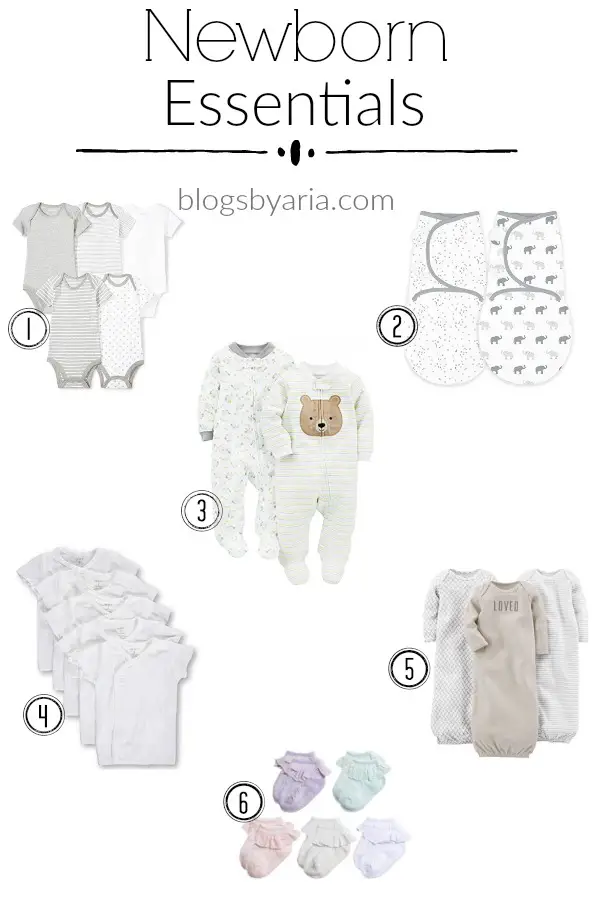 I couldn't not include those cute little socks 🙂
A FEW MORE TIPS
If you find out your friend just had a baby I still suggest checking out their registry.  Chances are there are still some items left to purchase.
Gift cards are always a great option!  I suggest Target, Amazon and their favorite restaurant.  Target because when mom does get some time to herself or to venture out with the baby she'll end up there naturally. : )  Amazon is always a win-win so she doesn't have to leave the house. You can give the gift of Amazon Prime if they don't already have it.  And their favorite restaurant for either take out (because there is no cooking with a newborn) or date night.  You could offer to baby sit!  All great ideas if I do say so myself.
Take advantage of free shipping.  With Target for example, you can get free 2-day shipping on eligible items with $35 and up orders.
And of course you already know why we love Amazon Prime!
DON'T FORGET THE GIFT RECEIPT!! I've said it three times now so you don't forget it. 😉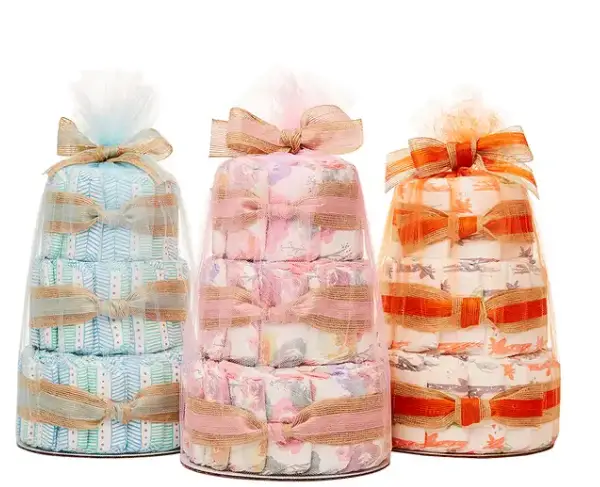 Don't give homemade gifts or hand-me-downs.  Unless it's requested or unless you're an expert diaper cake maker.  If you can't make diaper cakes you can buy them from Honest Company and Etsy.
Did you know that you can manually update a Target baby registry?  Say you got the exact same item from the Target registry at Walmart or Amazon.  You can go to the item on the registry and mark that you got that exact item and it updates on the baby registry that it was purchased!  They make it so easy : )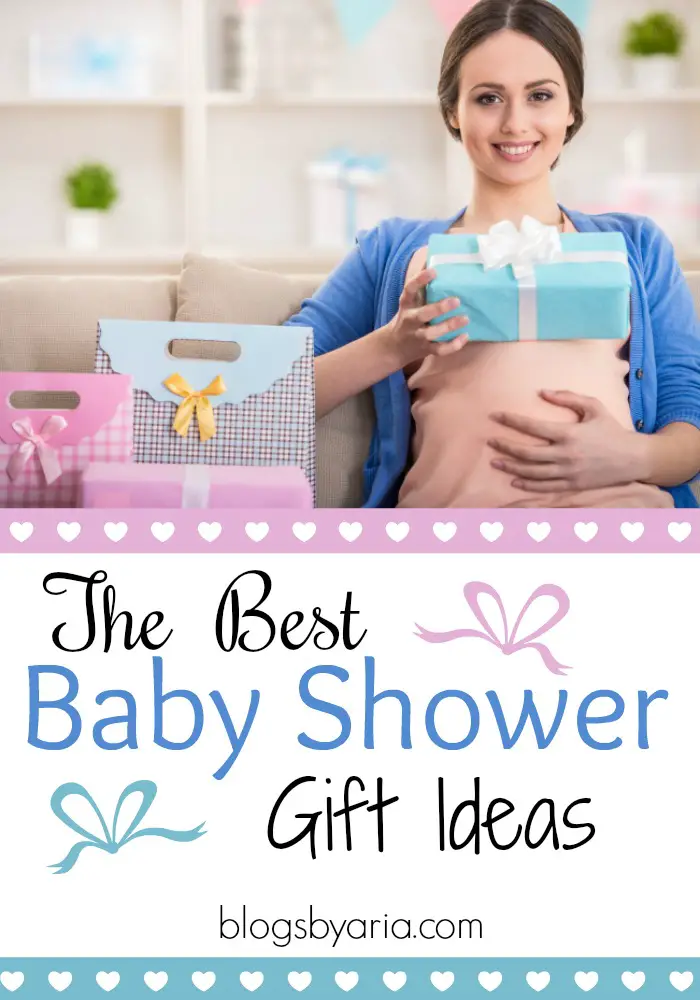 WHAT IF IT'S NOT THEIR FIRST BABY?
If you get an invite to a baby shower and you're feeling a bit of deja-vu there is a way to handle that.
If this is the second baby and it's the opposite gender, they probably are registering for clothes or gender specific items.  Or even new things that they didn't have the first go round.  You'd be surprised all of the new baby gadgets that are out now that weren't even five years ago.
If this is the second baby and there's a large age gap, I'd say anything more than 3 years, then I don't think its bad taste on their part to have a baby shower.  Maybe not as a shower gift, but I think it would be a good idea to ask them if they are willing to accept hand-me-downs (if you have gently used clothes or items).  NEVER HAND DOWN A CAR SEAT.  THEY SHOULD ALWAYS BE NEW.
If this is not their first or second baby and it's not of opposite gender then I don't think they should have a baby shower.  That's my opinion.  If they do or don't, I would suggest diapers and that's about it.  I knew someone who had a few babies in a few years and instead of a baby shower they had a diaper shower.  No other types of gifts were expected.  That's a good idea and practical too.
Did you know that you can create a baby registry on Amazon?  Check there to see if the parents registered with Amazon.
I hope that this post gave you some great ideas on how to shop baby registries.  See, I told you there was an art to it : )  Babies are a blessing and should be celebrated.  It's a happy and scary time for the new parents and can be financially daunting.  That's why I love shopping off of a registry.  It takes the guess work out of the equation and allows you to purchase basically what they want to receive.  Do you have any other tips I should add about shopping for a baby shower?  Let me know in the comments below!
Are you planning a baby shower or expecting a little blessing of your own?  Share this post with friends so they are in the know! 🙂 Happy Mother's Day!! Enjoy your day and thank you for spending some of your time with me : )
SHOP THIS POST!