Happy Fourth of July weekend!  We're at the halfway point of the year, which is kinda crazy.  That either scares you or motivates you.  For me it's a bit of both!  Today I want to share a little June rewind, some monthly favorites and a little of this and that.  We're in for a random post…my favorite kinds to write!
*this post includes affiliate links for your shopping convenience, you can read more about affiliate links by reading my Disclosure*
JUNE REWIND
The biggest thing that happened in June is I finally started my YouTube channel!  It feels pretty crazy to add more on to my already full plate.  But it's something I've wanted to do for so long and I'm so glad I finally took the plunge!
It's been fun sharing my home decor in a different format.  As well as showing the actual process of my decorating.  Right now I'm working on what to film next while we're in this half of Summer before we transition to Fall.  Which, if you know me, you know is my favorite time of all!
Now let's look at some of what I shared in June so you can get caught up!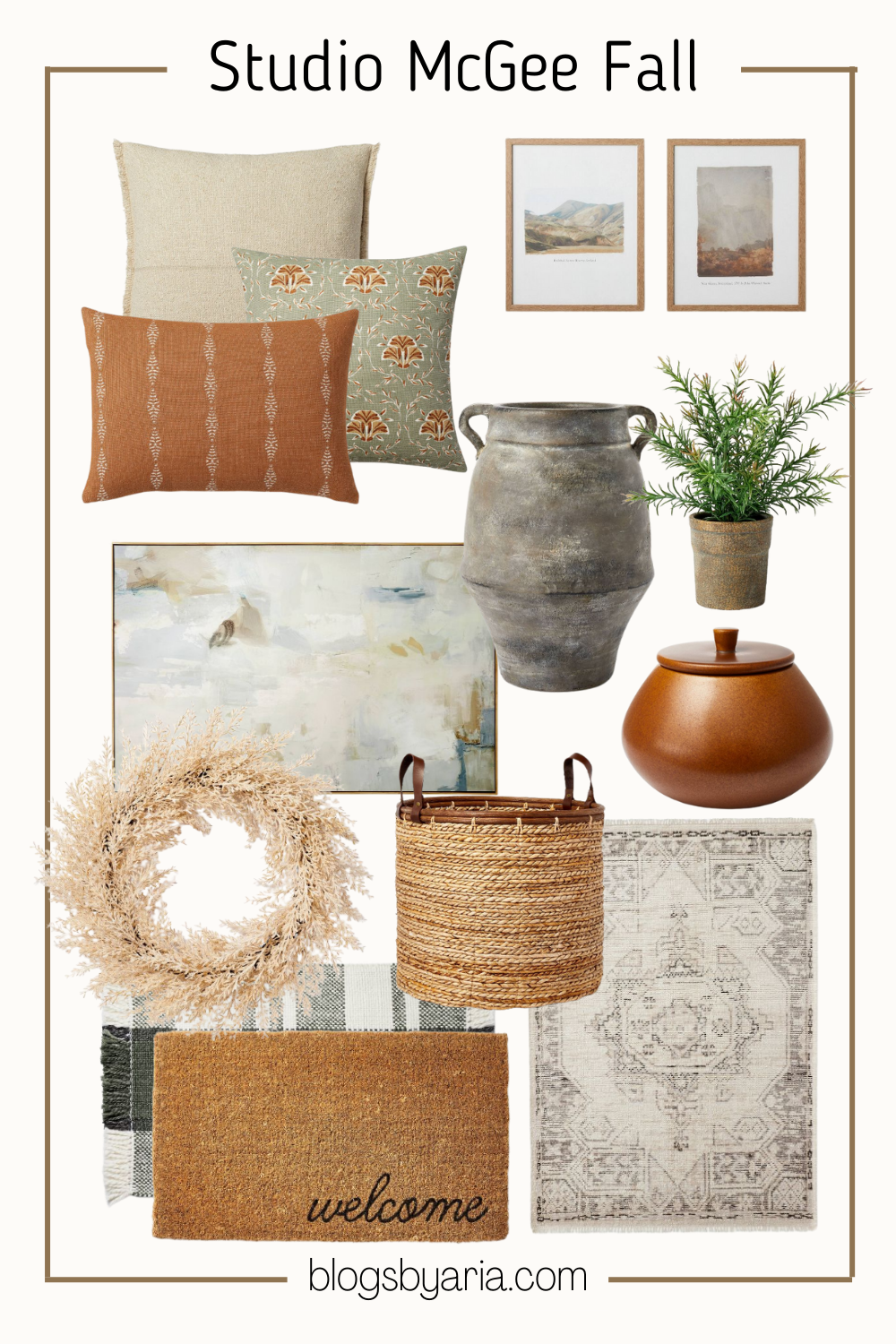 oversized woven striped pillow • floral print pillow • woven geo striped throw pillow • set of 2 glass textbook photo frames • tonal abstract framed canvas • terracotta vase • small leaf potted plant • small canister • xl grass wreath • leather handle basket • handloom with fringe rug • welcome door mat • knolls persian style rug
I recently shared the new Studio McGee launch on the blog and I've been sharing even more on my LTK.  So many of you have been loving the collection as much as I have!
I'll be selling items on Facebook Marketplace so that I can make room for new Fall finds!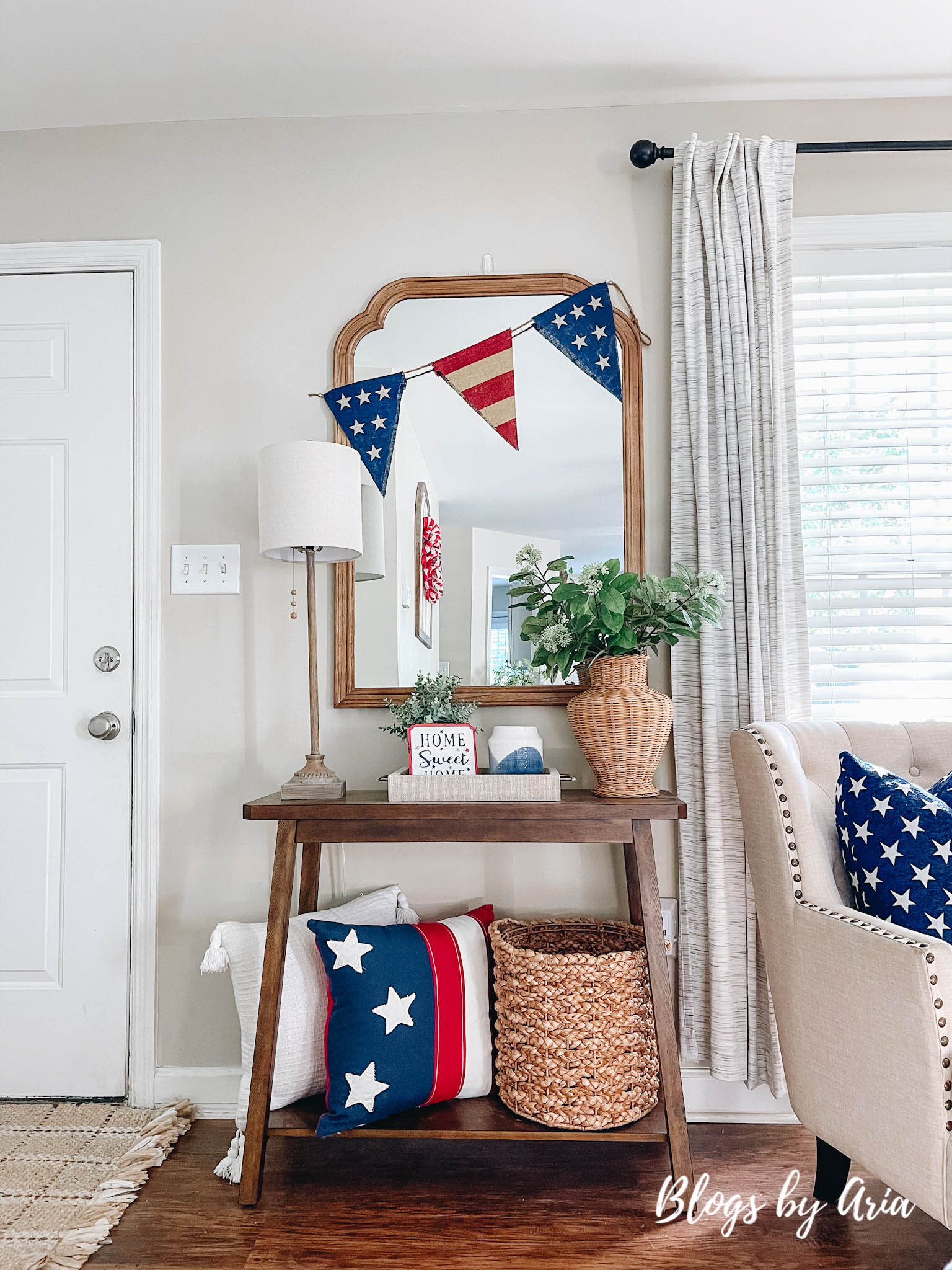 buffet lamp • wall mirror • console table • flag pillow • flag banner • woven basket • woven vase • linen tray • nailhead accent chair • blue star pillow
A big part of June for me on the blog was getting all of my patriotic decor posts up!  I shared my entryway, my living room and my dining room all decked out in red, white and blue.
Hey friend!! I finally got some time and a little bit of natural light to share how I style two of my tiered trays. These are two of my favorite tiered tray…
The one thing I didn't share on my blog is my tiered trays.  If you'd like to see them, you can watch my YouTube video where I decorated not one but two of my tiered trays.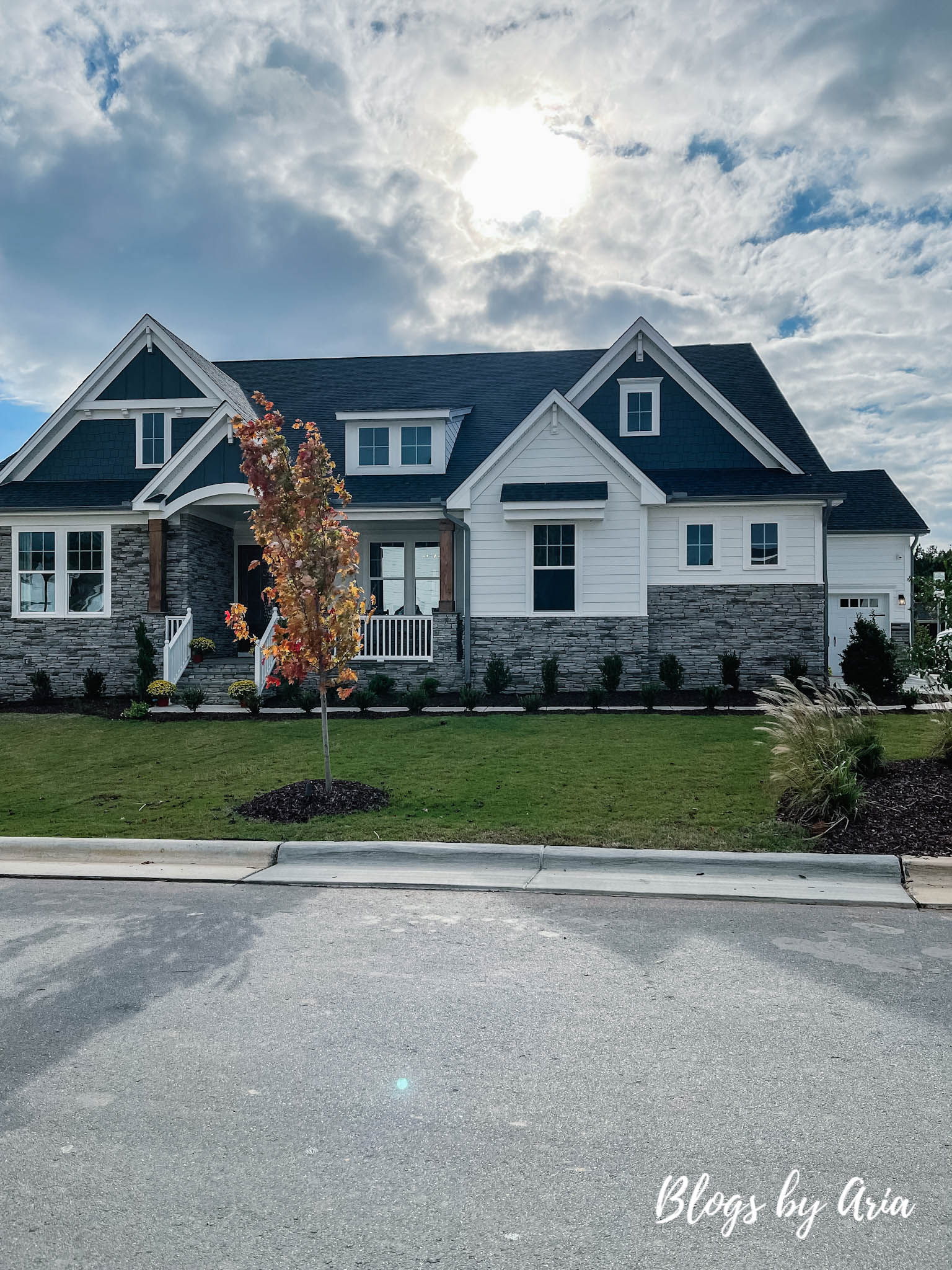 A big goal of mine is to share all of the Parade of Homes tours that I saw in 2021 before the 2022 tours begin.  Some months I have the capacity to share a lot and others not so much.  In June I shared The Charming Craftsman home…one of my favorites from last year.
Hopefully I can get a couple of tours up in July.  Believe it or not I still have houses from the first two years (or three) that I never shared.  So I really want to share them all.
Those are just a few of the posts I shared in June.  I'm glad I had the opportunity to share as much as I did and I'm looking forward to sharing even more this month!
JUNE FAVORITES
Every month I rack my brain on what are my new favorites for the month.  Especially since I haven't been doing much shopping in the past few months.
blue and white striped pillow • blue and white stars pillow (the red plaid pillows are from Home Goods and I can't find a similar option)
I've really been loving both of my new pillow additions.  The blue and white striped pillow is from Pottery Barn and I am just absolutely in love with it.  Definitely a favorite!
Also the blue and white stars pillow is an Amazon favorite.  I'm so impressed with the quality.  It will be getting packed away for next year but the blue and white striped pillows will be hanging out a little longer.
I love to get nightgowns from Walmart and my recent one is now a favorite.  It's simple, sleeveless, comfy and has pockets!  I've paid a lot more for nightgowns from department stores that have less quality than these Walmart ones.
I need to restock my favorite lip mask from Sephora but in the meantime I was looking for a good lip gloss in Target.  When I use my lip mask before bed and in the morning I don't need lip gloss throughout the day.
This tinted lip balm I've been using and loving lately.  It's not sticky at all, just gives a light wash of color and is very moisturizing.
INSTAGRAM EXPERIMENT
I have a hate-hate relationship with Instagram.  My page just doesn't seem to grow even when I'm consistent.  I'm mostly there for stories.
On a whim I decided to start a new page.  Still keeping my original page, but I wanted a page to share my collages that I make on LTK.  I've seen other accounts that are like "shopping pages" and wanted to see if I could do the same.
Anytime I've shared my collages on my own IG page they don't perform.  At this point anytime I share anything on my own IG page it doesn't perform.  I could write a whole post about why I loathe IG but that won't be today.
Yesterday I started my page and I'll report back in a few months to share how it's growing.  I'll probably share it on my Tik Tok too.
JUNE BEST SELLERS
white lace ruffled midi dress • louisa dress • set of three wood objects • wood shelves • tonal oil framed painting • sidewalk sneaker mules • small magnolia leaf plant • miller sandals • hydrocealer concealer • elemis marine cream • mateo console table • small triangle ficus tree
Let's wrap up this post with a few of your favorites from the month.  Many of these I have and love so they're my favorites too!
June is always a crazy month for me.  The kids get out of school, it's my husband's birthday and then it's Father's Day.  It's just always a lot.
I'm glad for the crazy month to be behind me!  Here's to a great July! *cheers*
Looking for more content?  Be sure to find me here:
Facebook | Instagram | LTK | Tik Tok