Are you looking for the perfect gift for a traveler on your list?  I've rounded up the top 5 Christmas gifts for people who travel.  You're sure to find the best gift for the avid traveler and maybe something for you too!
"We travel not to escape  life but for life not to escape us" – Anonymous
*this post includes affiliate links for your shopping convenience, you can read more about affiliate links by reading my Disclosure*
These travel-friendly gifts are all useful!  And that's what someone who is always on the go really needs.  Space is at a premium in luggage and we don't want to waste any of it!  Keep reading for the best gifts for people who love to travel on your list.
BEST GIFT IDEAS FOR TRAVELERS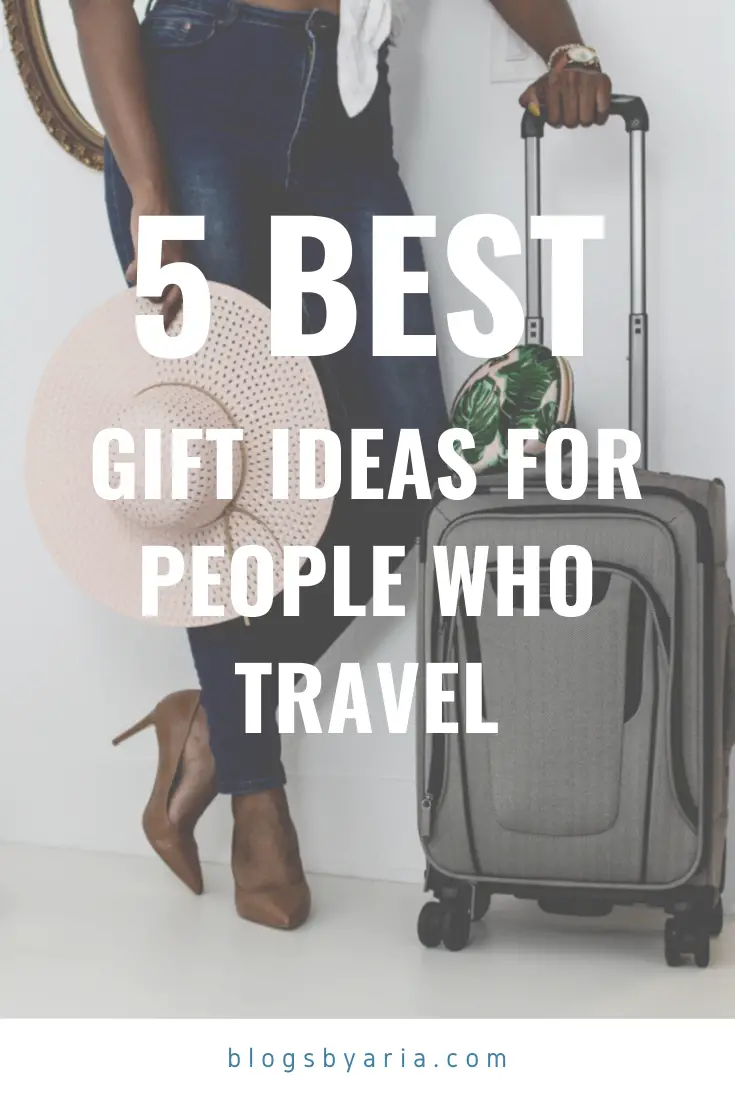 Many men and women alike are avid globe trotters who love spending their time traveling to see the world. Others might have to travel a lot because of their job or in order to see family.
Either way, travel can certainly be a hassle sometimes. If someone in your life travels a lot, then a good Christmas gift to help alleviate some of that stress will be very much appreciated.
COMFORTABLE TRAVEL GIFTS
One good option for a travel fanatic is a comfortable and convenient travel pillow. Whether it's for long car rides, train rides, or domestic or international flights, the traveler's neck will probably be strained after a short time.
Most seats are fairly uncomfortable – especially for long periods of time. A good neck pillow that will last and possibly even has functions including a massage can be an absolute lifesaver on long flights or cross-country car rides.
PRACTICAL TRAVEL GIFTS
If you know anyone who's an avid flyer, especially if they fly internationally, you'll know they carry a lot of documents on them at all times. Whether it's their passport, ID card, or even things like debit and credit cards, it can be a lot to keep track of.
By getting a convenient, portable document carrier, your gift recipient can keep all of their documents organized and readily available, making things a bit easier. This way, they can keep their IDs, cash and credit cards and even their tickets all in one safe and secure location.
Does the man on your list travel a lot?  In a suit and tie?  This tie & cuff link traveler helps him to stay stylish with his ties, tie clips and cuff links neat and organized.
TRAVEL MUST HAVES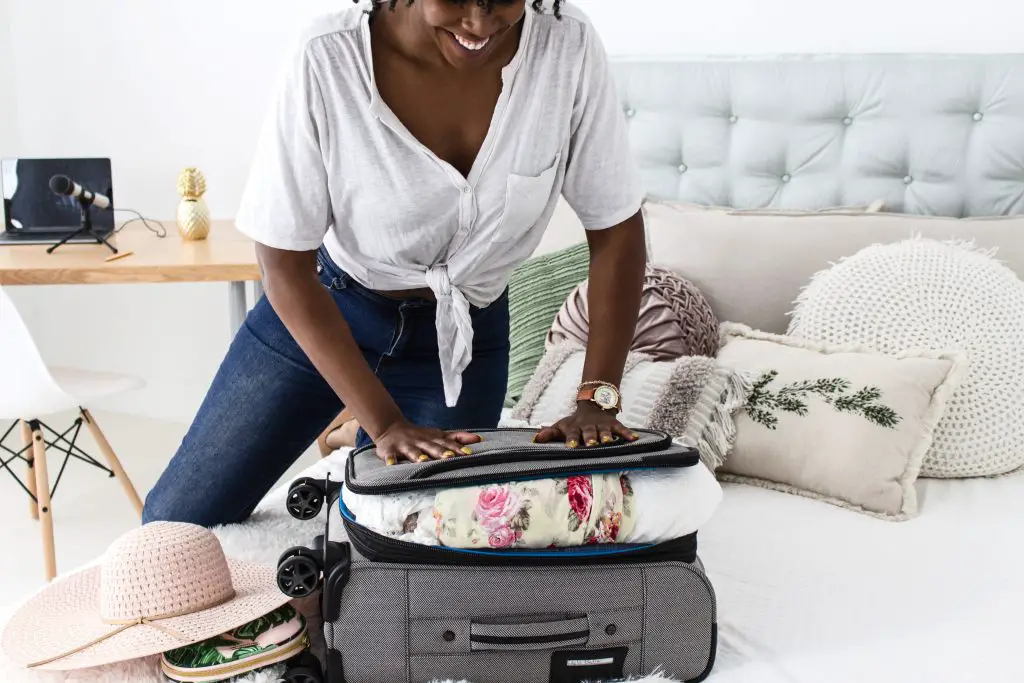 LUGGAGE AND PACKING GIFT IDEAS
The first thing that comes to mind when thinking about what to get someone who is an avid traveler is luggage.
A suitcase is a very specific item, even though it's the most frequently considered accessory for traveling.  Help them stay organized with the help of handy packing cubes.  If you've never used packing cubes when packing your suitcase, try them and you won't go back to sitting on your suitcase to make everything fit 🙂
There are many restrictions on suitcases, depending on the airline – including things like weight. A thoughtful travel gift is a digital travel scale.
A sturdy suitcase that won't break or fail on them mid-travel is crucial. You also want to get them something lightweight so that they're not having to lug anything heavy around from terminal to terminal.
One thing that often concerns frequent flyers is the security of their luggage. When they're flying with TSA, they need to be sure they have a particular luggage lock that's TSA approved.
This will allow them to search their bag if they need to, but it will prevent others from opening up their things. A top quality luggage lock can last a long time and keep all of your belongings safe.
Speaking of our favorite TSA rules, a silicone travel bottle set is a must!
SMALL TRAVEL GIFTS
Regardless of the mode of travel, a portable charger is a must have.  No one likes to see the dreaded low battery notification especially when traveling. From binge watching Netflix on a long car ride to accessing ticket and flight information in the airport, having a super fast portable charger is a life saver.
If you know someone who travels around a lot of different countries, they've probably run into the issue of having the wrong power cables for the outlets in their country. Different countries use different power plugs, so if you don't have the right one, you can be left without a means of charging any devices.
By getting a universal power adapter, your gift recipient won't be caught off-guard and they can use any common outlet in the world and connect any type of power cable to it in order to get power.
UNIQUE TRAVEL GIFT IDEAS
Store travel memories like ticket stubs and momentos with this travel stub diary.
Add some "adventure" to their next travel destination with this anywhere travel guide perfect for exploring new places.
A grown up lunch box that includes utensils, ice pack and salad dressing tube creates the ultimate to-go container.
This scratch map is a unique travel gift for the globetrotter!  How fun to scratch off the places they've visited and create custom art in the process!
Now you're all set to cross off a few more items off of your Christmas shopping list!  Thanks to you their next trip will be their best one yet!  If you're the traveler, share this post so that you can get some of these great gifts for you 🙂
Happy Holidays and happy shopping!