What is a good gift for a couple?  What do you get a married couple for Christmas?  I have the best gifts for couples today rounded up for you in my Christmas gifts for couples gift guide.
Sometimes it's a lot easier for you to combine your gifts into one for couples. It gives them something that they can both use, and it can help you save costs on having to buy multiple gifts for them individually.
However, you can't just give a couple the same gift that you would give to one of them, you have to get something that they can both get a good amount of use from.
*this post includes affiliate links for your shopping convenience, you can read more about affiliate links by reading my Disclosure*
MONOGRAM GIFTS FOR COUPLES
One good, classic option would be matching monogrammed bathrobes or something similar. You want to get them something comfortable that they can both lounge around in comfortably, but also has a bit of a personal flair to it. These can usually be acquired at a pretty reasonable price point, so you won't have to shell out too much for these.
Shop these monogram bathrobes:
TECH GIFTS FOR COUPLES
There have been new products springing up that utilize technology as a means of letting someone know you're there from a long distance away. They come in many different forms, from bracelets to bedside lamps, but they all serve the same purpose.
They're synced up over the internet in such a way that when you touch one of them, the other will vibrate or light up. This is a very sweet gift for long distance couples, or when someone is traveling for work, for them to send little messages to each other from across the world.
CUSTOMIZED GIFTS FOR COUPLES
Another great gift idea for couples is customized sentimental decor. These are little decorations that portray something significant to that relationship in particular. This could be something like a map of the stars from the day they met to a map of the city they had their first date in. Either way, it's always a very sentimental item that says a great deal about their relationship.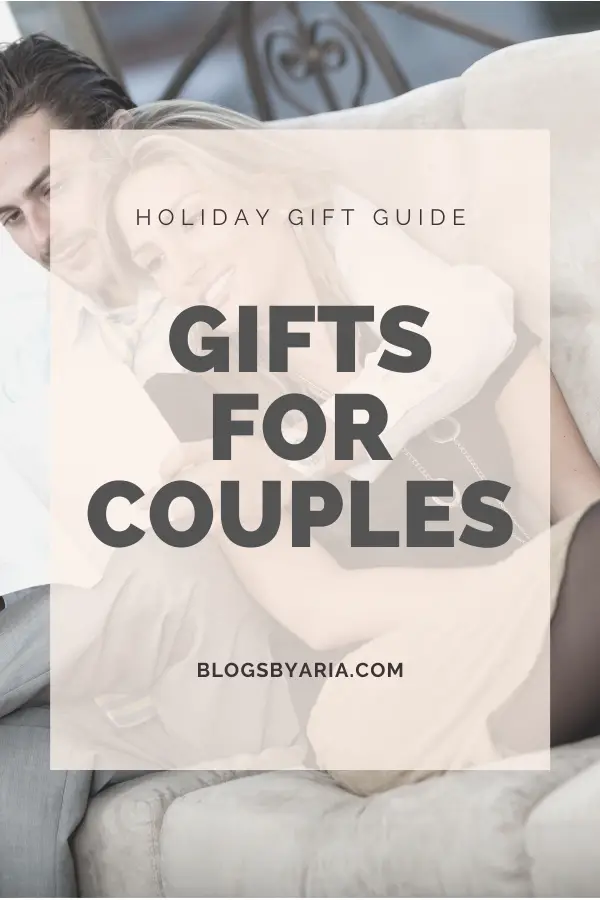 DATE NIGHT GIFT IDEAS FOR COUPLES
For a more casual gift, you can make their date options a lot simpler by giving them a portable picnic. There are a lot of portable cases and stands that make having a picnic much, much easier and more convenient. Otherwise, it can be a bit of a pain to set up. These kits can come with lots of storage for all of the food, utensils, stands, and so on.  Such a great and inexpensive date idea!
Speaking of dates, what's better than game night!  From classic board games to mystery games and more, a game night at home is an easy date night on a budget.  Even better it's a date at home when it's really cold outside 🙂
FOODIE GIFTS FOR COUPLES
Sometimes it can be difficult to find something that both people in a couple will enjoy for dinner if they have different tastes. There are many cookbooks for couples that provide a lot of options for dinner for two that they can make at home, and from there they can make a much easier decision on what to eat.
Give the gift of a meal delivery service.  There are so many to choose from and different menu varieties that can satisfy practically any eater from vegan to Paleo to any dietary preference.
BEST CHRISTMAS GIFTS FOR COUPLES
I have given you several great and unique gift ideas to get for the couples on your holiday shopping list.  Your favorite duo is sure to love the thought you put behind their gift.  These gifts don't have to be just for the holidays, they're great options for housewarming, wedding and anniversary gifts.
Hopefully I've been able to help take off the stress on finding the perfect gift.  Because finding the perfect gift for your favorite couple doesn't have to be a daunting task.  Even if you're shopping for the couple that seems to have everything, by using my gift guide for couples you're sure to find a gift they'll love!
picnic backback for 4 · personalized pushpin map · monogram waffle weave robe · friendship lamp · personalized picnic table wine carrier · his and hers key holder · star map · long distance touch bracelet set · luxury monopoly · Nespresso · personalized wall art · glass monopoly set · picnic backpack for 2 · cooking for two cookbook · the newlywed cookbook
Are you looking for more gift guides?  Check out more of my gift guides here.