Looking for inspiration for styling a summer tiered tray?  I've got you covered!  I love decorating my tiered tray each season and there are so many options for Summer.  Today I'm rounding up tons of tiered trays styled for Summer and I'm sure you're going to be inspired!
If you're new here, hey girl hey!  I love styling my tiered tray each season and I'm planning on decorating my tiered tray with a few themes this Summer.  Which got my mind brainstorming ideas and why not share those ideas with you too!
*this post includes affiliate links for your shopping convenience, you can read more about affiliate links by reading my Disclosure*
BEE THEMED SUMMER TIERED TRAY DECOR IDEAS
In the summertime there's nothing I hate more than bees!  But they make for cute decor for tiered trays 🙂  And bee themed decor is really popular during the Summer.  So if you don't hate the bees, I can see having a lot of fun with a honey bee tiered tray.  Even I may end of dabbling into it 🙂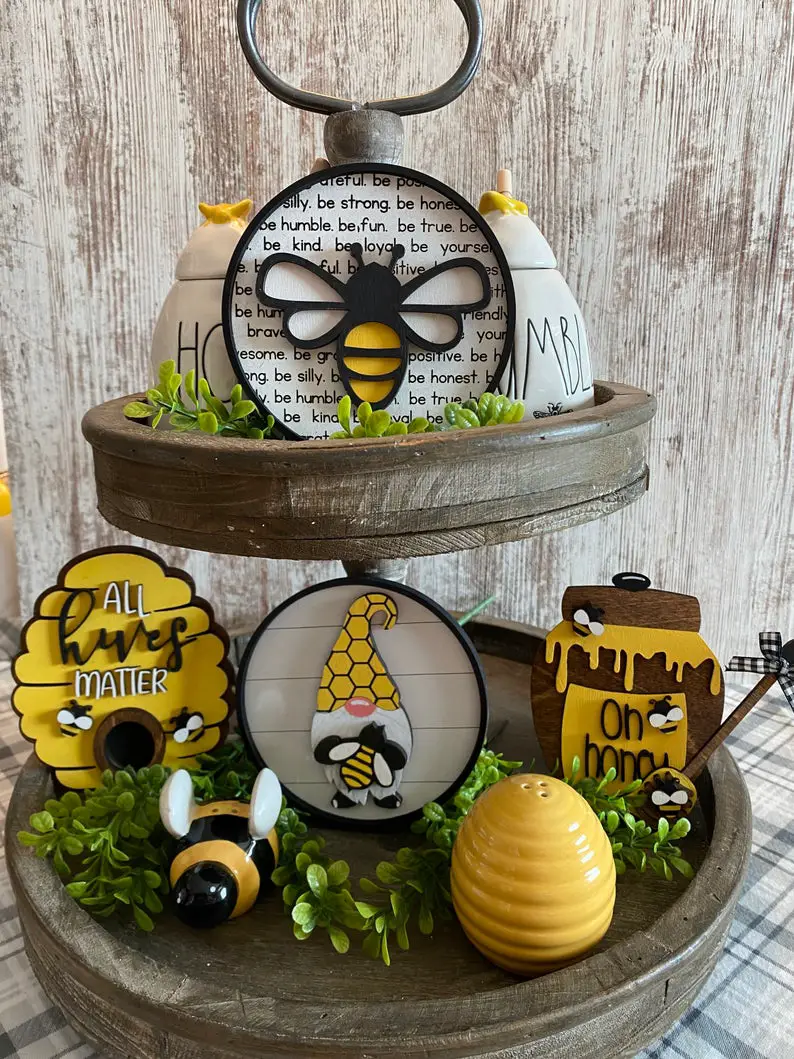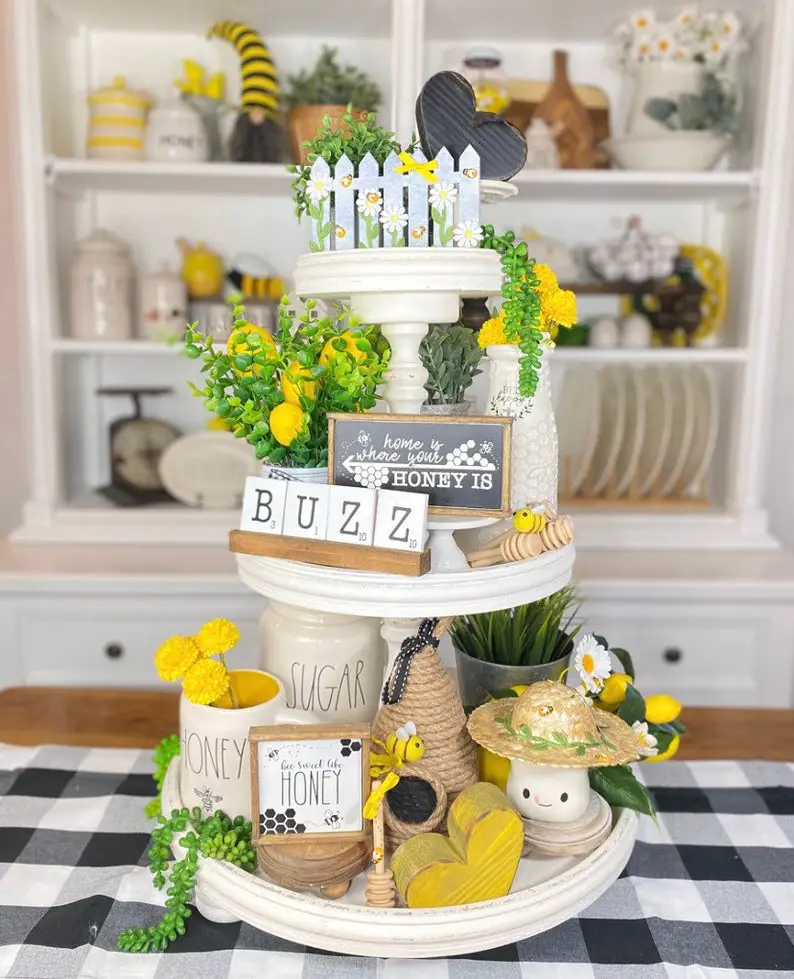 Isn't the little straw hat marshmallow mug topper the cutest?  This shop has a few to choose from and I definitely want to get one but I'm trying to decide which one to get!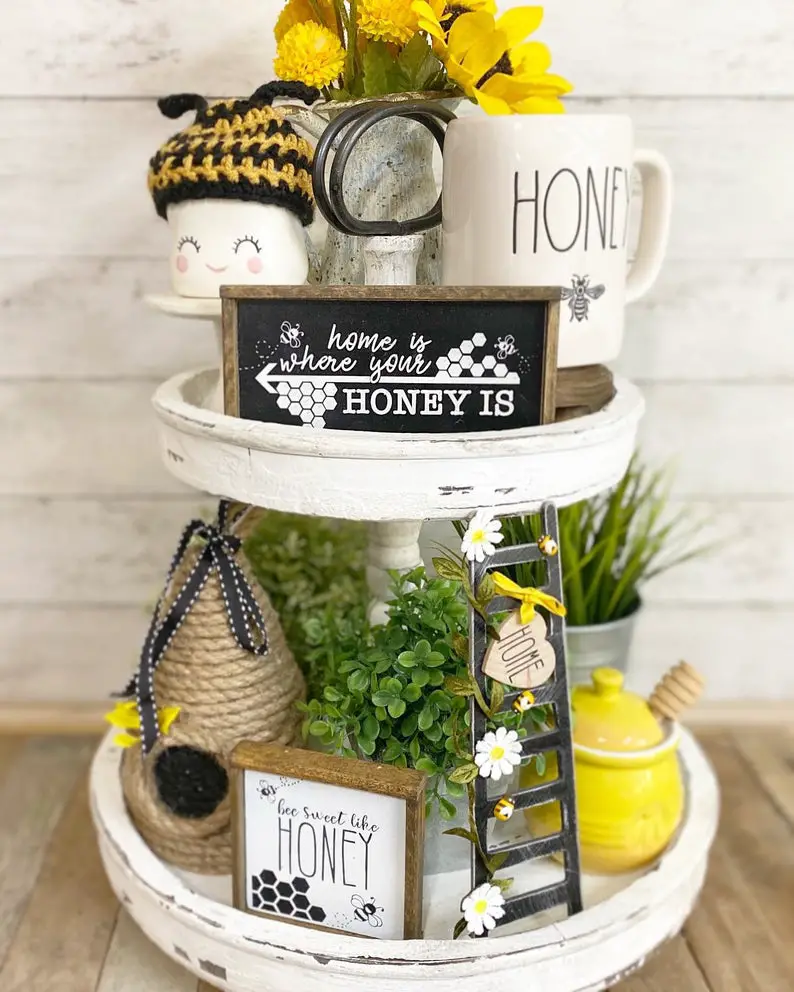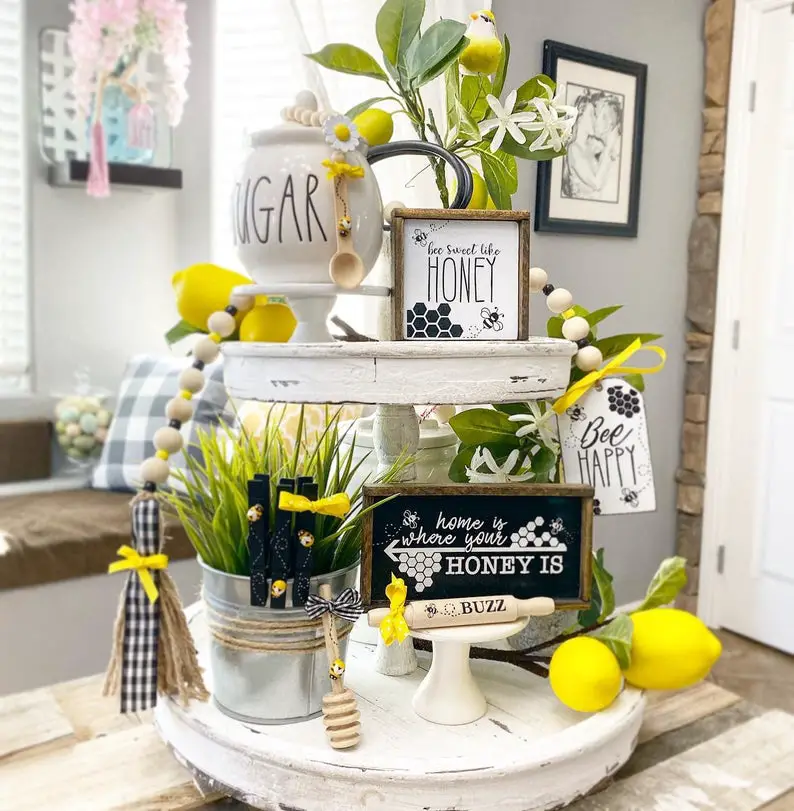 LADYBUG TIERED TRAY DECOR
Summer tends to mean a few bugs, aside from bees and wasps, there's also ladybugs.  They can be a cute tiered tray decorating idea.  Many people find ladybugs to be a sign of good luck so why not decorate with them.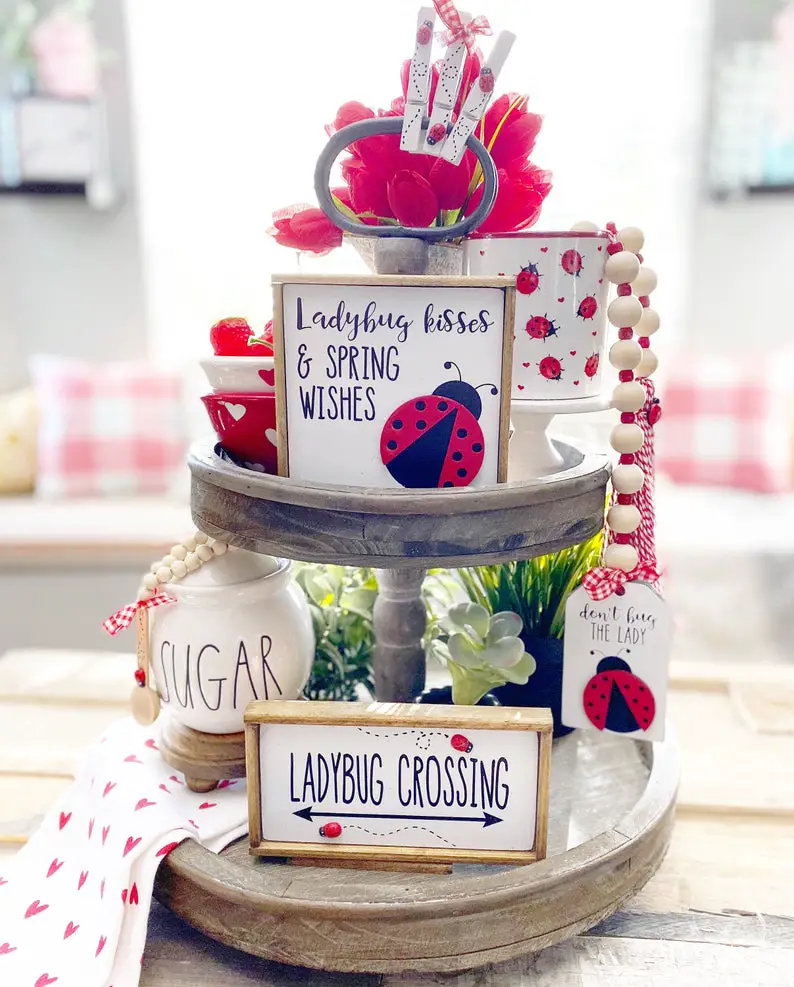 Isn't this ladybug tiered tray so cute!  As you can see, you can create a tiered tray with many items you already have and then add one or two pieces that go with your desired theme.
STRAWBERRY THEMED TIERED TRAYS
Here in North Carolina, summertime is strawberry season!  That's when all the stands pop up on the sides of the road and you can buy fresh picked strawberries.  Or you can go to local strawberry farms and pick them yourself.  My family loves strawberries and I'm sure would love it if I decorated one of my tiered trays this Summer in a a strawberry patch theme.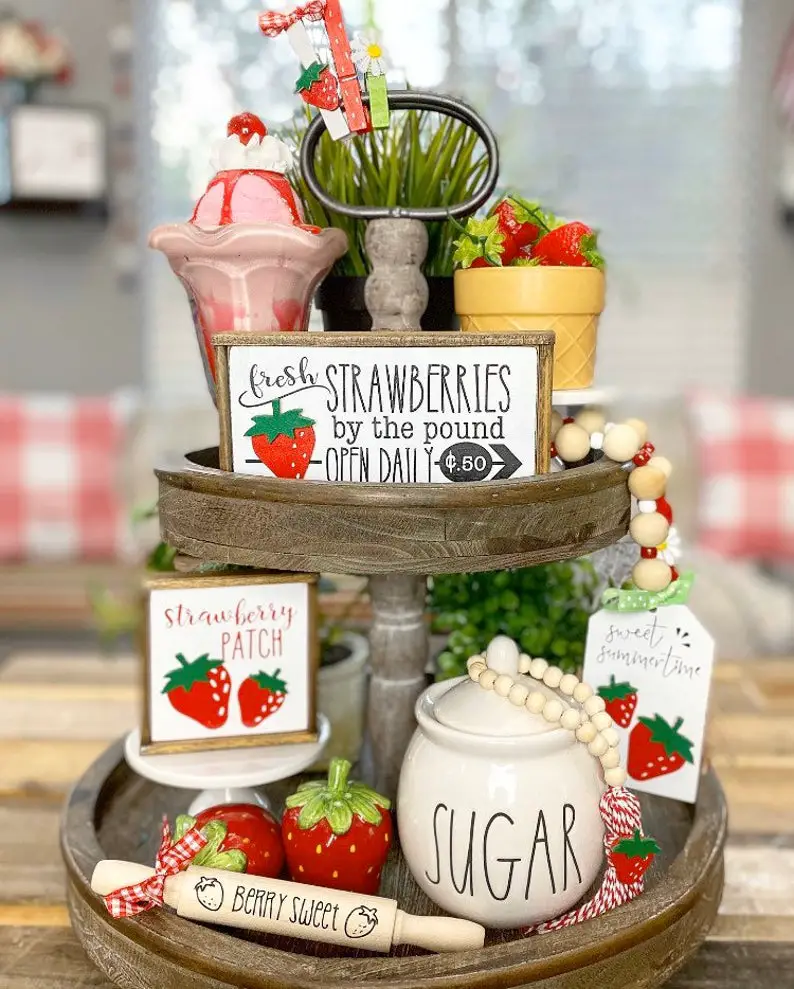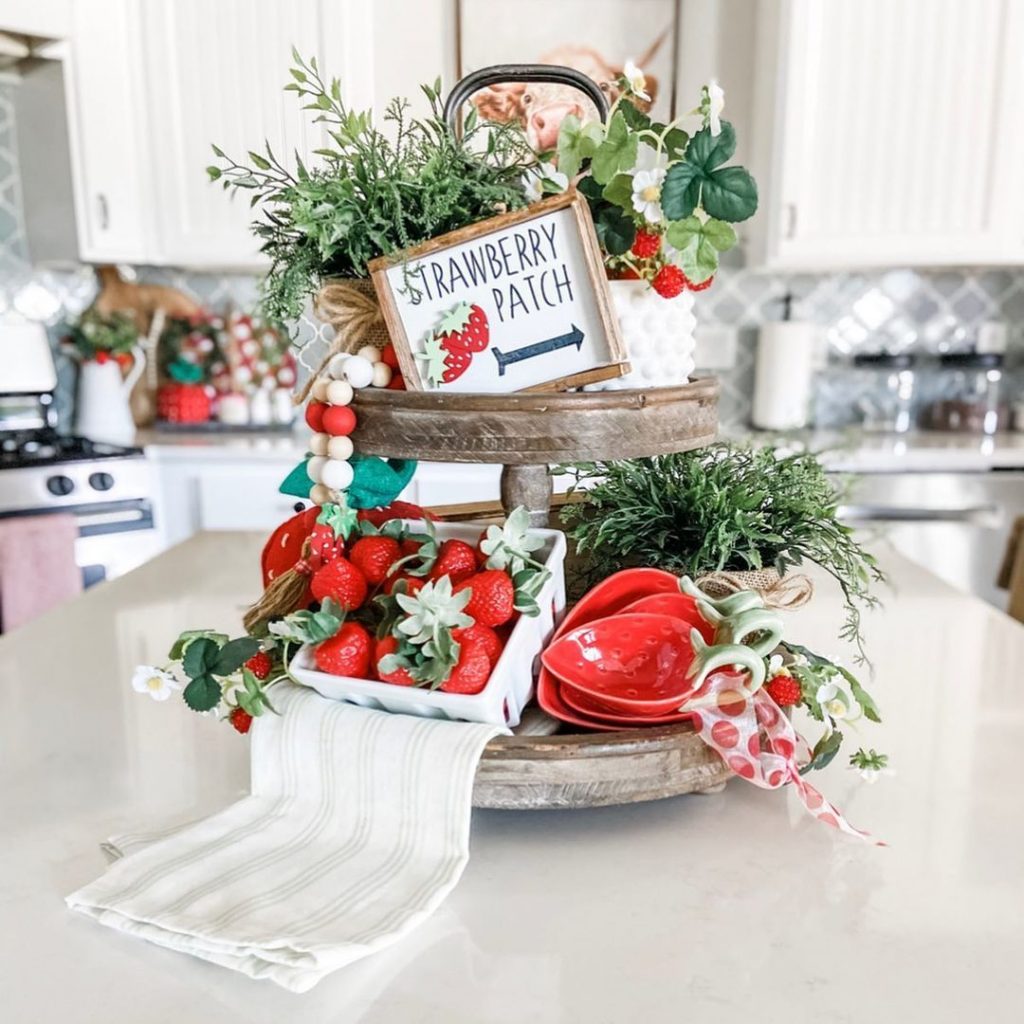 WATERMELON TIERED TRAYS
Of course watermelon goes with Summer!  So many fruits do actually.  There are so many cute signs and garlands to style your tiered tray with a watermelon theme.  I can easily take this to the next step with hand towels and other kitchen accessories.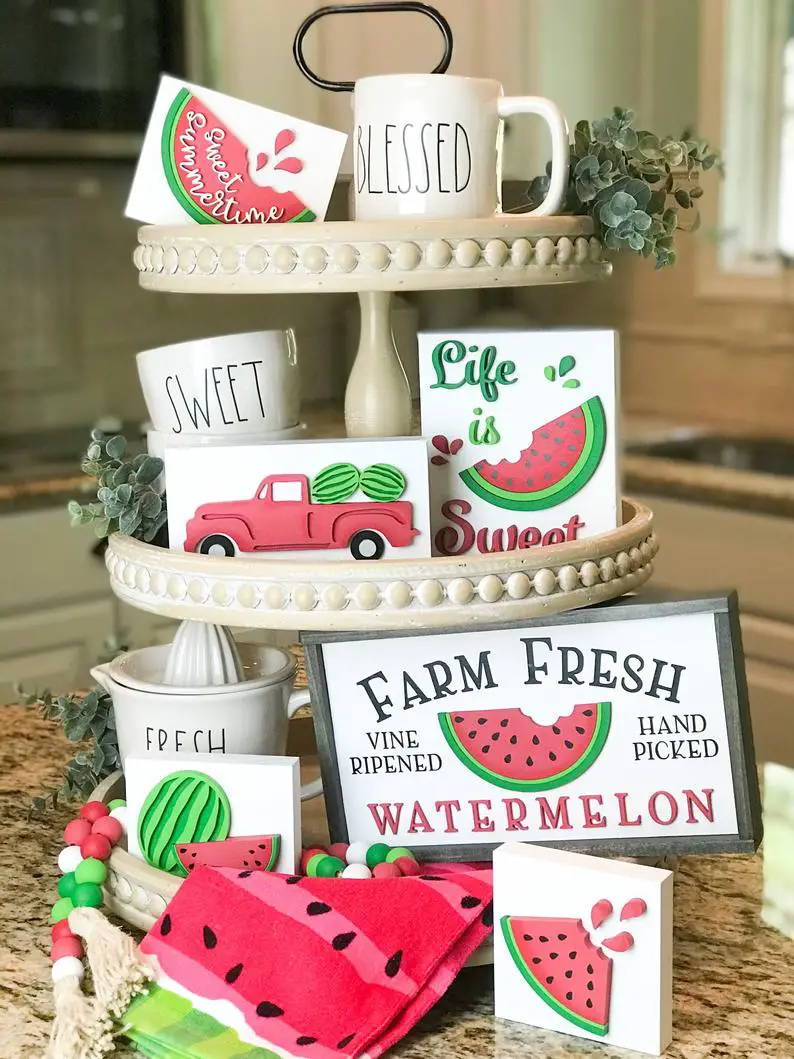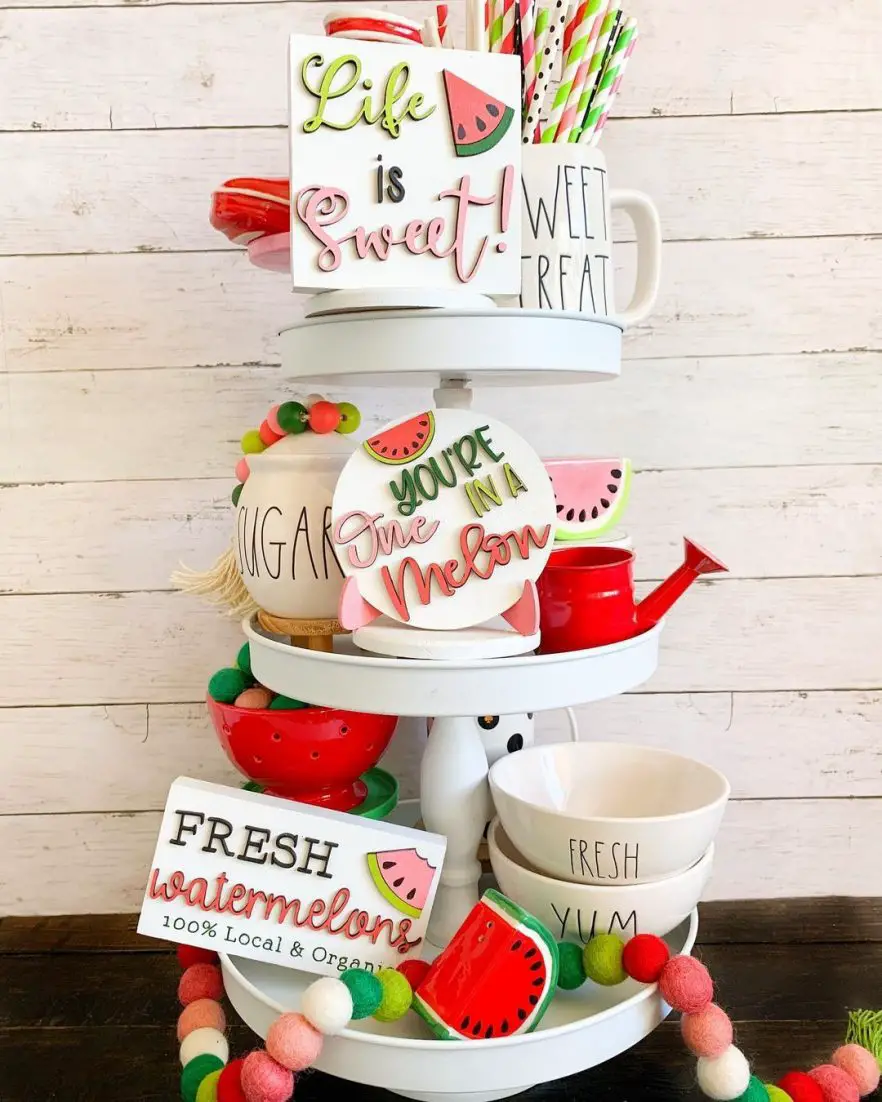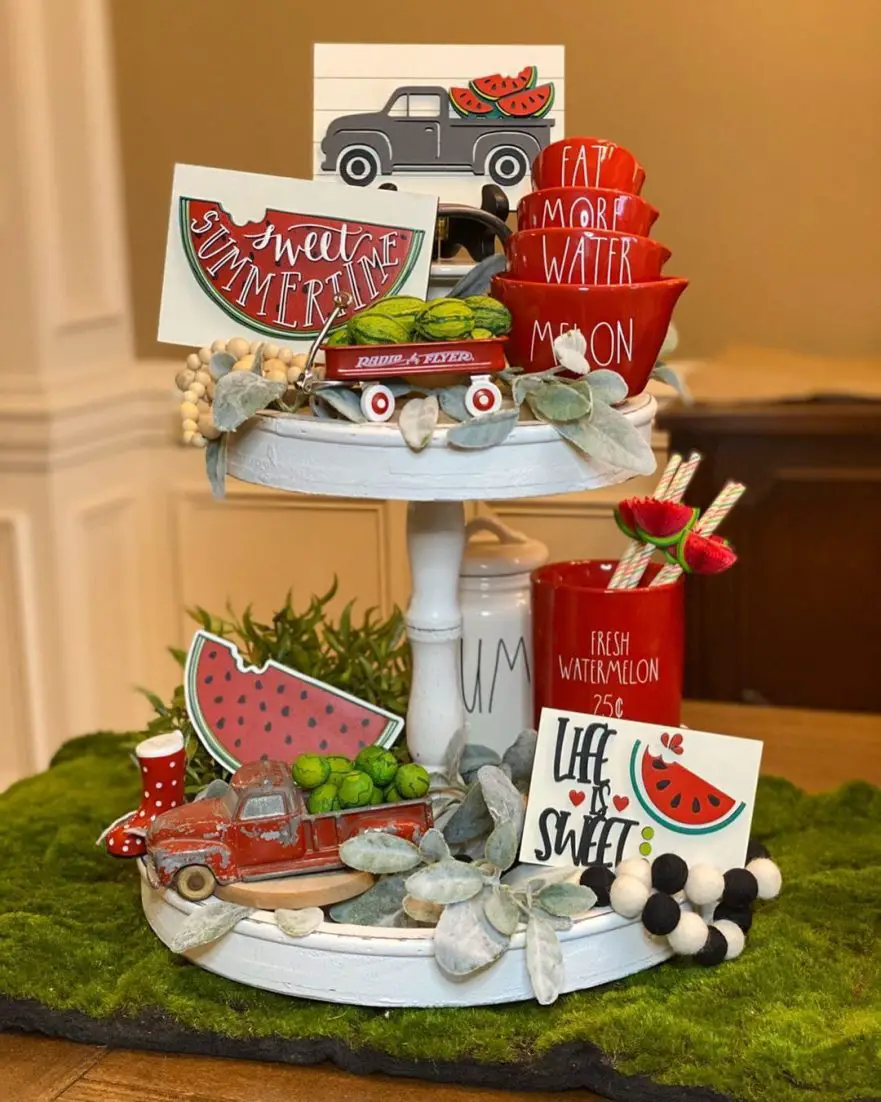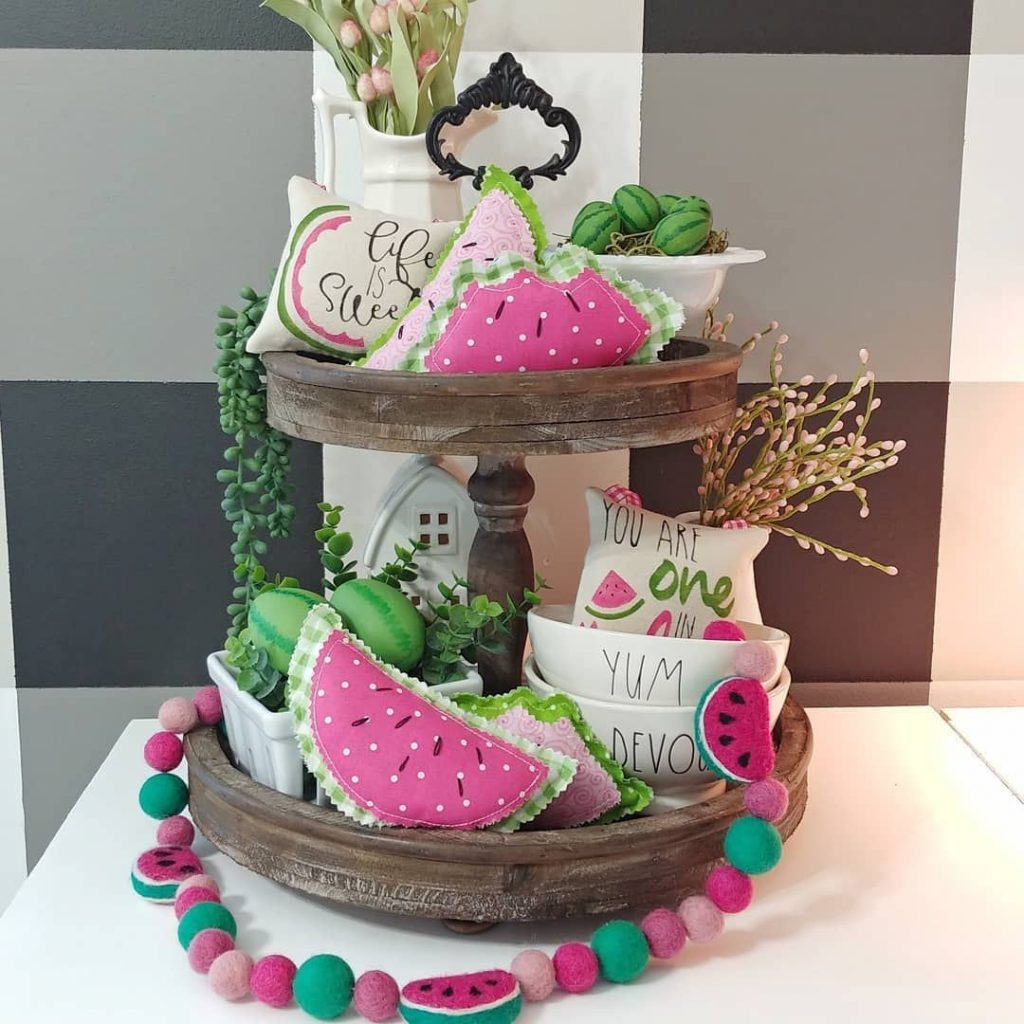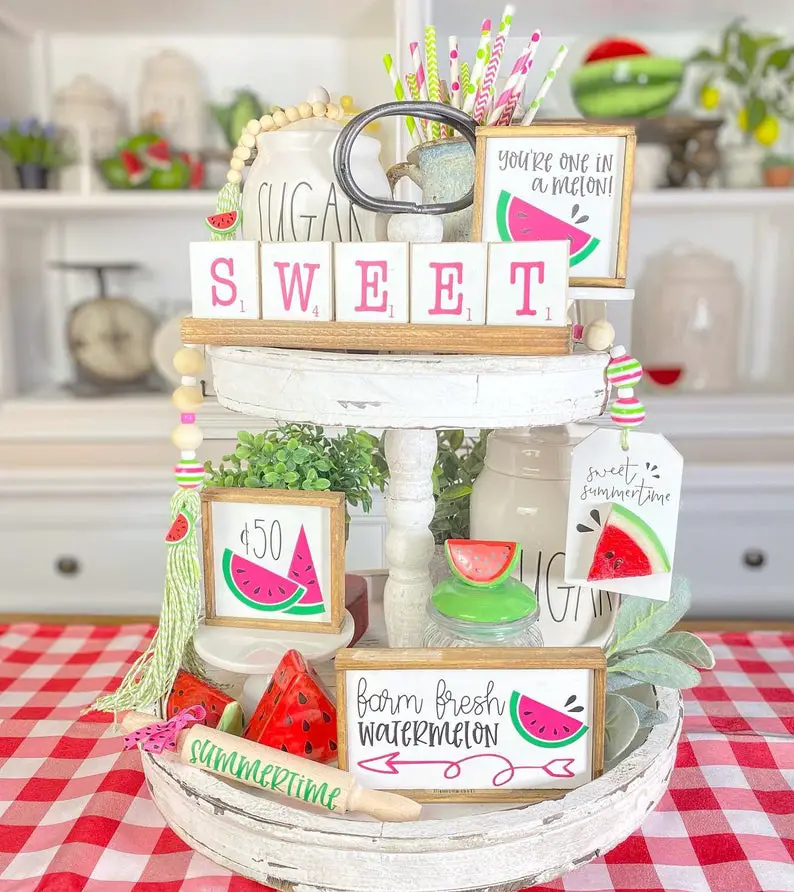 SUMMER POOL AND BEACH TIERED TRAYS
When I think of Summer I think of long days at the pool and dipping my toes in the sand at the beach.  You can bring that same feeling inside with your Summer tiered tray!  This year I already know that I'm going to do a beach themed tier tray.  I can't wait to share it with you once I gather all of the items.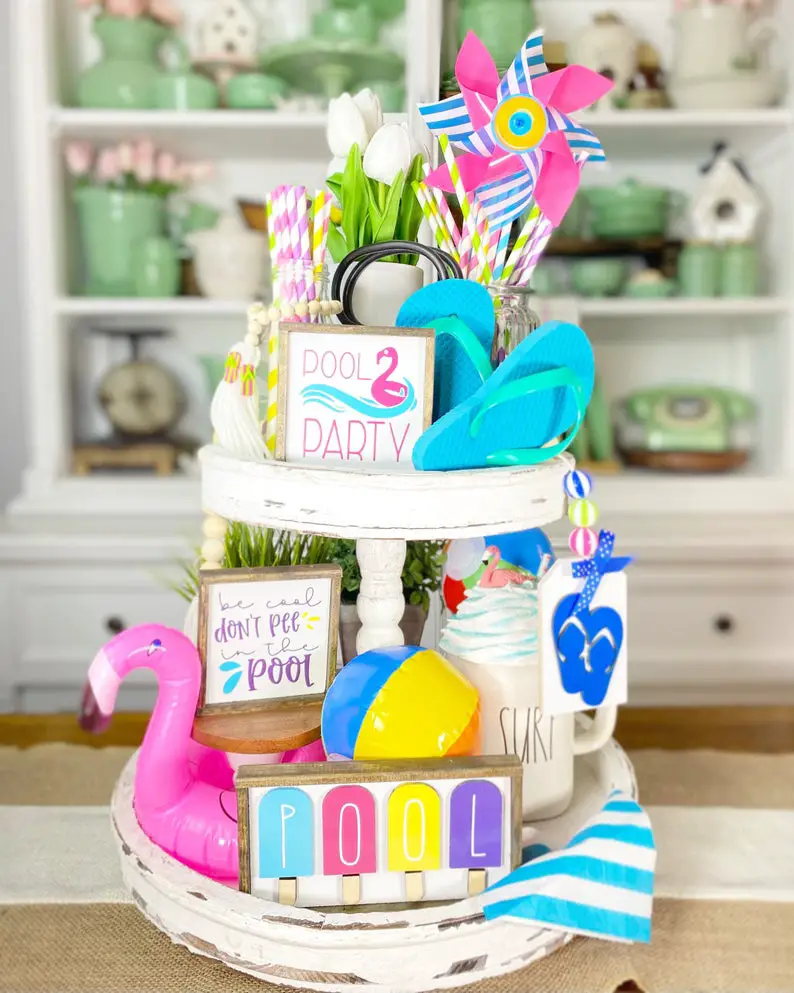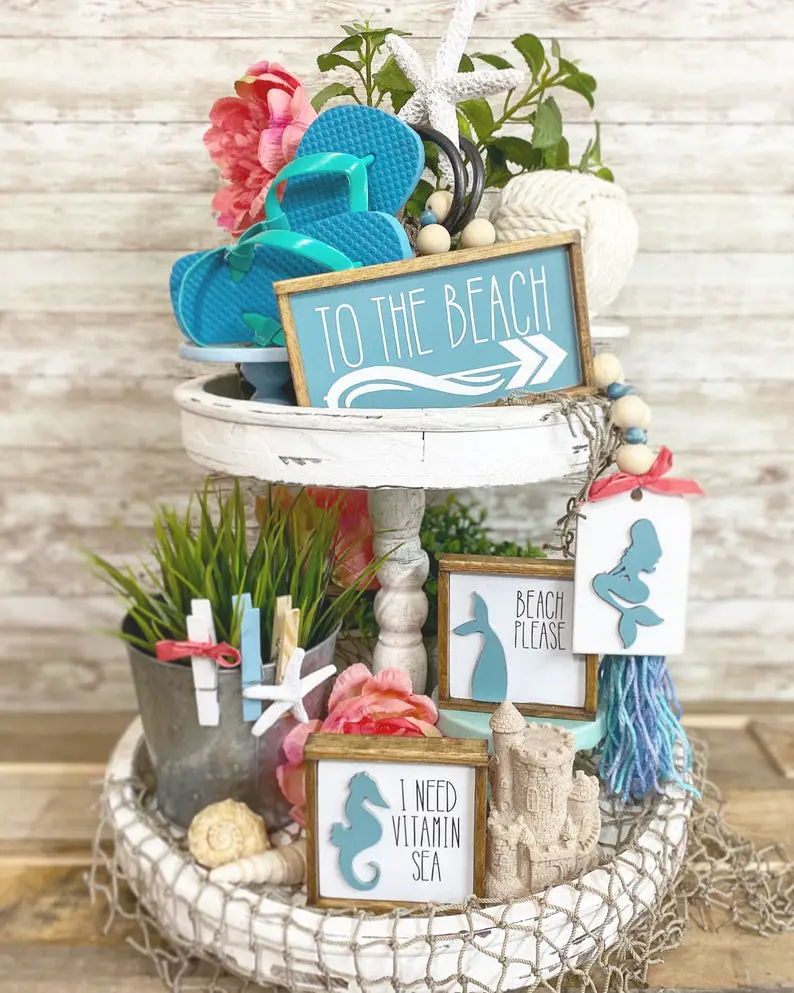 I love this beach themed tiered tray…think about how you can recreate this look affordably.  Little flip flops, sea shells…Home Goods has nautical themed items all of the time.  The netting is such a unique touch.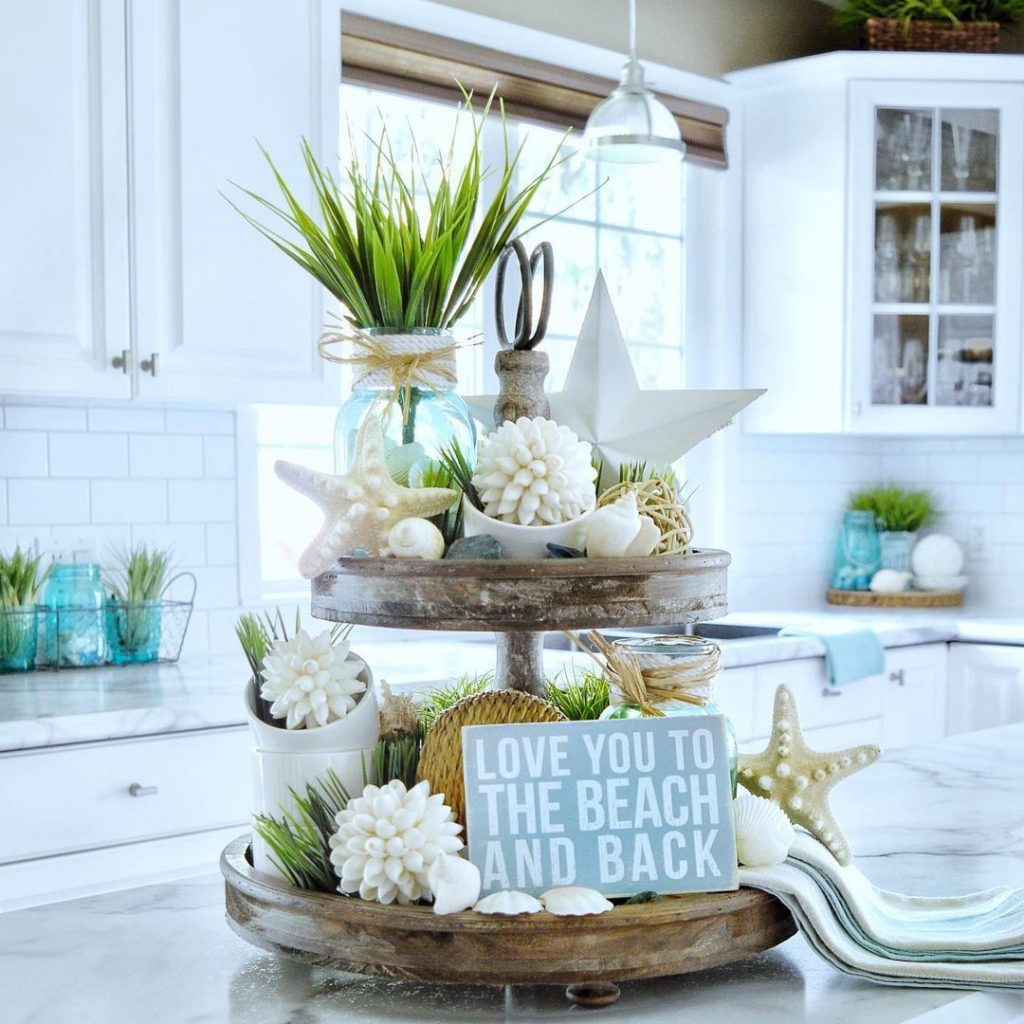 Many of the items from this beach styled tier tray I've seen in Home Goods!  Perfect for me because the beach is my happy place 🙂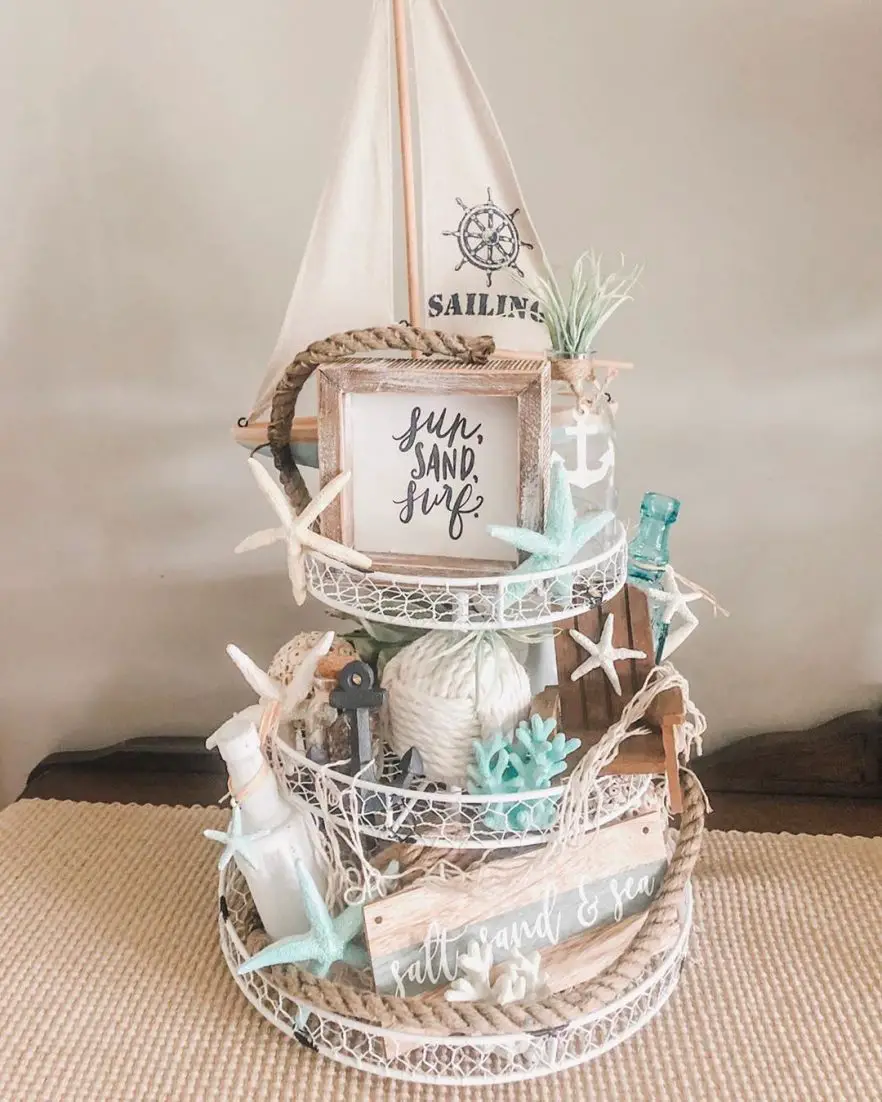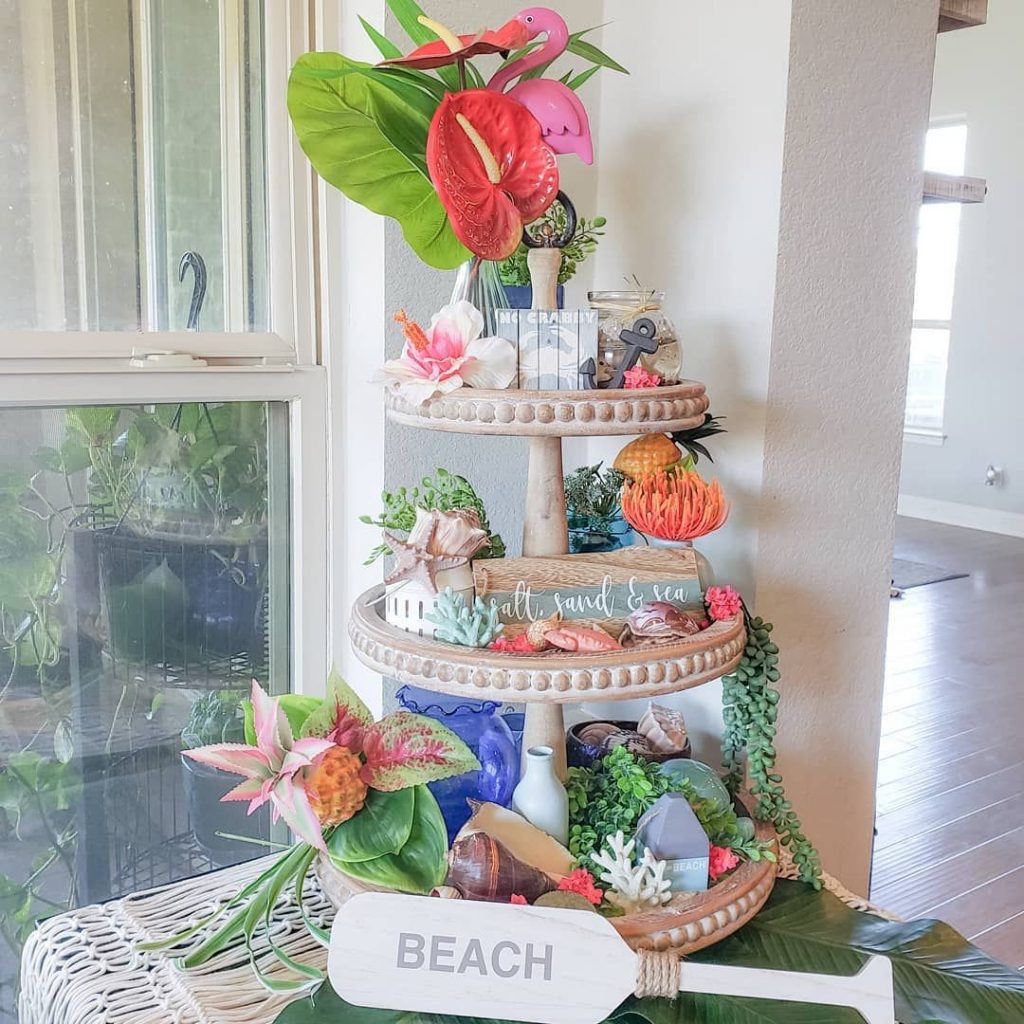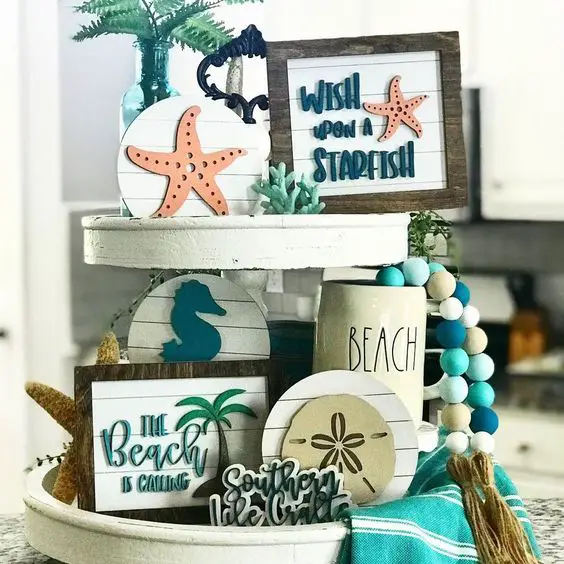 PEACHY TIERED TRAY DECOR
Summer is peach season!  Why not decorate a tier tray with sweet peach themed decor?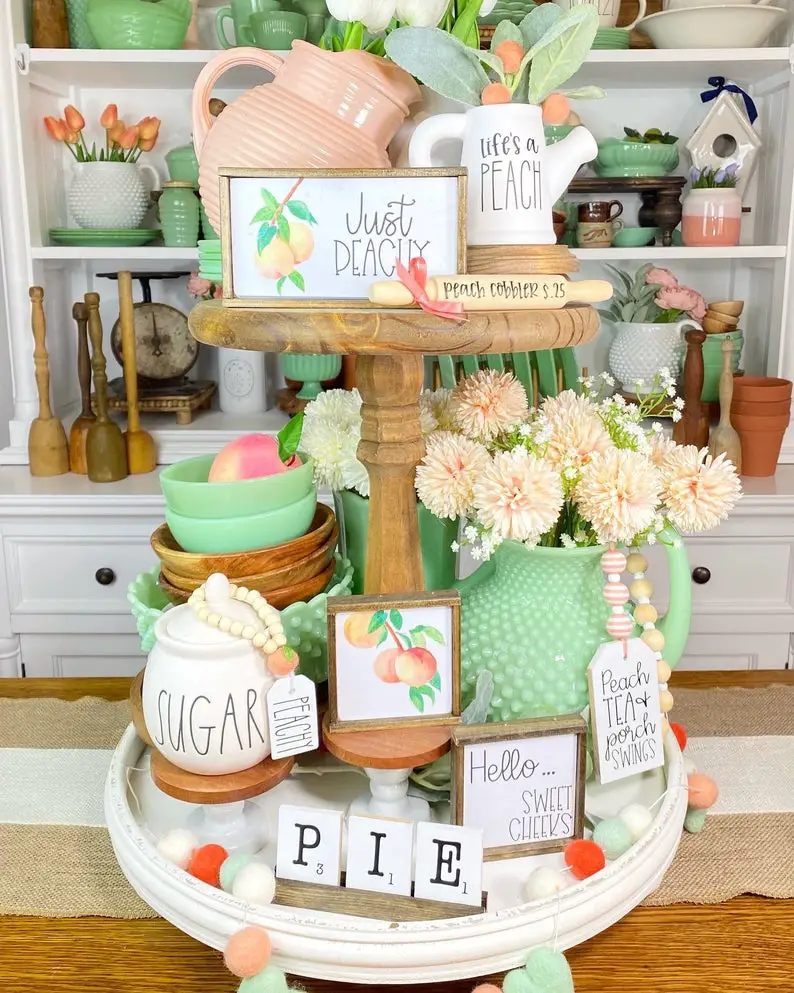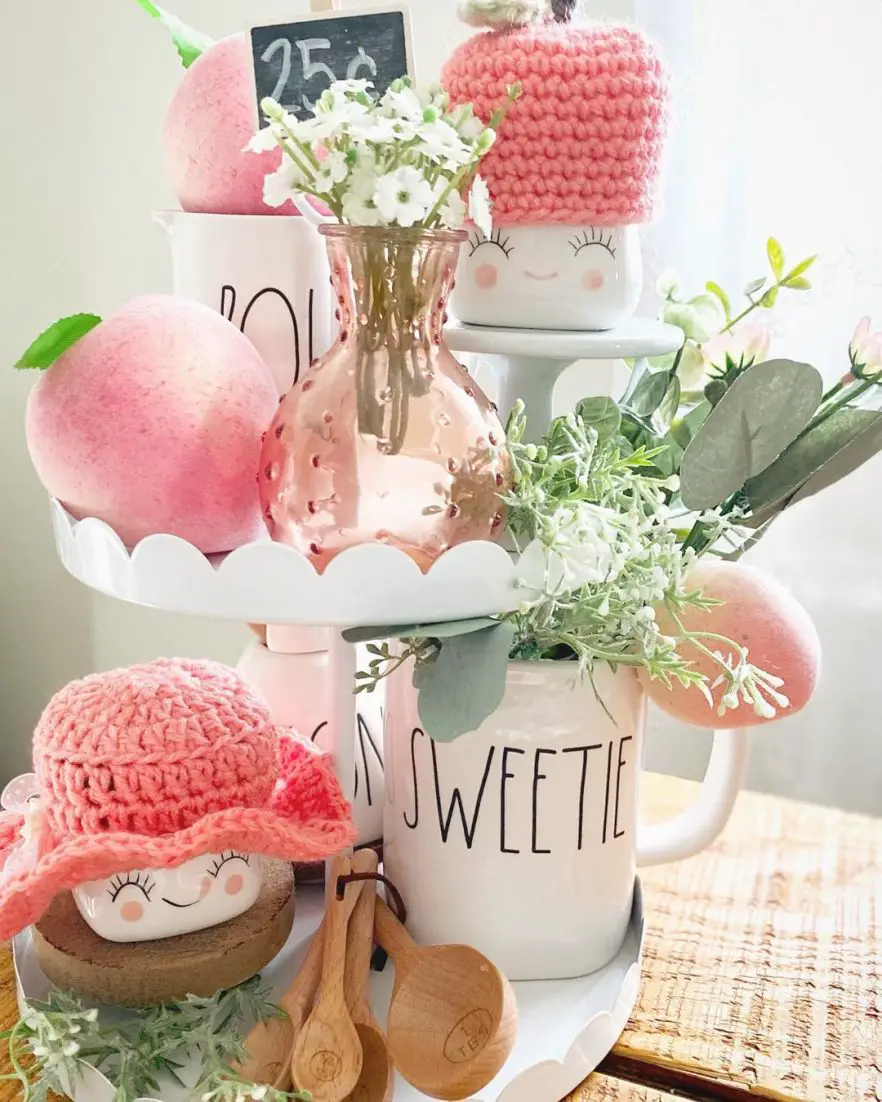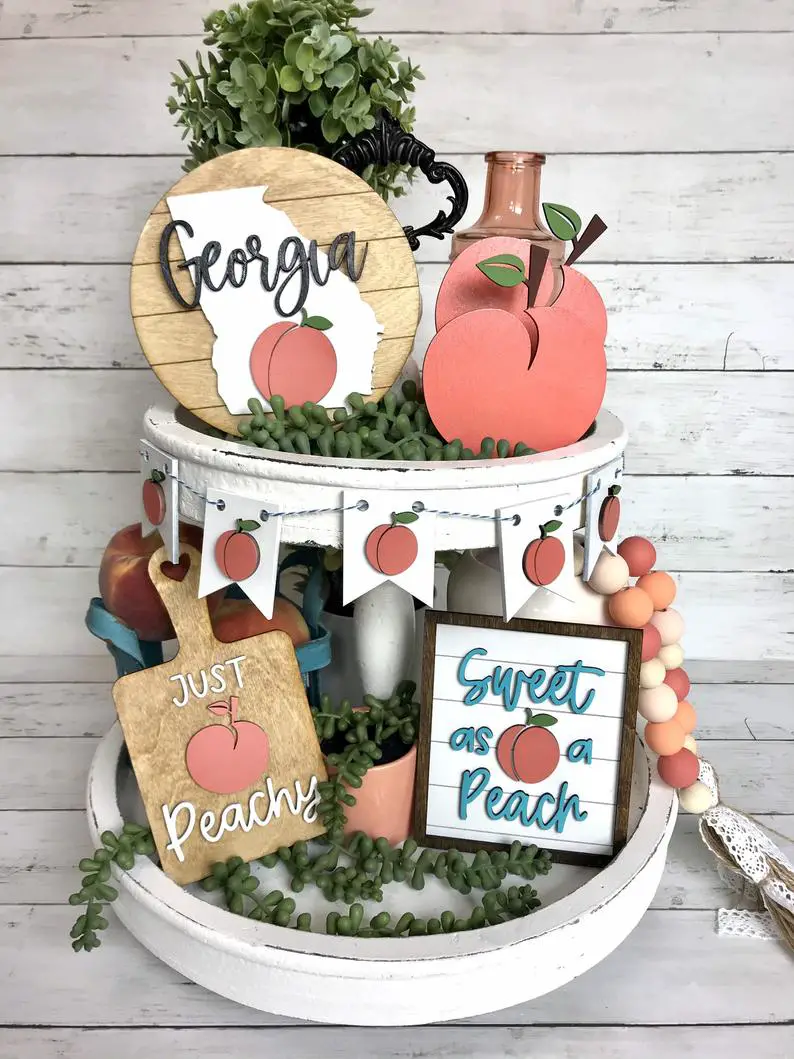 This is the cutest!  Especially if you're repping Georgia!  I especially love the sweet as a peach sign with the shiplap.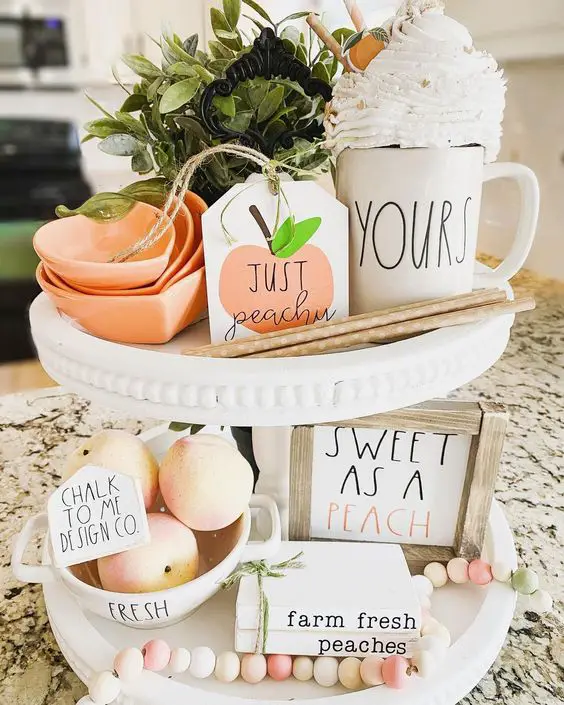 4TH OF JULY TIERED TRAYS
You can get double duty with patriotic tiered tray decor because you can also use it for Memorial day!  Bonus!  Stores are already starting to put out Fourth of July decorations so it's never too early to start seeing what's out there.  Keeping in mind that you can use it for Memorial Day too.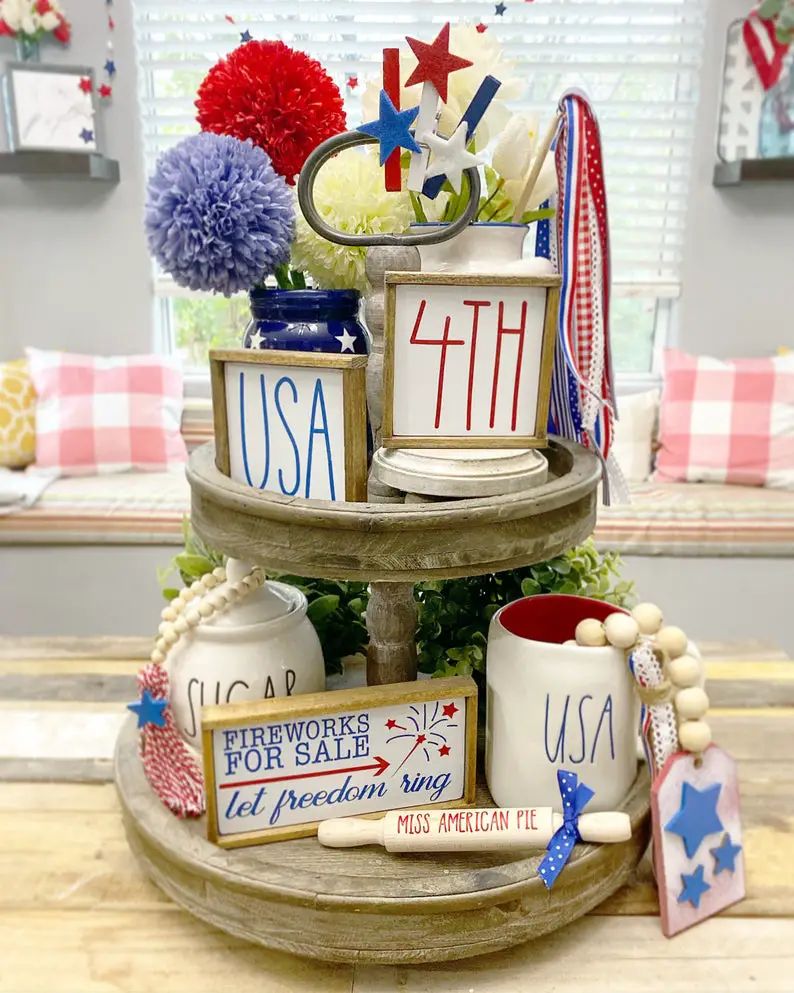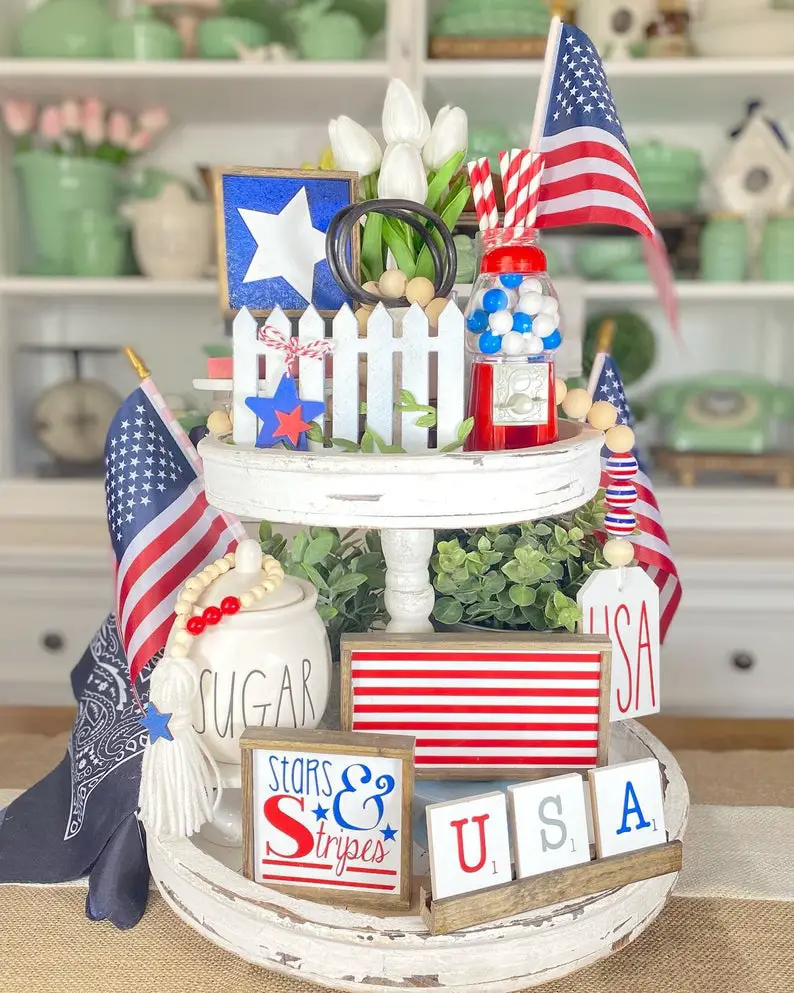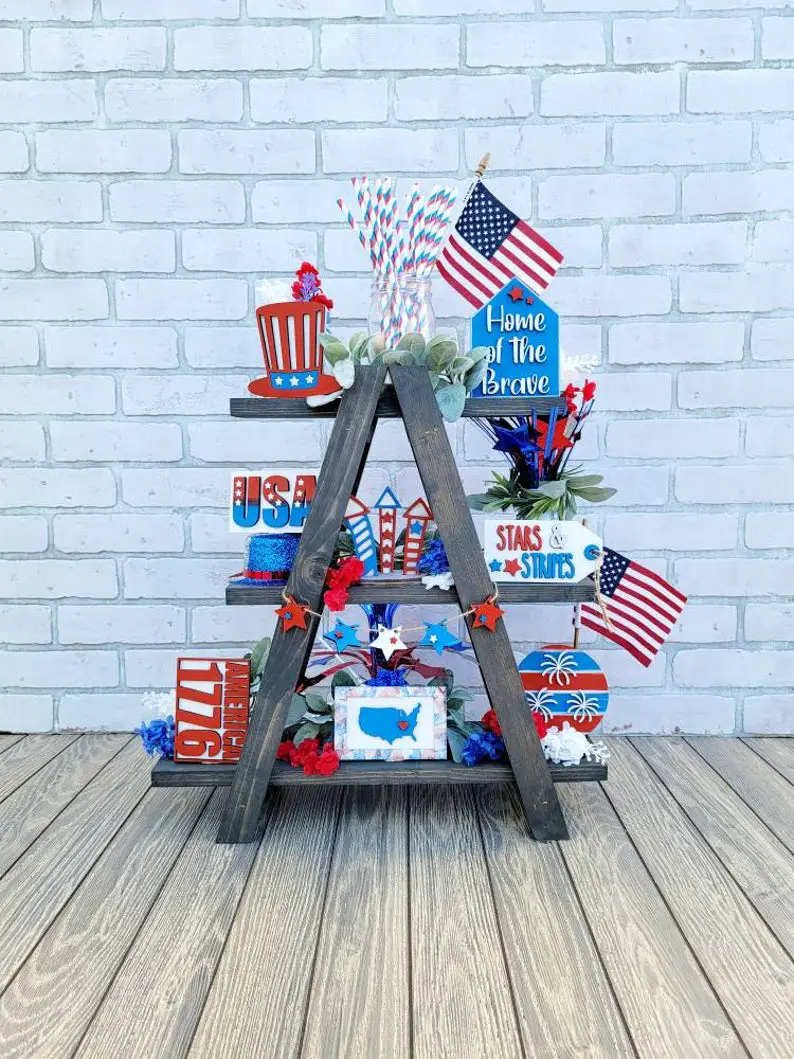 Not only do I like the patriotic decor for this tier tray, I like how unique this ladder tiered tray is overall.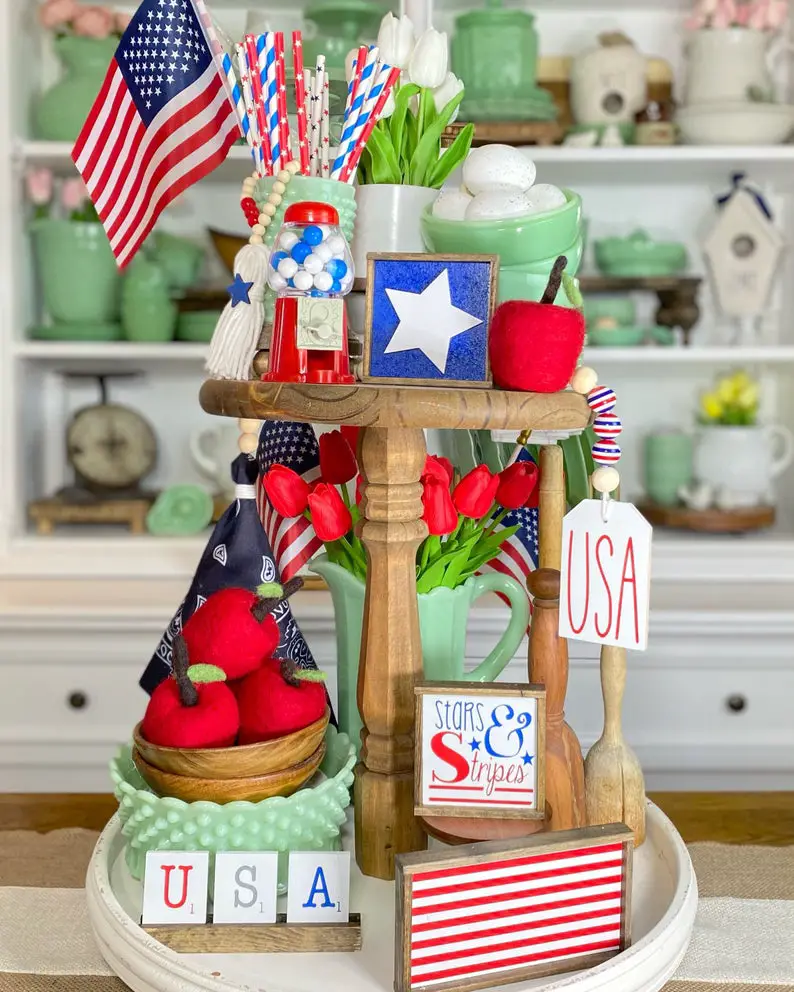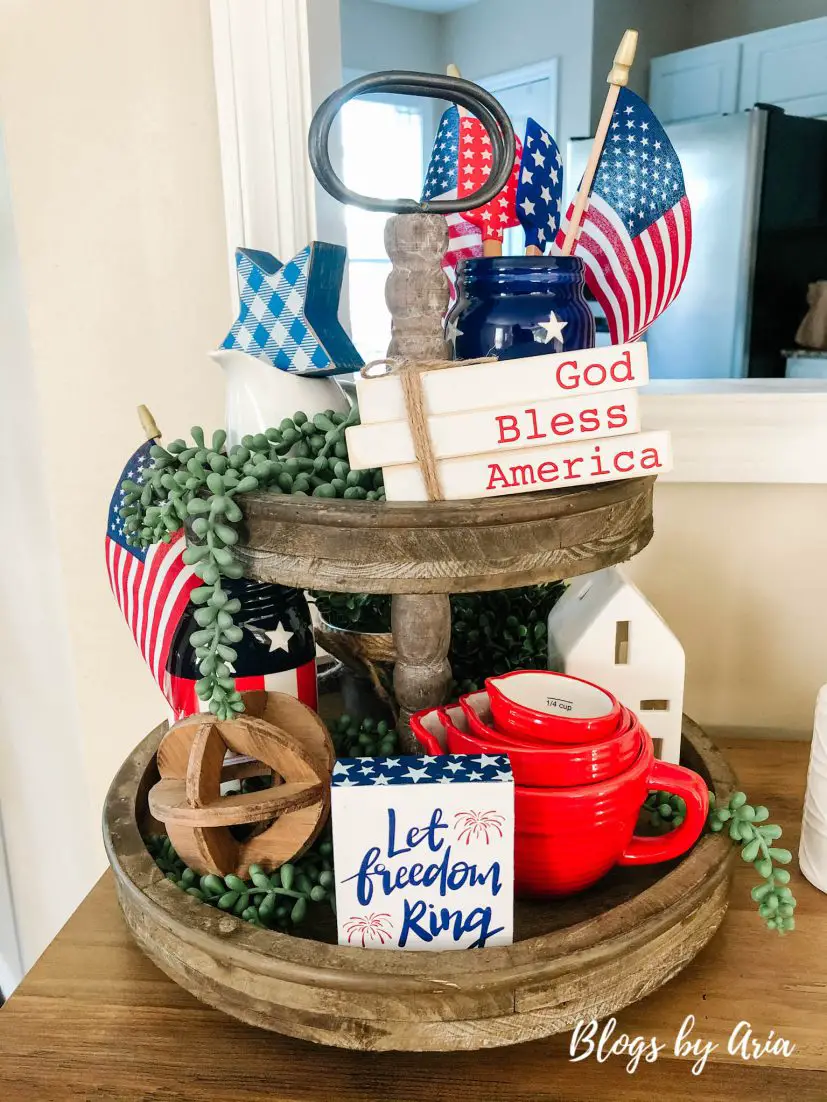 Of course I had to share my Fourth of July styled tiered tray from last year.  I'm looking forward to doing an even bigger one this year which is why I'm sharing this post now.  If I'm already starting to think about my summertime tiered trays I know I'm not the only one!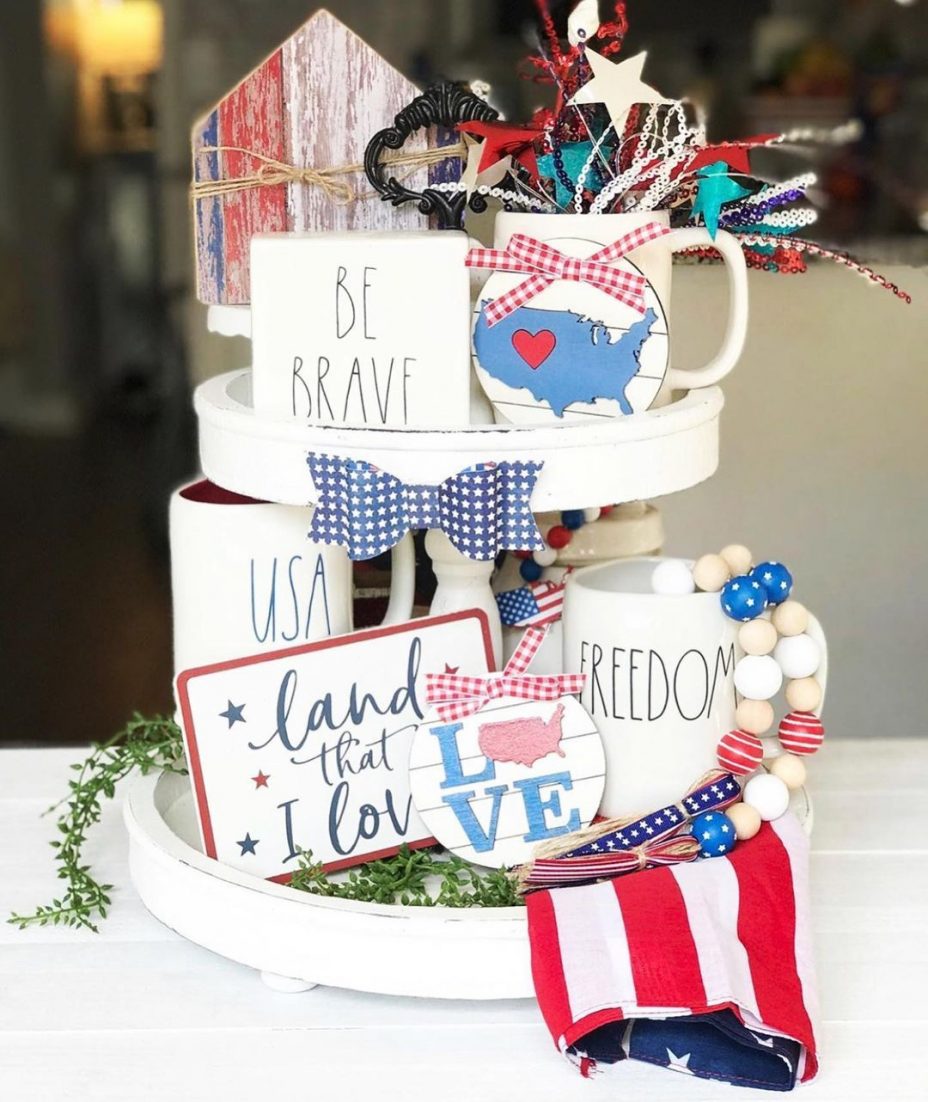 ICE CREAM AND POPSICLE SUMMER TIER TRAY DECOR
Ice cream goes with summertime and popsicles too.  Did you know you can buy faux ice cream cones?  A sundae themed tier tray is the perfect way to celebrate the season of ice cream!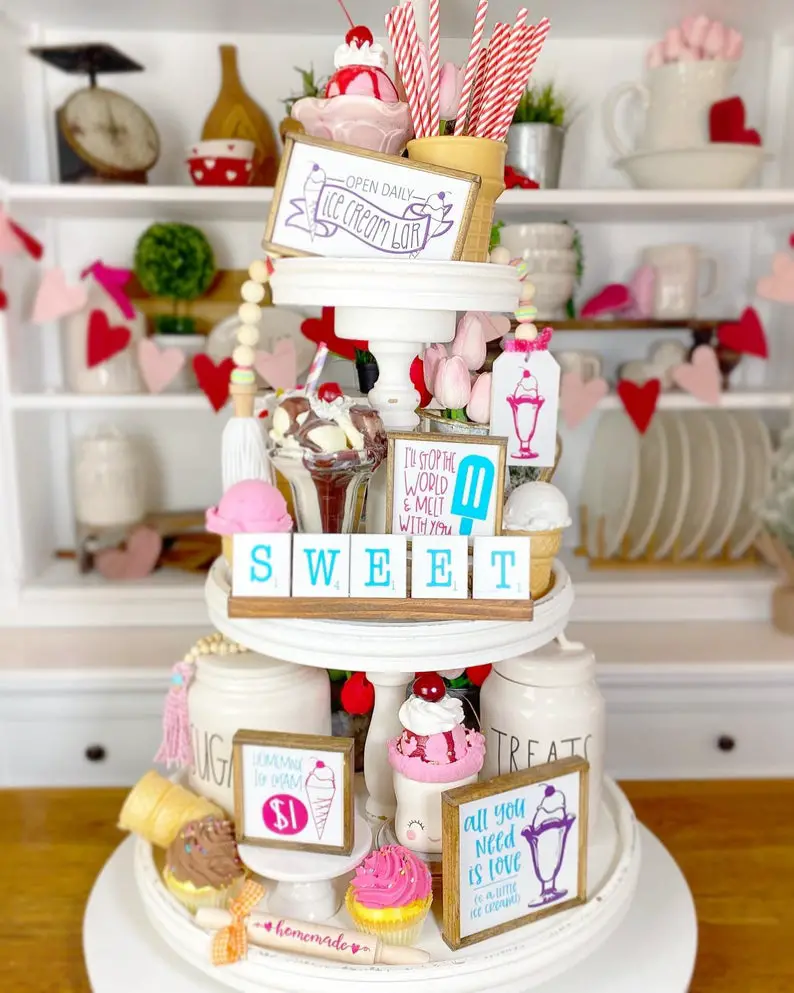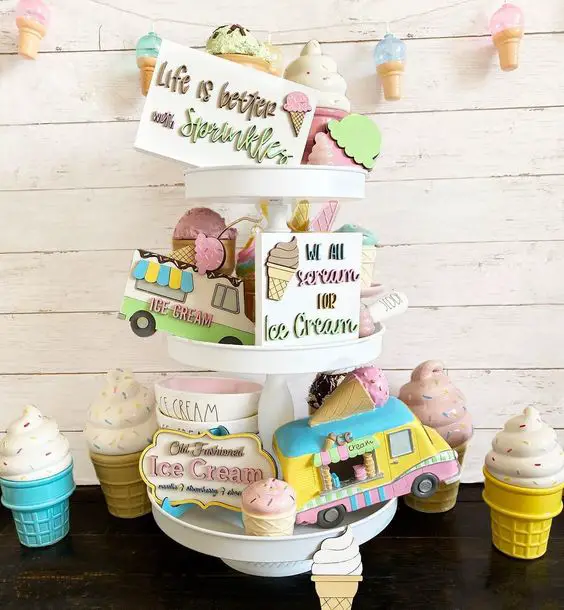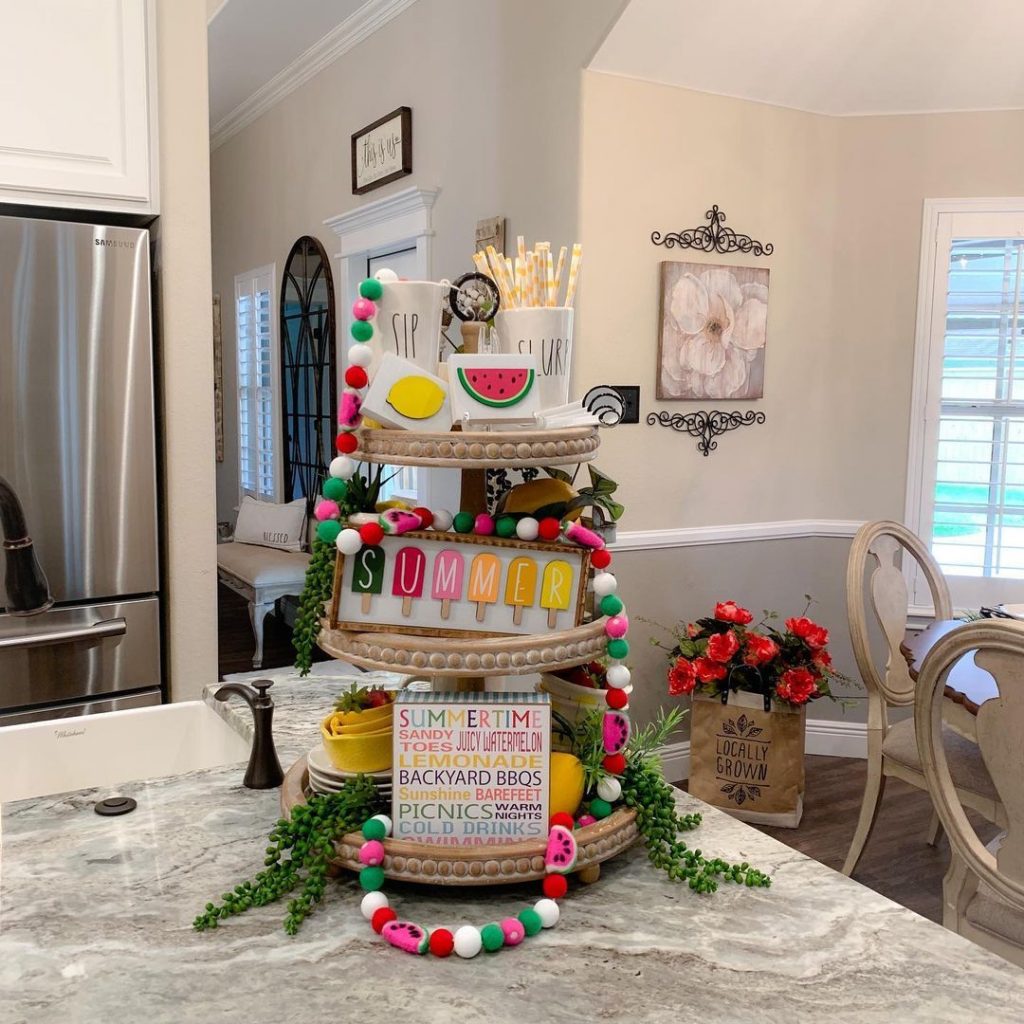 This summer three tiered tray combines different themes together with lemons, popsicles and watermelon.  It all screams summertime fun!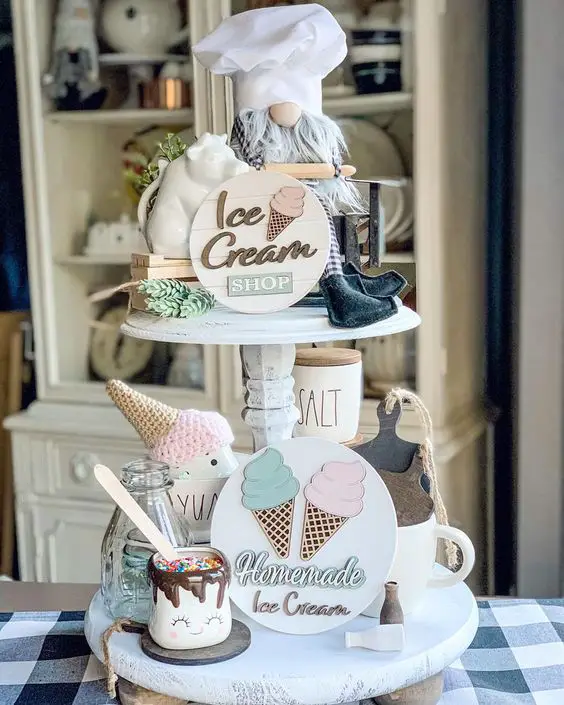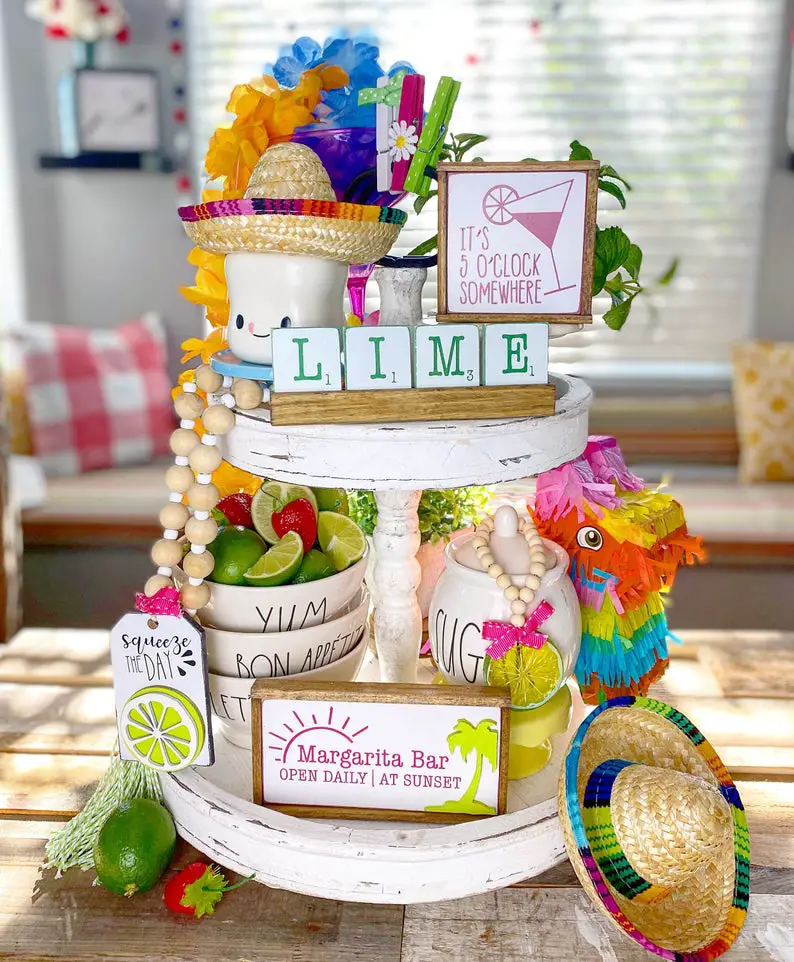 Why not celebrate Cinco de Mayo by decorating your tiered tray?  Such a fun idea!
LEMON STYLED TIERED TRAYS
An easy idea for styling your tiered tray for Summer is to go with lemons!  Summer is the season for lemons and you can use that to inspire your theme.  Some of the design ideas I'm sharing are from the same shop but using different style tiered trays and different configurations.  The options are limitless!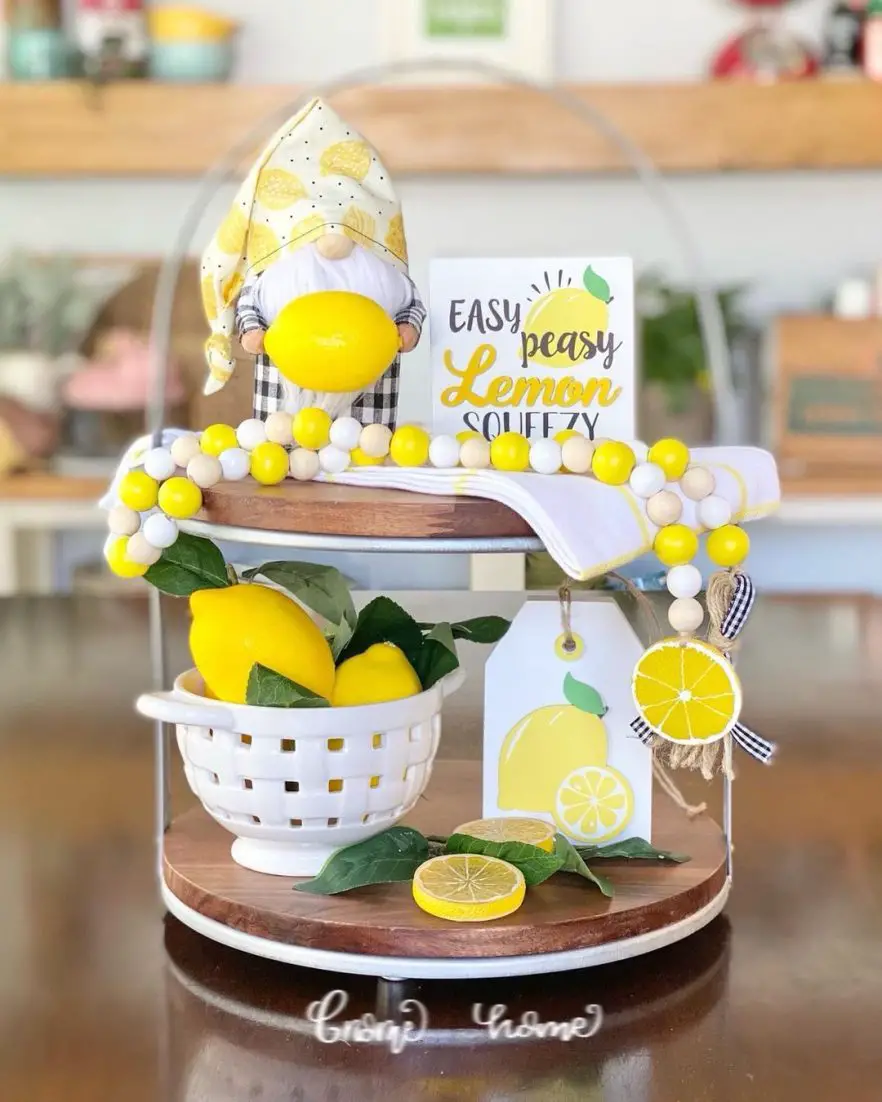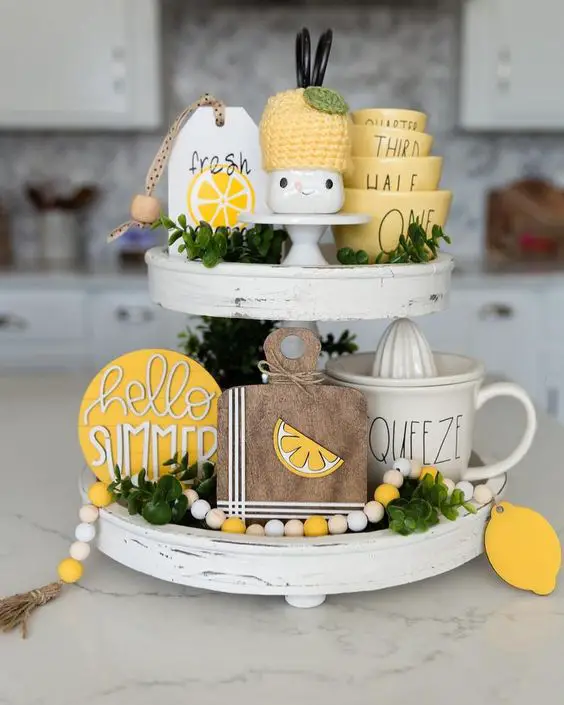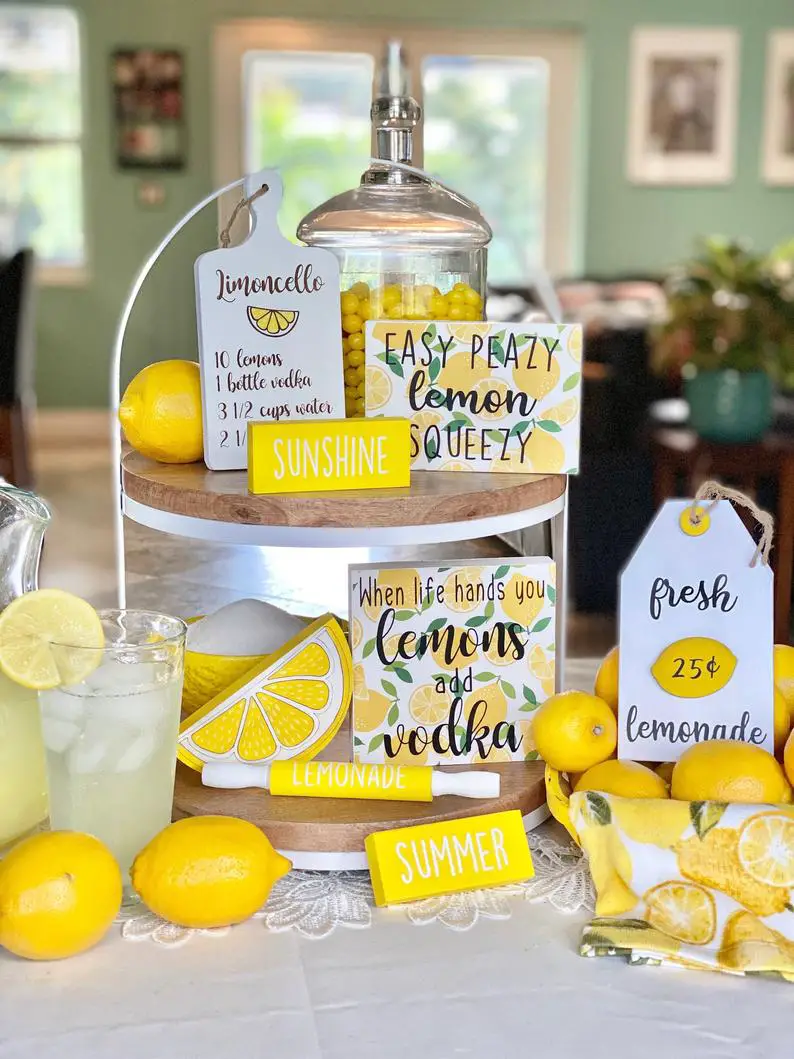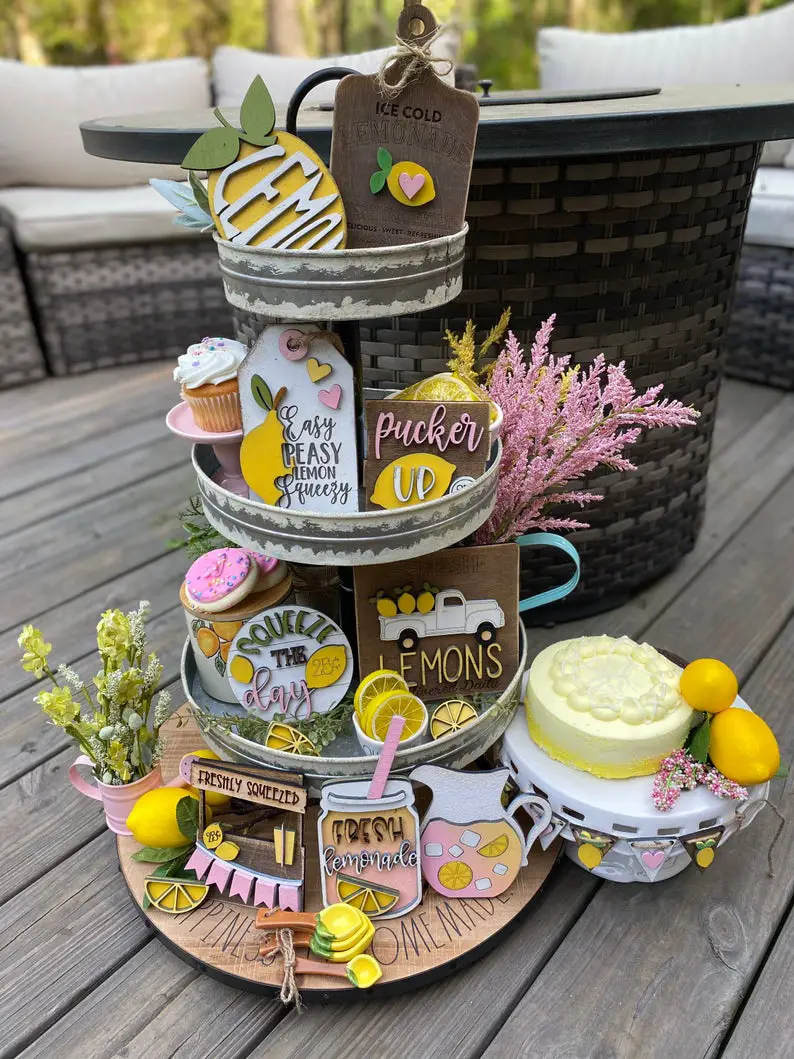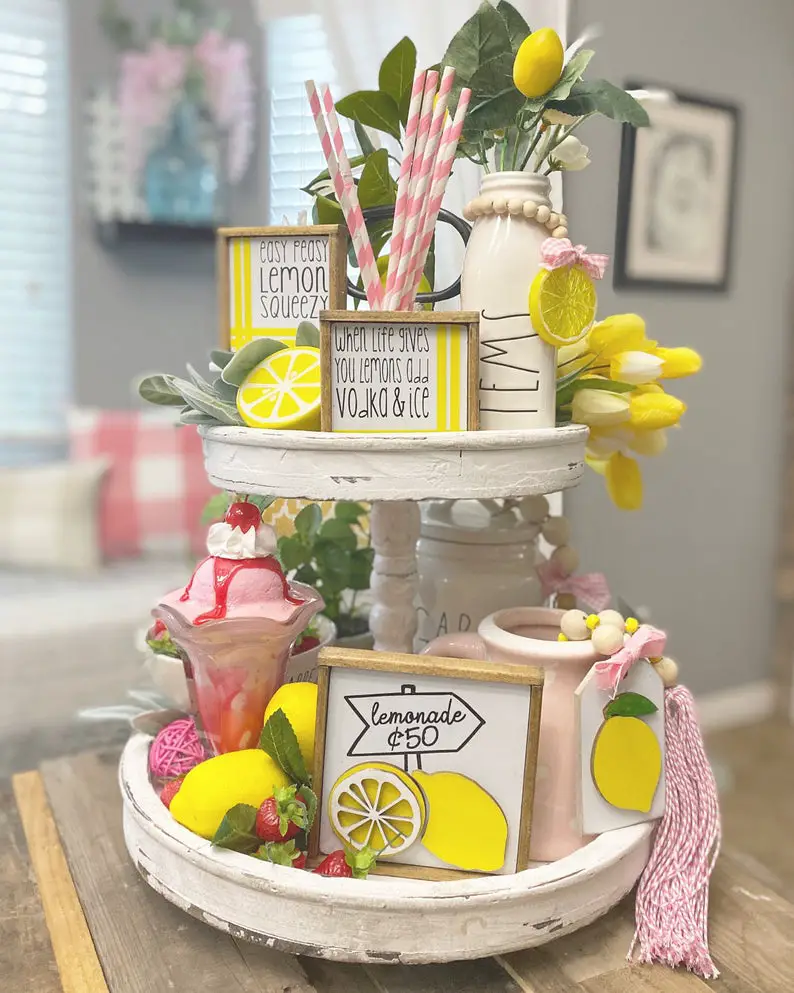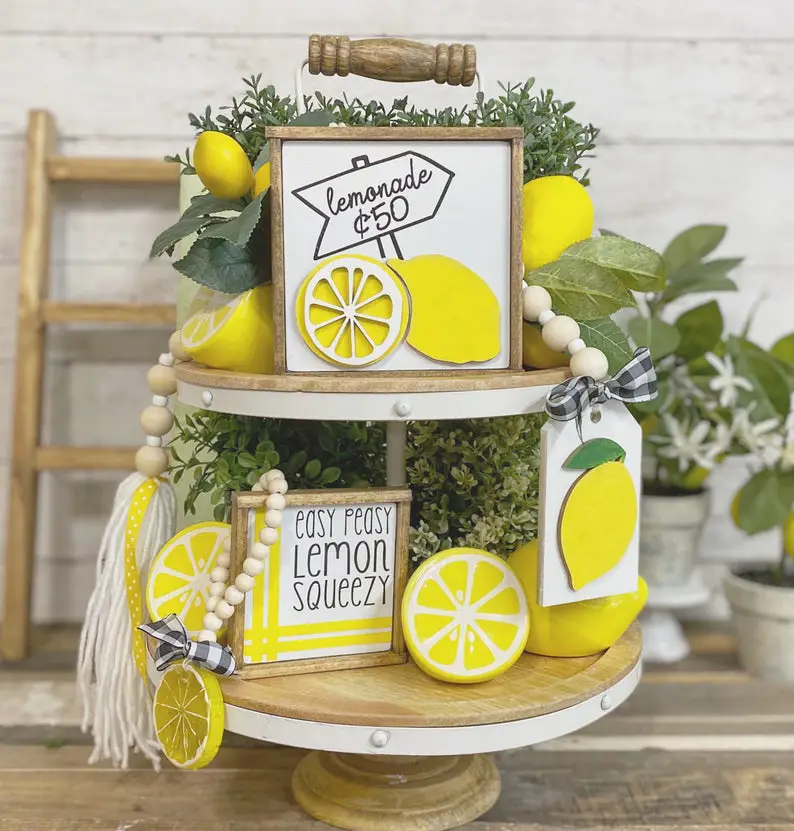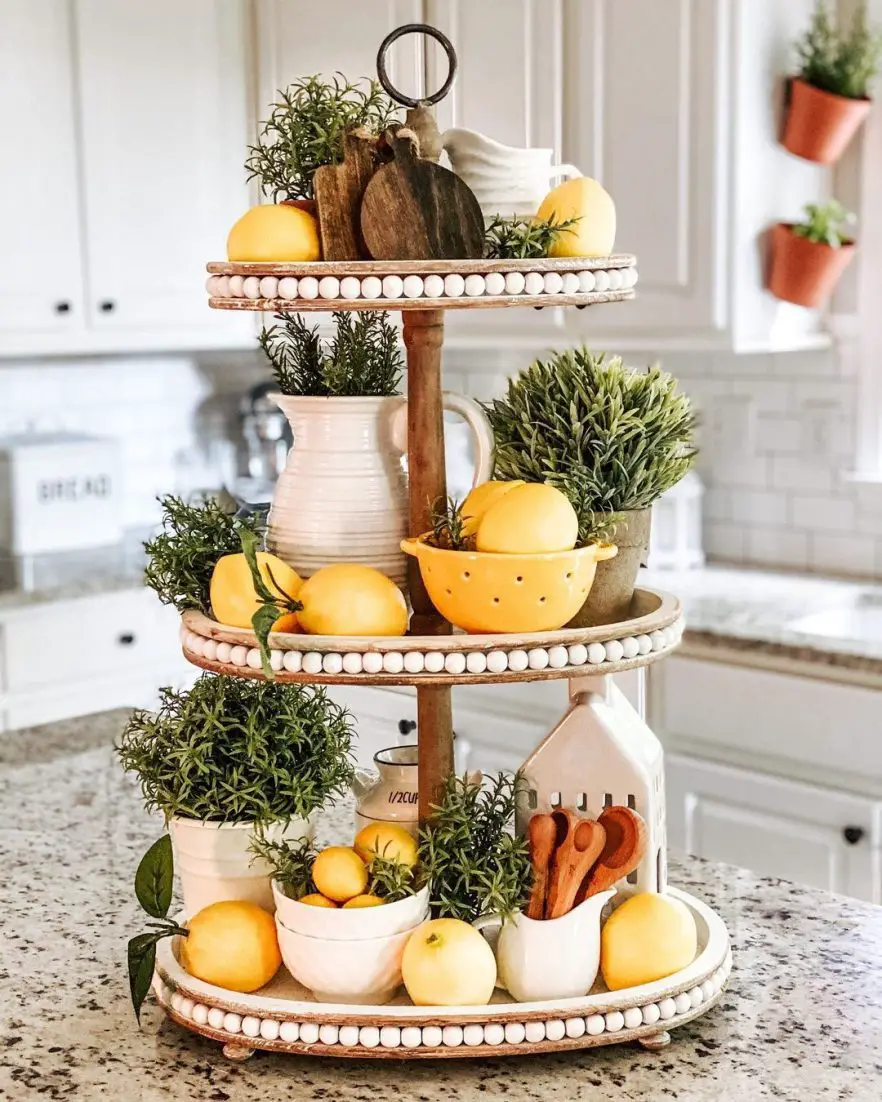 What's easier than using real lemons to style your tiered tray?  You can also buy faux lemons from lots of stores.  I've linked some options below:
Faux Lemons (scroll through)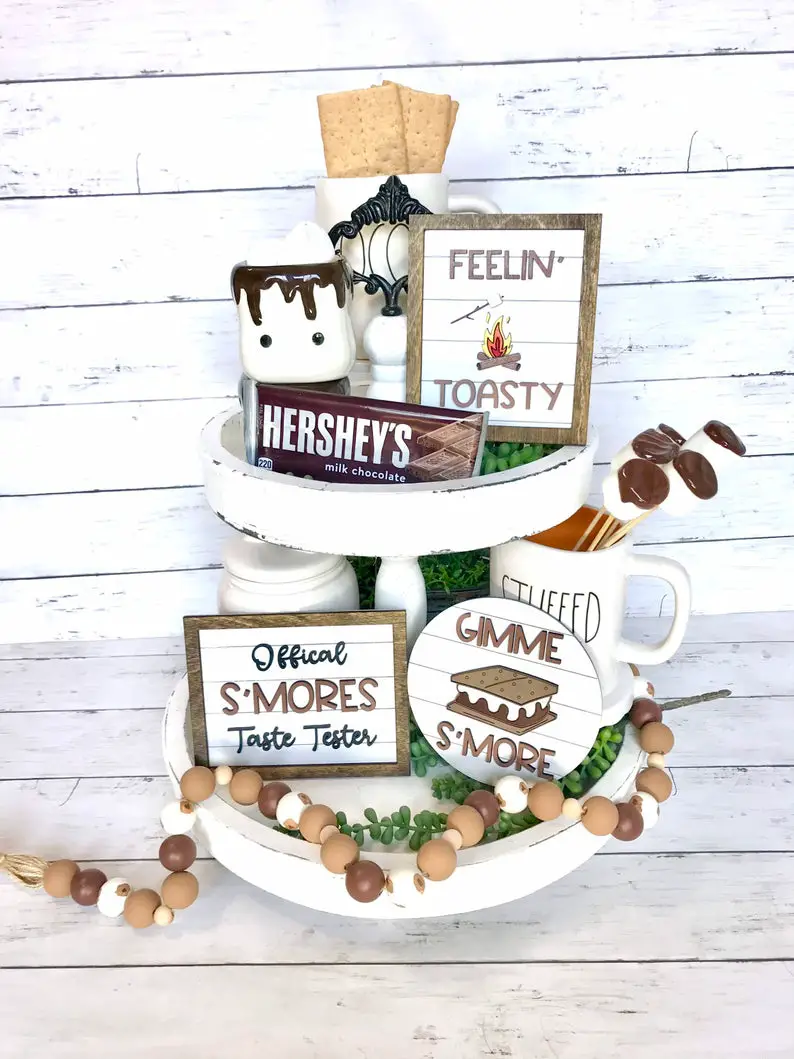 Ok say want to know something about me?  I don't like s'mores.  I just don't get the appeal.  That doesn't mean I'm not obsessed with this s'mores themed tiered tray!
And if you have the little marshmallow mugs like I do, they would work perfectly for a s'mores tray!
SHOPPING FOR YOUR SUMMER TIERED TRAY DECOR
Now that I've shared some Summer tiered tray inspiration, keep your eyes peeled for goodies you can add to your tiered tray when you're out shopping.  Be on the lookout for small signs, mugs, small bowls.  I know it's just now April, but these items sell so quickly.
I recommend Hobby Lobby (even though they don't offer a 40% off coupon anymore) to start.  Check out their Spring Shop, I've already found lemon decor, lady bug items, watermelon and strawberry signs.  Also Target and Walmart.  Check the Dollar Tree and Dollar General…DG has been stepping up their game lately.
Of course TJ Maxx, Marshalls and Home Goods are gems for seasonal decor for your tiered tray.  Especially if you love Rae Dunn, the time is NOW to get what you want.  I recently purchased a Rae Dunn bee hive piece just in case I do a bee theme tray.
My recommendation is to find what you can in your local stores first and then go to Etsy to find something unique to complete your tiered tray.  Again, the time is now to get what you want for your Summer tiered tray before it sells out.  The great thing about Etsy is that, because these are small shops you're supporting, items aren't mass produced.  Your tiered tray won't be exactly like someone else's and I love that special touch!
TIERED TRAY SOURCES
Here's a quick round up of a few tier trays in case you're looking for your first, second or third one!  Or more, can you ever have too many? 🙂

LOVE IT?  DON'T FORGET TO PIN IT FOR LATER!