Welcome back to my Weekend Watchlist series!  I hope you've had a great week and are ready to get inspired by beautiful interior design!  I've currently got a lot of balls up in the air right now but I still wanted to share my favorite spaces of the week with you.  In addition to home decor inspiration I am sharing that I launched my new YouTube channel!
Years ago, circa 2010 I posted a few videos on YouTube.  But they were very cringe and are nothing like what I want to share.  My YouTube channel is an extension of my blog.  I'll be sharing home decorating, seasonal home decor and decor hauls.
I'd love for you to come check it out and like and subscribe, all of that good stuff.  I figured I'd start in the Summer to try to get a hang of filming and editing before we get into my favorite time of the year for home decor…the Fall!  For now my goal is to upload once a week and if I can do two I'll do that.
patriotic decor, americana decor, patriotic home decor haul, summer decor haulHi friend! Welcome to my first YouTube video! I'm sharing my small patriotic d…
Each video will get better as I get used to everything.  For now I'm just glad I did the scariest thing…which was posting the video!
Now let's move on to some home decor inspiration!
Recently I was scrolling on Instagram and this account popped up in my feed in a reel.  I was in the car waiting for my daughter to finish the SAT so I had time to dive deep into their site.  Such beautiful home design inspo!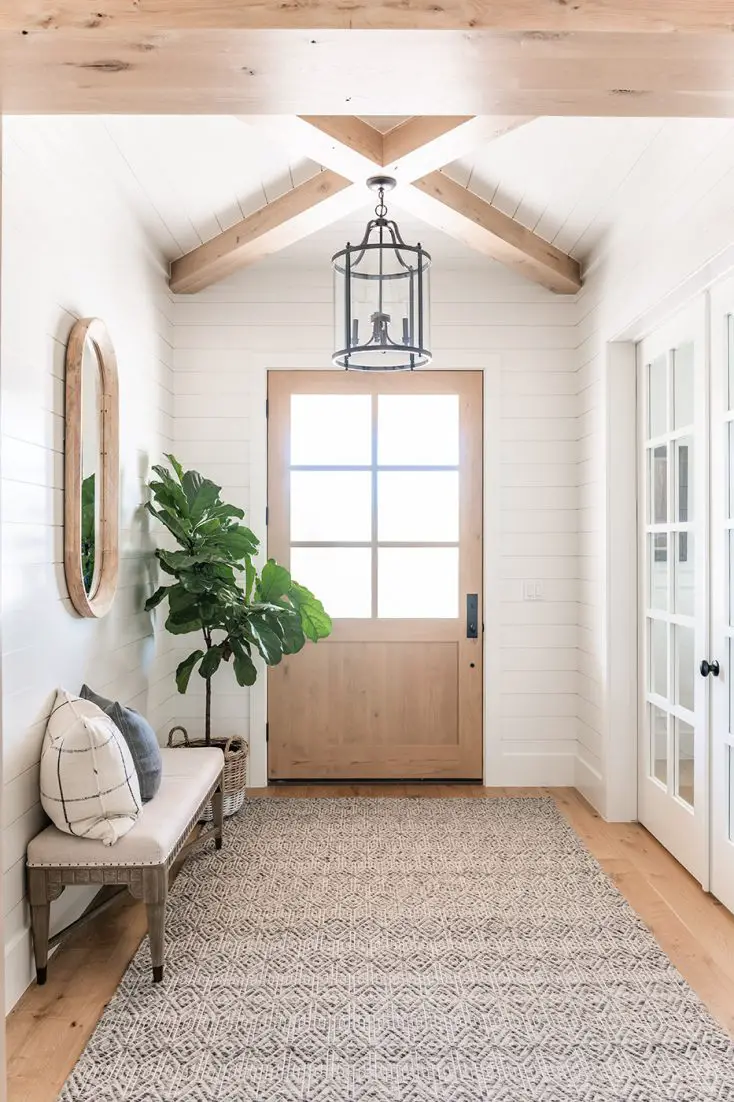 This entryway has so much light and I love the shiplap on the walls and ceiling.
You know how much I love built in shelf styling inspo!  I'm also obsessed with the area rug, it's beautiful!
As much as I love to see designer styled spaces, I love to see real life decorating ideas.  That's what I like to provide here on my blog when I share my own home decor.
This kitchen is beautiful and I just love how the blue wallpaper makes the cabinets pop!
Just look at those ceilings!  The darker planking helps to bring the ceiling down a bit.  I love the contrast!
What I love about this bedroom is the hanging pendant lighting over the nightstands.  The room is oversized so it can accommodate the scale of the pendants.
This bedroom is so serene!  I love the floral wallpaper and the grass cloth wallpaper to add soft texture to the space.
This kitchen is open and airy and inspires me to want to cook! haha! Seriously, isn't it so pretty?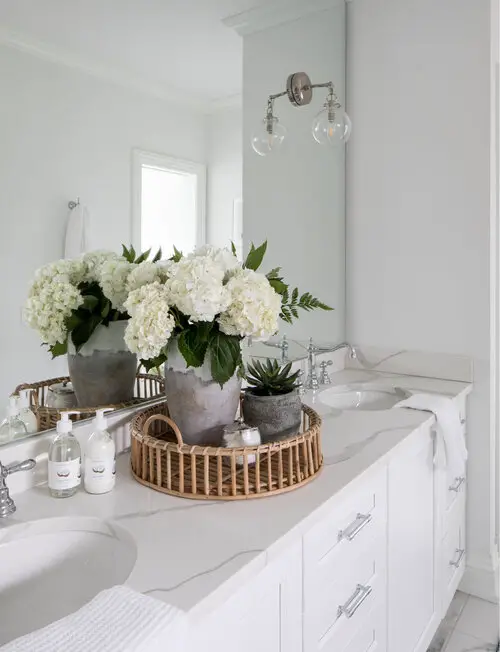 There's something about having a bit of decor in the bathroom that I love.  I'm actually going to try to do this with our primary bathroom to help keep it from being out of control.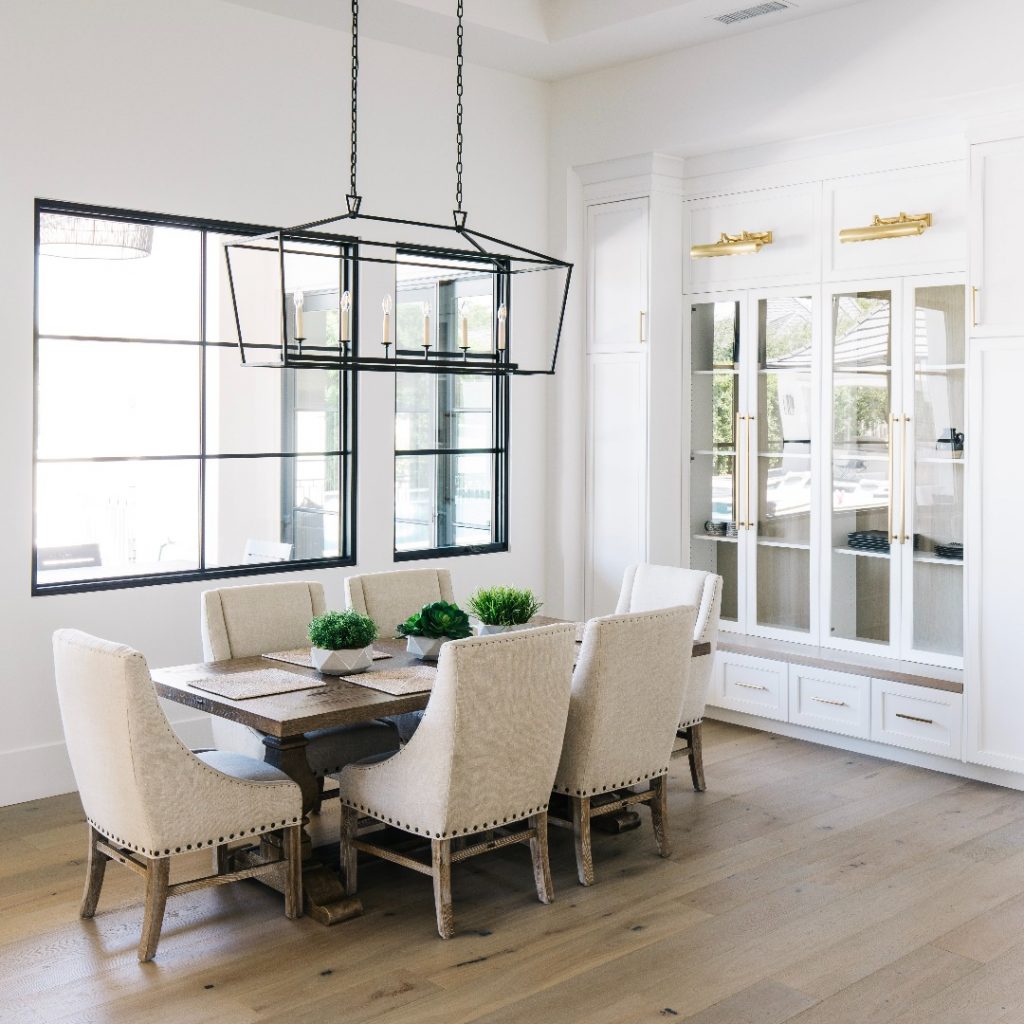 A dining room doesn't have to be overly done.  In many ways I think the more simple the better.  What I love is the built in glass cabinets.  Tons of storage and decorating potential.
This is a beautiful example of a encased bathtub.  So much space to store all of the things around you and perfect for relaxing with lots of candles.
I'm always looking for entryway table decor ideas, especially because I like to change mine quite frequently.
The softer palette of the cabinets pair perfectly with the dark navy island.  I also love the wood accent to the vent hood.
I love how this space looks from the kitchen to the dining room to the family room.  It's all cohesive.  I've really come to enjoy all of this designers projects.  She designs in a way that says, I like that, I want to try that in my home.  And that's how we should feel right?
That wraps up my favorite spaces of the week!  As always I hope that you enjoy seeing these spaces as much as I enjoy sharing them.
If you're looking for more beautiful spaces and home decorating ideas, here are a few of my favorites from the blog:
If you'd like to get even more home decor inspiration and finds and all things random, be sure to follow me here:
Facebook | Instagram | LTK | Tik Tok