How are you handling the holiday season so far?  I hope you're doing well and not letting stress get to you.  One area that is good to make sure you're on top of is gifts for people who may not be on the top of your list.  Today I'm sharing gift ideas for neighbors, teachers and friends.
These don't have to be expensive gifts, in fact they shouldn't be (for the most part).  They should just be that special something that says you care.   They are nice to have for your kid's favorite teacher or your next door neighbor or a friend who stops by during the holiday season.
*this post includes affiliate links for your shopping convenience. You can read more about affiliate links by reading my Disclosure post*

One of the best ways to accomplish these gifts in the least expensive and least stressful ways possible is to buy gift baskets.
Gift baskets are great gift ideas to keep on hand during the holiday gift giving season.  You can give the full gift box or you can break it up in to smaller gifts.  Also they're great to give for a family gift.  Instead of buying gifts for the parents and the kids, a gift basket is a gift they can all enjoy.
When I thought about this gift guide I was thinking of things that could cover so many people on your gift giving list.  From teachers, to co-workers, to neighbors and friends…everyone can enjoy hot cocoa or coffee right?  Especially when they come with mugs that they can keep using for years to come.
Food gift baskets make awesome gifts to give a family!  Snacking gift baskets, Hickory Farms gift baskets, and Swiss Colony assorted gift baskets are all great to give to a family with kids.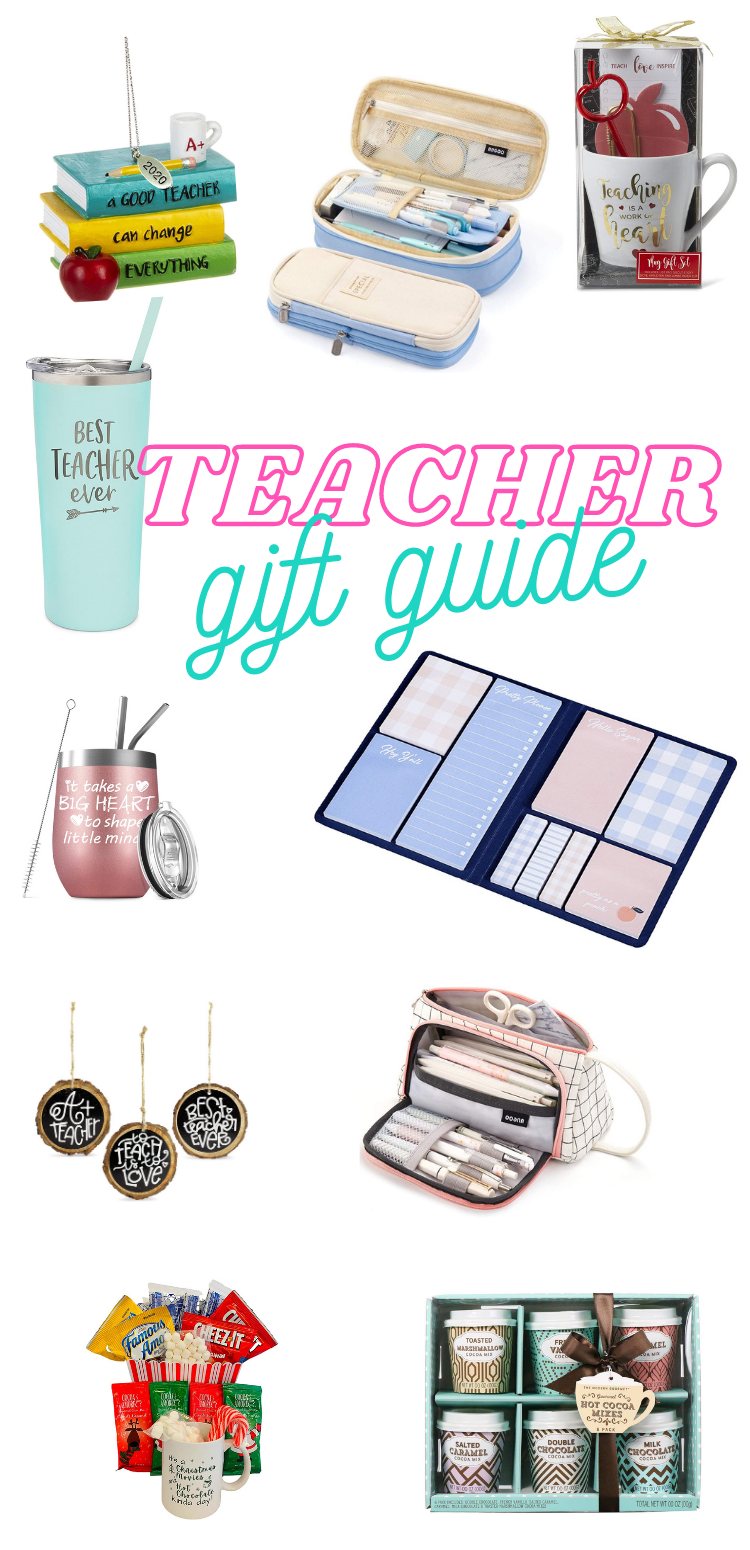 This gift guide has been updated for 2020.
Let's face it, we should always think about getting the teachers in our children's lives a gift for the holidays.  But many of our students haven't met their teachers in person this year.  So you may not know what to get your child's teacher because you don't really know them.
That's okay, the items I'm sharing today for gift ideas should work for almost every teacher.  From tumblers and mugs, to hot cocoa gift sets…I think it's safe to say there's something that your teacher in your life will love.
These cute ornaments are a great gift option for an educator in your life.  I like this stacked books ornament and this 3 piece wooden ornament set is really nice.
A teacher is bound to have a ton of writing tools and they need something to keep them all together.  I love that this pencil case can carry so much and comes in such a large variety of colors.  This storage pouch also holds a lot of pens, notebooks and more with a lot of cute prints.
Speaking of writing tools, have you ever met a teacher who didn't need lots of sticky notes?  This sticky notes notepad set does the trick!
Whether they use them at work or at home, mugs, tumblers and cups are always an easy teacher gift idea.  You can add a starbucks or Target gift card along with the gift as an added touch.  A tumbler for water, a wine tumbler or a coffee mug are all no-fail gift ideas.
Also fun would be a mug from their favorite show.  I have a few mugs from The Office and I'd like to get some from Hamilton and Schitt's Creek.
Earlier I mentioned gift baskets, and they truly are a great gift idea that come in both small and large sizes.  This cute Christmas movies snack set is a fun gift for the holiday season and so is this hot cocoa set.
1 | 2 | 3 | 4 | 5 | 6 | 7 | 8 | 9
I hope I gave you some great ideas for gift giving.  Giving a nice game to a family or a gift basket they can enjoy during the holiday season really shows you care.  You can give a nice throw blanket along with your favorite holiday movie.  I think that's a great idea especially since you'd be surprised what holiday movies are your favorites that others haven't seen before.
The holiday season can bring on a lot of stress and one way to alleviate the stress is to have a few gifts on hand already.  Hopefully you found some great ideas that even if you can't do it this year you'll keep it in mind next year and be ahead of the game 🙂