I have been falling hard for all things fall decor lately.  I can't help myself!  There's something so fun about adding cozy pillows, warm colors and pumpkins into the mix that says bring on the football, the sweaters and the cooler temperatures!  Let's talk fall decor today!!
I'm sharing a source guide for all of the fall decorations that I've purchased this year if it can be linked.  I do love TJ Maxx and Home Goods and I can't always share links for them unfortunately, so I'll do the best I can.  I'll also pop in a few decor items that I wanted to get but couldn't because it wasn't available or wasn't in my budget.
Before we jump in I want to say that there's no wrong or right way to decorate for fall.  I have found that for me I wanted to stick with more neutrals but have some areas be more traditional fall colors.  My pumpkin tiered tray has more traditional pops of orange for example.  But you'll see as I continue to share my fall decorating posts with you, that other areas of our home are more neutral.
I also want to point out that I did get a lot of fun fall decor this season but I got everything either on sale or on a great deal.  Moving forward from year to year I would only buy one or two new items each year, just as I do with Christmas.  When it's your first year of decorating you will spend a bit more than subsequent years.  Knowing that also helps me to reign it in when I really want to buy something but I know I've already bought enough.
Enough rambling, let's get on to the fall decor goodness!
*this post includes affiliate links for your shopping convenience, you can read more about affiliate links by reading my Disclosure*
NEUTRAL FALL DECOR
I love being able to add fall decor touches that can easily fit in with my existing decor in my home.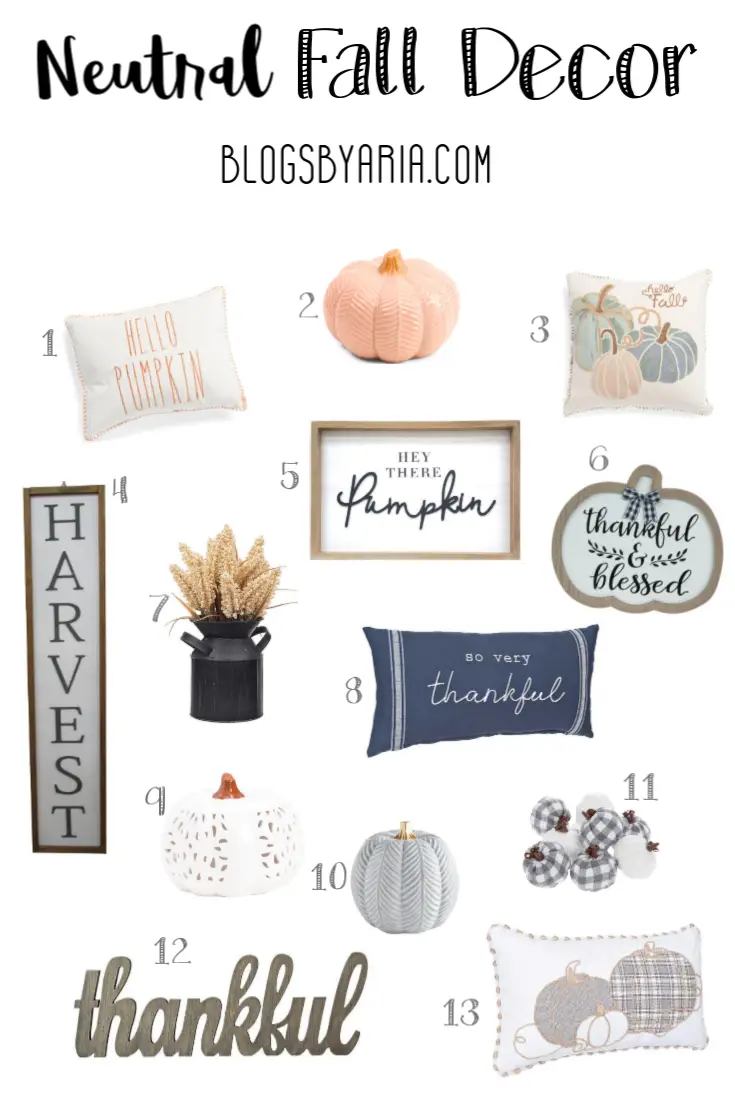 1 | 2 | 3 | 4 | 5 | 6 | 7 | 8 | 9 | 10 | 11 | 12 | 13
As of my writing this post I've bought all that I'm going to buy for the fall decorating season except pillows.  I'll share with you why next week.  But I wanted to go ahead and share the pillows I've had my eye on because things go fast!
Hello Pumpkin pillow – I love a cute and simple pillow.  This hello pumpkin pillow is from TJ Maxx so it may not be available for much longer online but you may be able to still find it in store.  Here's a similar hello pumpkin pillow cover or this one would work too.
Bayberry Ordchard Pumpkin – I didn't pick up this pink pumpkin although I wanted to.  Honestly I don't need another pumpkin but I couldn't not share it with you in case it will work with your fall decor.
Hello Fall Pumpkins Pillow – Isn't this the cutest pillow?  I love the colors and I think it would work with my existing everyday pillows.
Harvest Wall Decor – I debated for a a few days if I should get this Harvest sign.  I decided not to get it although I still really do want it.  I bargained with myself that if it's still around and goes on clearance after the season then I'd get it.
Hey There Pumpkin Wall Decor – Now if there's anything that I really wish I could get that I can't, it's this Hey There Pumpkin sign.  I first saw it watching a few YouTube videos and I immediately tried to get it.  Sadly it's not available in any of the stores near me.  Fingers crossed I can get it next year.
Thankful & Blessed Pumpkin Metal Wall Decor – Every time I've been in Hobby Lobby this season I've looked at this sign and wanted to buy it.  I haven't purchased it simply because I don't have a place for it to go.  But I love the look of it so much!
Cream Wheat Harvest in Black Milk Jug
– I got this wheat bundle from Kirkland's.  I thought it would be a nice touch of harvest decor.
Navy So Very Thankful Pillow – I already have pillows with blues in them and I like the idea of adding in this pillow that can last all season but it doesn't feel like it's a "fall decor" pillow if that makes sense.
Ceramic LED light Pumpkin – I picked this up on a whim at TJ Maxx and I'm so glad I did.  It's such a pretty pumpkin and it's a good size.  The fact that it lights up is an added bonus!
Herringbone Gray Pumpkin – When I saw this pumpkin online I fell in love!  I love herringbone and I liked how it made this pumpkin unique!  I waited to buy it in store though because I'm not the best with dimensions and wanted to know for sure how large/small it was.
Gray & White Buffalo Check Pumpkins – These were my first fall decor purchase of the season…that I got in July 😉 I'm not ashamed to say that when I saw them I grabbed them because things go fast!  They then went out of stock for a while but I saw them again and I bought another set!
Thankful Cutout Word Runner – I got this Thankful sign to go on our entryway table but I've been able to use it in so many places so far and that is what I really love about this sign and it's a great size.
Black and White Plaid Pumpkin Pillow – Another cute and neutral pillow for fall decor!  I love Kirkland's pillows for all of the added details like the stitching.
FALL DECOR FINDS
I may like a lot of neutral decorations for fall, but I also like traditional autumn colors too!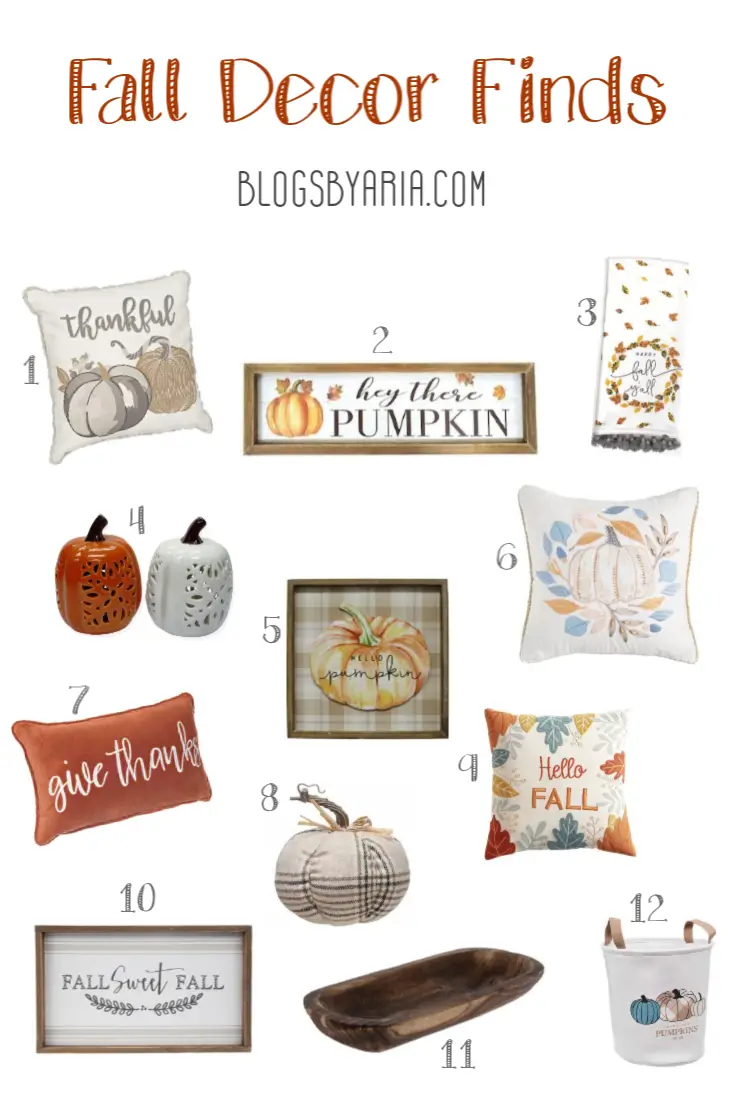 1 | 2 | 3 | 4 | 5 | 6 | 7 | 8 | 9 | 10 | 11 | 12
Gray & Tan Thankful Pumpkins Pillow – This pillow is so much nicer in person than in the pictures.  It's definitely one I want to pick up for sure.
Hey There Pumpkin Table Decor – I picked up this cute sign from Michael's and it's on sale right now for $5!
Happy Fall Y'all Towel – The tassels on this kitchen towel take it up a notch!  I got this towel for our powder room and I also got this wheat trim towel to go along with it.
Piercing Tabletop Accent Pumpkins – I used these piercing tabletop pumpkins in my fall pumpkin tiered tray decor.  I love that they're different sizes from the other pumpkins I have.
Hello Pumpkin Wall Decor – This was a great find for me to use in our powder room.  I'll be sharing that space with you soon.  This sign looks so much better in person to me than online.
Woodland Gathering White Pillow – I love the light colors of this pillow!
Orange Give Thanks Velvet Pillow – This is the perfect pop of orange for fall!
Plaid Pumpkin – I got this cute plaid pumpkin from Michael's.  There are two color options and I thought this would work well to add some texture to my pumpkin collection.  The only thing I wasn't a fan of was the bow so I pulled that off.
Hello Fall Harvest Pillow – Aren't the colors in this hello fall harvest pillow beautiful?  I love them!  It has the perfect pops of color.
Fall Sweet Fall Sign – I may have been bummed about not getting my hands on the hello pumpkin wall decor, but I was so happy to get my hands on this Fall Sweet Fall wall decor!  It's simple and understated and I love it!
Wood Dough Bowl – This isn't specifically fall themed decor but I included it in this roundup because it's in the fall decor section of Hobby Lobby.  This dough bowl comes in small (the size pictured) or large and I want to get the small size.  I've seen it each time I've gone in the store and the last time I went to get it and it was gone.  I've been watching for restocks and it is available online as of now.
Pumpkin Storage Bin – I think this is the cutest little bin that would look great next to a sofa holding some fall throws!  I'm still debating if I want to get this but I definitely wanted to share it!
Now that I've shared my source guide for all of my fall decor this season I'm excited to share my upcoming fall posts, especially my fall home tour!  There are a few things that I didn't share in these collages but for the most part this is what I'm working with 🙂
I've already pulled out my sweet cinnamon pumpkin candle and I've been burning it daily!  I am all in for fall!!  Now I'm off to continue decorating and work on some more projects.  Oh, and enjoy my four day weekend that is much needed 😉  You enjoy your holiday weekend too!!