I hope everyone had an awesome Labor Day!  Sleeping in till 9 am after having my nephew spend the night on Saturday, trying to recover on Sunday and then enjoying relaxing on Monday is what I call a great Labor Day!
I'll admit I've been itching to add some fall decor touches to my home.  I have to pace myself and constantly remind myself that we're still trying to settle in.  I have lots of things on my to-do list that come before seasonal decorating.
That doesn't mean I haven't picked up a few things so far and will probably pick up a few more small things here and there.  I just can't make it my primary focus.
*this post includes affiliate links, which means if you click on a link and make a purchase that I get a small commission that helps support this blog and my family. You can read more about affiliate links by reading my Disclosure post*
CANDLES
Of course I start with pumpkin scented candles from Bath & Body Works.  I always wait for a sale before I grab some.  And I like to pace myself because if it's not on sale this week it will probably be next week or the week after that.  So far I only have one scent…the Sweet Cinnamon Pumpkin.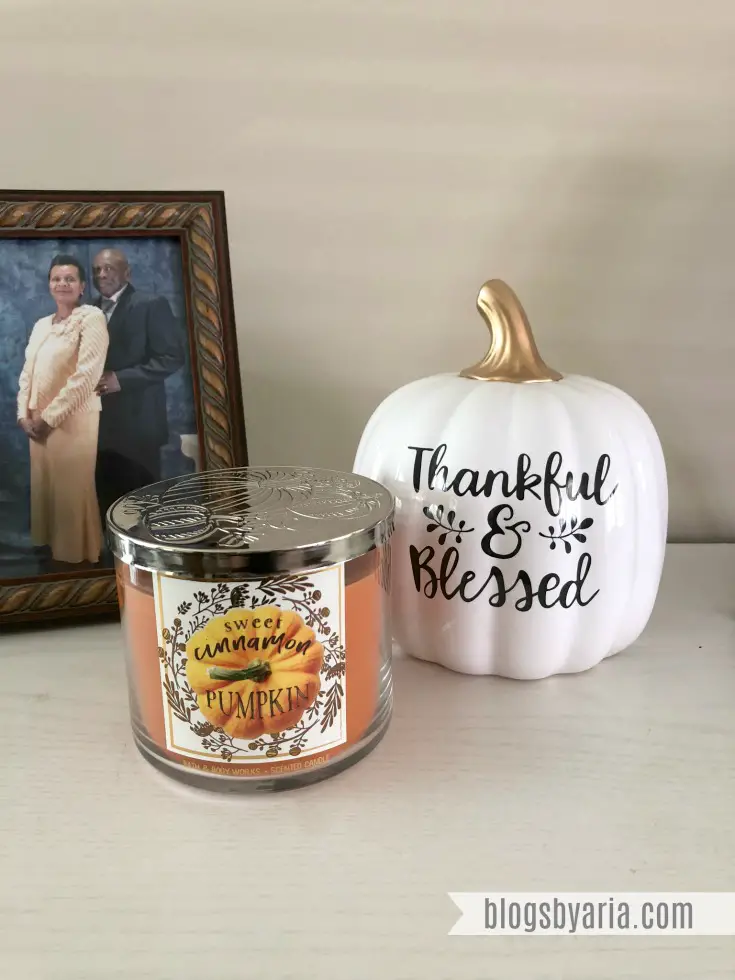 Let me share my story with these candles.  Last year I bought a few candles at the beginning of the season, like the Leaves and Sweater Weather (favorites) and sweet pumpkin ones like Pumpkin Pecan Waffles and Caramel Pumpkin Swirl.  I didn't like the way Sweet Cinnamon Pumpkin smelled early in the season.  I couldn't appreciate it until I had already burned the super sweet scents…does that make sense?
Last week I got my Bath & Body Works email that the Sweet Cinnamon Pumpkin was on sale for $10.95 for that day only.  After work I headed to the mall to grab a couple and have burned it every day since.  I love it!
I'm not usually drawn to use the decorative candle holders from Bath & Body Works, but I really do think this Pumpkin Vine Pedastal  is really cute. I may end up picking it up, but we'll see.
FALL DECOR TOUCHES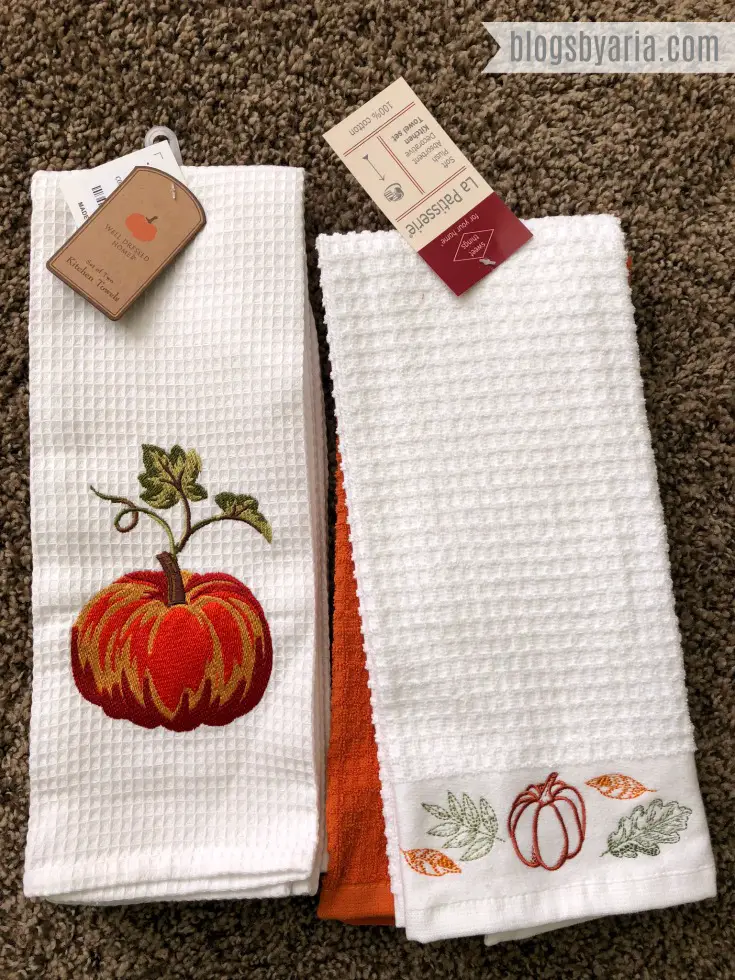 Aside from candles, I wanted to bring in Fall decor touches with some tea towels and pumpkins I found at TJ Maxx.  I have been looking for decorative hand towels to go in my powder room.  I decided to grab these two sets.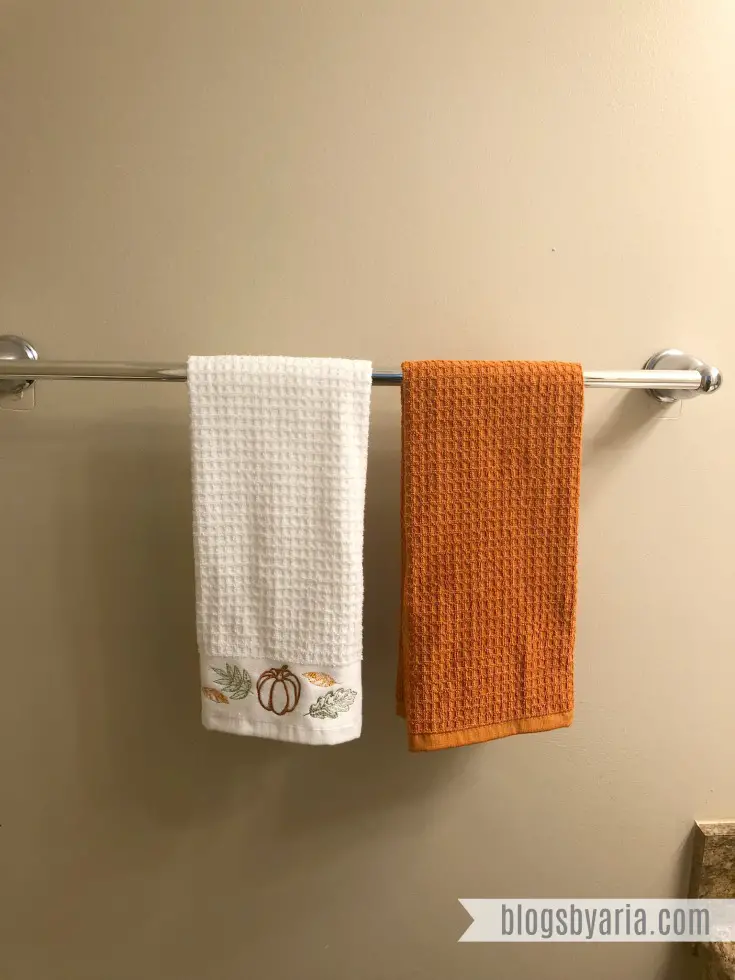 One for the bathroom.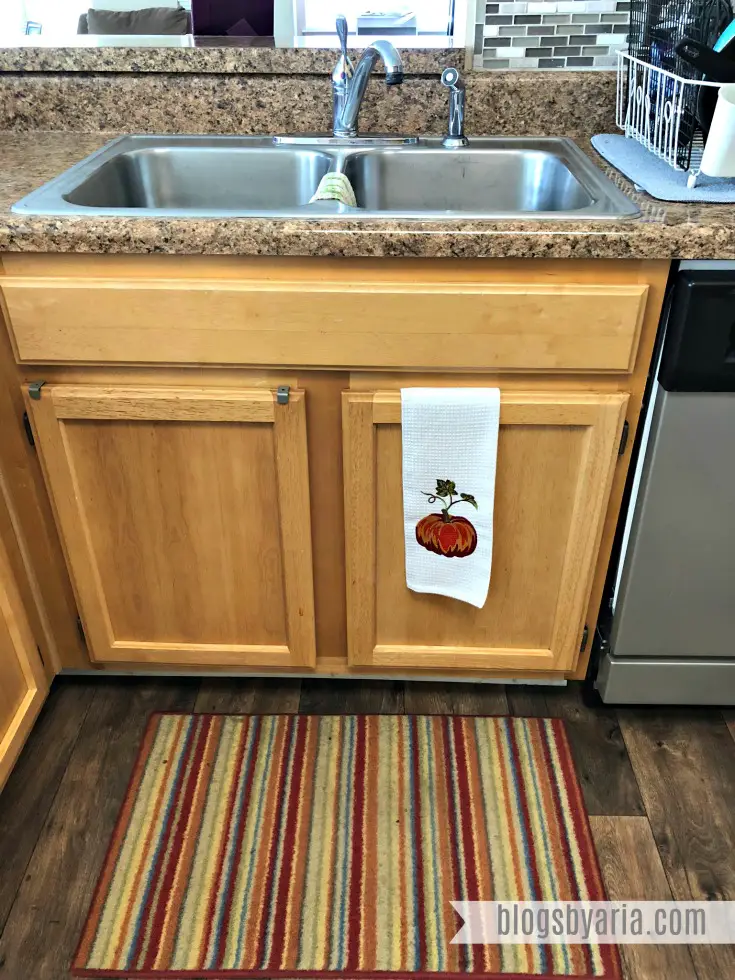 And the other set to go in the kitchen.
These go well with the kitchen mat that we've already had.  I do want to replace it but for now, it works.
I split the towels up and put the other one on the stove.
Back in the bathroom, I got this orange pumpkin from JCPenney last year on clearance.
So far I've only picked up one other pumpkin, this one is from TJ Maxx and I like it a lot.  I didn't want to go overboard with pumpkins with script on them.  TJ Maxx has a large array of them and I think the one I got was the best of them.  There were a few similar to the ones I shared here from Kirkland's.
If I do pick up anymore pumpkins I want to get some without words on them.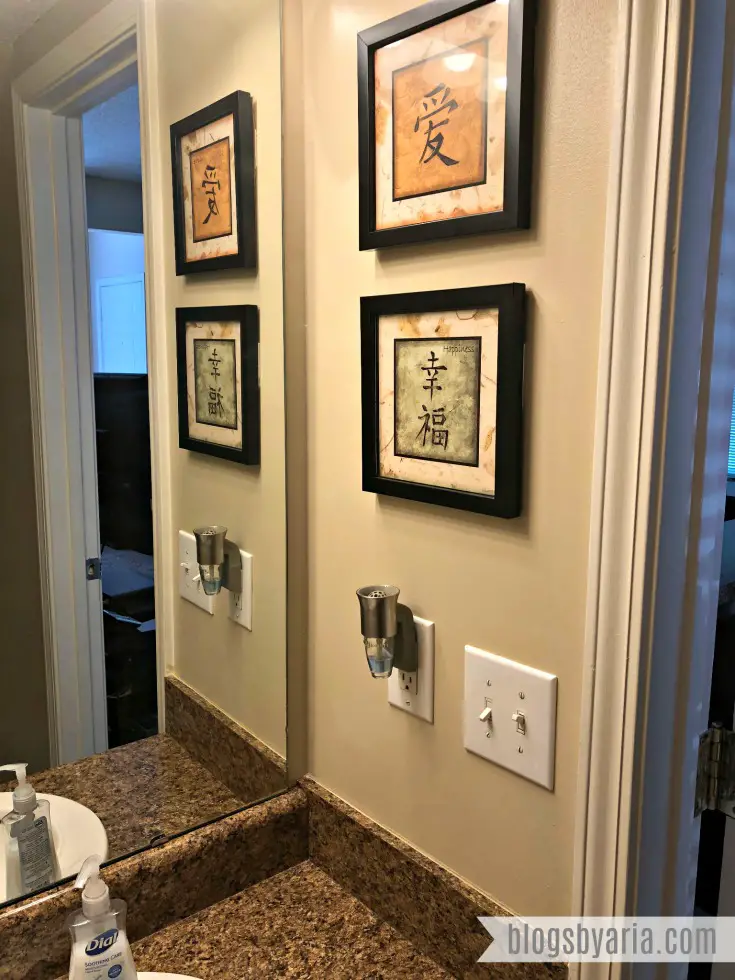 I'm more interested in picking up other home decor that's not seasonal.  We need to get something up on these walls.  Not that it's fall themed at all, but I did put these prints we've had for years up in the bathroom.  You can't see from the glare but the prints say love and happiness.
I look forward to sharing a lot of my decorating journey with you all.  I had planned to share the kids rooms because they're getting new bedroom furniture, but there's been a few hiccups with that.  I'll share all about that when I get that post up, trust me, it's a doozy of a story.  I just wanted to share a few of the fall decor touches that I've added so far.  Who knows if I'll add more, but we'll see.  I hope you have a great rest of your week!  Second week of school I'm coming for you! 🙂