Welcome to my neutral fall living room! It's currently a work in progress but I wanted to share where it's at right now anyway 🙂  If you're new here, or not caught up, we recently upgraded our living room furniture.
As soon as I got the new sofa and loveseat in place I was ready to get on with decorating for fall!  I was already pretty sure that I wanted to stick with neutral fall decor.
Let me show you where we're at right now with the living room decorating progress.
*this post includes affiliate links for your shopping convenience, you can read more about affiliate links by reading my Disclosure*
Finding the perfect pillows for fall was no easy feat.  I looked for weeks and would find lots of cute and fun pillows but none that I felt were "the one."
Many of the pillows that I loved and shared from my fall decor source guide I didn't want to purchase before I got the new couch.
Here's an up close and personal look at the Natural Sweater Pumpkin Pillow that I ended up finding from Home Goods.  I love the texture it adds!
After the holidays I want to find a larger piece of art for above the couch.  I'm still so grateful that we got this beautiful sofa, it really makes all the difference in the world for the look of this space.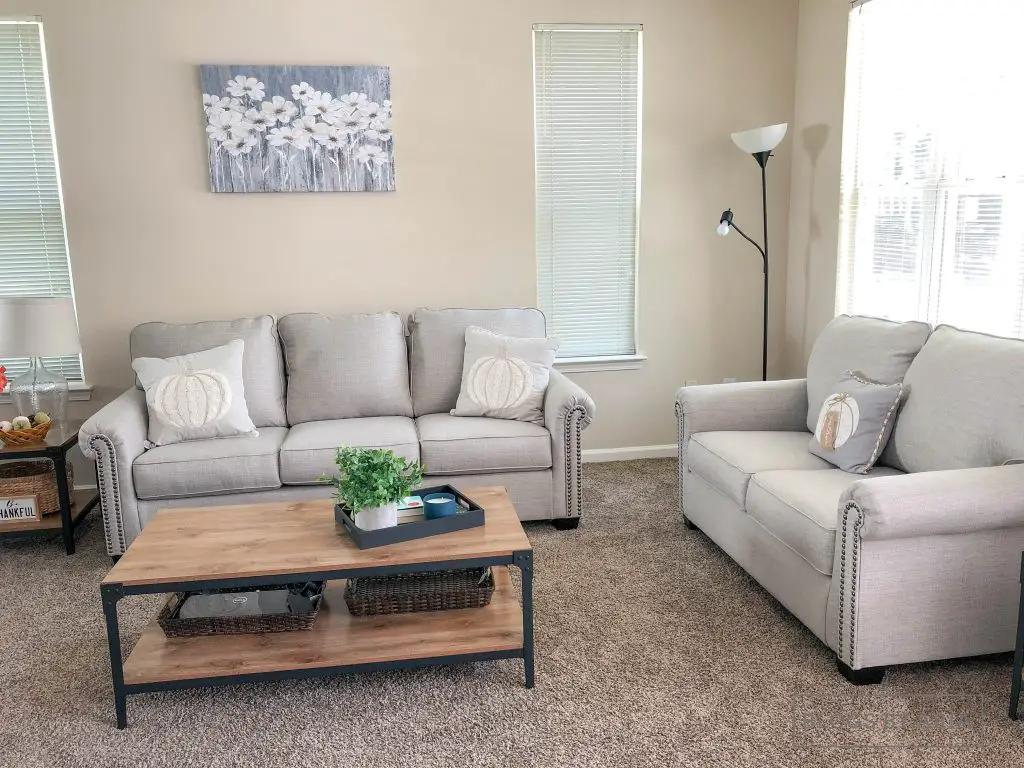 I've made a decision about what floor lamp to get to replace this old one.  I shared the options I was choosing from in my latest post.  Once I get it I'll be sure to share it with you 🙂
Bliss Plush Throw | pumpkin pillow | glass jug lamp | coffee table
Maybe I went a little too neutral.  I've been loving this Bliss Plush Throw that I got this summer during the Nordstrom Anniversary Sale.
I love it and thought about buying another color during the sale, but I couldn't decide on a color!  I am currently looking for a throw that has more fall colors but nothing too bold.  Why is finding the perfect throw so hard?
You can see a glimpse of my new bookshelf.  I'll be sharing it soon. 🙂
I've already changed this tray since I took this picture.  Finding the perfect tray was harder than finding the perfect pillows and throws.  I didn't want to spend too much money and I was having a hard time finding a wood tray that was the right color.  Finally I got this inexpensive black tray (similar) from At Home.
If the perfect tray finds me then great!  But I'm not going to stress about it for now.  A faux plant I've had for about a year from TJ Maxx, a couple of books and a white pumpkin from Hobby Lobby.  Do you love the flannel candle from Bath & Body Works?  It's one of my favorites for fall!
glass jug lamp | pumpkin and pine cone filler
Currently I'm looking for a few fall florals.  I am not naturally good at that.  I've walked into the store so many times and walked right back out because I don't have that eye.  I know what I want it to look like but not so much how to achieve the look.
The small woven bowl is a Home Goods find.  It works perfectly with the pumpkin and pine cone filler colors.  I'd love to find the same bowl in a different color for year-round use.
Unfortunately I can't find a link for this pillow.  I found it at Home Goods.  I did find some alternative options, like this cable knit pumpkin pillow from Kirkland's and this cute beige buffalo check and pumpkin pillow from Hobby Lobby.
For now I like the look of the one pillow on the loveseat.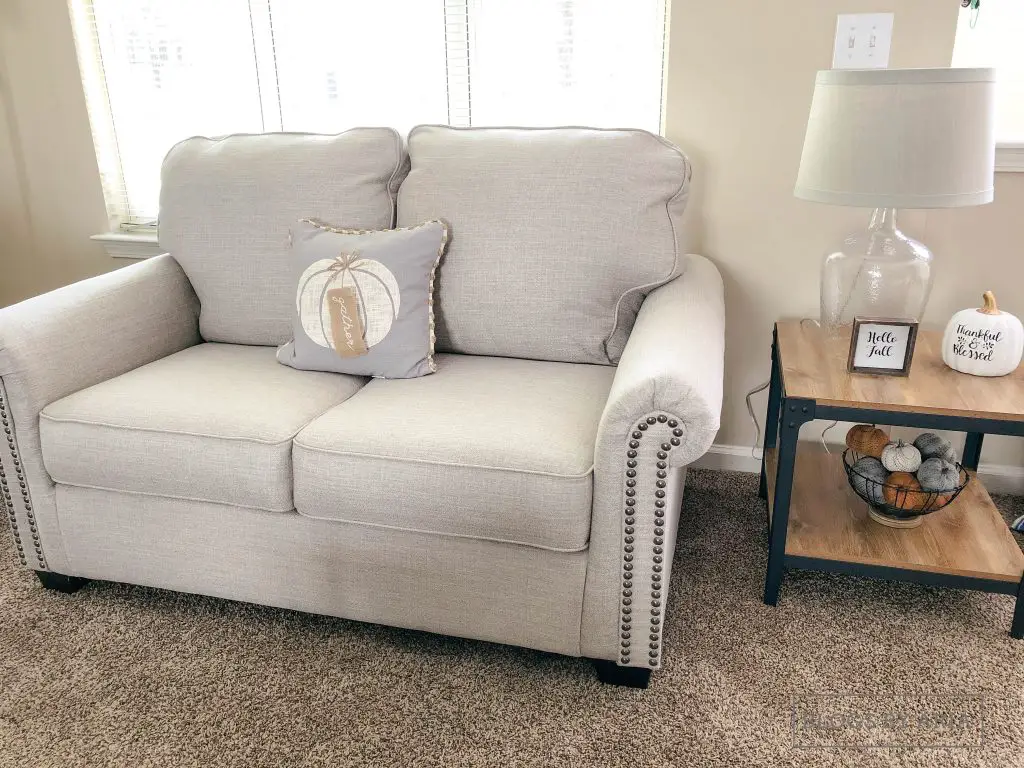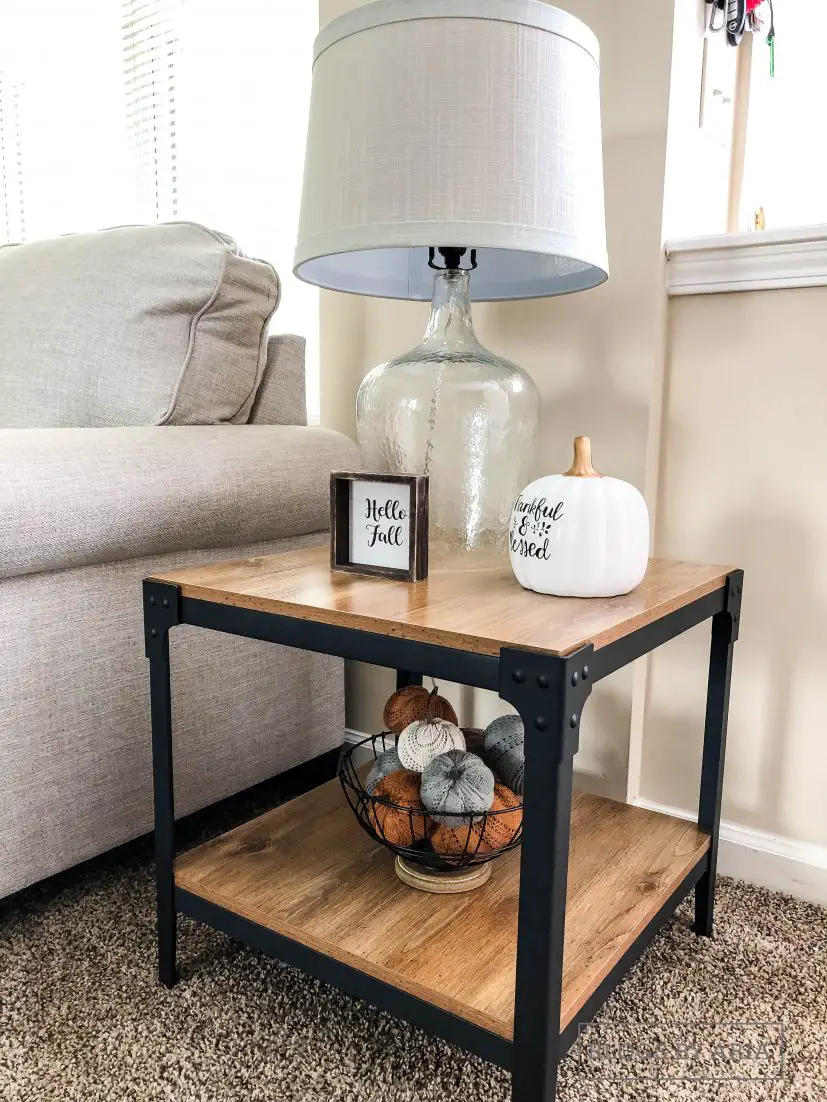 hello fall sign | sweater pumpkins 
Don't you just love fall decorating?  Maybe it's because it's new to me and I'm in love with my new furnishings…I'm sure that definitely plays a part.  DH asked me the other day what's the point in all the decorating and the pumpkins?  I said, it makes me happy.  He said that's reason enough for him 🙂  And he said he thinks I've done a great job with the couch selection and all of the decor.  That makes me feel good because even though he doesn't care, he notices ♥
Stay tuned for a complete fall home tour that I'll be sharing later this month.  Fall is my favorite season and I'm really enjoying decorating my home for fall this year.  Of course part of me wants to add more decor but I'm just happy to enjoy the neutral fall decor that I have.