A lot has been going on over here and I haven't had a moment to sit down and catch up the blog.  How have you been?  What have you been up to?  We've been making a few decorating updates and I'm excited to show you what we've been up to so far.
*this post includes affiliate links for your shopping convenience, you can read more about affiliate links by reading my Disclosure*
The biggest change is our new TV and entertainment center.  We decided to take advantage of President's Day sales and upgraded our TV.  I shared before how DH had been wanting a bigger TV and I wanted a Smart TV so we got this Samsung 55″ Smart 4k UHD TV from Target.  Walmart has the same version at basically the same price but we were in Target so we just got it from there.
I love this TV ya'll!  I love having YouTube on the TV again without having to use the Xbox.  So I've been watching all my YouTube videos and Netflix and all that good stuff.  Having this larger TV is such a huge difference.  He wanted to go bigger, but I think this size is perfect.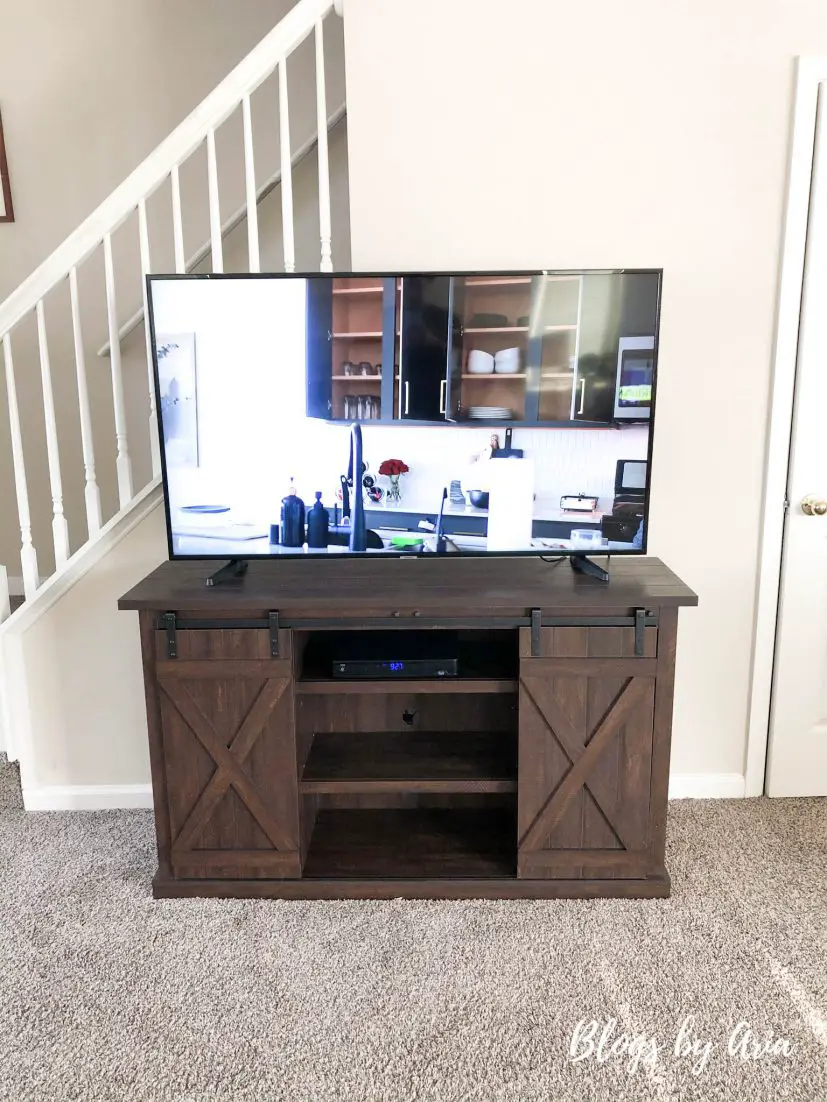 We knew that by getting a bigger TV meant we had to get a bigger TV stand/entertainment center.  Ya'll know me, I can be very indecisive and I went back and forth on so many options.
I finally decided to get this sliding barn door TV stand from Wayfair.  It was not only the style that I wanted but the price was great because it was on sale for President's day.  The three shelf style was the style I liked the most because I wanted it to be both functional and decorative.
I had President's day off from work so I used that time to put the entertainment center together.  It only took me a couple of hours and I love it!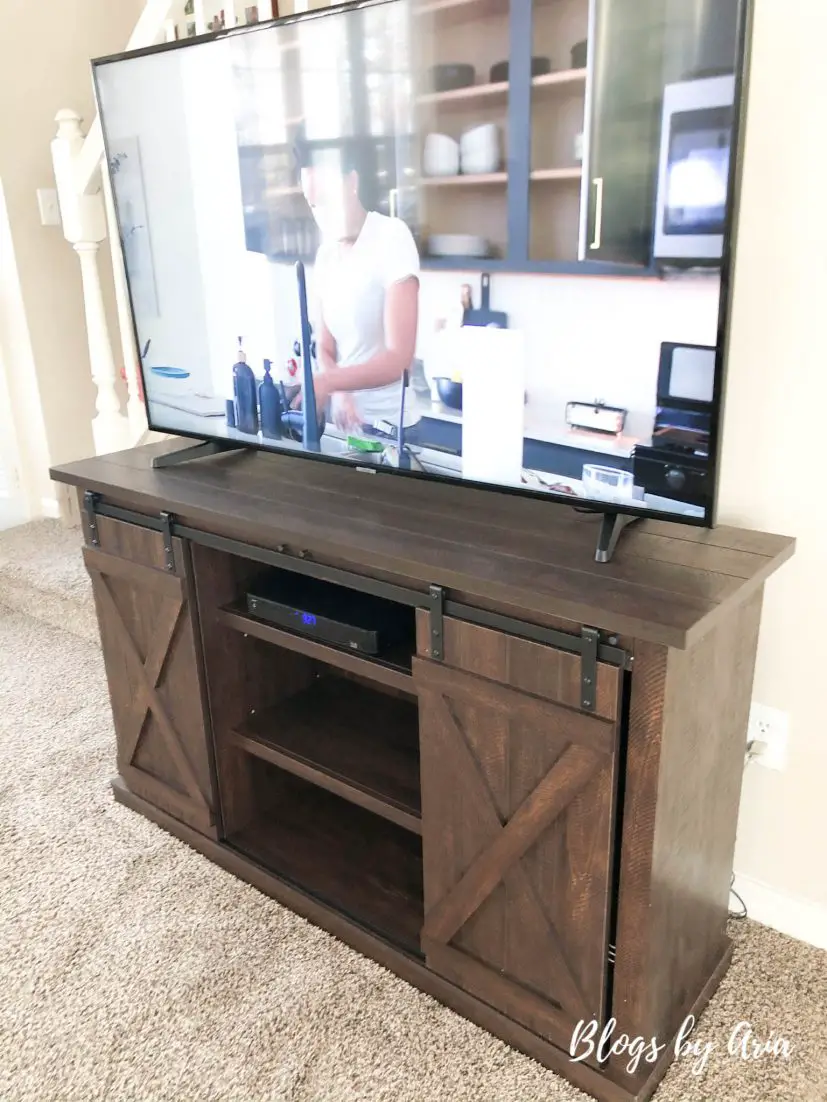 The center shelves will be used for decorating aside from the cable box.  I'm happily on the hunt for the perfect decor for this space.
The shelves behind the sliding barn doors are going to store dvd's and our modem and router.  When I do buy a new DVD player I plan to put it behind the doors since I won't use it daily.  One of the features I like the most about this farmhouse TV stand is the holes for cords.  Not only are they in the center but they're also behind the barn doors so all the cords are out of sight.
As I'm writing this post, it's the Friday after President's day and I scheduled the day off.  It also happens to be a snow day.  I really wanted to go shopping for home decor today but now with the snow, looks like I'm staying put.  I did, however finally order my entryway table today!  So that's a win!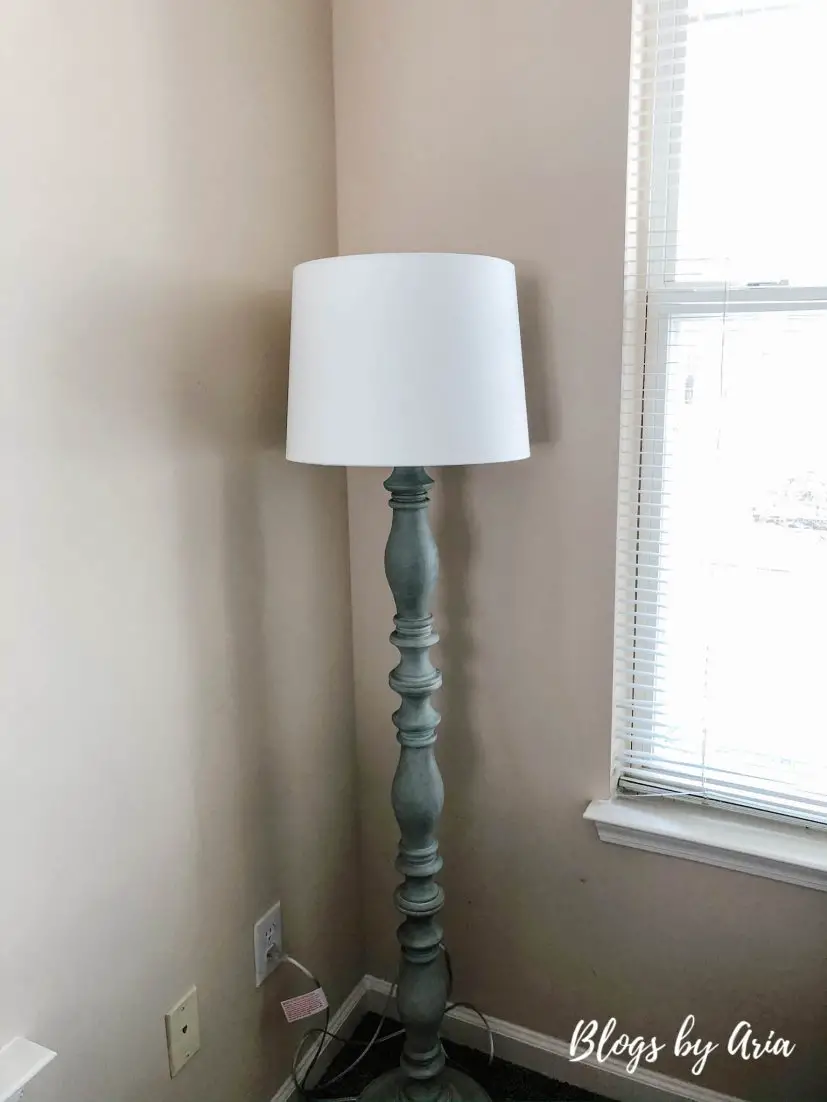 Moving on to something else I finally pulled the trigger on…I got my lamp!!  I'm so happy that I no longer see the black stick lamp looking out of place.  Clearly I need to figure something out about the cord…
I won't lie, it's an adjustment because it's one light bulb versus two so it's not as bright as I prefer.
I've been very indecisive about an accent table for this corner.  I do want one but I feel like it's not a priority but then I feel like it is.  Then I'm ready to order and then I second guess it.  Then I'm like will the woods clash too much?  Because when you're ordering different items from different companies you can't be sure if the wood tones will come together.
That was an issue with choosing the entertainment center.  My coffee table set, my bookcase and bookshelf are all different.  I try not to let it be too much of an issue because it's not as if one is white and one is gray and the other is black you know?  And I try to be mindful that just because these are all in the same space currently doesn't mean they'll be that way in our next home.
Bottom line is I'm a little paralyzed by the decision making process.  So for now, the accent table is on hold.  Although I could pull the trigger in a week, who knows…I'm just odd like that I guess.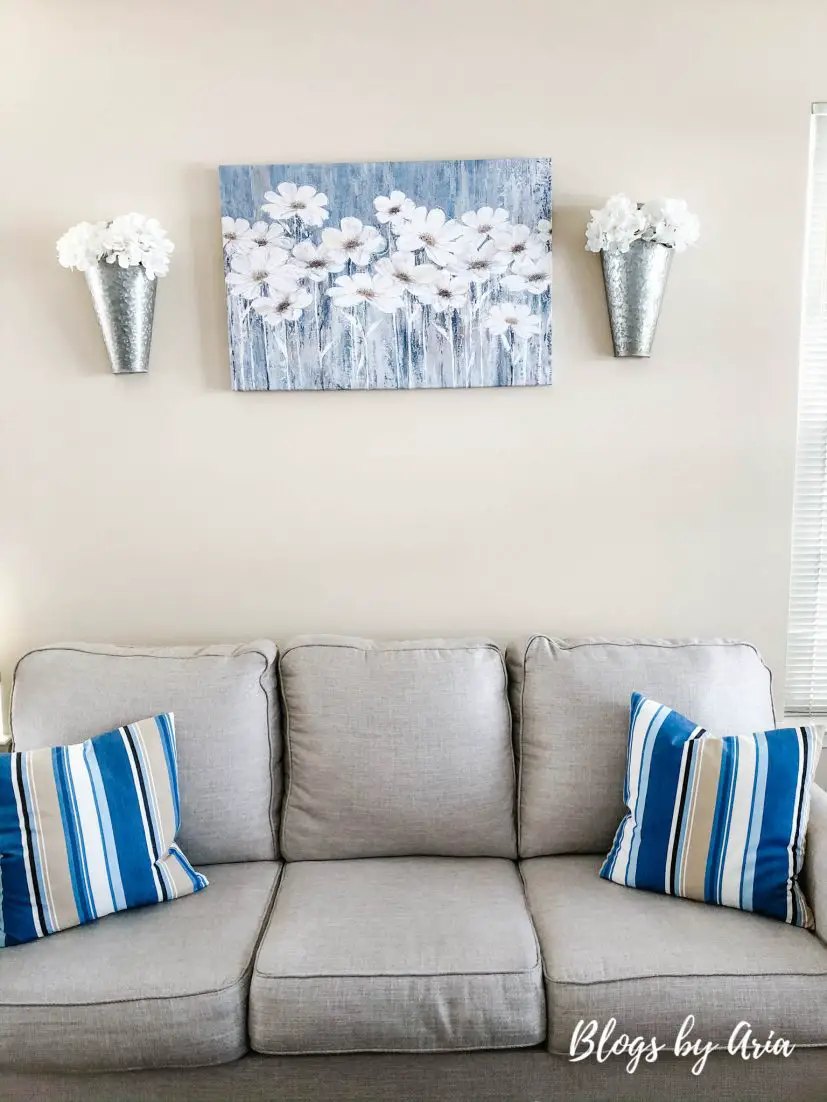 Something that I added to our home decor a couple of months ago are these galvanized metal wall pockets from Kirkland's.  They're perfect for flanking the wall art and filling the space over my couch.  I can easily swap out the greenery for each season.  While we're here for the next several months, I'll probably keep them as is with these faux white hydrangeas.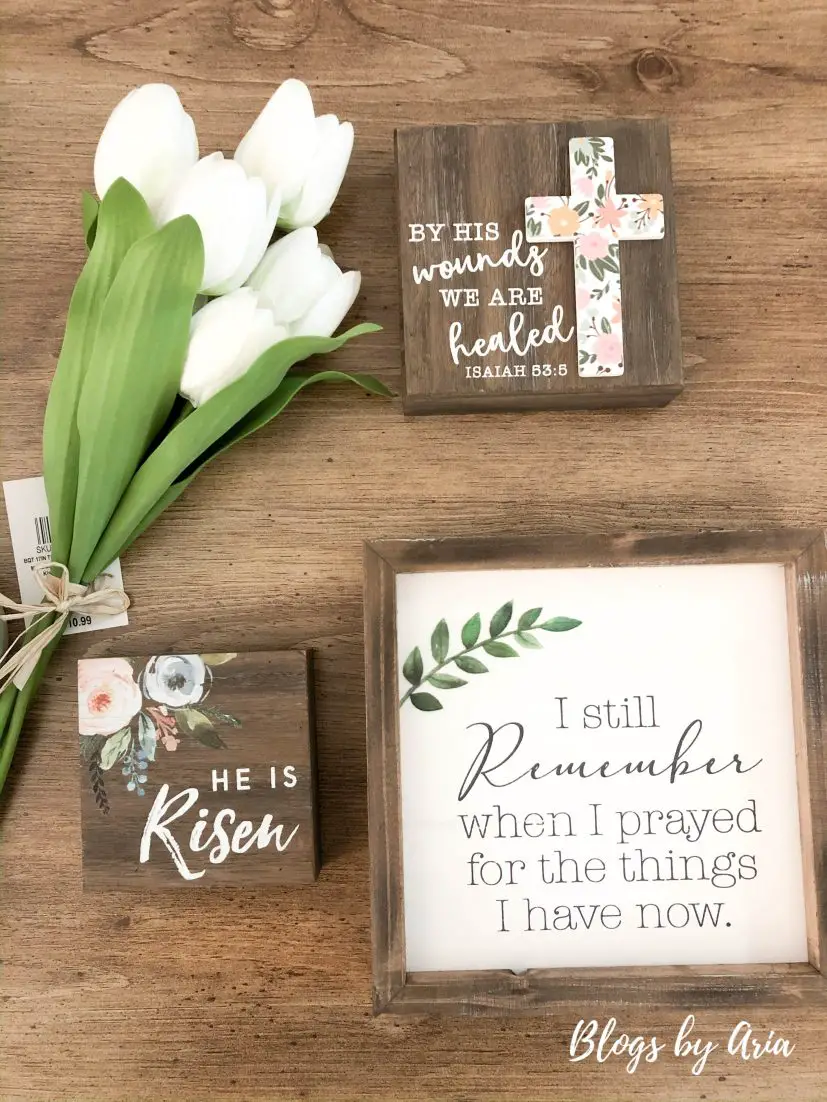 Speaking of Kirkland's, I got a few items last weekend.  These cute Easter signs, white tulip bouquet and this wall sign are a few of the fun finds I got on my most recent Kirkland's trip.  I liked the tulips so much I went back and bought a couple more bunches.  They feel so realistic!  I wanted to get the yellows, pinks and purples for Spring but really wanted to keep things neutral in my home right now.
I'm not quite ready for Spring decor yet…as of this moment…that's always subject to change.  Especially when Kirkland's sends me emails with great sales to entice me to shop for all things Spring!
Technically it's almost March so that means it's practically Spring right?  See how quickly I can change my mind?
What I do know is that I'll be sharing some fun decor and organization coming up soon.  Now that my entryway table is coming I'm itching to get that space tackled.  For now, I'll browse around online to get inspired for home decor.  I don't know about you but I really like to walk the aisles in the stores for home decor.  I'll take a picture and if it's something I can't stop thinking about, I'll go back and get it.  Maybe I can still get out of the house today and do some window shopping.  Wish me luck!