I don't know about you but I'm ready for Spring!  Now I'm seeing Easter decorations everywhere!  Last year was my first year decorating my home for Easter and I don't intend to go all out but I do like to sprinkle in a little Easter here and there.  I've rounded up some Easter home decor ideas to share with you from all of my online shopping.  Plus I quickly put together a tiered tray for Easter that I'm sharing too.
*this post includes affiliate links for your shopping convenience, you can read more about affiliate links by reading my Disclosure*
MODERN FARMHOUSE EASTER DECOR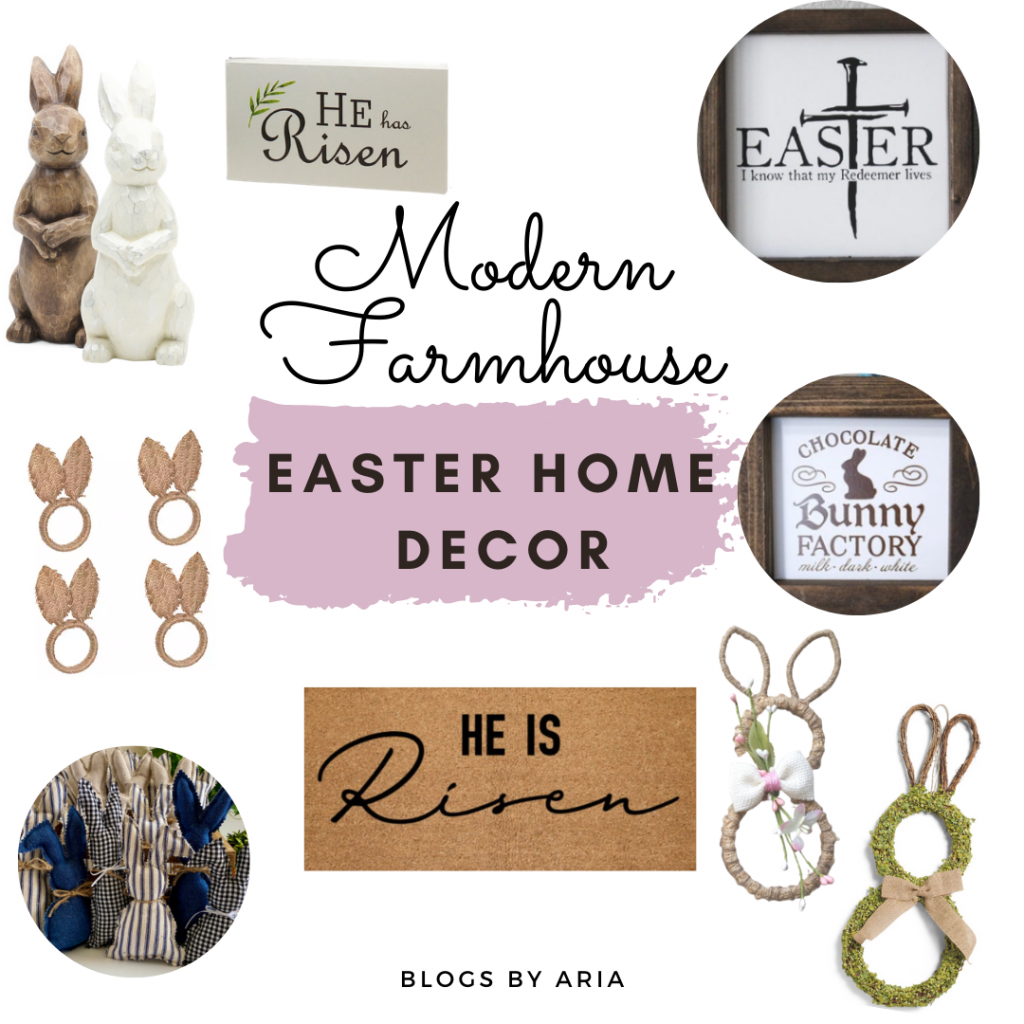 wood look bunny · white paper bunny · He has risen sign · Redeemer lives sign · bunny ear napkin holders · chocolate bunny sign · fabric bunnies · He is Risen door mat · Easter bunny rabbit wall decor · rattan wall bunny
You can decorate for Easter and still keep it neutral!  I know not everyone loves a lot of pastels or bright colors.  Neutral farmhouse Easter decor can still celebrate the season while still staying true to your design aesthetic.
EASTER HOME DECOR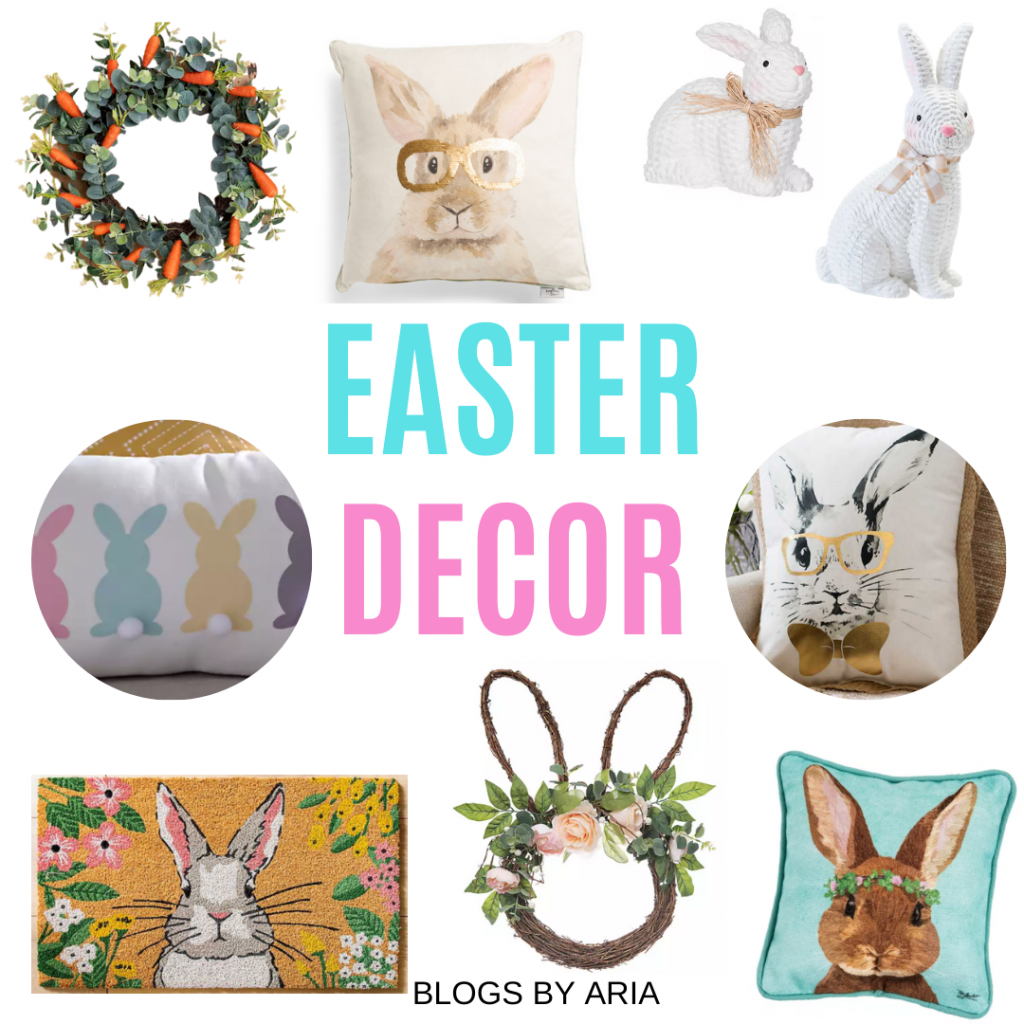 carrot wreath · bunny glasses pillow · white bunny · white buffalo check bunny · bunny pom pom pillow · bunny with glasses and bow pillow · floral Easter bunny door mat · Easter bunny rose wreath · clover bunny pillow
Sometimes bunnies are just cute right?!  Easter bunnies aren't the focus of my Easter home decor but there are a few cute finds that I'm strongly debating adding to my own collection.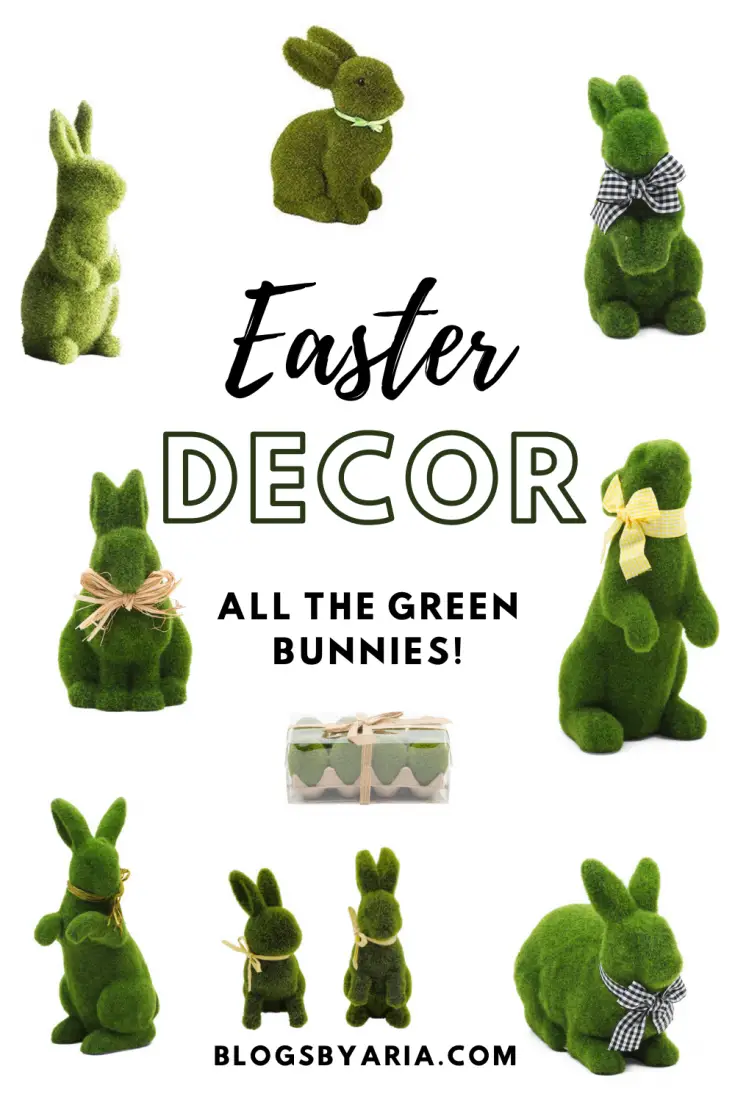 The green moss bunnies are very popular for Easter decorating!  Last year I got a couple from Hobby Lobby but they didn't come back this year.  So I've rounded up a few green moss bunny rabbits that I've found from other retailers.  Can they be messy?  Yes, so set it and forget it until it's time to take them down.
I personally like the green moss bunny decor because they add some texture to the space that you're decorating.  Give it a try this Easter!
To make it a little easier, you can check out these bunnies below.  Some of these are from TJ Maxx and the images don't pull up, but you can still click on them and see them.
GREEN MOSS EASTER DECOR

EASTER RAE DUNN TIER TRAY
I'm not a big Rae Dunn fan.  I think people expect me to be because I enjoy decorating my tiered trays.  But I will say that I've really been drawn to the Easter bunny ear mug from Rae Dunn.  So I got one!  After seeing them in my Easter tiered tray ideas post, I knew I wanted to find one.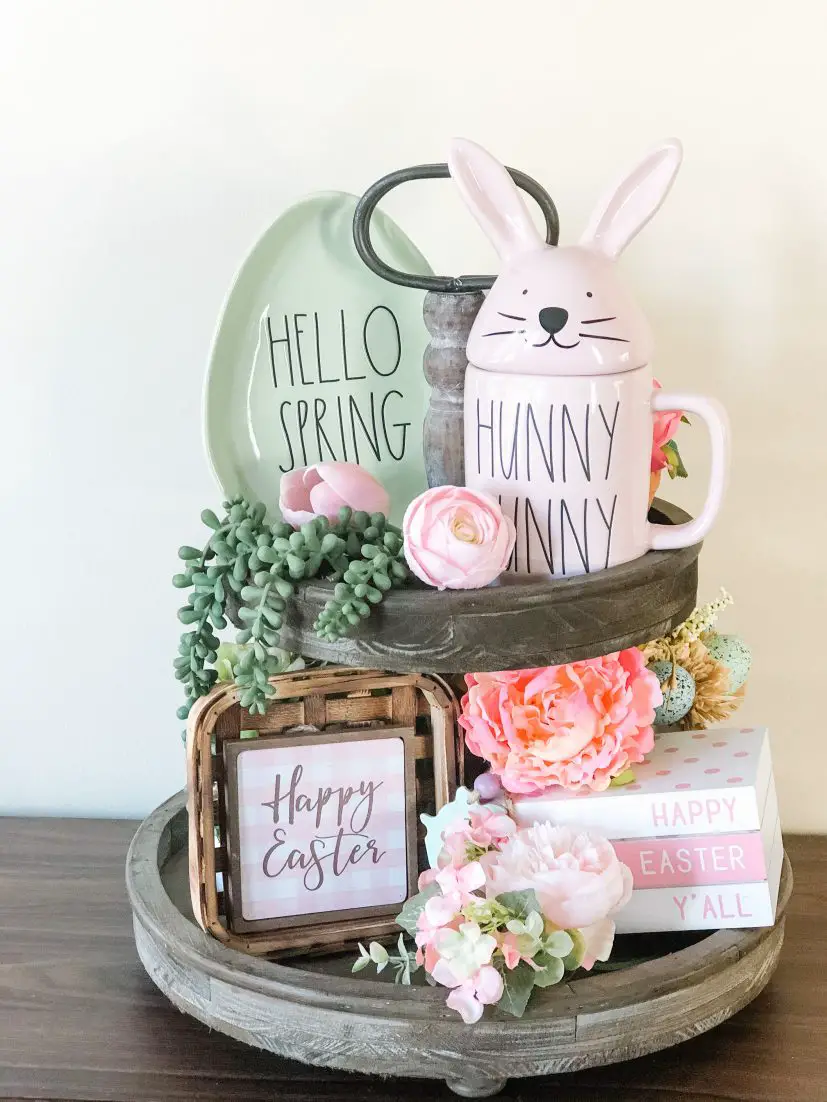 farmhouse tiered tray · flower picks · small flowers
If you're ever looking for Rae Dunn finds you can find them at TJ Maxx, Marshalls and Home Goods.  Everything else on my tiered tray I either already had or got from Hobby Lobby.  Easter decorating items are 40% off at Hobby Lobby and I had to go to two different Hobby Lobby locations in order to find the little bit I could.
People jump on the seasonal stuff so quick!  When I saw the mini tobacco baskets I knew they would be cute on my tiered tray!  So I added in a small hanging sign and layered it in and I love the look.  The mini flowers are from Michael's.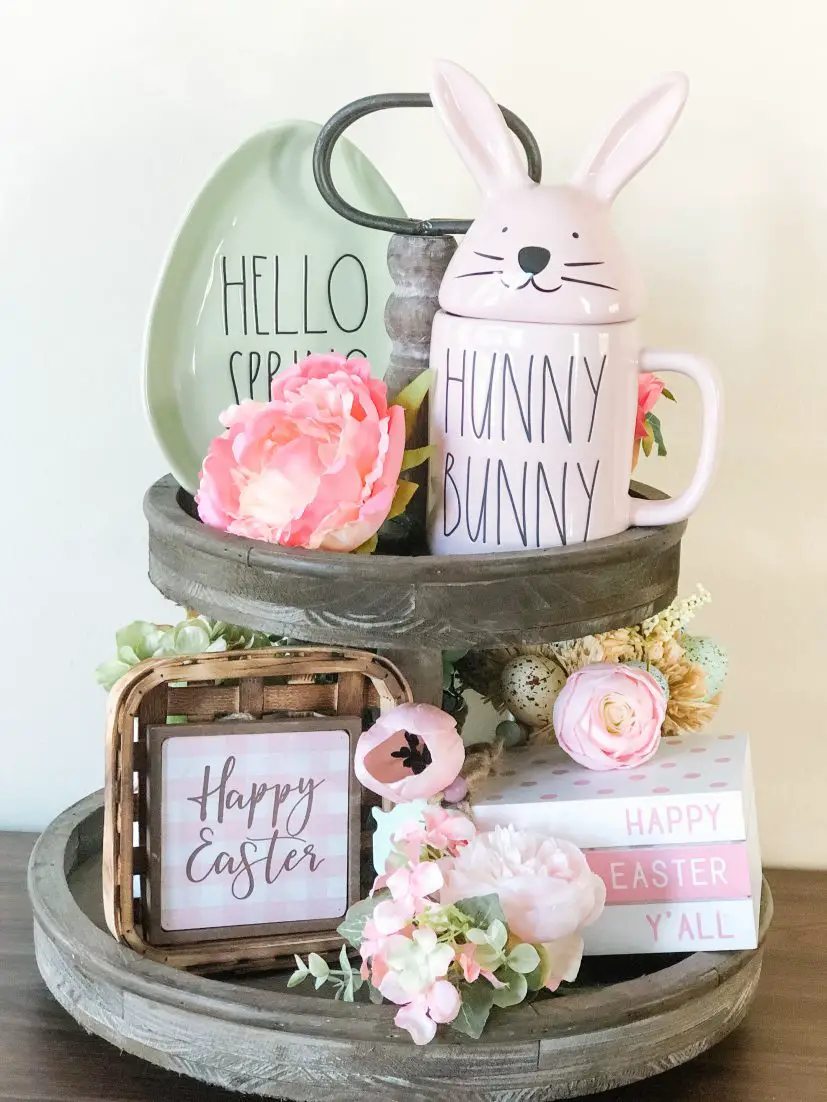 The large flower on top is actually a napkin ring from Hobby Lobby.  I'm always looking for smaller items to work on my tiered tray so definitely check out the Spring table decor aisles.  You'd be surprised what you can find.  Maybe one day I'll get into tablescapes but that day has yet to come.
I'm excited to decorate for Spring and that's what I've been working on throughout the first floor.  I'll be taking this tiered tray down for now.  I was hoping to use my three tiered tray for Easter but the bunny ear mug didn't fit.  Doesn't mean I can't still use some of my other Easter decor items.
And I would like to decorate my tier tray for Spring in general.  You know that when I do, I'll share it here with you ♥
Here's some more super cute Easter home decor finds you may want to check out!