If you asked me a couple of months ago if I would decorate for Easter I would have told you no.  Then I would have said, well, maybe my tiered tray.  But here we are, I've decorated not one but two tiered trays!  Yes, I know, I'm shocked too!
Even more shocking is that I've added a few other pieces of Easter decor that I'll share with you soon, but today let's talk Easter tiered trays.  Yes, you read that right, plural! lol Okay, I just wanted to drive the point home 😉
You got a sneak peek of my newest tiered tray decorated for Easter in my recent Amazon Haul.  I've eyed this rustic farmhouse tiered tray for months now and I finally decided to treat myself. That doesn't happen often and I'm so glad that I did.
Before I deep dive into the tiered tray decor I want to quickly blame Hobby Lobby, YouTube, Instagram and Pinterest! I'm kidding but seriously, I was just going to do Spring decor and then I see the Easter stuff in the stores and Pinterest knows me, and shows me all these Easter decor pins and I was hooked!
Hobby Lobby has already started putting out patriotic decor for 4th of July and I'm like "don't walk down that aisle, don't walk down that aisle".  Because that's how they get me!
Now that I've blamed everyone but myself, let me show you how I decorated my tiered trays for Easter 🙂
*this post includes affiliate links for your shopping convenience, you can read more about affiliate links by reading my Disclosure*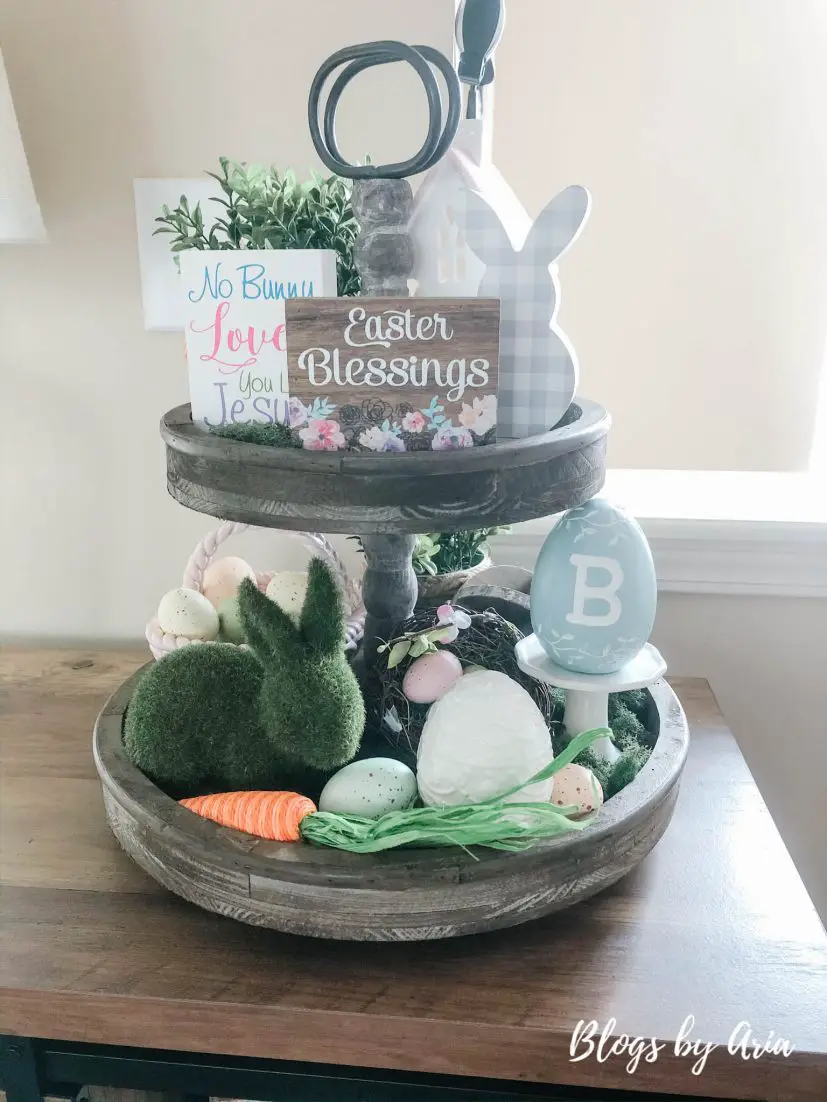 This is my new tiered tray that I knew I wanted to go on my farmhouse accent table.  I may switch it to the left side and put the lamp on the right, but I haven't decided yet.
I certainly had a time trying to get this to come out right.  It's a larger tray than the one in my kitchen so I played around with it and it wasn't right, then I went back to the store to get a few more items and now I love it.
Easter Tiered Tray Sources:
green bunny, potted plants, carrots, gingham bunny, pink house, No bunny sign, white egg, nested eggs – Hobby Lobby
speckled eggs – Michael's
Easter Blessings sign – Home Goods
pink Easter basket – TJ Maxx
initial egg – Kirkland's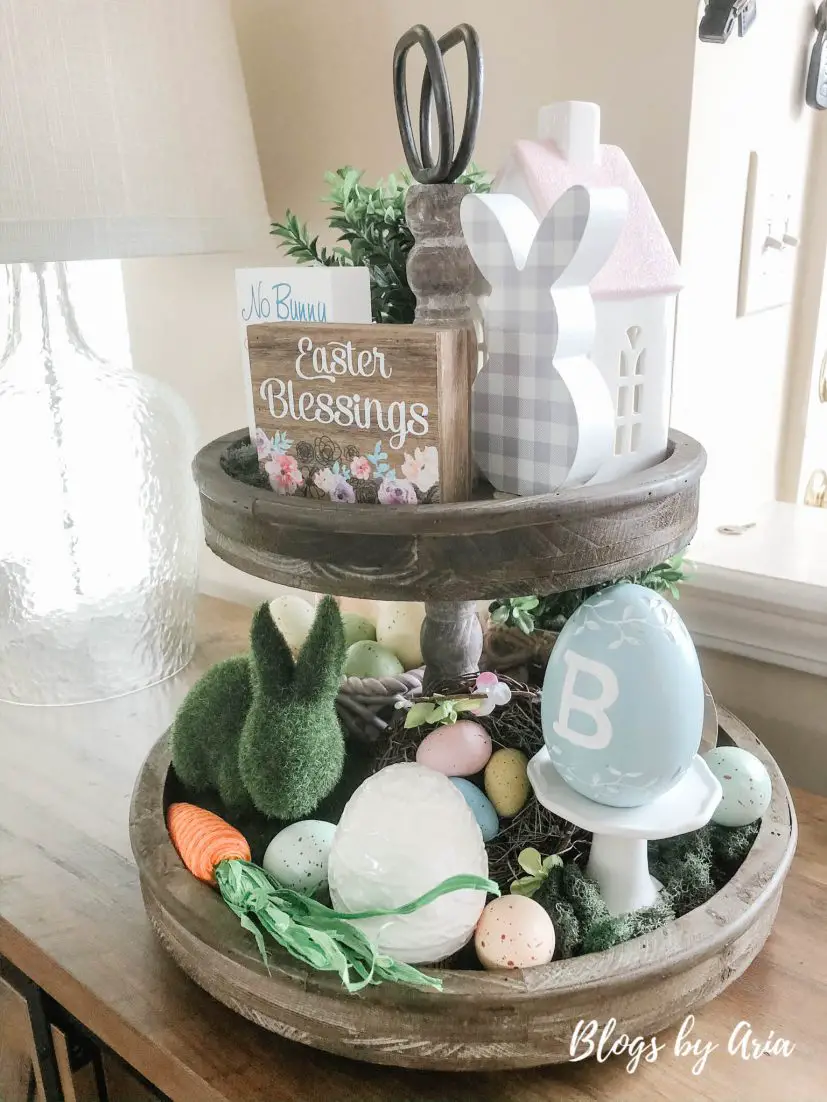 I picked up a bag of Spanish moss to help fill out the bottom of the tray and give the eggs something to sit on.
When I first started buying items for my Easter tiered tray, I was trying really hard not to get anything bunny related.  Like I was okay with eggs, crosses, anything Jesus related…but I really was anti-bunny.  I've never been a fan of the Easter bunny.  Sorry not sorry.
But it became pretty difficult to decorate my tiered tray without one.  Or two.  The mossy green bunny is actually one of my favorite items because it's larger and it adds texture and greenery.  Who knew?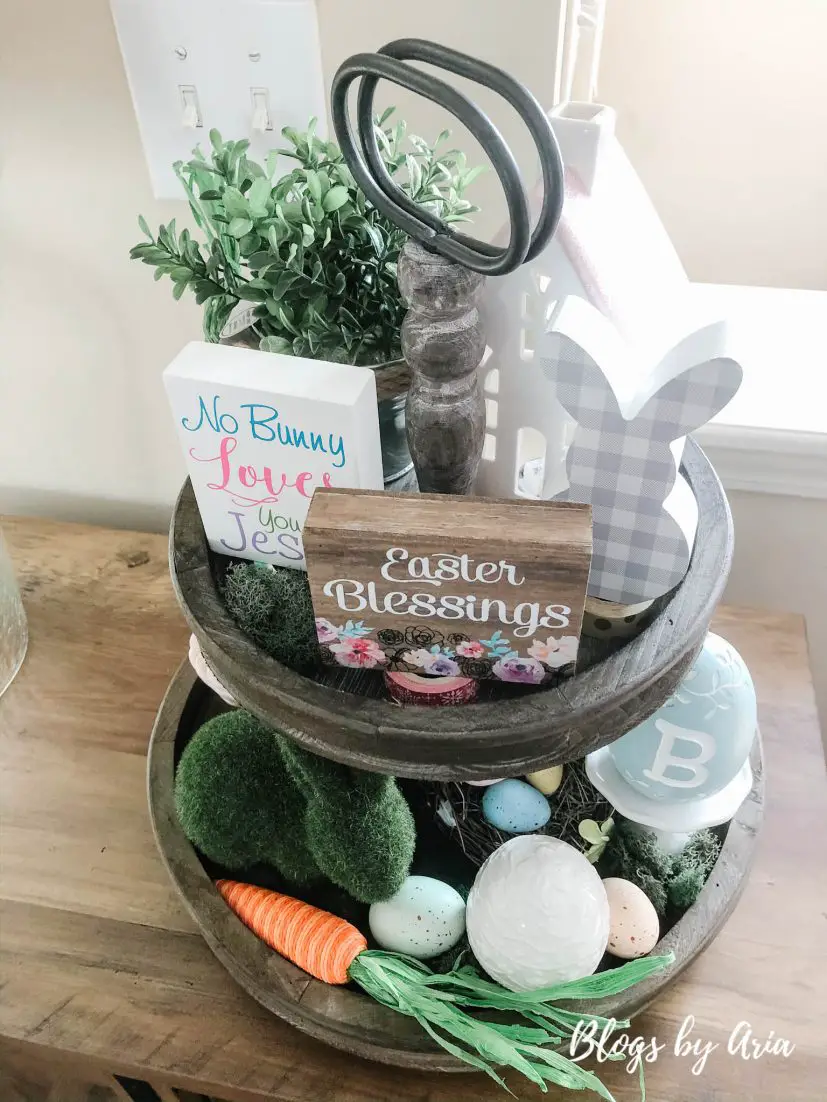 You can see that I use washi tape rolls to add height to some of the items in my tiered tray.  Like I say, use what you've got!
I love that you see this tiered tray as soon as you walk into our home.  When it's time to switch out the Easter decor it'll be easy to transition to Spring.  Maybe I should say easier…haha!
Decorating a tiered tray with seasonal decor is a great way to bring a festive vibe into your space with each season or holiday!  And it's a lot of fun!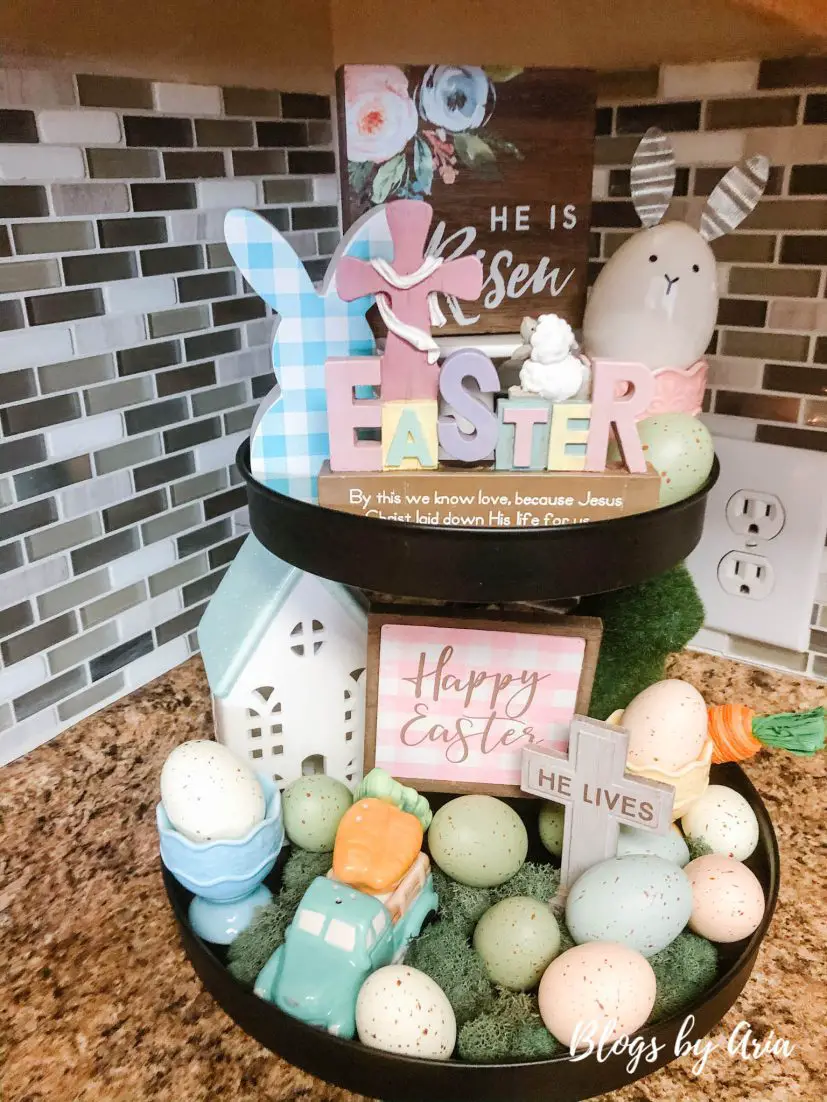 For my kitchen Easter tiered tray I pretty much took all of the leftover decor and added it here.  I knew that the bottom of this smaller tiered tray would be the rest of my speckled eggs.
I got another green bunny that adds a lot of depth to this tiered tray.  I grabbed the truck and carrots salt and pepper shaker and the egg holders on my latest Hobby Lobby run.
In the number of times I've been to Hobby Lobby recently, I had never noticed them before.  It's definitely a good idea to look down the aisles a couple of times.  I usually go with what jumps out at me first and then I try to look a little deeper because that's when you find the goodies.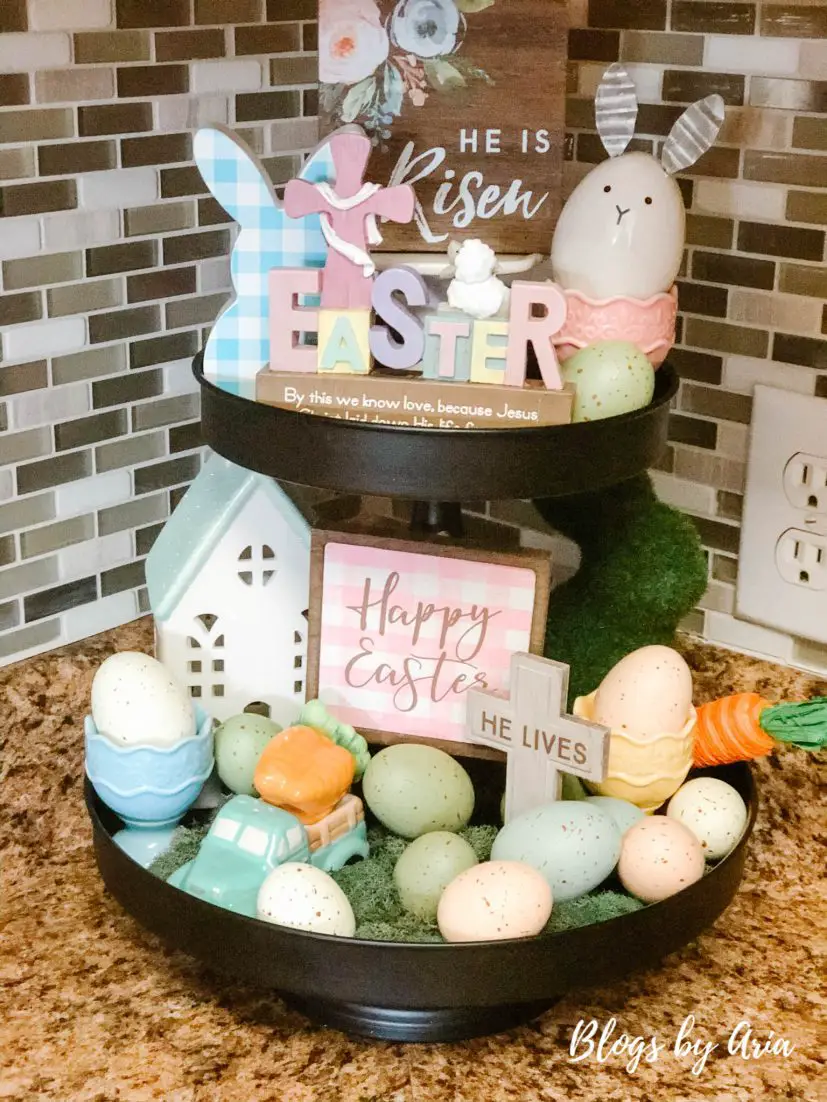 More Easter Tiered Tray Sources:
A WORD ON BLOGGING RIGHT NOW
I started writing this post over a week ago from when it's now being posted.  Mostly because I work full time and I have a part time job and I'm a mom and a wife…you know the drill.  My blog is my favorite thing that I love to pour into because I love to write and to share, but because it's not my primary job it often takes a backseat to the rest of my life.
Now we're in a very weird time.  Thanks to this Corona virus epidemic schools are closed, we're all being encouraged to stay home, and frankly we don't know what will happen from day to day and hour to hour.  My job is not closed, but because I have kids who are out of school, I was given the option to take the time to be home with them.  For now.  I don't know what will happen next week but I can't focus on that right now.
We may be able to work from home, I don't know.  What I do know is that although this isn't how I would like to feel like I'm a full time blogger, that I'm going to take advantage of this opportunity.
It's so easy to feel overwhelmed and stressed (which I am feeling) but it's also easy to try to find the silver lining and make the best out of the situation.  For me that means I get to be a work from home mom for a little bit and my blog can take a front seat.  That means I can work on content, and marketing and work through courses, all to take my blog to the next level.  I can't use the excuse of "I don't have time" right now.
I can also use this time to work on some home projects.  Do some Spring cleaning and decluttering, which I had actually started last week when I had a couple of days off from work, so that's a bonus.
I'll also be using this time to catch up on shows (my DVR is so backed up right now) and read some of the books I have!  I just finished one and I can't wait to share with you in a future post.
In the meantime, you can look forward to seeing more posts from me and I hope that I can help keep your mind off of things when you're here and inspire you.  ♥
Stay well!