It's hard to believe May has flown by the way it has.  I'm sharing my May monthly planner spreads today.  I think this is the best way for me to share my planner spreads on the blog.  Maybe from time to time I'll do a spotlight on a few spreads but who knows.  Ha! I don't always remember to share my planner spreads on my Instagram.  I think a monthly roundup helps me to remember to share them. On to the spreads before I ramble.
*this post may include affiliate links, you can read more about that by reading my Disclosure post*
May Monthly Spread
For this monthly spread I am using a succulents monthly kit by Lexie Kylee Designs.  One of my favorite shops for monthly spreads.  In an upcoming post I am going to share my planning style and how I've changed since I first got my Life Planner.  For my monthly spreads, which I don't think will continue past this year, (more about that in a future post) I mainly use it to keep up with my monthly bills, pay days, events, holidays and birthdays.  While I enjoy using my kits they're not something that's a necessity. But they're so pretty!
Weekly Spreads
For this first week of May I used a Little Misstery box (LMB) by Little Miss Paperie (LMP) for the April box.  It's not a kit that I would naturally gravitate towards.  If it was offered in her shop then I wouldn't have purchased it.  That's the risk you take with a mystery box subscription.  Many shops have them and the only one I've actually subscribed to is LMP.  Even though I wouldn't naturally buy this kit I really ended up liking it.  The colors are soothing.  Especially since we've had a lot of rain in the month of May.
A word on mystery boxes: With LMP she often shares a sneak peak of the upcoming box in her facebook group.  I really like that.  She gives you the option to skip or cancel your box before it renews.  I've never taken her up on that because I have never not liked a kit by her.  And in the time that I've been with her shop she has only one time brought a kit from the mystery box to the shop for everyone to purchase.  To me it's worth it to take that chance.  I've debated getting the Glam Planner's mystery box but I haven't been able to take the plunge because as much as I love the kits I get from her I really don't like every kit she puts out.  So we'll see what happens there.  I do get her text messages for pre-sales and other things she puts in her shop.  It's my way of, not only spending my money haha! but seeing every kit she puts out in order to see if joining her subscription. Whew! That was a long "word".
For the week of Mother's Day I used LMP's Easter kit.  I thought it was so pretty when I first saw it.  Even though it had a lot of eggs and references to bunnies.  She gives so many choices with her full boxes that I was able to use the kit and you really don't get the sense that it was a kit meant for Easter.  Super pretty! 🙂
I'm not one for date covers.  Everyone in the planner community has their own "thing."  Some people really hate glitter headers while others love them.  Same with date covers.  They're not necessary for me.  But when I find a kit that has gorgeous date covers I will definitely use them.  This is a floral kit I got from the shop called M. Crystal Prints.  I was watching a plan with me video by Soda Pop Studio and she used this kit from M. Crystal Prints.
I thought it was beautiful so I had to get it!  I really enjoyed the kit.  The paper is matte but it's sticky like glossy.  So you have to be careful because once you put it down it's not coming up without pulling the paper with it.  Anyhoo, I really enjoyed this kit and I will be back for more!
Rounding off the month of May is this Glam Planner kit that I've been hoarding for months.  I will share the last few days of May in my June planner spreads roundup.  I love the colors in this kit.  Very vibrant.  I wanted a kit that didn't have too many littles.  I really enjoy littles and little things and they can be wasted if I don't have a lot of TV shows going on.  I thought this was the perfect kit.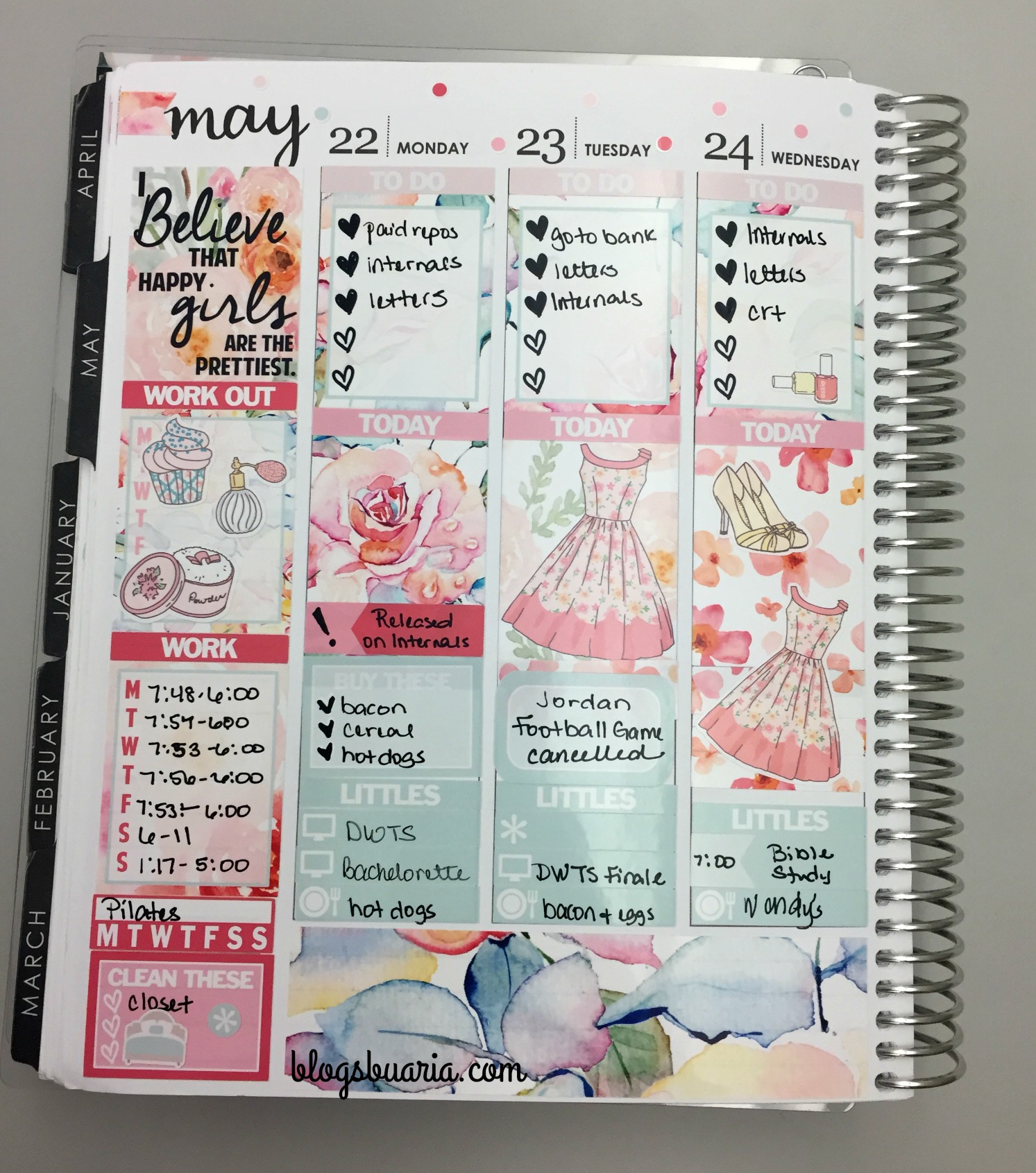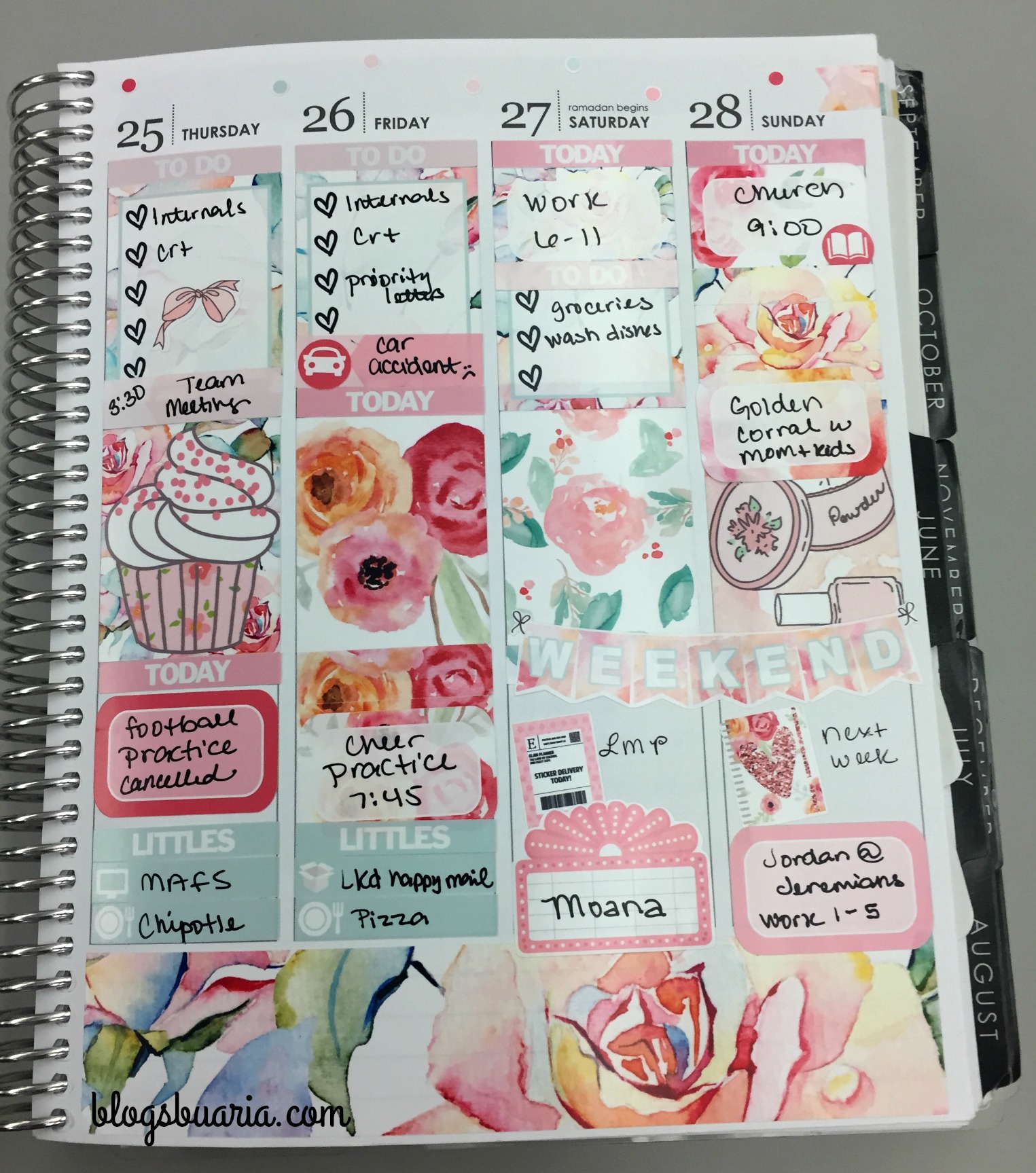 This is actually one of Glam Planner's mystery kits she brought back to her shop for a special sale and I was able to get my hands on it! 🙂
I have a lot of planner posts that I've been meaning to share lately, so hopefully you don't get bored with it!  If it's not your thing, don't worry I have more in store for you.  I'm trying to experiment with these posts and come out with the best way I want to share my pictures.  And if you have any questions about planning, or anything really, feel free to leave a comment below or send me an email. (one post I want to share soon is my planning style and how I got to using kits, because I didn't start off that way…soon I promise)  Thanks so much for spending some time with me today 🙂