I shared recently on Instagram that I'm beginning to look at sofas to replace our very worn out couch that we've had for about 14 years.  I like to look at inspiration on Pinterest, Instagram and blogs way before I'm actually ready to pull the trigger.  I thought it would be fun to share some of the contenders I've found shopping for a new couch.
I've realized that it takes me a really long time to make a decision on what I want.  I mean, it took me months to pick a lamp for crying out loud! : ) I have what my blog friend Erin calls "decision making disorder".  It's nice to put a name to the disorder and to know I'm not alone ; )  But I don't think having decision making disorder is a bad thing.  I'm okay with taking a long time to decide exactly what I want, especially when it's a purchase for my home.  Whether it's a lamp or a coffee table or a sofa, I have to look at it every day and I want to like what I'm looking at!
GOING FURNITURE SHOPPING
Although I love looking online to gather inspiration.  I also need to go in store to touch, sit, get an idea of scale, see the color with my naked eye, all of that kind of stuff.  Recently I went to look at Ashley Home Store and Rooms to Go to go through my list of must haves in our new sofa.
The look I am going for is casual but pulled together.  I want a light colored, kind of like an oatmeal or cream colored couch.  Here's what I've been eyeing so far…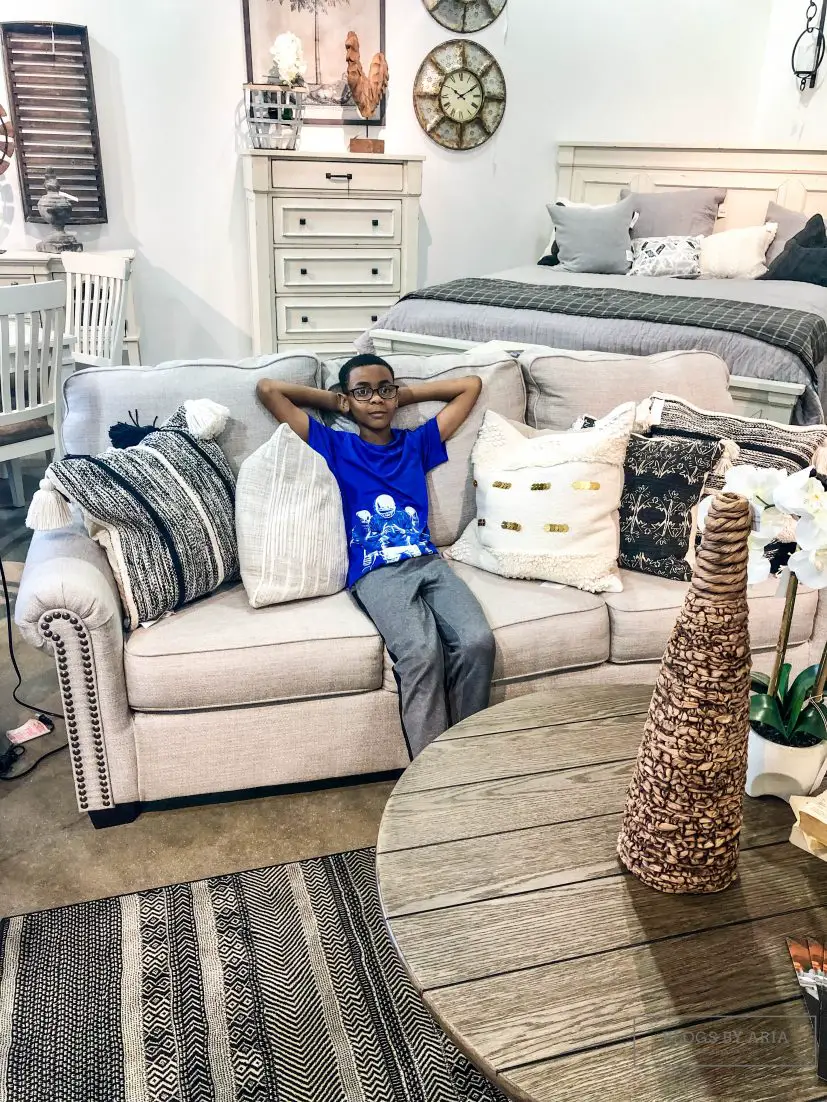 Someone immediately fell in love with this Farouh Sofa from Ashley Homestore!  I love the color and the style of this sofa.  Also I like the style of the pillow cushions and the seaming and everything…except…I wasn't a fan of the nail head trim.
But the couch is comfortable with just the right firmness and again the color and the fabric check off the boxes for me.
I was recently looking at this sofa online and I will admit I love it even more now.  What I recommend when shopping for furniture is to look up reviews online, especially if a reviewer uploads their own pictures so you can get a real picture of what an item looks like without staging and studio lighting.
Someone uploaded a pic of this Farouh sofa in their home and that's when I really fell in love with it.  I realized that the nail head trim wasn't as obtrusive as it appears in the showroom.  So it's definitely on my list.
Isn't that barn door media cabinet behind the couch everything?! I love it and I'm not even a farmhouse girl but I feel like the look is growing on me.
As you can see I like the neutral light coloring for my next sofa.  This Alcona sofa is a nice, linen color and I like the classic styling.  I don't like furniture that's doing too much.  I prefer it to be simple like this one.
Doesn't this look like the perfect oversized chair to relax in?  Jordan has the right idea 😉  We don't have the space for this Belcampo oversized chair in our current home but doesn't it look so comfy?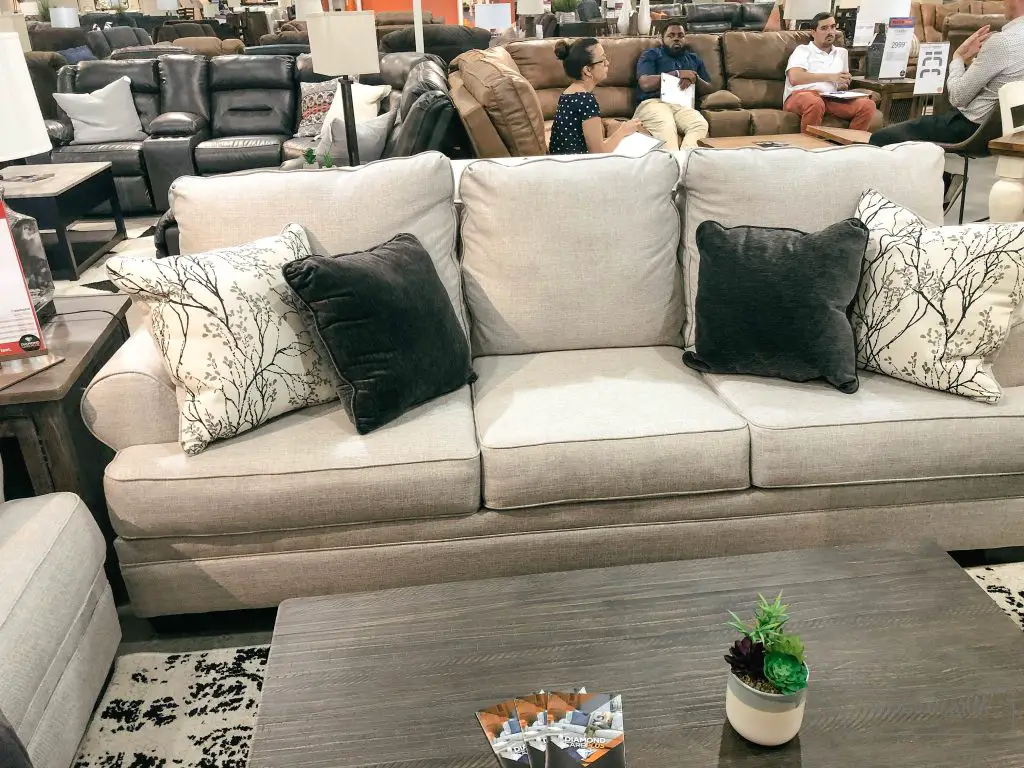 The final option that is on our list from Ashley Home Store is the Antonili Sofa.  Again I like the color, the texture and the casual look of this sofa.  The one flaw…the arms are a little low.  What do you think?
SECTIONAL VS TRADITIONAL SOFA
I saw so many wonderful sectional sofa options at Ashley Home Store.  I almost wish that we were in the market for a sectional (except for the price).
Our current couch is kind of like a sectional but it's a traditional sofa with a chaise.  At the time of purchasing it well over a decade ago, the idea made sense.  Maybe one piece of advice I'd give would be don't buy furniture that's trendy when you're a few months postpartum.  😉
I don't know if we just had a salesman doing his job or what but I've regretted the decision of not getting a traditional couch for almost as long as we've had it.
A sectional sofa is a great option and if we were in a house that we knew we'd be in for a few years then I'd go that route.  Because of that, a traditional sofa is something that will work for us in our current home and in almost any home whereas the placement of a sectional won't always work.
FINDING THE PERFECT COUCH
Next we looked for our new sofa at Rooms to Go.  This was something I was looking forward to because we didn't have a Rooms to Go store in Greenville.
This slipcovered couch from the Cindy Crawford Home Beachside collection was love at first sight for me.  I love the look and casual feel.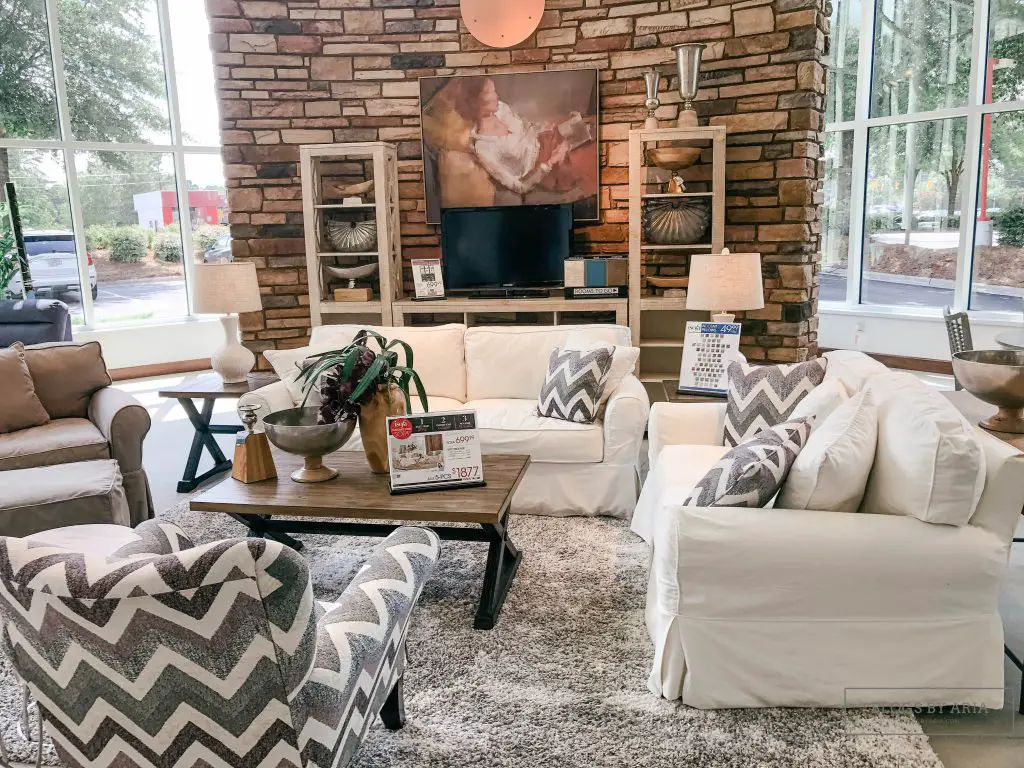 The only downside is the price.  Rooms to Go is more about buying the full room package versus mixing and matching.  You can pick different combinations but for what I wanted, the price wasn't realistic.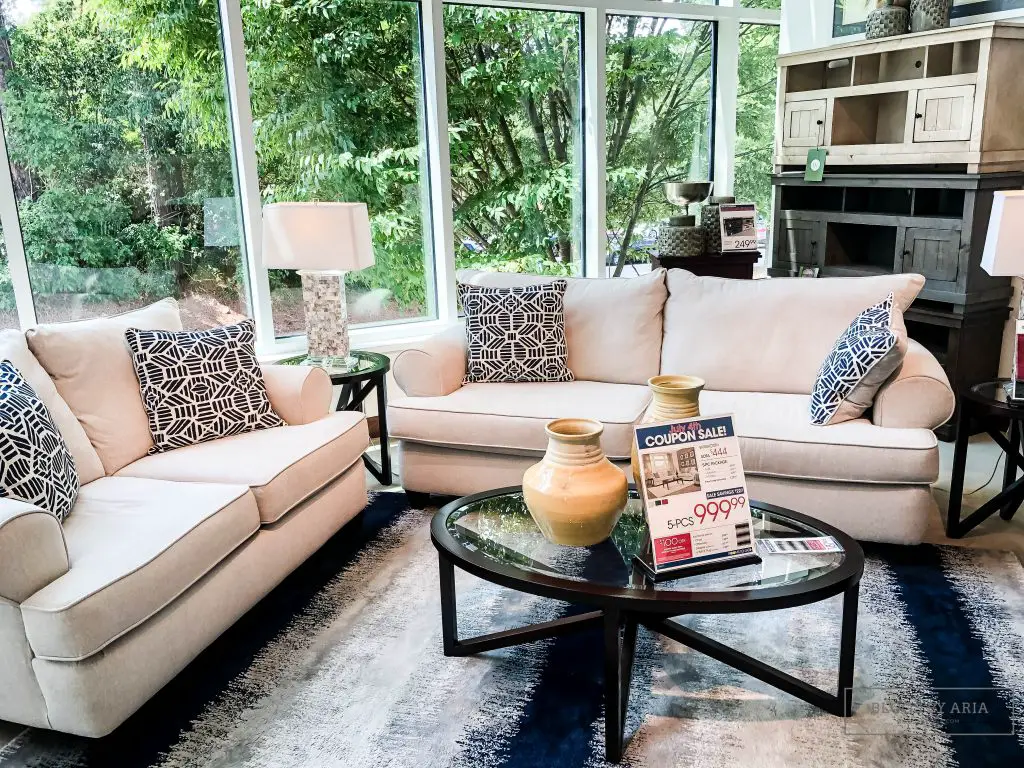 The Emsworth beige living room set is the last option that I really liked from Rooms to Go.  It's a simple sofa set, what's not to like?
Even if you're not in the market for new furniture, going to a few furniture stores is a great way to get decorating ideas and gather inspiration.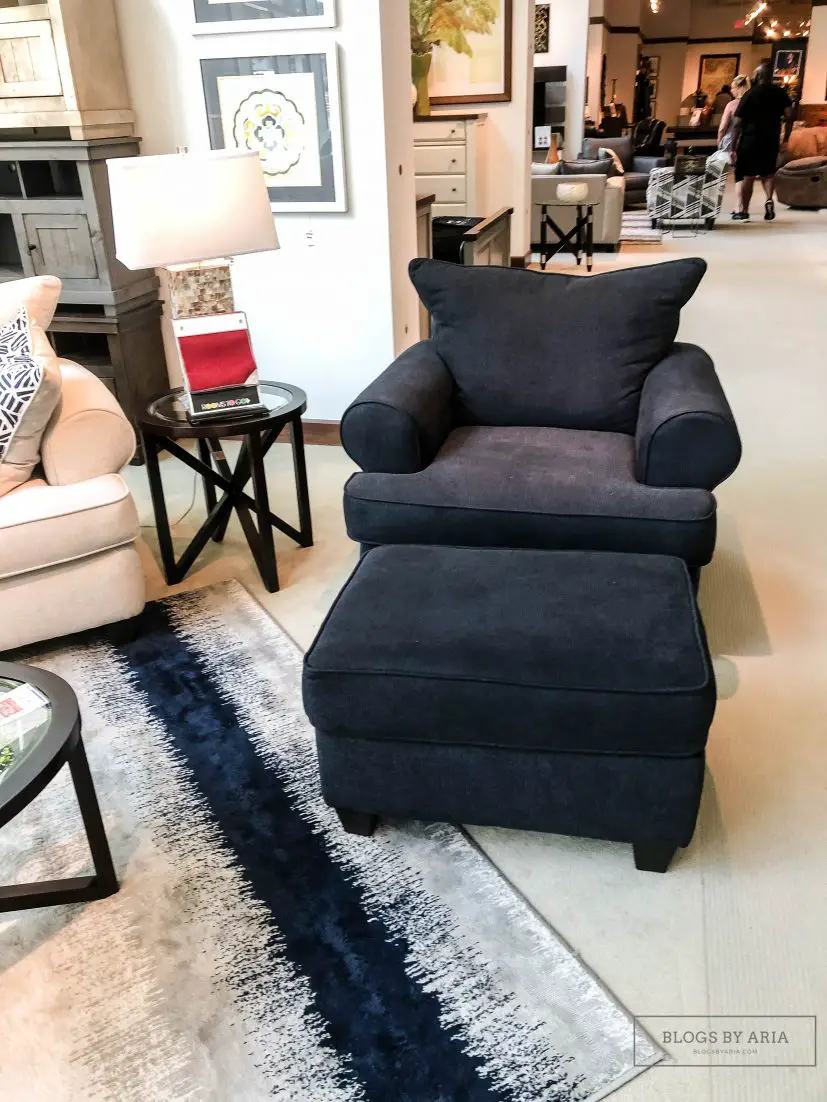 Now that I've looked in store and sat down on so many couches (I saw so many more at Ashley Home Store but I got distracted by all the sitting and touching that I forgot to take pictures) I have been able to narrow down my choices.  I now have a better idea of what direction I want to go in for both the look and feel of our living room.
When I first made the decision to replace our sofa I thought it would be a good idea to just buy the sofa.  Then as I could afford to, I would buy a love seat or a couple of accent chairs.
Now that I've almost come to the decision to go with the Farouh sofa from Ashley Home store, I'm thinking perhaps it would be better to keep saving until I can get the sofa and the love seat.
We'll see how it all works out and I'll be sure to share my progress along the way.  For now I feel like I'm a lot closer to making a decision and I'm enjoying finding more living room inspiration too.  I've been pinning lots of living room posts on Pinterest as I try to come up with my own design style.
https://www.pinterest.com/aria82/living-spaces/
I'm so excited to see it all come together!  Do you have any tips for decorating and designing your living room?  I'd love to hear from you and get even more living room inspiration!  Let me know in the comments below!
WHICH NEW COUCH OPTION IS YOUR FAVORITE?