Are you looking for Easter tier tray ideas?  If you are, you're in the right place!  I'm sharing Easter tiered tray inspiration with you to help get your creative juices flowing.
When I'm decorating my tiered trays seasonally, I usually like to look at how other people have styled their tier trays.  Last year I styled two different tier trays for Easter.
*this post includes affiliate links for your shopping convenience, you can read more about affiliate links by reading my Disclosure*
This was my first time decorating a tier tray for Easter and it was my first time using my rustic tier tray.  You can find all of the details on this tiered tray here.
This year I'm excited to try styling my three tier tray for Easter.  But I definitely need some inspiration.
When I shared my Christmas tiered tray ideas, I shared a round up of tier trays.  You can get tiered trays from lots of places these days from Hobby Lobby, Target, Amazon and more.  Here are a few options:

EASTER TIER TRAY INSPIRATION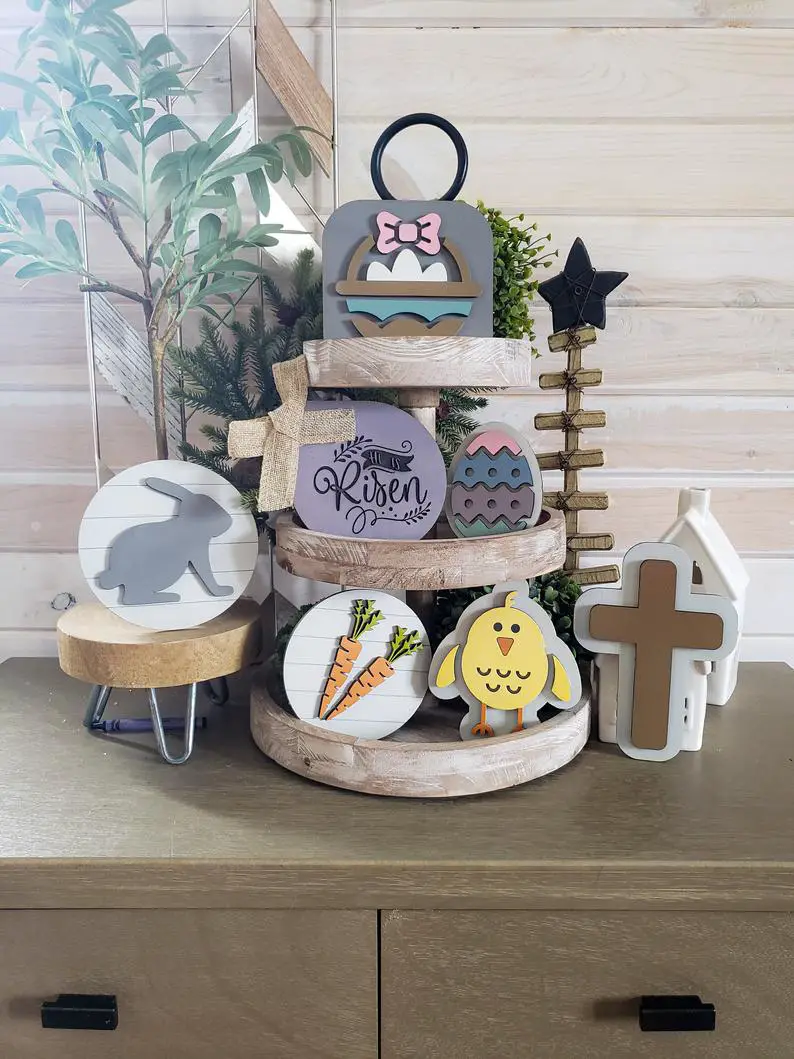 For me, Easter is about Jesus.  It's not always easy to find faith-based Easter decor for tiered trays. But I do like these signs, especially the He is Risen sign.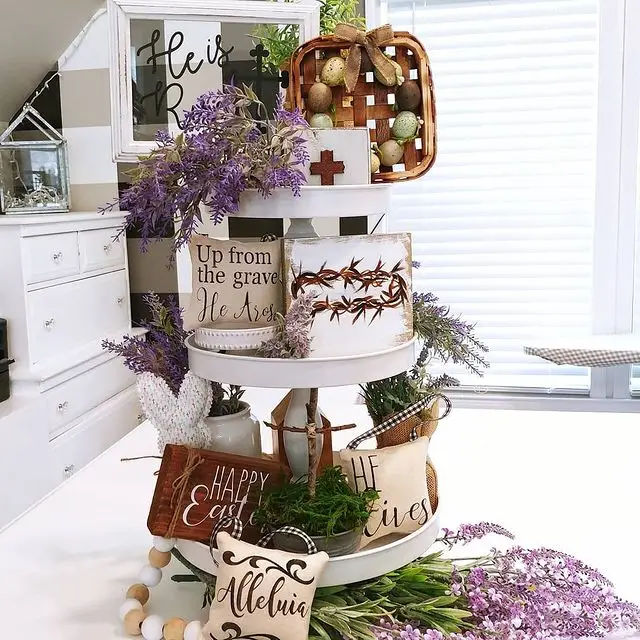 I like how this tier tray is more Christian themed.  It's also done in a neutral, farmhouse theme as well.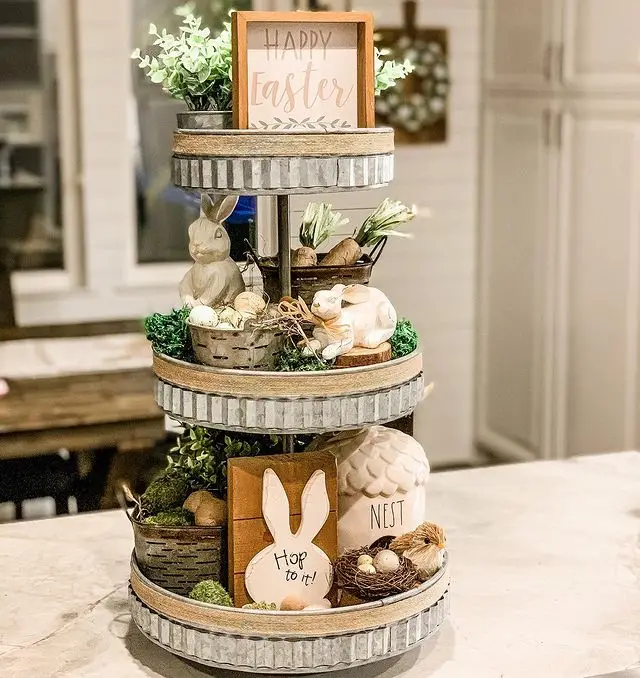 This neutral farmhouse tiered tray styled for Easter is a great option.  If your home is mostly neutral, all of the pastels and colors one tends to gravitate towards for Easter may not work.  In that case, you can still decorate for Easter with neutrals.
I like how this tier tray is neutral with soft muted pops of pinks.  It can easily change from Spring to Easter and back just by replacing the eggs with something else. Aren't the knitted carrots the cutest?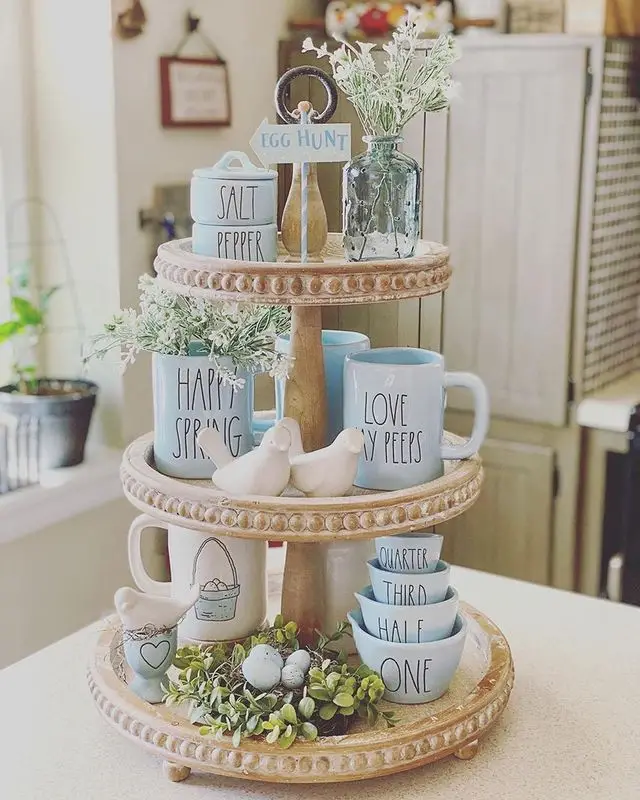 I'm not a Rae Dunn fan myself, but I'll tell you what…I saw the cutest bunny mug and topper the other day and I'm kinda feeling it!  With that said, if you are a fan of Rae Dunn items, why not corral some in a similar colorway and use them to create a tiered tray.
This is the Rae Dunn bunny mug I was just talking about.  I've seen them in different colors and I'll admit they're pretty cute.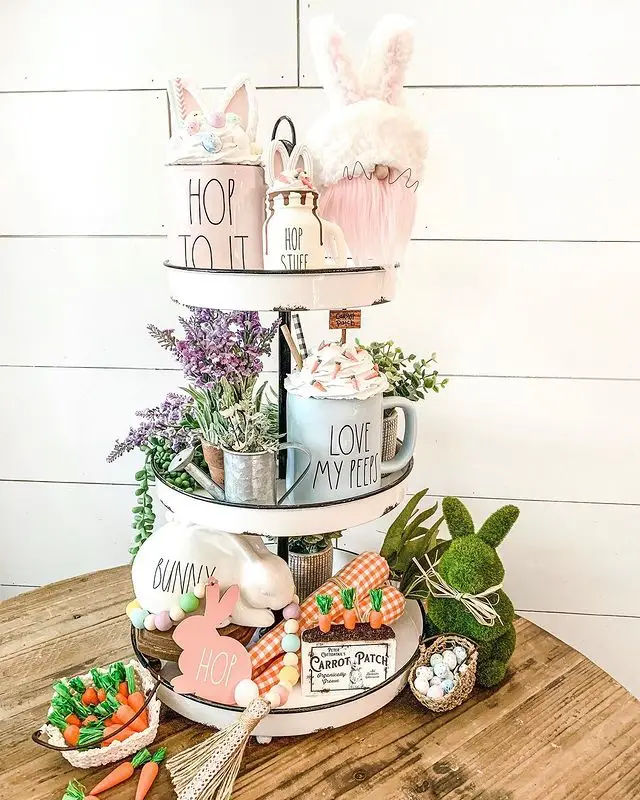 This three tier tray is so cute!  I really love the Easter mug toppers.  Last year I didn't think I'd like the green bunnies, but turns out I was wrong 🙂
Love the greenery cascading off of the tiered tray.  I would have never thought to do that if I hadn't seen someone else do it.  That's why I love to get inspiration when styling my tiered trays each season.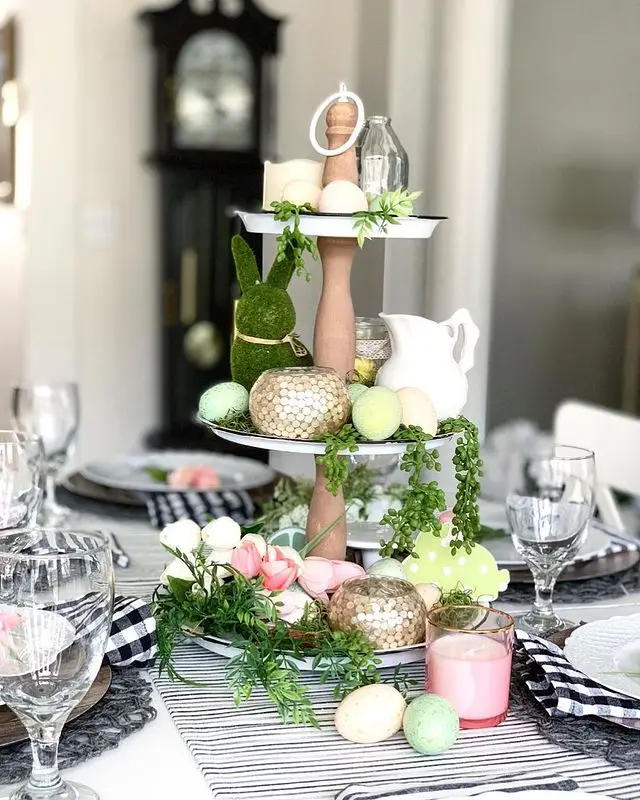 If your dining table is large enough, a tier tray can make a beautiful centerpiece.  Keep in mind, all tier trays aren't large and cumbersome.  So you can certainly create a tablescape around your tier tray!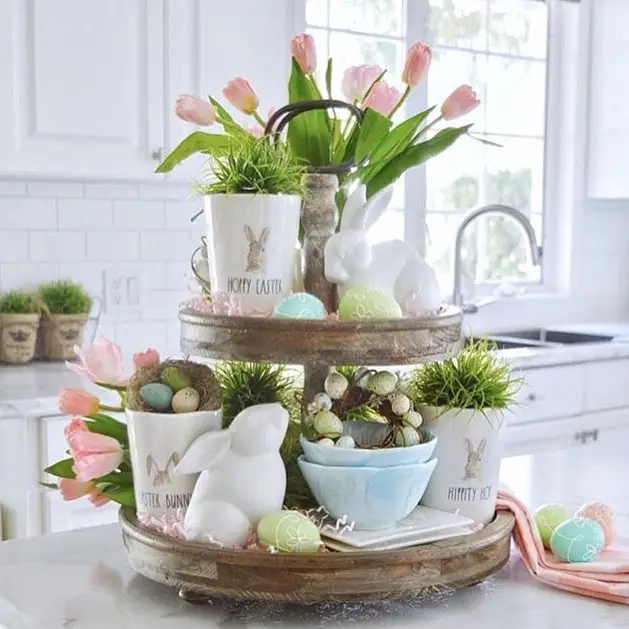 White rabbits, tulips and nests with eggs really make this Easter tier tray special.  You can find more details of how Lori styled her tier tray for Easter here.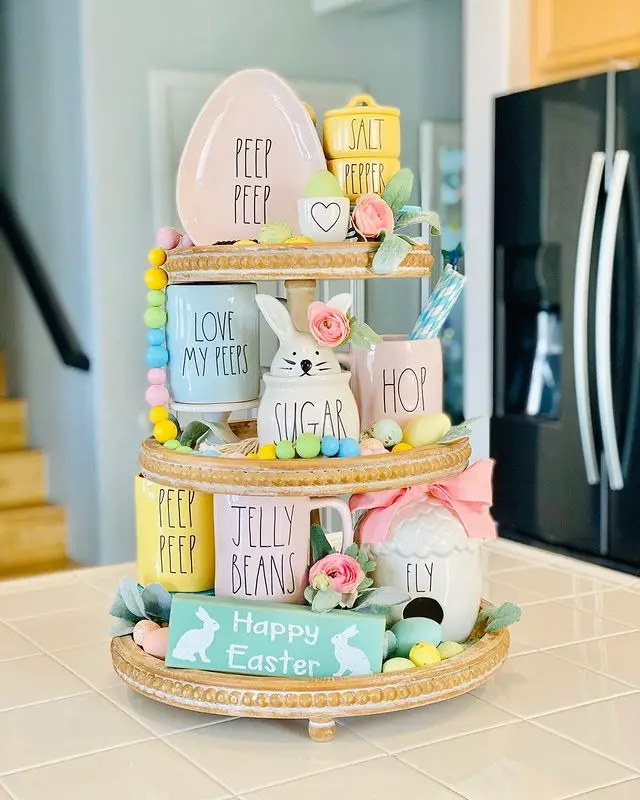 I love how bright and cheerful this three tier tray is for Easter.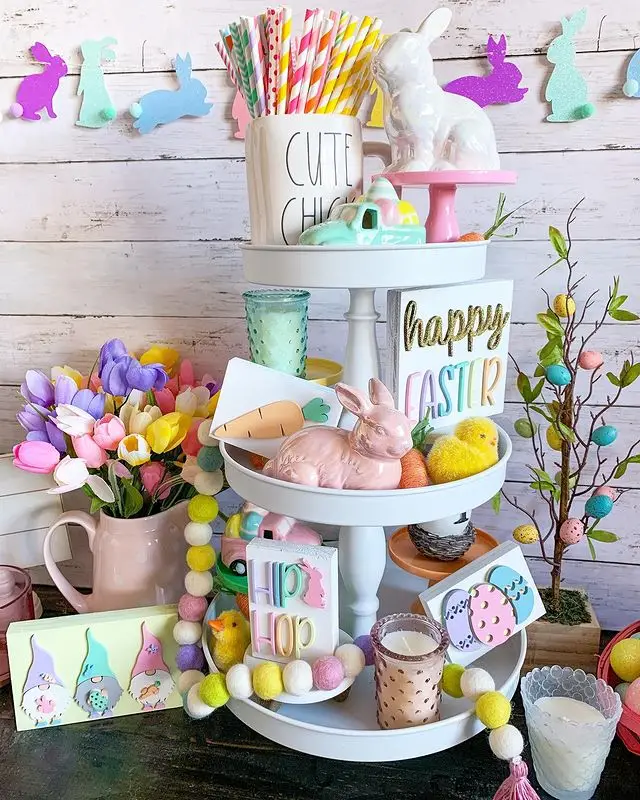 I love all the beautiful colors!  This tier tray is the focal point of this pretty vignette styled for Easter.
Hopefully you got some good ideas and inspiration for decorating your tiered tray for Easter.  I know I certainly did!  You may be thinking it's a bit early to start thinking about Easter.  Normally I'd agree with you.  But I'm already seeing Easter decorations being stocked in stores.  And I'm seeing my Easter decorating posts from last year starting to pick up.
So apparently it's already on people's minds.  Can't be too prepared right?  Have no fear, I'm still decorating my home for Valentine's day.  No holidays have been skipped over here 🙂