Did you know I used to work at Old Navy?  For about a year and a half I worked part time at my local Old Navy store.  I could write a whole post about that, but that's not why I bring this up.  Today I'm sharing a few Old Navy plus size fashion finds.  Or what I'd like to call curvy girl style.  In addition to cute styles and fashion finds, I'm also sharing some tips on what to look for when you can wear both traditional and plus size styles.
I bring up that I worked at Old Navy because I found it very interesting that only a handful of stores offer plus sizes in store.  And I worked at the one store in the entire state of North Carolina that had plus sizes.  Isn't that a shame?
Even more of a shame is that the section of the store for plus size was very small and often overlooked.  Some of that was due to staffing but again, for it to be the only store in the state with a plus size department, you'd think they would have more to offer.
I say all of this to say that people came from far and wide to shop the plus size department.  Many shoppers were surprised that we had plus size offerings in store.  I'm not here to make a stand but since the average size of the American woman is size 16 to 18, one would think there would be more of an offering.
Maybe around six months before I left Old Navy there was a pilot program that was trying to rebrand the plus size department.  The goal of the pilot was to eliminate the plus size department and integrate it into the women's department.  In addition to that, the pilot also reduced the prices of the plus sizes.  Why on earth do women have to pay more money because they're a larger size?
Sadly the pilot didn't work very well and the plus size department is still it's own department and the prices are still higher.  Personally I think they could have tried harder and there's many reasons that I think it failed.  That's not the purpose of this post, but I wanted to give some background information before I share the fun stuff.
I've struggled with my weight for years.  Some years are really good and some are bad.  Since moving to Raleigh I just seem to struggle the most.  Now that I'm working from home I'm really not moving nearly as much as I used to.  So when I worked at Old Navy I did wear some of their plus size offerings.
Old Navy offers sizes 0 (sometimes 00 depending on the line) to 20 in traditional sizing.  They have size 16 to 30 in plus size.
If you are a size 16…a size 16 in traditional sizing and a size 16 in plus size is not one in the same.  For me, I would prefer to get a size 16 plus in bottoms because they fit differently.  But I didn't need to get the plus size in tops…most of the time.
*this post includes affiliate links for your shopping convenience, you can read more about affiliate links by reading my Disclosure*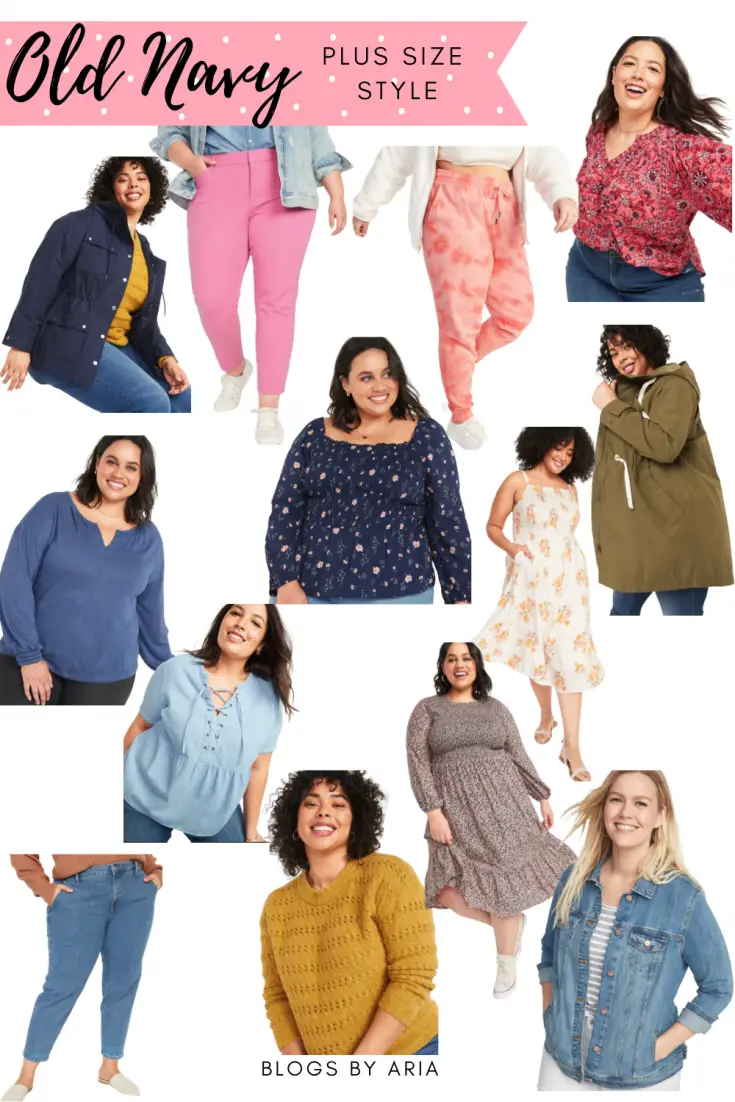 utility jacket · pixie pants · tie dye joggers · split neck poet blouse · lace up peplum hem top · split neck crochet trim top · ruffled square neck blouse · smocked fit and flare cami dress · trench coat · extra high waisted straight jeans · cable knit pointelle sweater · smocked midi dress · jean jacket
My favorite dress pants for work are the Old Navy pixie pants.  There is a huge difference between the size 16 in plus versus traditional.  There's a difference in the pocket placement and the stretch in the waistline and hips.
In button down tops…because I'm busty, I would go with the plus size version.  They offer the interior "no peek" buttons to keep the shirt from gaping at your chest.  Many brands do this anyway, but for Old Navy it's only the plus size.  Which makes no sense because you can be busty and a size 4.
When it comes to jackets and coats, I prefer the plus size version.  They're a bit roomier.  My only complaint about jackets with Old Navy is arm length.  That's another story but for many long sleeve options with them the sleeves are too short for me.
I do own this utility jacket.  They come out with it in the Spring and Fall I believe.  I got mine on one of their one day only deals.
Style Tip:  Usually the today only deals will be the same price for both traditional and plus sizes.  That's a great time to save even more!
I'm writing this post because I originally shared this collage on my LIKEtoKNOWit and then got inspired to share my thoughts on the plus size line.  Since I worked in the store and have worn some of the clothes I felt that I give some good insight.
With that in mind, here's a quick rundown of what I recommend you buy in plus size instead of traditional size if you fall in between sizes 16-20.  (Since they're available in both options)
WHAT TO BUY IN PLUS SIZE
shorts (you can get the same inseam length but the fit is a bit more comfortable)
pixie pants
button down shirts
jackets (including denim and coats)
some jeans (trial and error)
Style Tip:  I know that we all hate to try on jeans.  But when it comes to Old Navy I used to always tell my customers that they have to try them on.
That's because different colors and styles fit differently.  You can pick one style (super skinny high rise for example) in several different washes and each one will fit different.  That's just the way it is.  I can't speak to other brands but in my history with Old Navy that is the case.
If you're shopping online, just order more than what you need so you can try things on.  You can always return what doesn't work to your local Old Navy store or send them back.
I hope you found this post helpful!  If you want more tips that I learned in my time working at Old Navy please let me know!  Leave me a comment, shoot me an email or send me a DM.  I would love to provide more insight to help make your shopping experience better.