I'm back sharing more fun Nordstrom Anniversary Sale 2021 finds with you today!  Today let's talk all things cozy, comfy and a side of athletic.  In case you missed it, yesterday I shared all of my shoe picks from the #NSale.  The Nordstrom Anniversary Sale is the perfect time to stock up on fall and winter essentials.  I'm sharing my favorite finds from the sale that are all things cozy.  It's also the perfect time to grab a few workout leggings and sports bras too.
*this post includes affiliate links for your shopping convenience, you can read more about affiliate links by reading my Disclosure*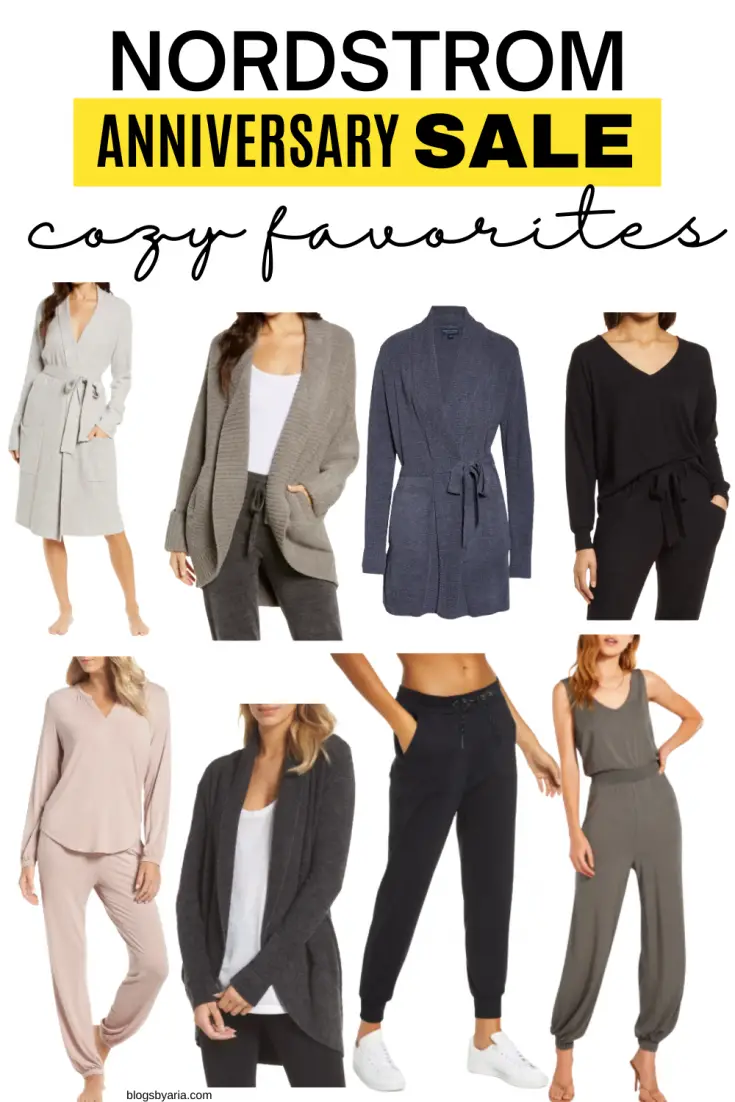 ribbed robe | cocoon cardigan | drape rib cardigan | v-neck fleece top | two-piece lounge set | lite circle cardigan | live in jogger pants | smock waist jogger jumpsuit
If there is anything I've learned over the years of watching from the sidelines of the Nordstrom Anniversary Sale is to get your hands on a Barefoot Dreams cardigan.  I have had the pleasure of trying one on and let me just say, I totally get what all the hype is about!
So if there is anything that you pick up from the cozy and comfy category I'd say get yourself a Barefoot Dreams cardigan!  They usually will not be on sale for less than what they are during the Anniversary Sale.  And they make great gifts for the holidays!
COZY FAVORITES ON SALE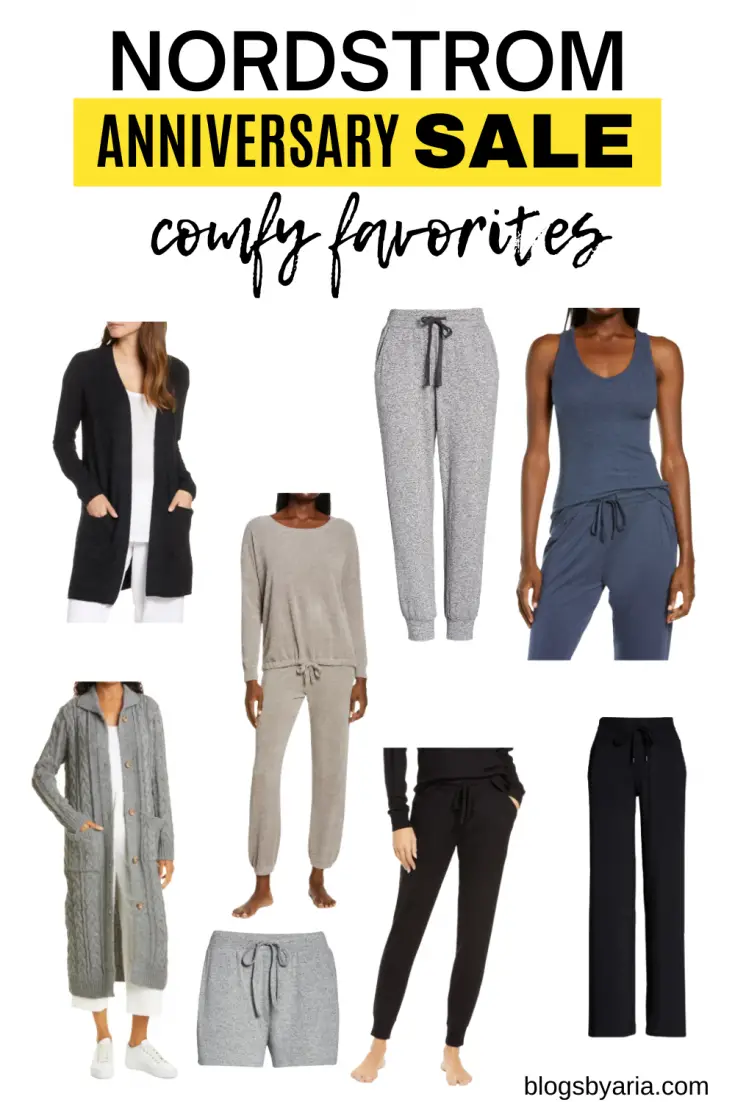 lite long cardigan | Restore soft pocket joggers | lounge tank | long wool cardigan | luxe long sleeve pajamas | comfy joggers | wide leg sweatpants | cozy shorts 
Honestly prior to 2020 I never really put much into my comfy at home clothes.  It was mostly old sweatpants and tees.  But once we were all at home and working from home I started to buy more athleisure wear to be comfortable.  There's no need to wear jeans and dress pants at home ya know?
Now I do actually buy new comfy and cozy clothes instead of wearing my husbands old shirts and sweats I've had since college.  I love a good comfy jogger and a cardigan to wear at home all year long.  Doesn't matter the season.
There's something about treating yourself to slipping into clothes that feel good on your skin.  Pieces that you can wrap up in and watch a movie or read a book or just lounge around.  So I highly recommend grabbing something cozy from the sale for you as a form of self care.
COMFY LOUNGEWEAR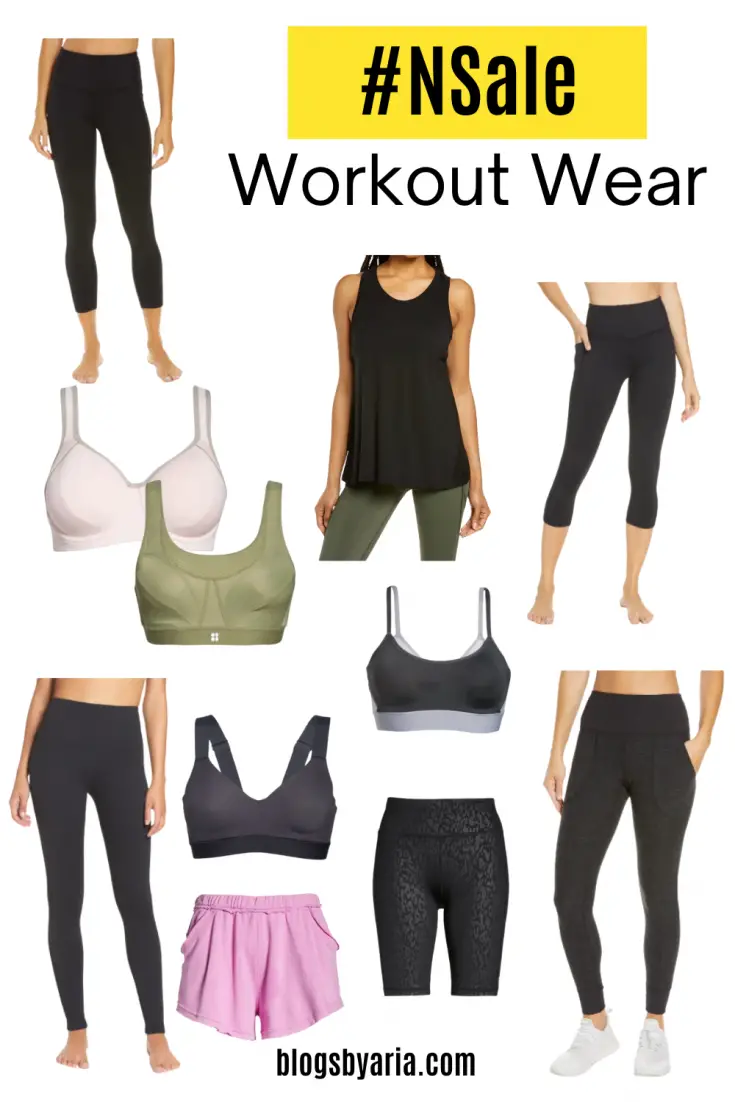 If you need to refresh you workout gear the Nordstrom Anniversary Sale is the perfect opportunity.  I don't know why sports bras are so expensive, especially the good ones that provide real support.  There are so many good high impact sports bras on sale right now.
The Zella high waist leggings are a popular fan favorite.  They come in different lengths to fit your preference and it's a good chance to stock up.
ANNIVERSARY SALE ATHLETIC WEAR

What are you favorite finds from the #NSale so far?  You can create your wishlist with your favorites so when you get access to shop you're ready to go!  If you're unsure when you can shop, check out my latest post where I shared the timeline.
NORDSTROM ANNIVERSARY SALE 2021 POSTS: