One of my favorite things to do is decorate my tiered tray.  Today I'm going to show you how I decorated my tiered tray for the 4th of July.  This being my first time decorating my tiered tray during the summer, I'm really loving how it turned out.  If you're looking for some inspiration, keep reading for my patriotic tiered tray decor.
Decorating a tiered tray for each season and holiday is an inexpensive way to be festive.  If you can't or don't want to decorate your whole home or whole room, you can really liven things up with a tiered tray.
*this post includes affiliate links for your shopping convenience, you can read more about affiliate links by reading my Disclosure*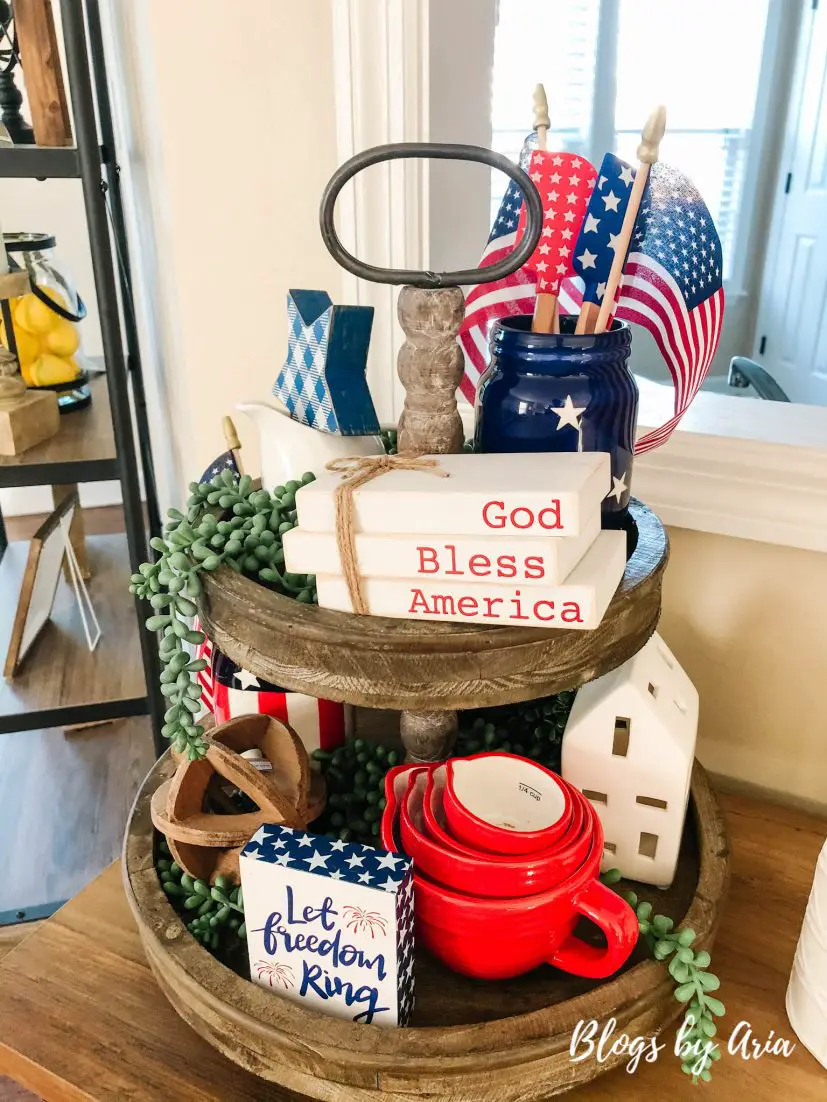 Almost everything from my tiered tray came from Hobby Lobby.  The measuring cups are from Michael's and I'm sad to report that as I went to open them up, one of them is completely broken.  It was the last one in the store so I didn't feel it was worth trying to return.  I just probably will throw it away after I take down my patriotic tiered tray decor.
I always get asked about this specific tiered tray, it's this rustic tiered tray from Amazon.
The one item that I did get special for my patriotic tiered tray is the God Bless America stacked books.  I got them from The Sassy Oak on Etsy.
I've realized there's a whole lot of awesome tiered tray decor items available on Etsy.  Some are a bit pricier than what I'd pay at Hobby Lobby but that's okay.  They're super unique and I'm supporting small business when I buy through Etsy.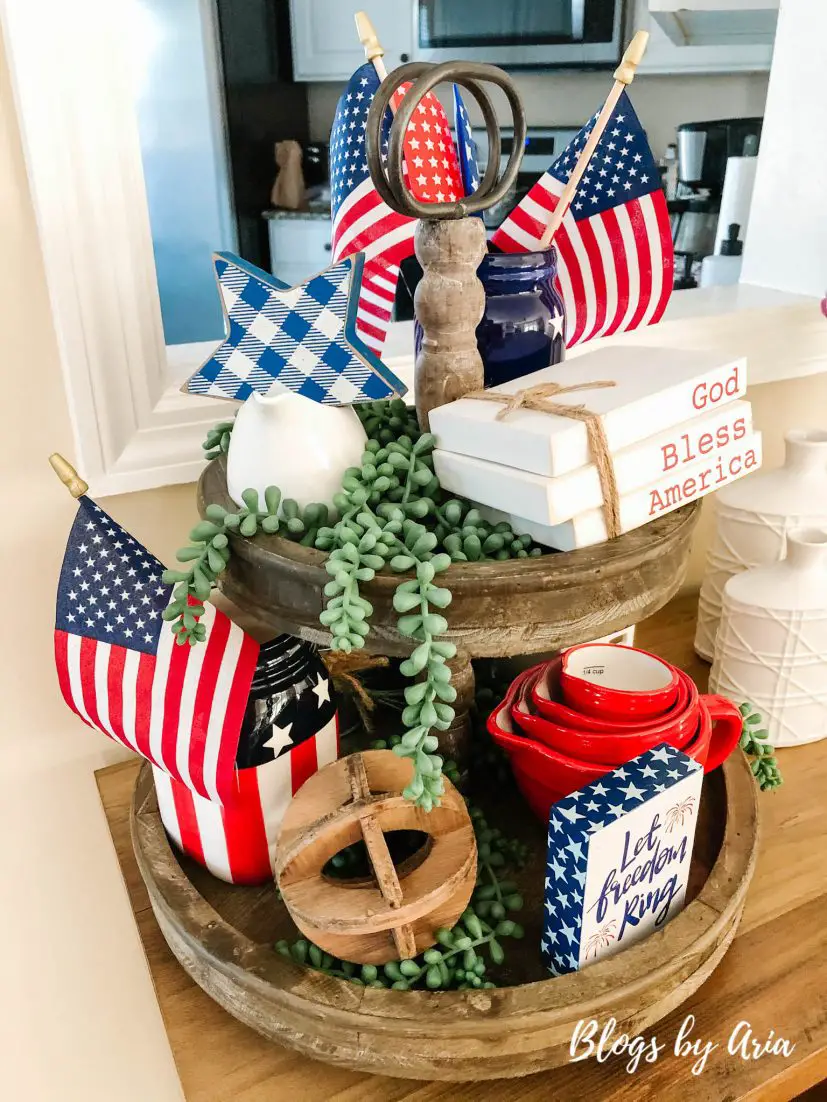 Let's face it, I love shopping at Hobby Lobby, especially for seasonal decor.  (They're already putting out Fall decor and I'm loving what I'm seeing so far)  But as for some of the things Hobby Lobby does…I'm not a fan.  Even with their many flaws, I still shop there.  Because the prices can't be beat.
Just like I still eat Chick-fil-A.  Although I did manage to boycott them successfully for two years.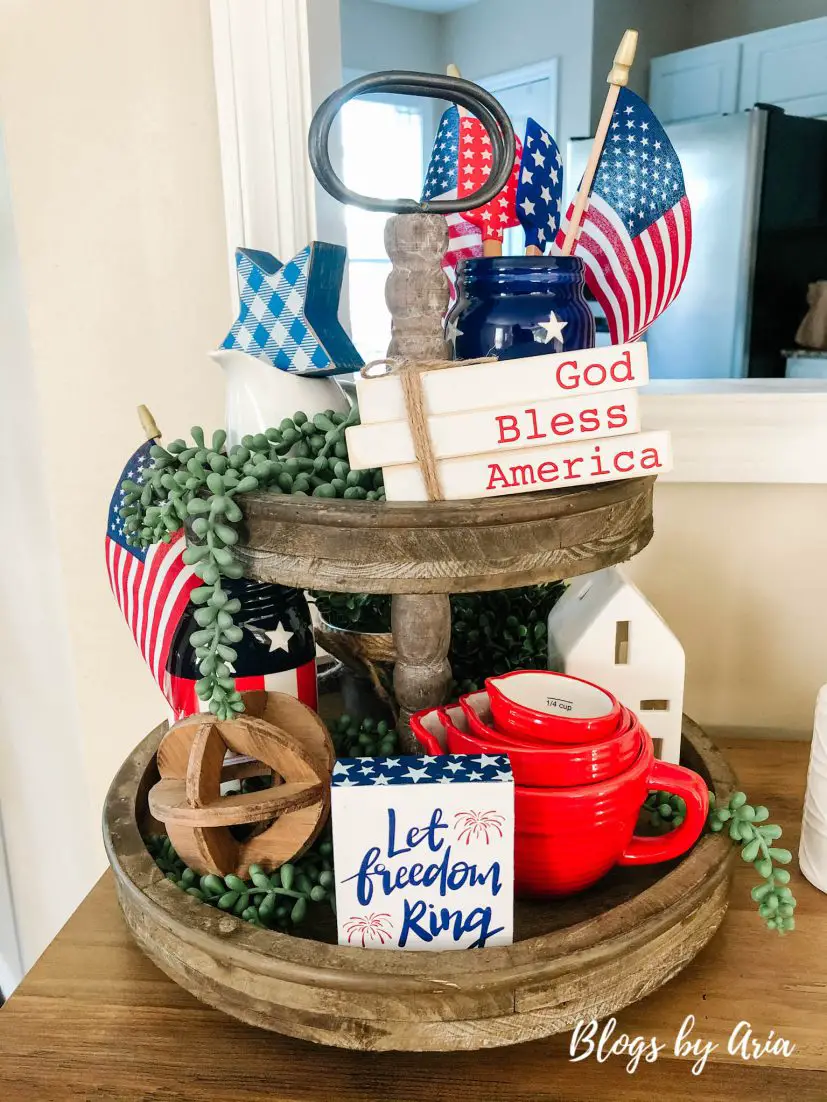 Moving on…I really am loving how my tiered tray worked out with the Independence Day theme.  Adding small flags also is an easy way to add patriotic decor.
LET'S TALK ABOUT IT
But let's talk about the elephant in the room.  I know there's a lot of controversy over celebrating Independence Day.  I fully get it.  It's hard to celebrate a day that's supposed to be about our nation's freedom when we clearly don't feel like we are all free.
Not just feel like we're free, but that we actually are all free.
I'm very disappointed, disgusted, angered and saddened by my country quite often.  Especially now.  But this is my home.  And I love my country.  Even when I'm not so proud to be an American.
I come from a military family and will always feel deeply about my love for the USA.  I even hope to be able to serve it one day as a Senator in my second half of life.  Who knows.  That's always been a dream of mine.
What I'm trying to say is I totally understand if you're not so keen to celebrate the holiday.
And I am not here to argue for or against it.  Decorating makes me happy.  It sparks joy.  Right now I say do whatever sparks joy for you.  I say that anyway but now even more so.  Lord knows we can all use some joy right about now.
This is my first time getting to decorate for the Fourth of July and it won't be my last.  Doing it for the first time in our new home makes it even better!
I didn't go overboard with the patriotic decor.  But I did add a little here and there and I'll be sharing my Patriotic Home Tour soon to give you a little inspiration if you're decorating too.  It's been pretty slim pickings in the stores so I think just a touch here and there works out fine for me.
With that being said, I'm going to enjoy looking at my patriotic tiered tray and the rest of my red, white and blue decor for the next few weeks.  We'll see what will come after that.  I'm leaning towards my everyday decor, but ya never know! 🙂