Some people hate to go window shopping. I'm one of those people. I don't want to go to the mall unless I have money to spend. To go just to look is depressing. Yet online window shopping I find to be fun. Same as with a catalog, it doesn't depress me. If it's something expensive, then I just daydream about it. If it's not so expensive, then I'm putting it on a wishlist on the website because I just may get it one day. So today, since I'm using fashion as my motivation,(see previous blog) I decided to do some online window shopping on www.forever21.com. Here are some of the items I added to my wishlist:
Knit Rosette Top $10.50
No, your eye's aren't deceiving you, it's the same shirt, 3 different colors! lol yeah yeah i know, but hey, when you find a shirt that you like, and it comes if several pretty colors, why not pick a few? So my plan is to order this pretty soon actually, since it's such a low price, just $10.50 each! I probably won't get all three, but I'm going to order at least 2…just gotta decide which colors… I love this top tho, because it can be paired with just about anything, capris, shorts, skirts, jeans, you can dress it up or dress it down = LOVE IT!!
Flounce Sleeve Tunic $22.80
I'm a sucker for a tunic. I just love that it conceals the belly and is cute to boot. So this one would look fab with skinny jeans.
Sublimation Floral Top $14.80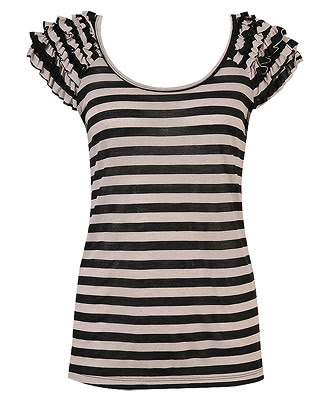 The sad thing about this top is that it's not available in a size large. And according to their size charts, a medium is a size 8/10. Not that that's a far stretch, but I really think this shirt is cute, so I may buy it for future use. Just look how cute it is!
Rose Frame Knit Top $17.80
What draws me to this shirt is the sleeve details. I like that little something extra that makes it stand out from the crowd.
****This is my 100th blog post on blogger!!!