Sooo I ordered my first wig this week!!! I should have it in a couple of days. I wanted to go ahead and prepare my blog post (I'm a tad bored) So here's the info: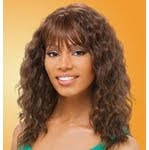 It's a full cap wig by Sensationnel. Style #HZ-A041 And I got it in 1B. Now I know you may be thinking…that ain't all that cute. HaHA but it looks much better before you comb it out. I ordered this wig from ioffer.com. The seller is someone I subscribe to on youtube and she did a video on it. I thought it was very cute and decided since the price was right, that I would go ahead and make it my first wig purchase.
Here's the link to her video: http://www.youtube.com/watch?v=7ynPDbYKSLo
Here's the link to her store: http://www.ioffer.com/selling/magicnunu
And now here's what I look like in the wig and my review:
So being that it's my very first wig, my review won't be based on much. I wore it out last night and will be wearing it out again tonight. It was very comfortable. It has a soft mesh cap. It has a comb in the front and one in the back and it also has tabs in the back that you can use to make it feel more secure on your head. I tightened it last night but I will tighten even more tonight. I got lots of compliments about it last night and even when I showed some of the girls at my new job, they didn't know it was a wig. And I'm not ashamed of my game, I'll tell you it's a wig! I got a few hater looks last night also! LOL It took some getting used to having hair out on my face, but I really like this wig. My bbff said I looked like a black Barbie last night! My only negative about the wig is that I personally feel it's too dark a color for me. It's a 1B and my hair is a 2. Not a huge difference but noticable to me. I like 1B if I'm doing colors, like a 1B/27 or 1B/33. She also had it in a 4, but I've never worn that color and figured I could work with a 1B. I'll be adding to my collection soon so stay tuned!!!