I have gone back and forth in my mind about what to do!!! I have come to the conclusion that it is time for a change. A few years ago I thought I had found the foundation system that would work for me for the rest of my life. Unfortunately, turns out that's not the case…
A brief history: I started wearing makeup in my teens. I wasn't technically allowed until I was 16 but I started with Cover Girl. I used the regular clean makeup w the powder, I used the Simply something that was a powder w liquid coverage, I used the one that was advertised by Tyra Banks, it was a liquid & powder in one that went on like a liquid…all of the major mainstays that Cover Girl offered in those days, I used. I had good skin, didn't need to use foundation…but in highschool you wanna wear it all. For the most part that's what I stuck with. By college graduation I decided that I wanted to venture out and step my game up…I had received a Belk gift card as one of my graduation gifts so I decided to try Clinique. Why Clinique? Honestly bc I had seen a lot of girls with the compacts and that's when Legally Blonde was out and Elle Woods had the compact…I figured it would work for me. I figured wrong…it made me look ashy and just wasn't a compliment to my skin. I was pregnant when I graduated from college so my skin goes thru changes…I tried even after having my daughter to use that foundation, but it was a no go. Fast forward about a year…I see all these infomercials for Bare Minerals and I watch it on QVC. Everyone raves about it. So I order it online, the infomercial set..it comes with 2 foundations, mineral veil, warmth and 3 brushes. I was in love!!! At the time I remember one of my biggest issues was evening out my skintone. I felt I was too dark around my eyes and I really wanted my skin to be seamless and even. Bare Minerals did that for me! I got so many compliments when I first started using it. It did improve my skin overall as well. All the claims are true! It's safe to say that I've been using Bare Minerals for 3.5- 4 years now.
It wasn't until after I had Jordan that I've started to have some issues. Just as with Brianna, after having Jordan I got really bad acne. Unfortunately Proactiv wasn't working to remove it like it did after having Brianna. My Bare Minerals also wasn't doing the job of having full coverage and staying power. So during that time I started using Maybelline Dream Matte Mousse foundation. Wasn't really a fan of that either. I use it from time to time when I need more coverage. When I first started using Bare Minerals I used the flawless application brush (provides medium coverage) now I used the handy buki brush (full coverage) and I'm still not satisfied with the coverage and it's lasting. Due to the winter weather my skin is extremely dry (I am getting my Philosophy Hope in a Jar when I get my tax refund) and no matter how much I moisturize before putting on my Bare Minerals, I still have to put more moisturizer on after I put on my makeup, because I have dry patches that make me look ashy.
So now I'm at the point where I'm thinking it's time for a change. I'm almost at the refill point for my Bare Minerals. The stuff is not cheap. So I'm trying to decide if I should cross over to MAC. A lot of people swear by MAC the way I swore by Bare Minerals. I would always recommend Bare Minerals to my friends. But I'm thinking I'm just going to start over…and switch to MAC. I used MAC for my wedding makeup and it was wonderful. I told the makeup artist that I used Bare Minerals so she used some of the mineralize products on me. I didn't feel like I was wearing a lot of makeup and my skin was flawless!!!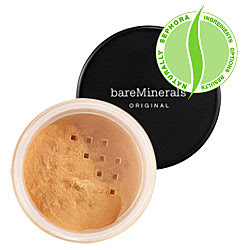 So this is my Bare Minerals. I use Warm Tan as my primary color, when I first started using it, I would mix Warm Tan with Warm Deep but now I just use the one color. I use Honey Bisque as my concealer. And sometimes I use Mineral Veil and Warmth. If I were to re-up my supply of foundation it's $25.00 @ QVC and the Honey Bisque is $18.00 @ QVC. I'm down to about a 2 week supply right now.
Studio Fix Fluid SPF 15
A modern foundation that combines a natural matte finish and medium-buildable coverage with broad spectrum UVA/UVB SPF 15. Comfortable and long-wearing: lasts for up to eight hours. Applies smoothly, builds coverage quickly and easily. Contains specially treated micronized pigments and soft-focus powders for a super-smooth look that helps minimize the appearance of imperfections. Absorbs and disperses oil. Contains special skin-conditioning ingredients. Oil free.
Bestselling Shades All Shades30 ml / 1.0 fl oz US $26.00
I'm not sure if this was the foundation used on me before. I like that it has medium- buildable coverage and lasts for up to eight hours.
Mineralize Satinfinish SPF 15 Foundation
A fluid foundation that blends the natural light-reflecting properties of micro-minerals with a smooth satin finish. Provides a low-to-medium buildable coverage with a slightly luminous look. Contains antioxidants vitamins C and E. Provides everyday SPF 15 sun protection. Long-wearing. Suitable for normal-dry skins.
Bestselling Shades All Shades30 ml / 1 fl oz US $29.50
The luminous aspect of this product is what catches my eye. And I'm hoping that as my skin improves that I will only need low to medium coverage. When I go to the MAC counter I'll let them tell me what they think is best for me. But I will probably end up with both in my collection.
Mineralize Skinfinish Natural
A luxurious domed face powder with minerals, slowly baked to provide a dimensional yet natural-matte finish. Provides perfect low coverage. Use to set and fix foundation or as a touch-up throughout the day.
Bestselling Shades All Shades10g / 0.35 oz US $26.00


A creamy concealer that provides full coverage with a natural matte finish. Brushes on with enough blend time to conceal any size of blemish. Rich formulation allows you to use a micro-amount of product to even out skin. Water-resistant and long-wearing.
Bestselling Shades All Shades5.5 g /0.19 US OZ US $16.50
Select Cover-Up
Liquid camouflage for the skin. Texture-free, virtually invisible. Comes in a tube. Blends in. Brightens and lightens dark areas, erases spots, evens-out skin tones. Makes skin flaw-free. Use pre-foundation, or on its own. Don't reveal it, conceal it!
Bestselling Shades All Shades10 ml/0.33 oz US $16.50
I think it's good to have different types of concealers based on what it is you want the product to do. So I will probably end up getting both of these concealers. I'll see which one the MAC lady says I should go with first.
I look forward to starting my collection in the upcoming weeks. Mourning the loss of my Bare Minerals but I gotta do what's best for my skin so that it looks flawless everyday.