Today I'm sharing my Sigma E25 Brush Review & Giveaway! I'm excited to share why this is one of my favorite eye shadow brushes and host a giveaway!
The time has finally come so that we can get the next giveaway started!!! This has been a long time coming and unfortunately I had my health issues and I just couldn't get organized for this giveaway.  Now I am 

making 

the time!!! I really want to do this to thank my readers.  But first let me share with you what you will be getting!  The more followers I get the larger my giveaways will be!! (hint, hint)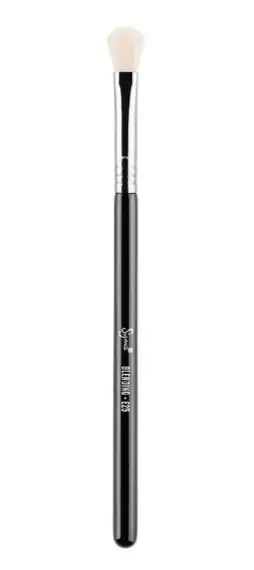 The brush I am reviewing and will also be giving away is the travel size Blending E25 brush from Sigma!!!  This is my go to blending brush lately.  I believe the original numbering was SS217 which is comparable to the same MAC numbers.  Now let's talk blending brushes.  Everybody won't necessarily need the same size and shape of blending brush because it depends on the size and shape of your eye.  Some people have small lids, have large space between their brow and their crease, all kinds of variables.  So whereas I love my SS224 blending brush for blending my shadows, I love the E25 brush in a different way.
I usually prefer to use the  SS239  or SS252 for applying my shadows.  I like to pack on my shadow instead of sweep it on.  But when I just want a little color or a simple look I will apply my shadow with the E25.  It is perfect for me to use for blending in my crease because of the taper.  I don't usually apply shadow all the way up to my brow.  I feel like I have too much lid space personally so I usually stop my color at the crease.  That's when this brush comes in to play.  Because of it being tapered it really gets into my crease whereas the regular blending brush the coverage is too wide.  I actually use my regular blending brush more for concealer now that I'm in love with my E25.  If all I'm doing is blending color with a clean brush that's what my    is for.  But if I'm applying color I use my E25.
Sigma Beauty was kind enough to offer me this free Sigma E25 brush to review and giveaway.  I'm gonna do you one better.  There will be two winners!!!  One will come from Sigma themselves and the other will come from me.  I thought about keeping the brush but since I already have one from my original Professional Brush Kit, I decided let me share it. This is especially great if you're a beginner in makeup.  Or you just need to add something to your collection.  Or maybe you've heard about Sigma so much but you haven't tried them out yet.  So here's your chance!!!  And I like to make it simple for you! Here's how to enter:  Leave a comment on this post telling me your favorite makeup brand.  It can be drugstore or high-end, doesn't matter.  And include your email address. You

must

 be a follower on my blog.  If you're not already please look to your left and follow me.
So it should look like this:  My favorite makeup brand is _____ my email is aria  (at) yahoo (dot) com.
You don't have to type the email address with @ symbol so to protect yourself from spam.  But I do need your email address to contact you and with my last giveaway I noticed that a lot of people don't have their email address on their blogger profile, so this makes it nice and easy.
There are two other ways to have 

additional

 entries.  (that means you still gotta do what's listed above, these will just be extra entries)  You can go to my facebook page www.facebook.com/BlogsByAria  and you will see the post for this particular post, you can leave a comment there.  The comment should say " I want the E25 brush".  You must 

Like

 the page for the comment to count.  So that's one additional entry.  The other way is to follow me on twitter.  www.twitter.com/Aria82  and when you do follow me, I want you to send me an @ mention that says "I want the E25 brush".  That's an extra entry.
This giveaway is open from Thursday 5/26/11 thru Friday 06/03/11.  Closing time is 10pm est.  That's giving you all a little more than a week to get in all the entries.  I want to make sure I can get my mailing out before I have surgery on 06/10/11.  Good luck and thanks for entering!!!