Do you decorate your kids bedroom for Christmas? We do on a small scale.  I thought it would be fun to show you how we've added some fun and festive touches to their bedrooms and to their bathroom.  Kids Christmas decor is so fun and really easy to add, let me show you how I did it.
If you're not caught up, I shared our tartan plaid Christmas tree and our Christmas Living room so far.
MERRY AND BRIGHT CHRISTMAS DECOR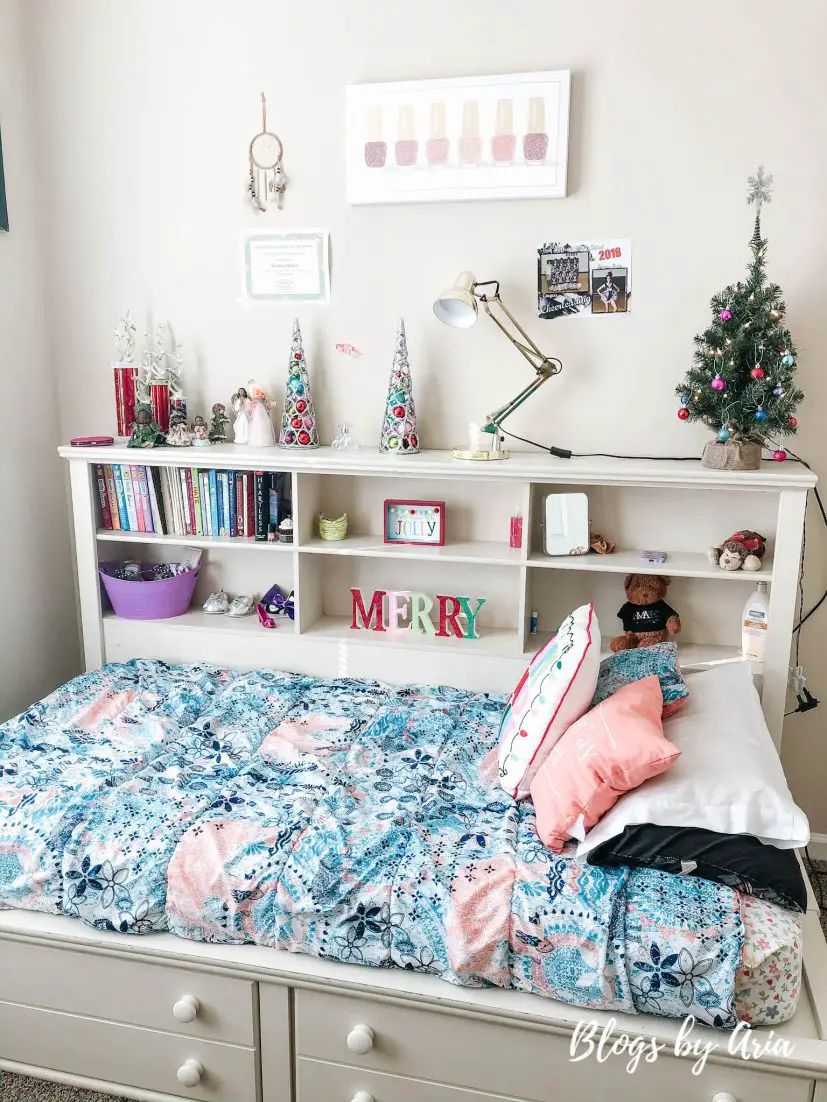 Almost everything we got new this year came from Big Lots.  They had a lot of cute collections for Christmas decor.  When I saw their merry and bright collection I knew it would be perfect for my daughters bedroom.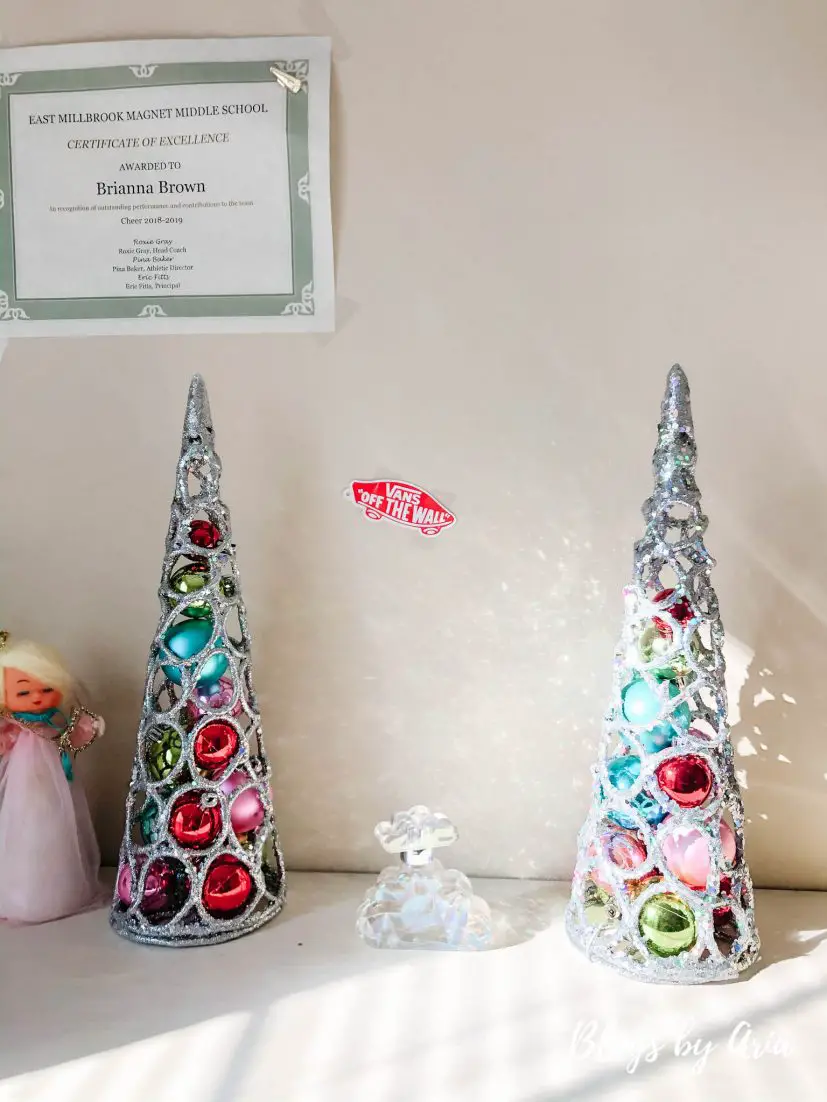 Starting with these ornament trees.  I saw them on a YouTuber's decorate with me video and knew I wanted to get them for my daughter's room.  They come in three sizes but I snagged the only ones left in the two stores closest to me.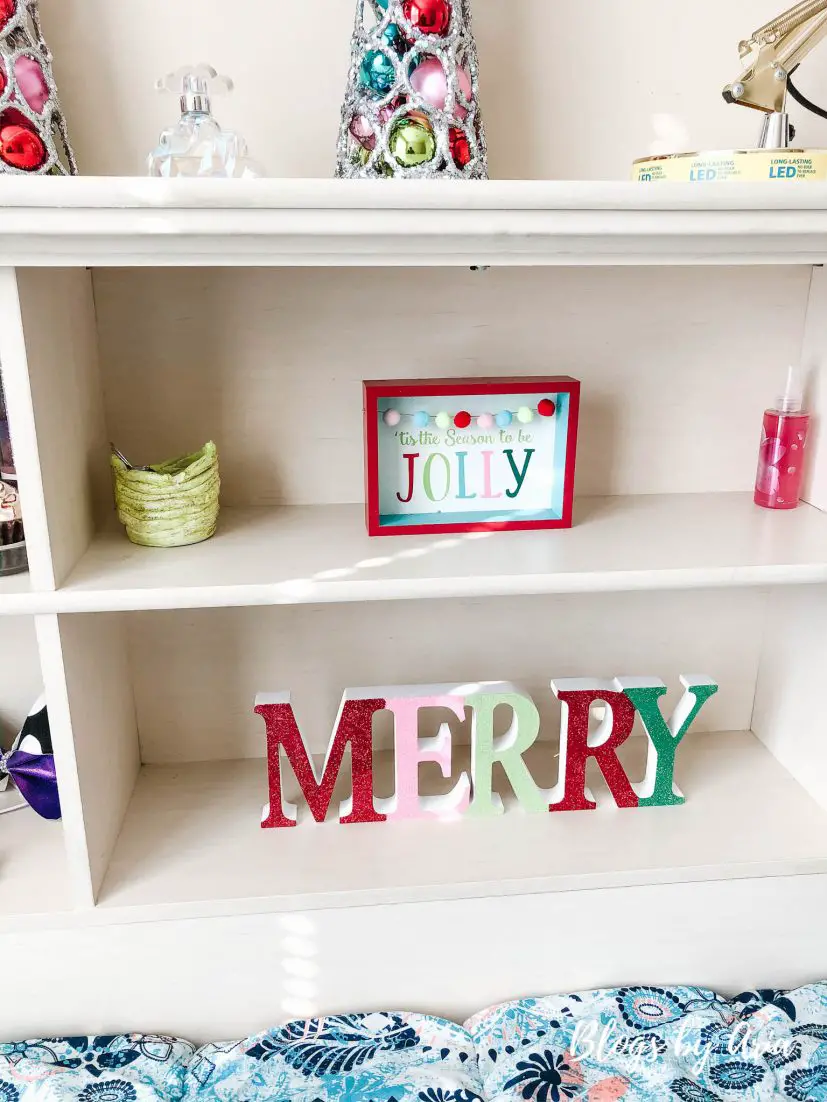 These two signs I knew would work perfectly for her built in shelves.  There were so many cute signs to choose from but I didn't want to go overboard.  I have to keep reminding myself that I don't have to buy all the things this year.  I've seen the merry and bright theme in Hobby Lobby and Target too so I'm pretty sure more will come next year too.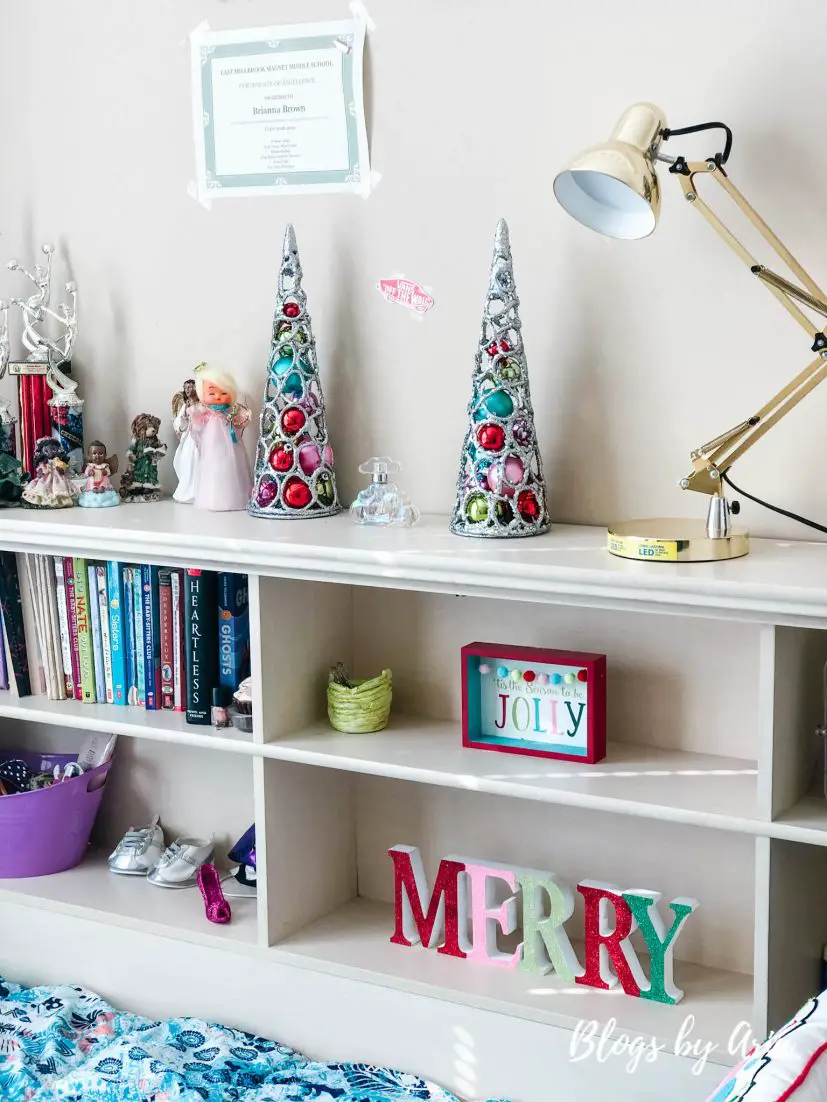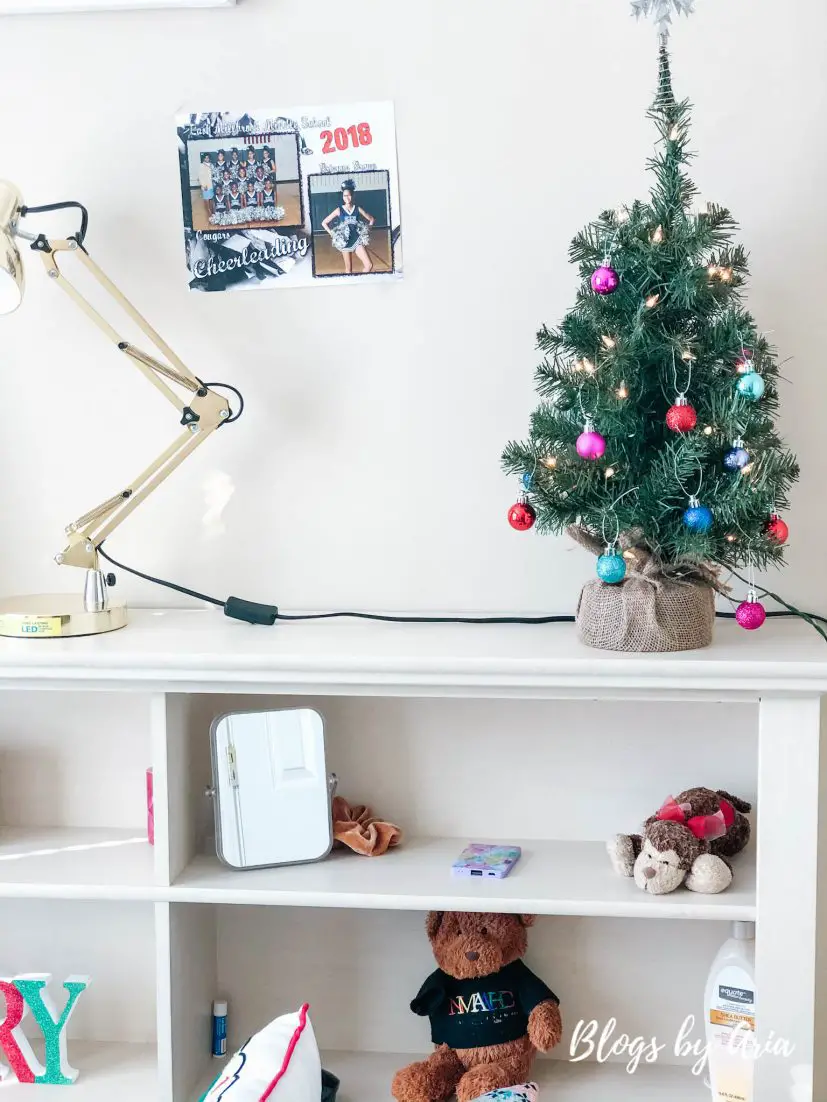 Last year Brianna didn't have a pre-lit tree for her room.  So this year I made sure to grab one up early in the season from Walmart.  To tell the truth I wanted to get a slim tree, maybe 4 feet or 6 feet tall.  They were really inexpensive at Walmart but again, I had to remind myself that I don't have to buy all the things.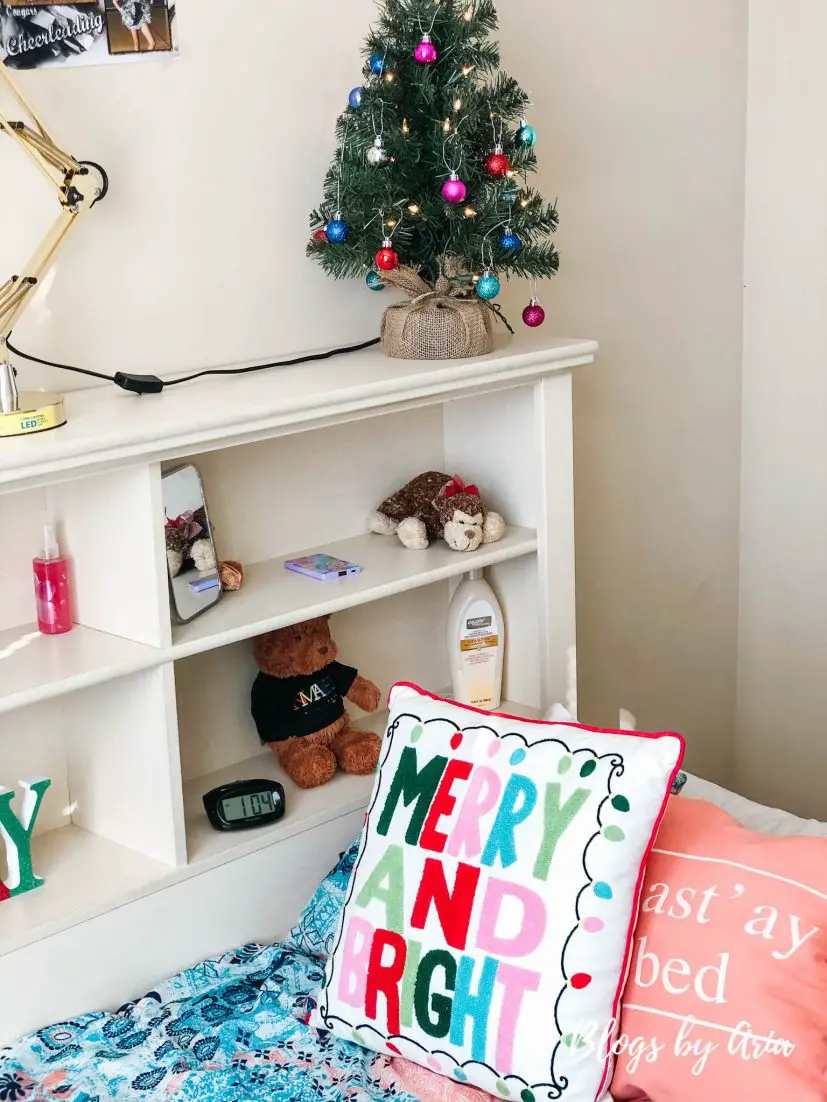 The whole idea of decorating in the merry and bright theme for her room started with this pillow.  Isn't it so fun!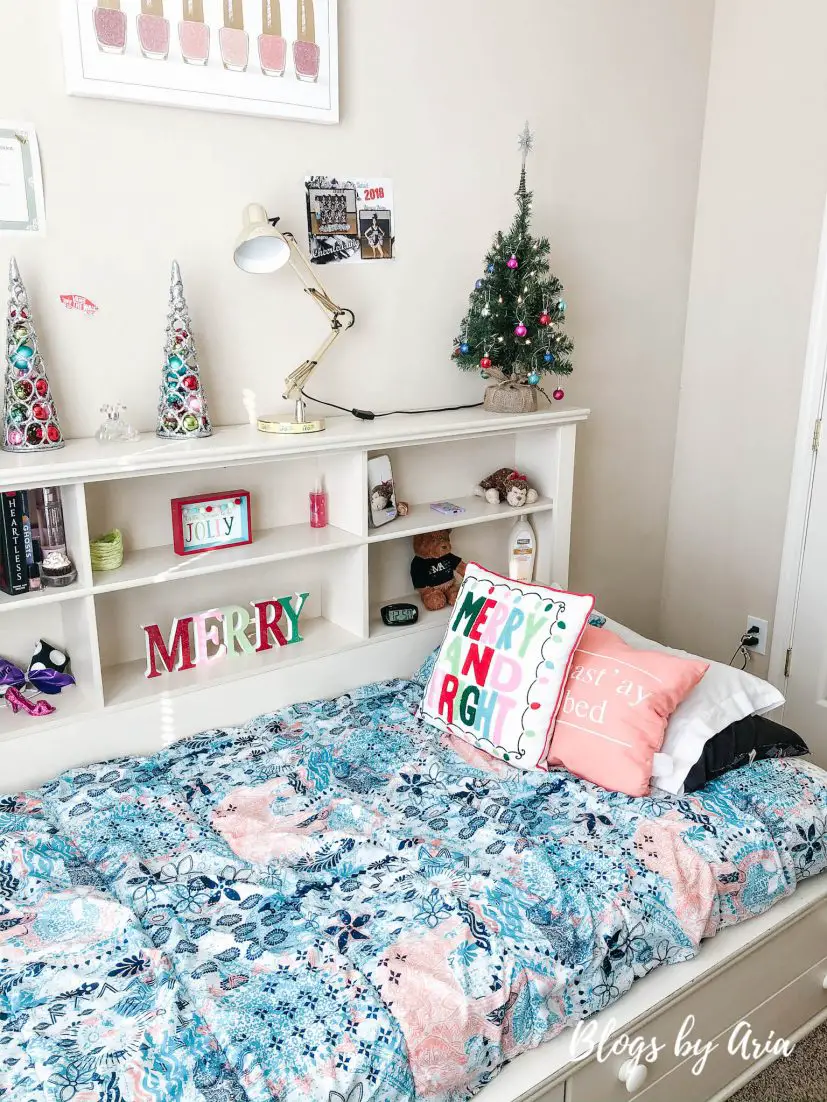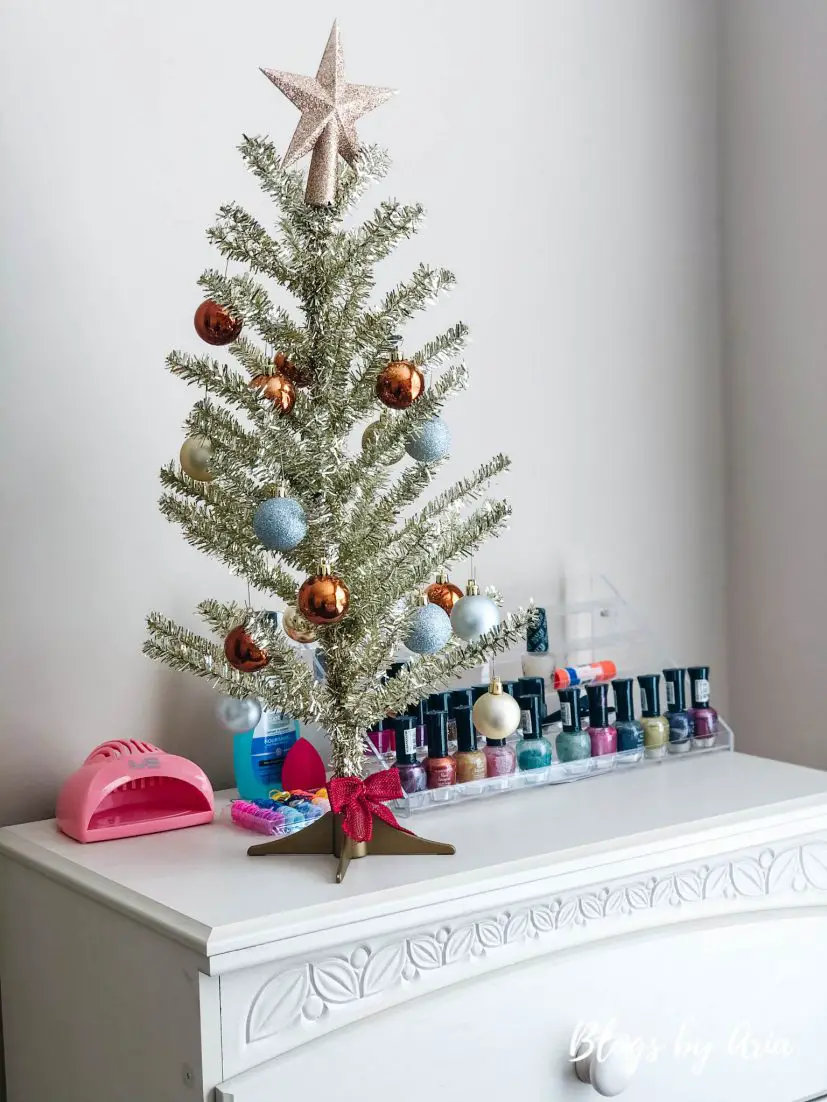 The last touch of holiday decor is this gold tinsel tree she had from last year.
SNOWMAN'S LAND BOYS BEDROOM DECOR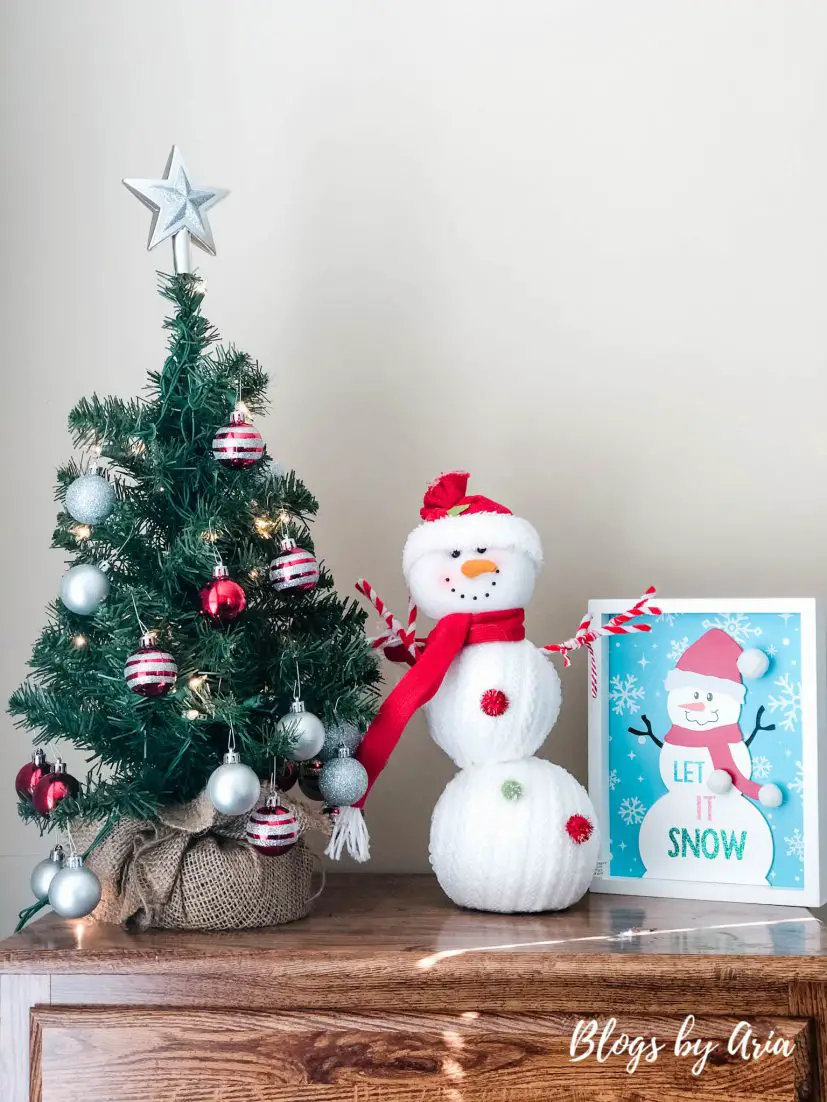 Neither of my kids keep their rooms very clean.  I set out on a mission to clean up the kids bedrooms today so that I could take these pictures.  I got Brianna's room tidied up pretty easily and was pumped to tackle Jordan's bedroom.  Really quickly I lost my motivation.  We'll have to tackle his room together this weekend but for the sake of this post I wanted to at least get a picture of his Christmas decor.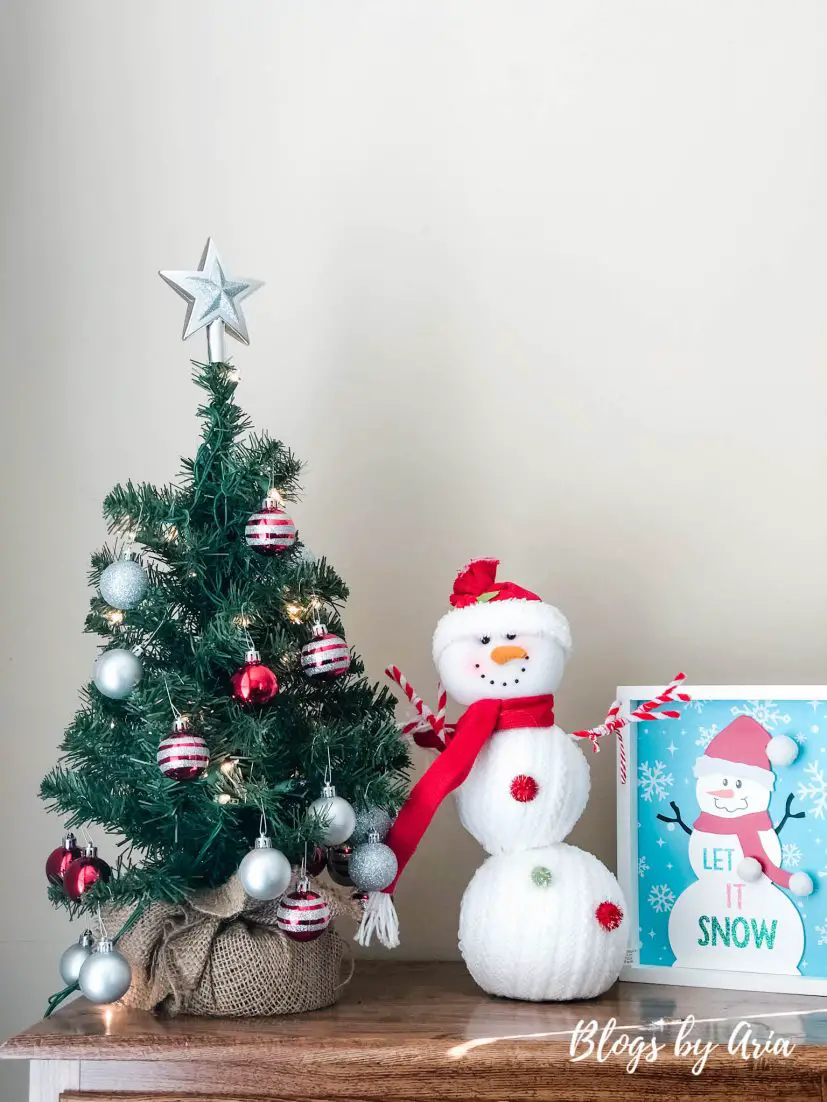 Because I know my son, I didn't want to get him too much.  I did get him a pillow with a snowman on it that isn't pictured, but other than that, this is the extent of his holiday decor.
The snowman print and the snowman are both from the same Merry and Bright collection from Big Lots.  Even if we go in a different direction next holiday season, these can work in so many spaces in our home.
Next year I hope to be able to add a bit more holiday decorations to his room.  We also plan to move next year so hopefully his room will be a little larger.
FUN & FESTIVE KIDS CHRISTMAS BATHROOM DECOR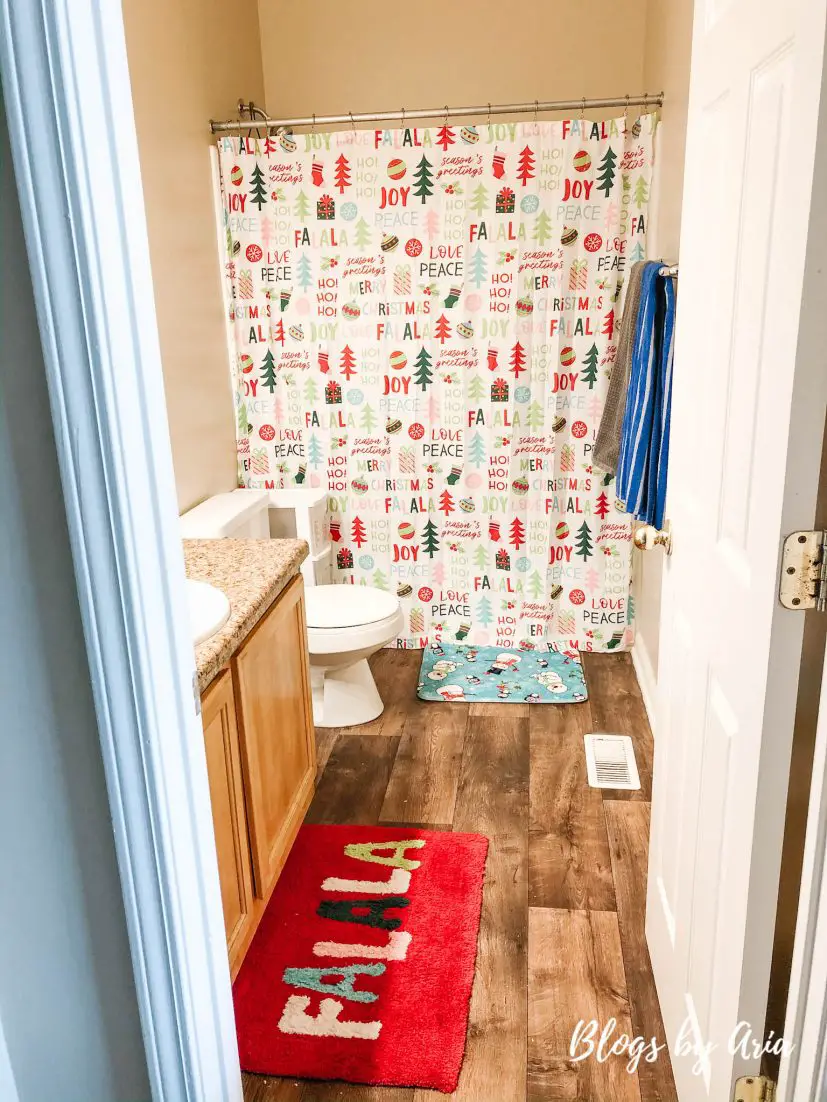 A new treat for us this year is decorating the kids bathroom for the holidays!  I love how this turned out!  It's so fun and festive and I wish I could keep this up much longer!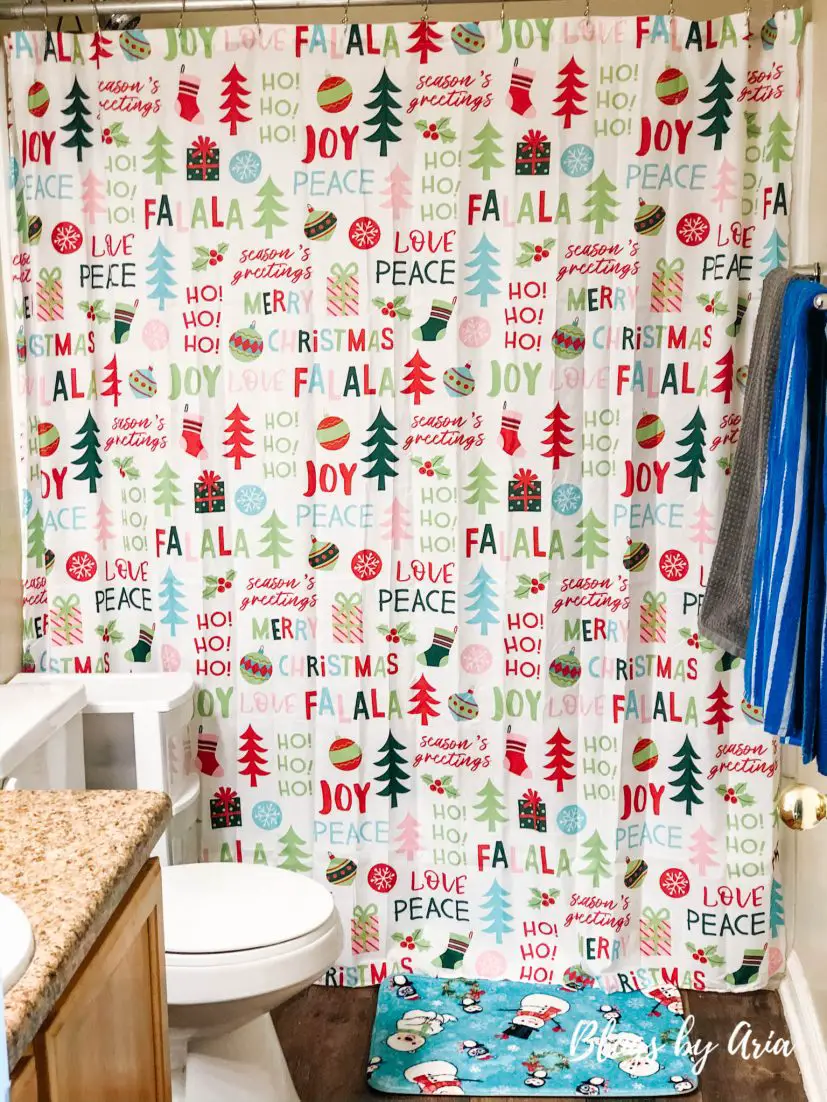 Changing out a shower curtain is an easy way to add some holiday cheer to the bathroom.  When we moved in last year I purchased the shower rings that have double hooks.  That way I can easily remove either the shower curtain or the shower liner without it being a big ordeal.
I got this from…you guessed it, Big Lots.  It comes with some cute hooks but I didn't want to fuss with them.  I also saw some cute shower curtains from Walmart for only $5.  I debated getting one for our bathroom but opted against it.
The little rug is from Walmart and I got it because it's the one that would be soaked coming out of the shower.  It's memory foam and it was cheap.  A bit on the small size but I figured it worked for the time being.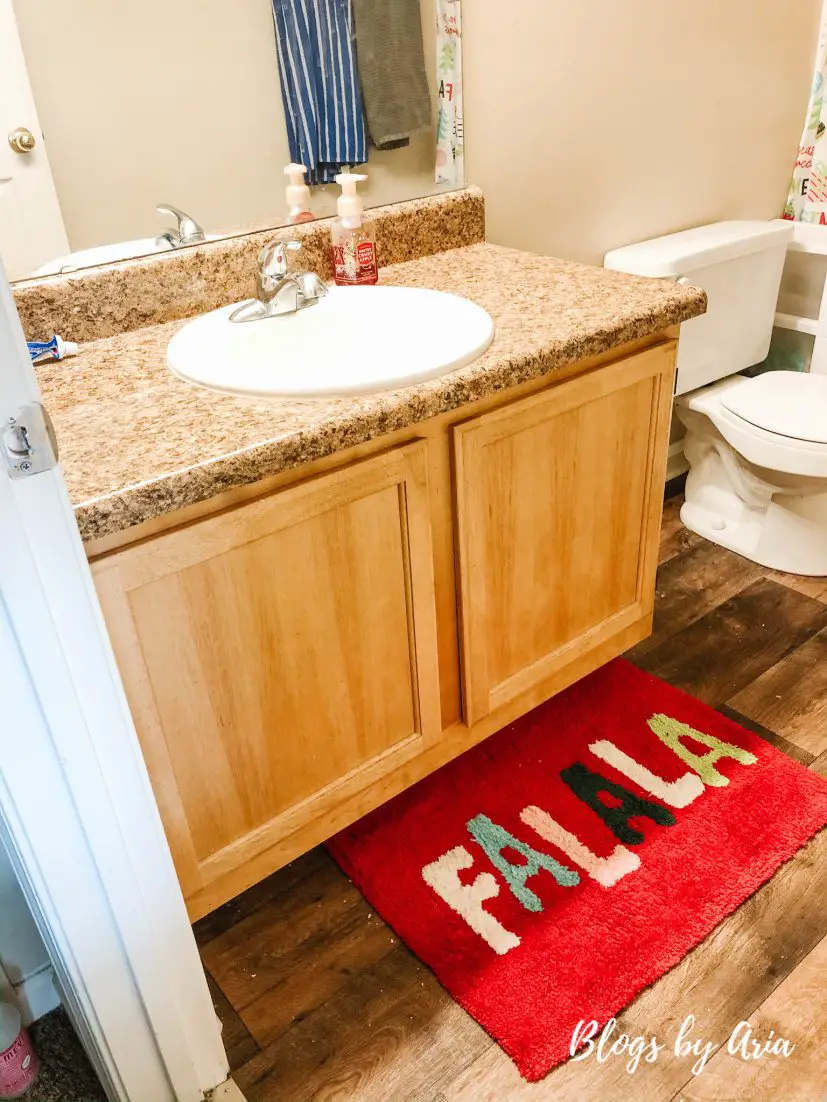 I got this cute bathroom rug from Big Lots and put it in our powder bathroom first.  Quickly I realized I'd prefer it in the kids bathroom and that I wanted to go all out in their space.  I spy my Mrs. Meyers cleaner in the corner of this shot. 😉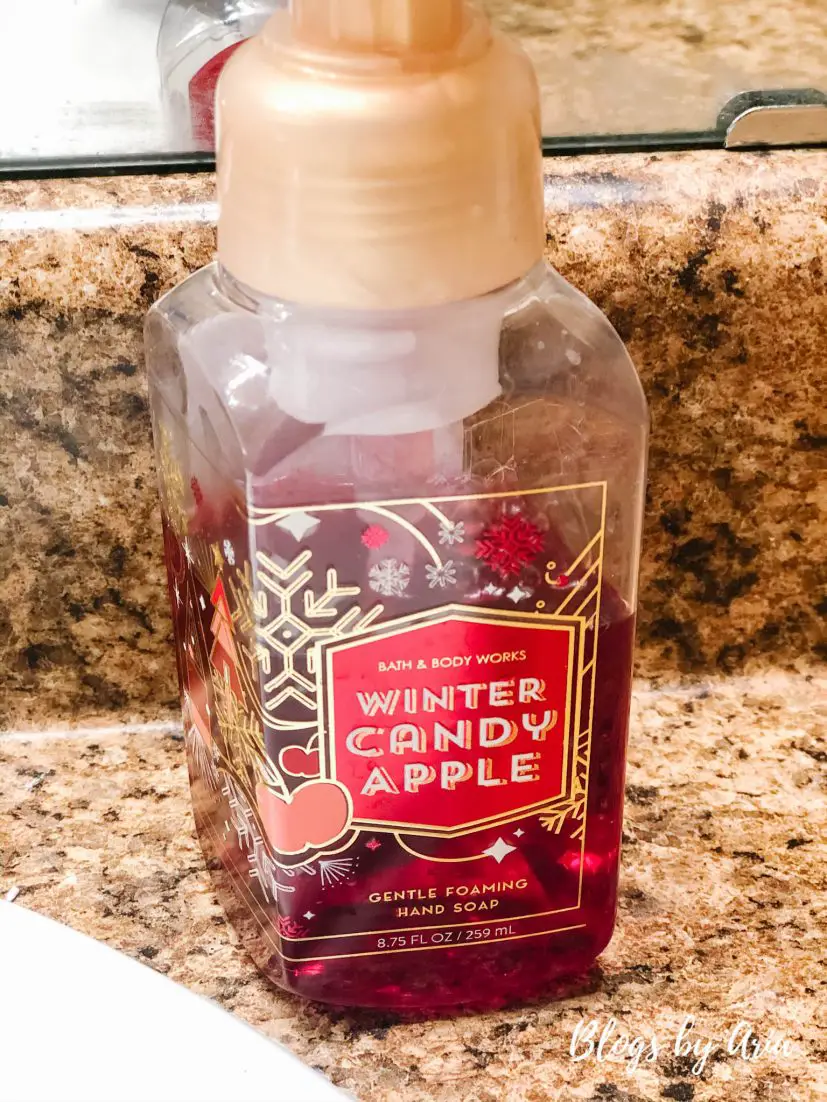 The final Christmas touch to the kids bathroom is the winter candy apply hand soap from Bath & Body Works.  Last year during a sale I purchased several of them.  Way more than a family of four can use up during the holiday season.  The good thing is that they can close.  So I packed them away in a ziploc bag and pulled them back out this season.
There you have it!  The kids bedrooms and their bathroom decorated for Christmas!  I hope you got some inspiration for your holiday decorations next year.  Do you decorate your kids bedroom for the holidays?  I'd love to know what you do!