Recently I decided to switch things up in my powder room and updated the floating shelves.  Styling shelves can be either fun and easy or annoyingly difficult.  If it's the latter for you, hopefully this quick post will give you some decorating inspiration.  I've updated my styled floating shelves for the summertime and I am quite pleased with how they turned out.
These floating shelves have become one of my favorite small spaces to decorate.  And they're one of my most popular blog posts!  Let me show you how I've styled them so far over the past year:
*this post includes affiliate links for your shopping convenience, you can read more about affiliate links by reading my Disclosure*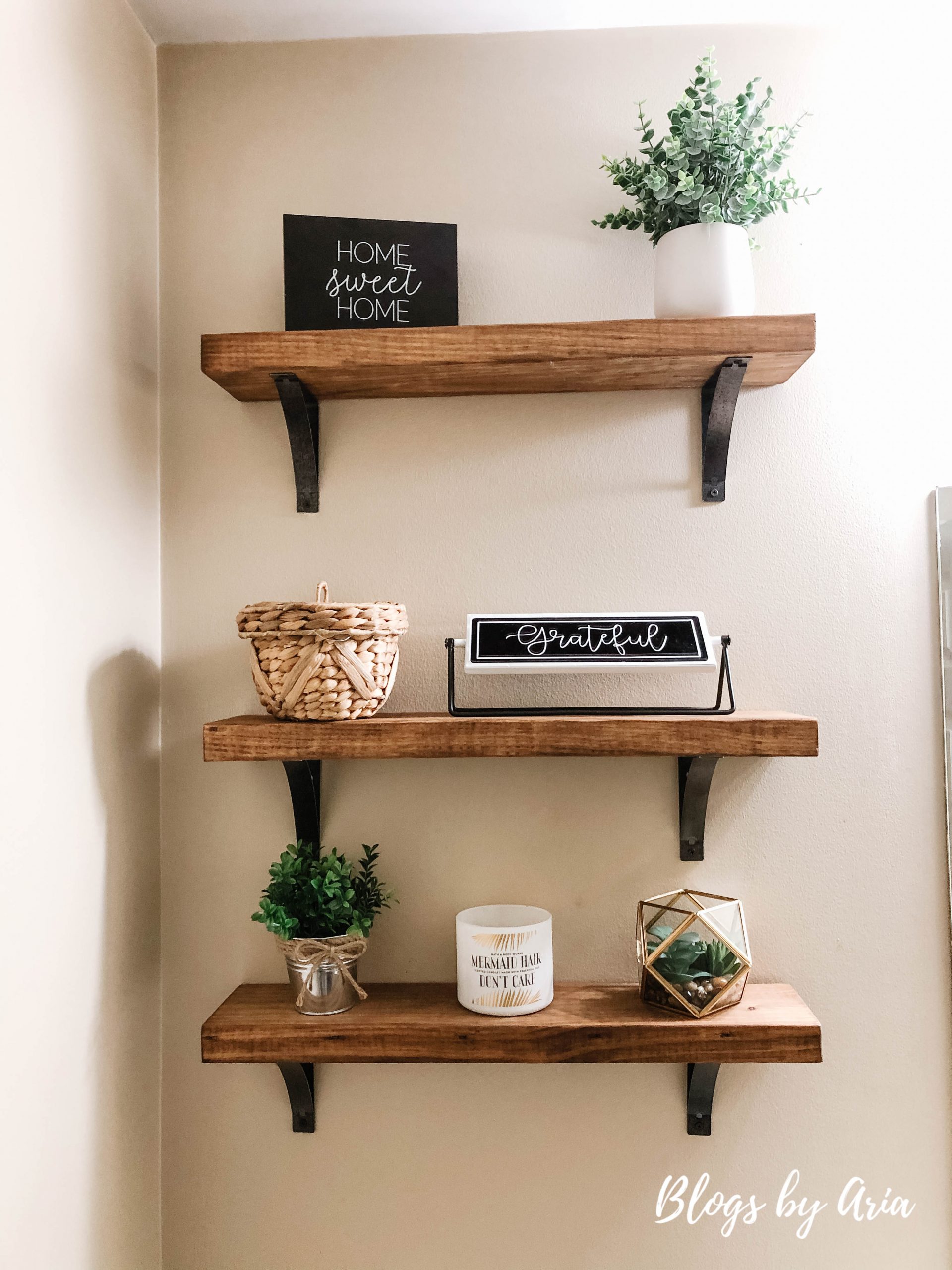 Powder Bathroom Floating Shelves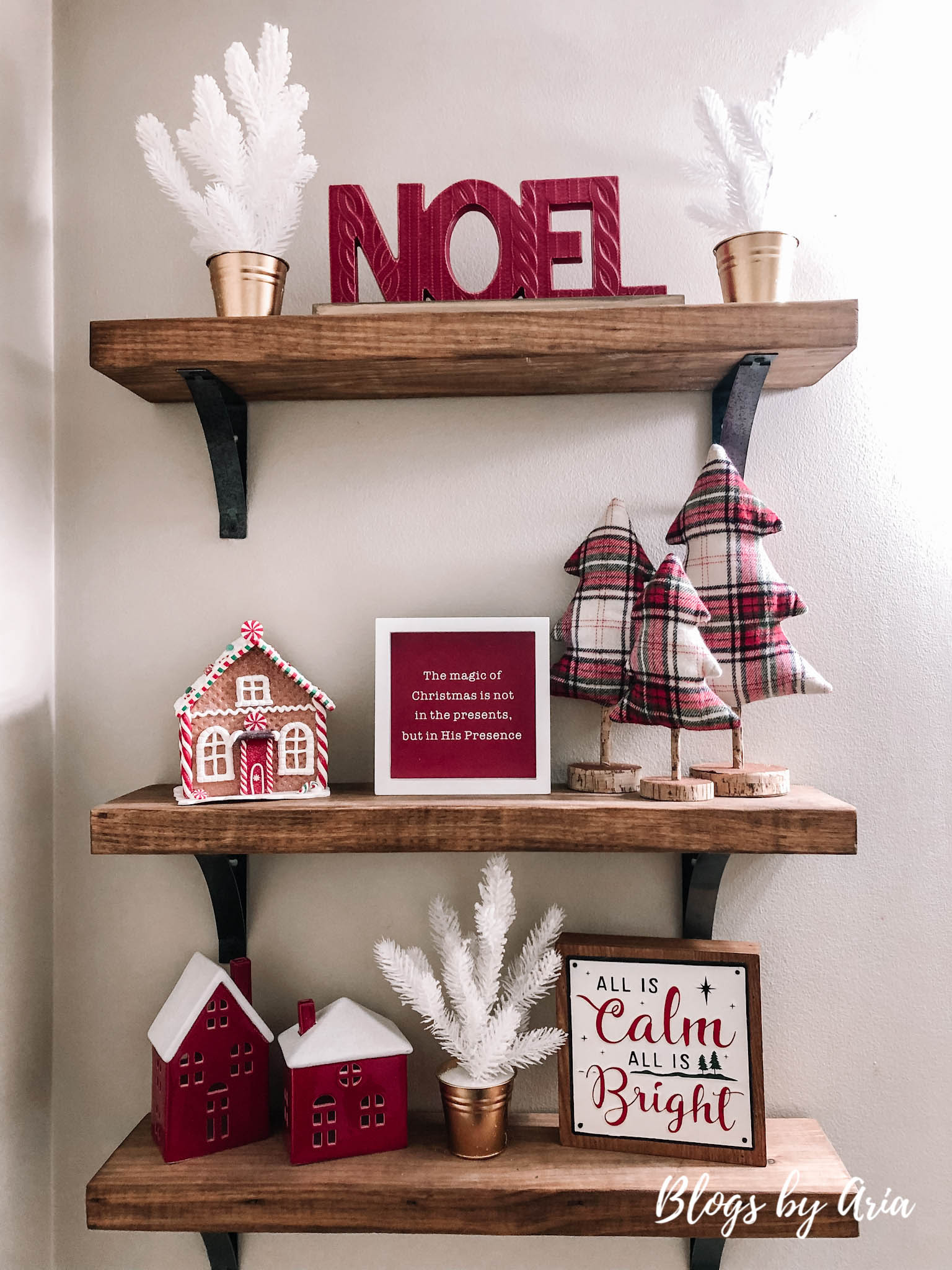 Christmas styled floating shelves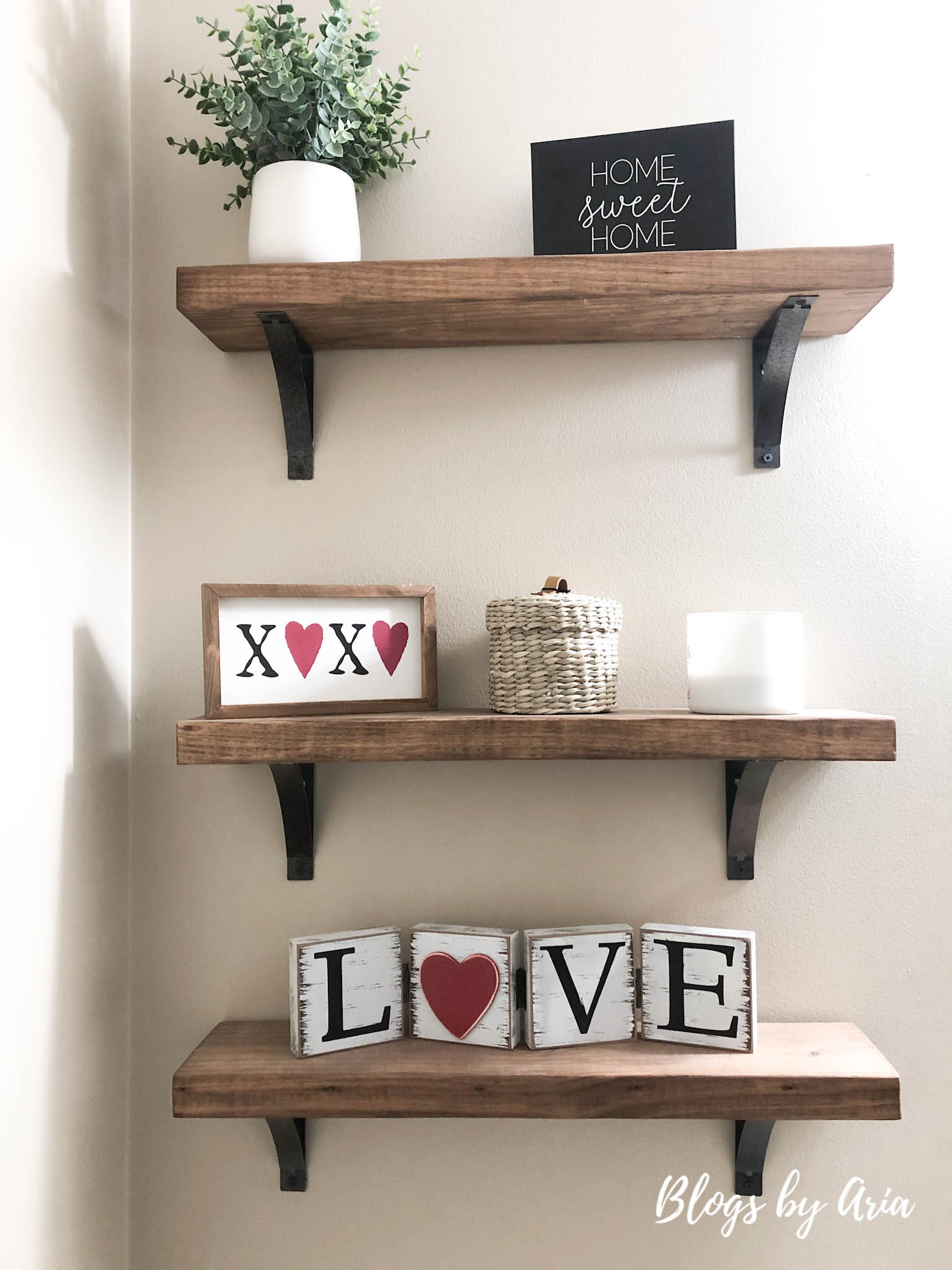 Valentine's Day styled floating shelves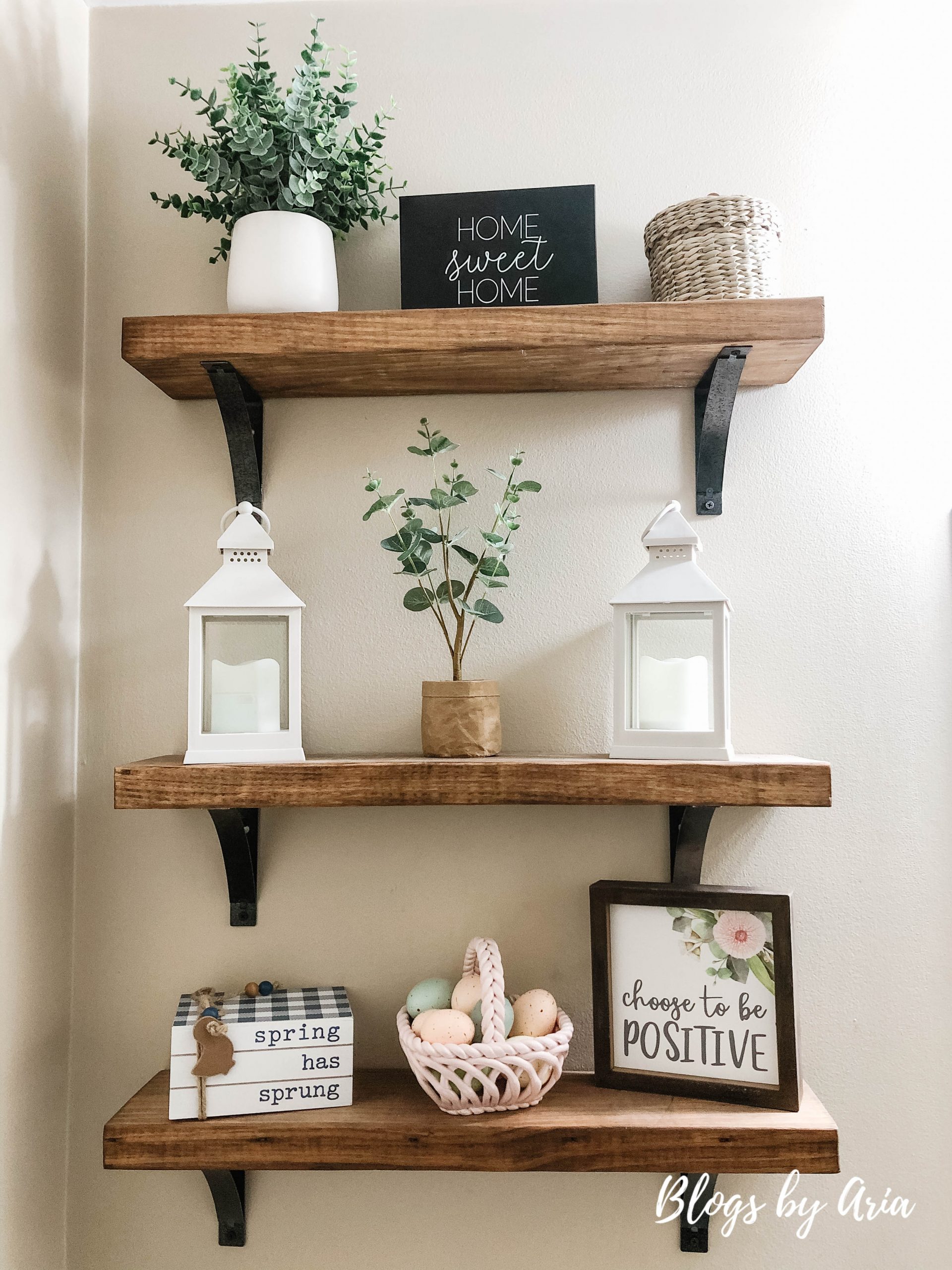 I decided I wanted to switch things up on my floating shelves during the Summer before I move on to Fall.  Don't worry…I'm not rushing things over here like I was last year!
floating shelves | canisters | similar orbs | woven canister
I kept a few pieces the same, shopped my home for others and purchased a couple of new pieces.  The canisters come in a 2 piece set and I got them from Walmart.  It comes with a lid that can be used on either canister or as a trinket dish.  Love a multi-functional piece!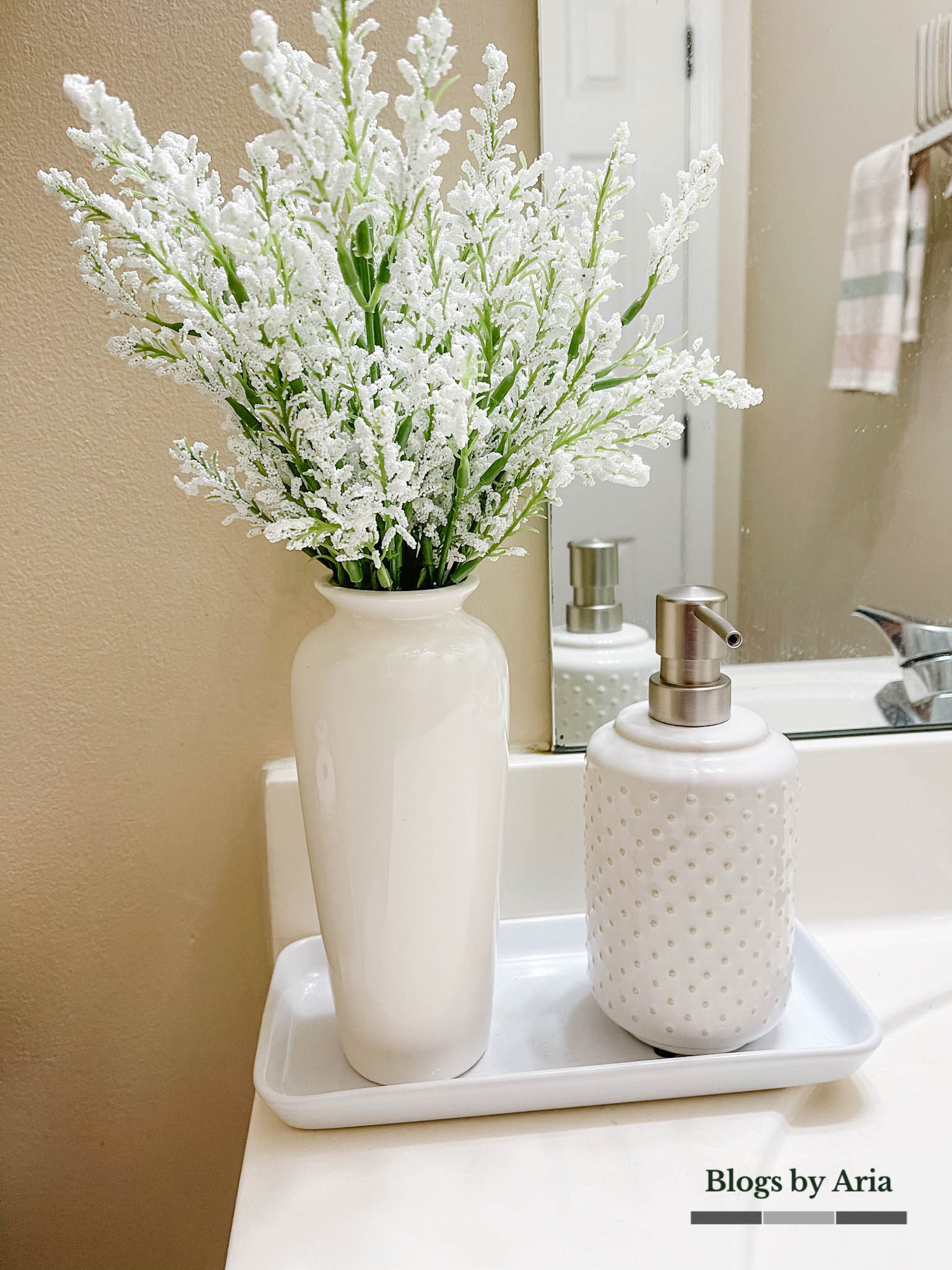 ceramic vase | white berry florals | ceramic tray | soap dispenser
I also got the matching soap dispenser.  They add texture and I like that they're neutral in color so I can use them almost year round.  My white trays (I have quite a few) come from Grove Collaborative I usually get them when I order my cleaning products.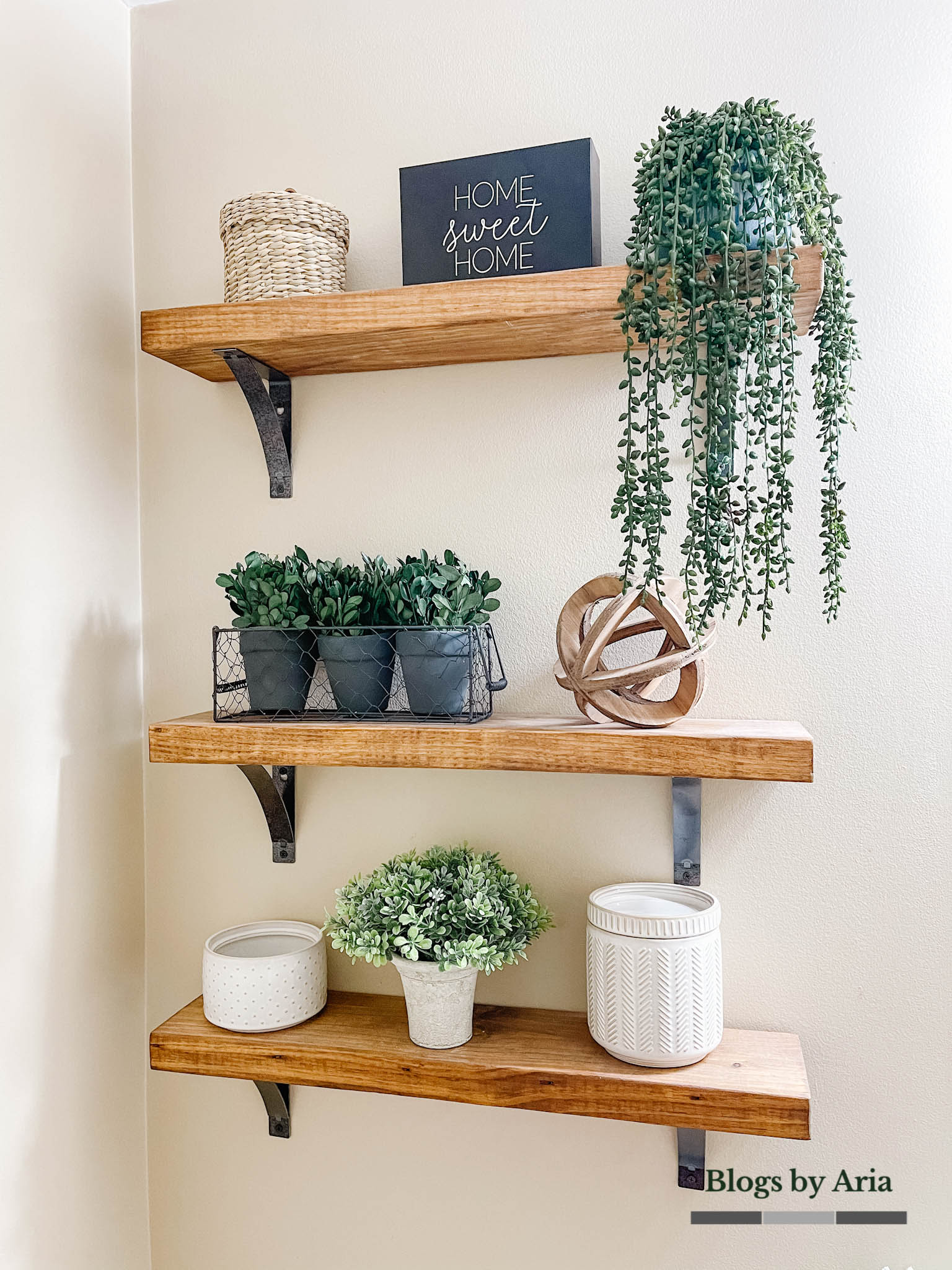 The woven canister I got from Target last year, you may still be able to find it.  The black home sweet home sign is from Hobby Lobby and hasn't really left this spot.  I picked up the hanging plant from TJ Maxx a few weeks ago just to add a little something extra to the space.
Once I added the plant I needed something else with darker leaves.  The boxwood wire arrangement is from Kirkland's and isn't available anymore.  I do have a similar option from Hobby Lobby in our master bathroom.
Normally I have the boxwood plant in my TV stand but for now it works in here.
The wooden orb I've had for awhile.  Most of mine are from Kirkland's.  Sadly they're not available anymore but I have seen some in Hobby Lobby that are similar.
This set has a few more details but you get three sizes for a great price.
I did find this simple plant in a concrete jar at Michael's.  It's hard to find online, but if you're in the store, it's in the aisle with greenery.  Where there's just greenery and not florals.  They're rarely on sale, because they're not part of the floral sales, so I had to use the coupon to get them at a lower price.
I did find this similar mini plant set from Amazon that have great reviews.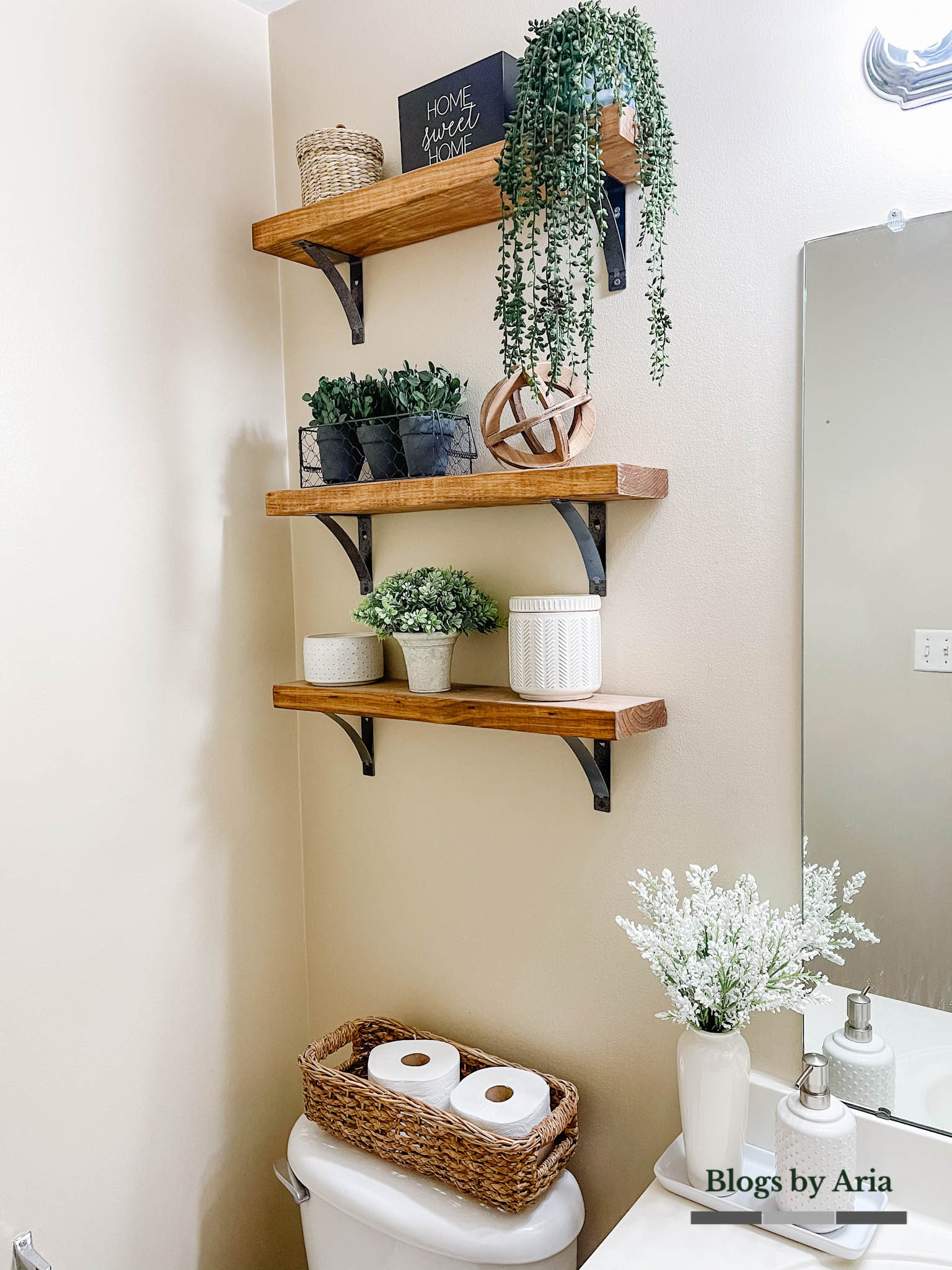 This woven basket from Target is still in stock and I have one in my master bathroom as well.  It's perfect to hold toilet paper and other essentials you may need within arms reach.  In case you're wondering, the basket is large enough to accommodate three double rolls of toilet paper.
As you can see my floating shelves in my powder room are purely decorative.  That's what works for me in this particular bathroom because it's so big and boxy and such a blank space.  It desperately needed something on the walls to give the space some dimension.
The floating shelves we have in our main bathroom are more functional.  I've tried to take pictures of that space but they never come out well.  It's in a tight water closet so without those shelves we wouldn't have room to put anything!
I like that you can style floating shelves for either decor or function or both!  This is how my shelves will stay until the Fall and I'm glad I've finally been able to get this post up in case you needed some decorating inspiration.