Happy week of Thanksgiving friends!  I hope everyone has an awesome week filled with good food, good fellowship and some great shopping deals 🙂  Whether you're going to be travelling near or far for your Thanksgiving meals, Black Friday shopping or online shopping or just enjoying hopefully having the holiday off work, I am thankful for you being here today.  Over the next few weeks I am on a mission to share some awesome gift ideas for you.  I'm starting today with an area I am a self-proclaimed expert in…the planner girl.  I'm sharing the ultimate planner girl gift guide.  You're sure to find some great ideas for your planner girl in your life, and some for you too if you're a planner girl too!  I have gift ideas in all price points, so grab a snack and let's go shopping!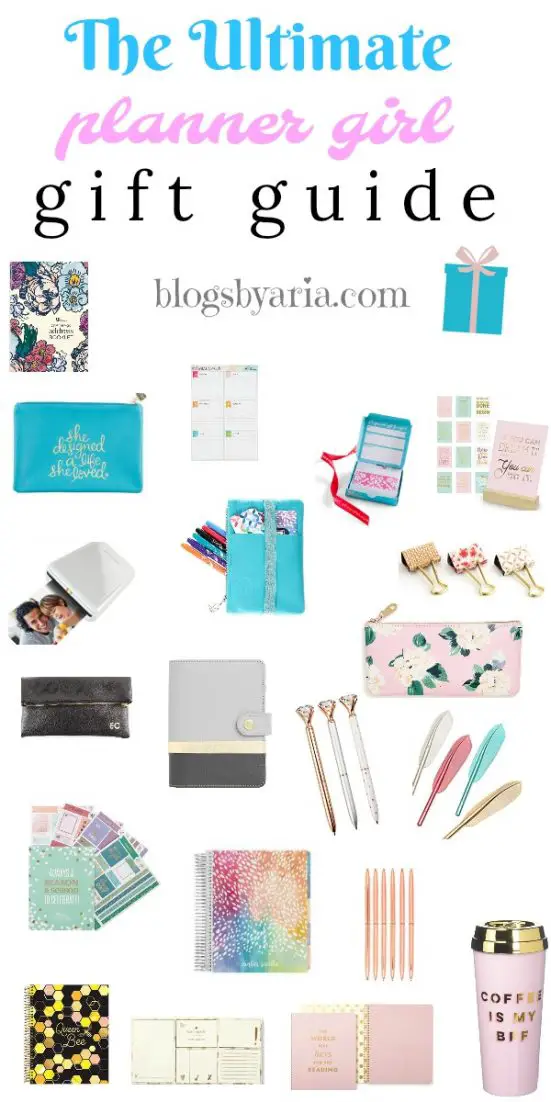 *this post may include affiliate links, you can read more about that by reading my Disclosure post*
I was going to number each item but I didn't want it to feel too cluttered.  So  we're going to go left to right and if you're not sure, click on the link to find out more on each item featured.  Also, these are in no particular order, just in the order I felt flowed better to my eye.  Ok, no more rambling, lol…
Erin Condren Address Book — I'm including this in my planner girl gift guide, but I also think this is a great gift idea for anyone.  I love a good address book.  I think it's easier to have this handy to keep all of your friends and family's addresses in one centralized place.  Personally I prefer it to having them in my phone, it's hard enough for me to keep up with my contacts when they change their phone number and next thing I know I have three entries for one person and I can't remember which number is the current one.  I'm speaking from experience here.  My tip is to write their address in pencil that way it's easy to update when someone moves.  I've linked the address booklet but there is also a coil bound address notebook.
Luxe Gold Metallic Quote Clutch — The dilemma of a planner girl is how to keep up with the extras like pens and clips and all kinds of small odds and ends.  This is a great option for a planner girl and also a school-aged girl who wants to keep her chapstick or lipgloss, a few pencils and maybe her phone in a cute clutch that she can pop into her bookbag.  There is a holiday bundle currently available featuring this clutch with a few goodies included.  Check out the holiday bundle here.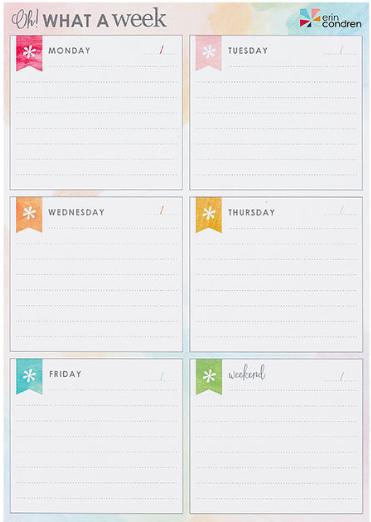 Oh! What a Week Planning Notepad — Whether you work outside the home or work from home or are a stay at home mom or you're a student… this is a great item to gift your planner girl.  It's perfect for jotting down what comes to mind when you're thinking of what needs to be done for the week.  Everyone plans differently and most planners use notepads for their brain dumps.  This is a pretty and functional option your planner girl is sure to love and appreciate.
Erin Condren Gift Cards — Maybe you've heard your planner girl talk about some items she really wants to get from Erin Condren but you're not quite sure what cover or what layout or does she want colorful or neutral…stop and breathe and just get her a gift card.  They come in lots of denominations and you can have a physical gift card sent to her or you or you can send an e-gift card.  Either way this is a win-win!
World Traveler Inspiring Art Card Stand — I thought this was a cute decorative item that your planner girl will love.  Especially if she plans at a desk.  This is also cute to take with her to the office and she can switch out the quotes every so often.  I was inspired by the monthly quotes in the Erin Condren Life Planner and I thought that if she likes them there she'll like seeing them in her work space or planning space.
Polaroid Zip Printer — The perfect gift for the planner girl!  What I love about this Polaroid Zip Printer is that it takes pictures that you snap with your phone, you put them in the free app and then print them and stick them into your planner.  Most planner girls don't discard their planners when the year is over…they use them as memory keepers.  This is perfect for keeping those memories in the weeks they occurred!  Went to Disney World? Met up with your high school friends?  New baby in the family?  New puppy?  So many different ideas and ways to include them in your planner!  Love this!
Erin Condren Planny Pack — A cute option for carrying items with your planner (like the Polaroid Zip) and slip it right over your planner.  Comes in lots of cute colors.
Floral  Nature Binder Clips — She may or may not use these in regards to her planner but they're cute!  You can get one of the storage bags/packs and pop these in there to get them started.
Large Luxe Clutch — Large enough to carry the Erin Condren Life Planner and stylish enough to carry for a night out on the town.  You can't go wrong with this!  It can even be personalized with metallic lettering.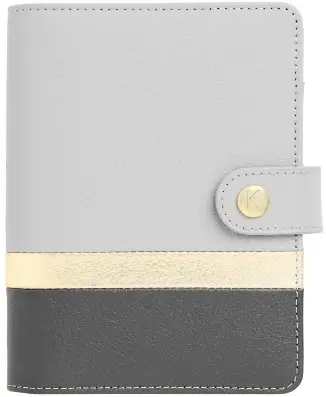 Kikki-K Leather Time Planner Small — For the personal planner, this planner comes in three different sizes.  I've linked the small size here.  Many planner girls have more than one planner and use them for different areas of their life.  This opens up a whole new world of planner options for her.  Go ahead…lead her down the rabbit hole 😉 She'll thank you!
Diamond Crystal Pens — I got one of these pens in one of my Glam Planner Mystery boxes.  It's so pretty!  Now, a planner girl is typically a bit particular about the types of pens she prefers.  That's okay.  Even if she only keeps these in her pen holder, she'll adore it!  It's  gorgeous!
Ban.do Women's Lady of Leisure Pencil Bag — A pretty pencil bag is great for the planner girl, the student and more.  You can make this even more of a gift by including some of the pretty pens I'm mentioning in this gift guide.
Kawaii Feather Gel Ink Rollerball Pens — Gel ink and it's rollerball is already a great combination.  The feather makes it too cute not to love!  Perfect stocking stuffer idea.
Erin Condren Sticker Books — Perfect for the planner girl who isn't into using full blown sticker kits but likes the added pops of color that stickers provide.  There are so many varieties of these sticker books from Erin Condren.  You can see them all here.  If your planner girl is new to the planning world she'll appreciate getting started with these Erin Condren Sticker Books.
Erin Condren Good to Go Life Planner — Want to get the planner girl a new Erin Condren Life Planner but don't quite know what specifications she wants?  Get her a good to go Life Planner, which is how I got my first Life Planner.  It comes with this year's most popular cover, colorful layout and standard coil.  It's also perfect for the planner girl who can't make up her mind!  You'll make it up for her.
Rose Gold Pen Set — Pretty set of pens in pretty rose gold.  Perfect as a stocking stuffer or combining with other gift ideas, like the planny pack or clutch.
Paper Source Queen Bee Notebook — Planner girls love notebooks in addition to planners.  This is a cute option for the planner girl who maybe doesn't love the color pink.
Kate Spade New York Notebook and Sticky Note Set — A pretty notebook and sticky note set with gold foil lettering.  A cute gift idea for the planner girl who already has everything.  You can NEVER have too many notebooks or sticky notes in my book!
Ban.Do Coffee is My BFF Thermal Mug — Whether she drinks coffee or not this is a cute mug for her to use while planning the weekly events.
It's my hope that you found some great gift ideas for the planner girl in your life.  If you're the planner girl be sure to share this post with your friends and loved ones so they'll know what to get you for the holidays.  You can thank me later 😉
Get $10 off your Erin Condren Life Planner here!
Share with me in the comments below what you would love from this gift guide for yourself!!
You can check out my gift guides here.