In my quest for organizing I come across products that will work well for me but I'm usually not willing to fork over the big bucks for them.  Currently I'm in love with this collection from The Container Store…the Brocade Collection.  The question is, will I splurge?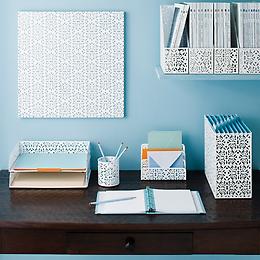 It's absolutely gorgeous!  It's absolutely not the price I'm willing to pay!  And it's not on sale right now.  I posted a few weeks back that currently The Container Store is having their Happy Organized Home Sale and I shared my picks.  Since then I've  been finding a few more things that I will need in my life… I'm placing my order this weekend (sale ends 9/6/11).
Now comes the time for me to contemplate do I get it now while I'm doing my order or do I wait for it to go on sale?  It's not like it's going anywhere…and I only want a couple of things:
First is the Brocade Magazine File.  Isn't it absolutely adorable?  I was thinking of using this as a way to keep my binder system in tact.  It wouldn't really work for holding my magazines because I do keep most of my magazines.  Glamour's I keep for example, but other magazines I usually tear out things I want out of them and then put them in my binder that currently doesn't have a name.  So if I'm buying only one of these, maybe I can  substantiate the cost at $14.99.  maybe.  The plan is to put them in this little area in my kitchen that just collects junk and would be perfect to have my recipe  binder and family binder there.
Isn't this the most beautiful file organizer you've ever seen? I think so!  It's the Brocade Desktop File
and I think it will be perfect for filing.  But I'm not 100% sure how I will put this to best  use.  This is $19.99 so I definitely would  wait for it to go on sale since I don't already know what it's  purpose would be for me.  Everything that I'm ordering I already have an exact purpose for it.  If you're  bringing in items into your  home and they don't serve a purpose, you're just bringing in clutter.
So for now I'm just trying to determine if I  will splurge on the magazine file…it really will come down to my mulling it over as I click submit in my online shopping cart!
What do you think I should do?