When we moved into our town home, almost a full year ago, I knew that I wanted to put our medicine cabinet in one of our kitchen cabinets.  Today I'm sharing my organized medicine cabinet now that I've got it figured out.  It only took a year ; )
One of the best medicine cabinet storage hacks I've found is not only how you organize your medicine cabinet but where it's located.  Here's how to organize medicine and vitamins to be accessible to everyone in your family.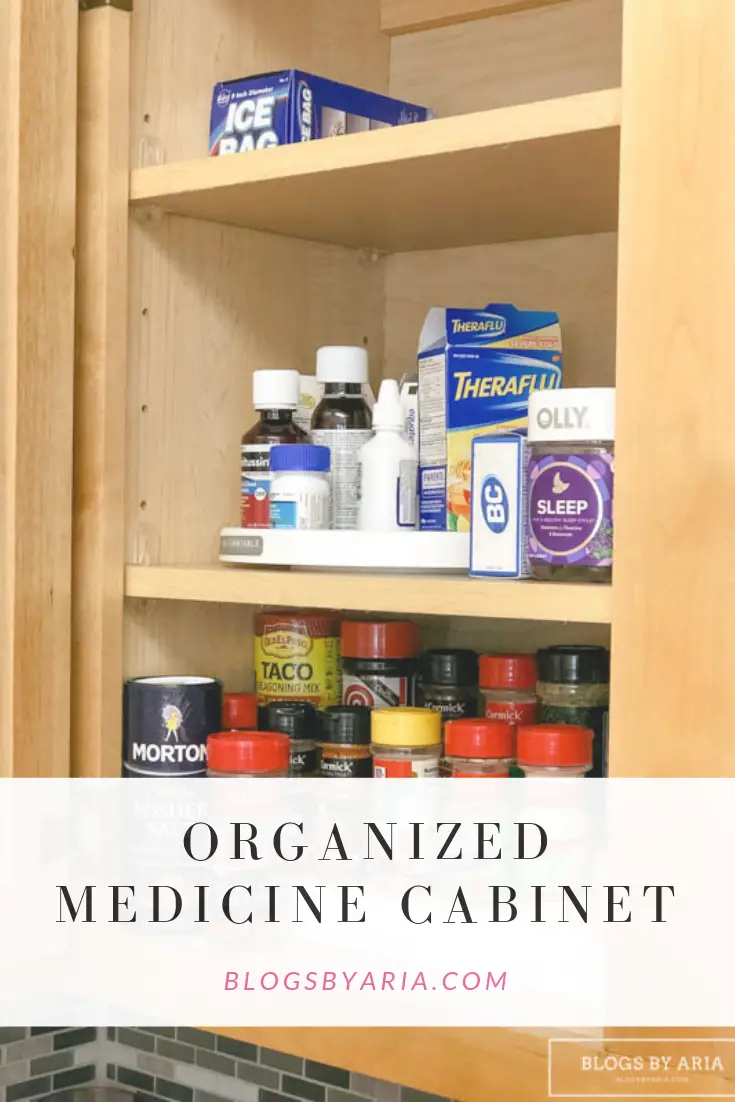 *this post includes affiliate links for your shopping convenience, you can read more about affiliate links by reading my Disclosure*
KITCHEN MEDICINE CABINET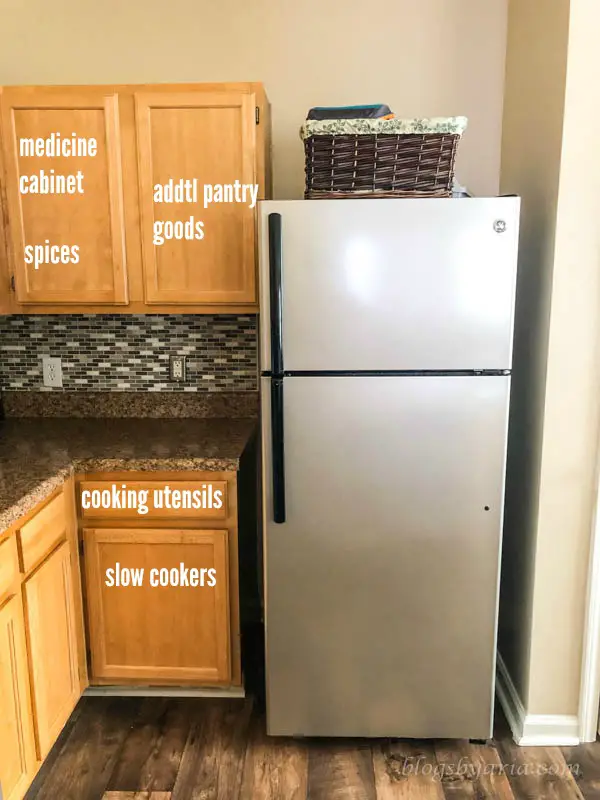 A few months ago I shared our townhouse kitchen layout.  You can see the location of our medicine cabinet.  This kitchen cabinet does double duty, or quadruple duty rather.  It has our basic medicines and vitamins, our spices and cooking needs and a few baking dishes.  That's just how it is when you're working with limited space.
I'm not complaining.  Even though it's not a lot of space, it's a lot more space than we had in our previous home so I'm very grateful.  And I'm making the most of it!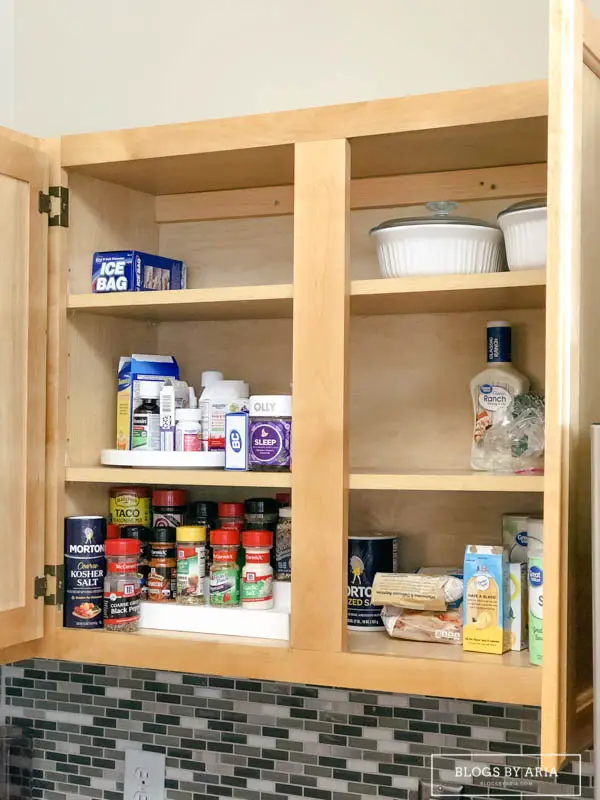 Years ago I was reading one of my favorite bloggers, Erin from The Sunny Side Up shared her medicine cabinet.  When I saw it was in her kitchen I thought that was such a genius idea!  Especially when it's medicine for the whole family, it should be in a centrally located place.
So I can't take credit for this idea, I got it from her. : )  I knew that when we did move that I would create my own medicine cabinet setup in our kitchen too.
ORGANIZED MEDICINE CABINET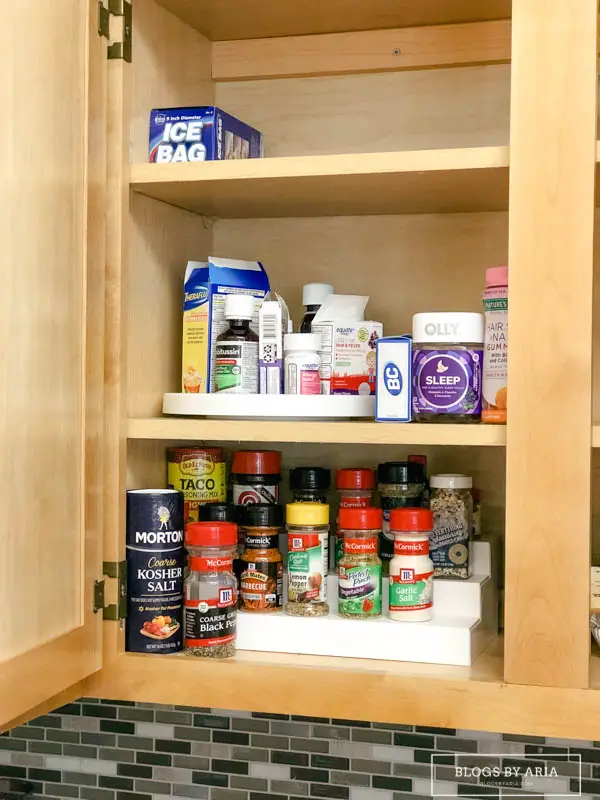 lazy susan | olly vitamins | spice shelf
I'm really happy with this space!  I keep our most often used medicine and family medicine items in this cabinet on a lazy susan I got from The Container Store.  It's perfect for finding exactly what we're looking for.  Off to the side I keep vitamins and a large box of BC Powder.  I try to leave the lazy susan for regular sized medicines.
By the way, can I just say that those Olly Sleep Vitamins are the absolute best!  They're a little pricey but after Megan from Honey We're Home recommended them, and after a particular rough week with my sleep, I decided to try them.  They work wonders, they're quick and they don't leave me feeling groggy the next morning.  My husband likes them too.
The top shelf is pretty narrow.  So right now we have an ice pack that my mom got for me after my tonsillectomy last year.  I need to figure out what else I can store up there.
lazy susan | olly vitamins | spice shelf
Moving down to the first shelf, that's where I keep all of my spices.  This part of the kitchen is where I do a lot of prep work for cooking so having the spices here and not in the pantry really works well for me.  I purchased this Expand-A-Shelf from The Container Store and I love it.  I have the standard size in this cabinet and the Large Expand-A-Shelf in my pantry that I use for canned goods.  I'll share an updated look at my pantry in the future.
I keep my most used spices in the front and smaller and/or less used items in the back.  In the back currently I have vanilla and cinnamon.  Which I rarely use.  So much that when I made french toast for Father's Day I had to go out and buy new vanilla because mine had expired!  Can you tell I don't bake from scratch? ; )
On the right side I keep a lot of my go-to cooking items.  Bread crumbs, flour, stuff like that.  And anytime I need to buy ranch dressing I come home and realize I already have some.  So there is almost always an extra ranch dressing in here.  Oh and Crystal Light.  I always have my Crystal Light.
The top shelf holds a couple of Corningware dishes.  I think I can find some other ways to fill the space next to them now that I'm seeing the picture.  I'm always trying to find better ways to be organized and make things work for our family.
I certainly have room to grow and I love knowing that I have options and I'm not forced to stick with something that may not work for me.  Organizing your home is an always evolving task.  And that's great.  Because if it works for you now but doesn't work for you in the future, all you have to do is change things around.
OTHER WAYS TO ORGANIZE YOUR MEDICINE
Whether you have more space or less space to organize your medicines and vitamins, the goal is to find the way that works best for you and your family.  Here's some other ways to create an organized medicine cabinet: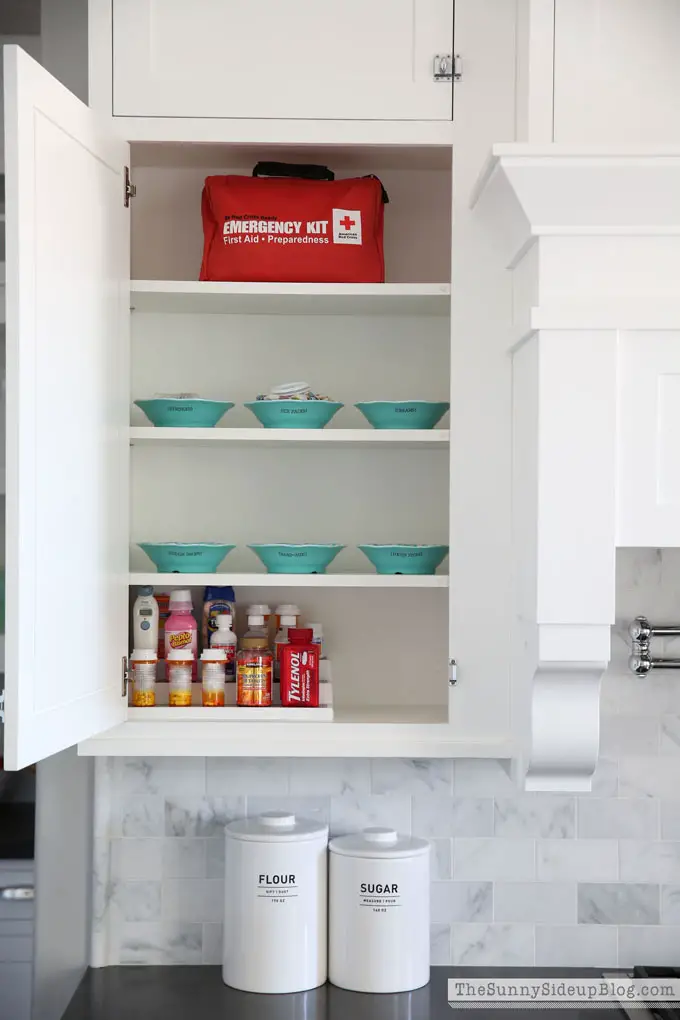 Of course I'll start with the one who inspired me to put my medicine cabinet in my kitchen cabinet.  I wish my kitchen was as beautiful as Erin's : )  I gain so much inspiration from her blog!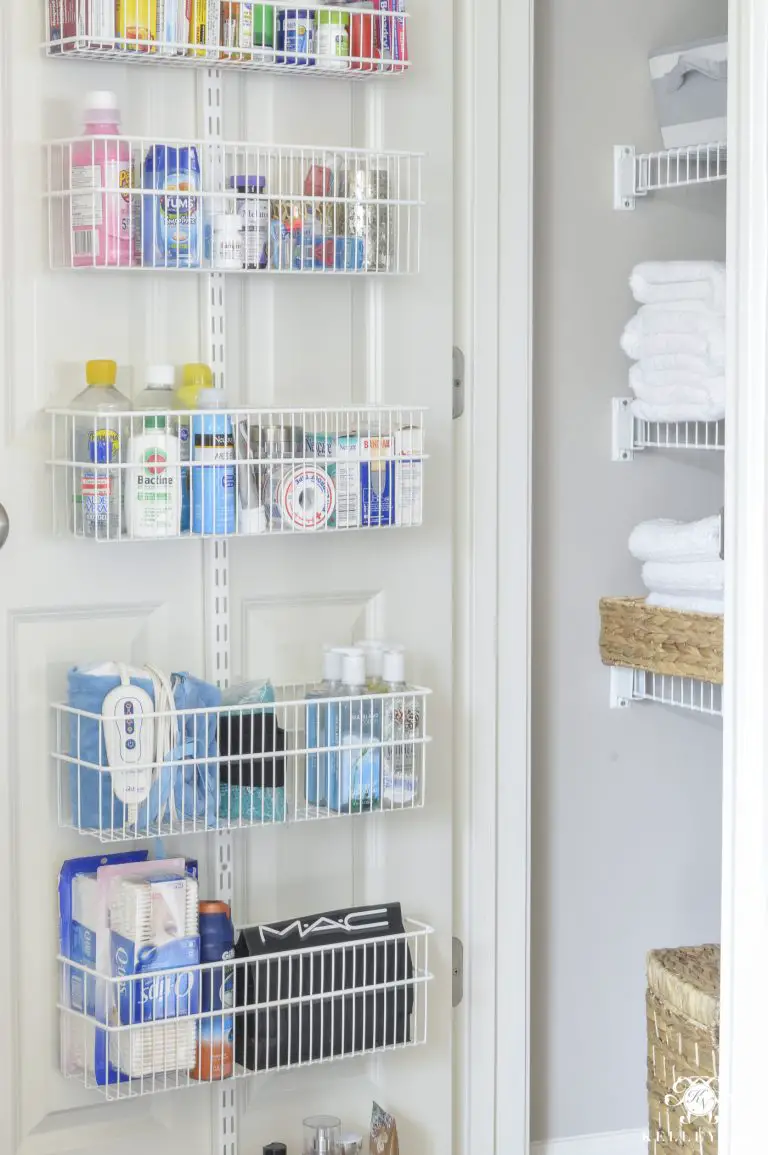 If you are fortunate to have a linen closet (we do not) that's another great option for keeping your medicine centrally located and organized.  You can see how beautiful Kelley Nan's linen closet is.  She has so many awesome organizing tips on her blog.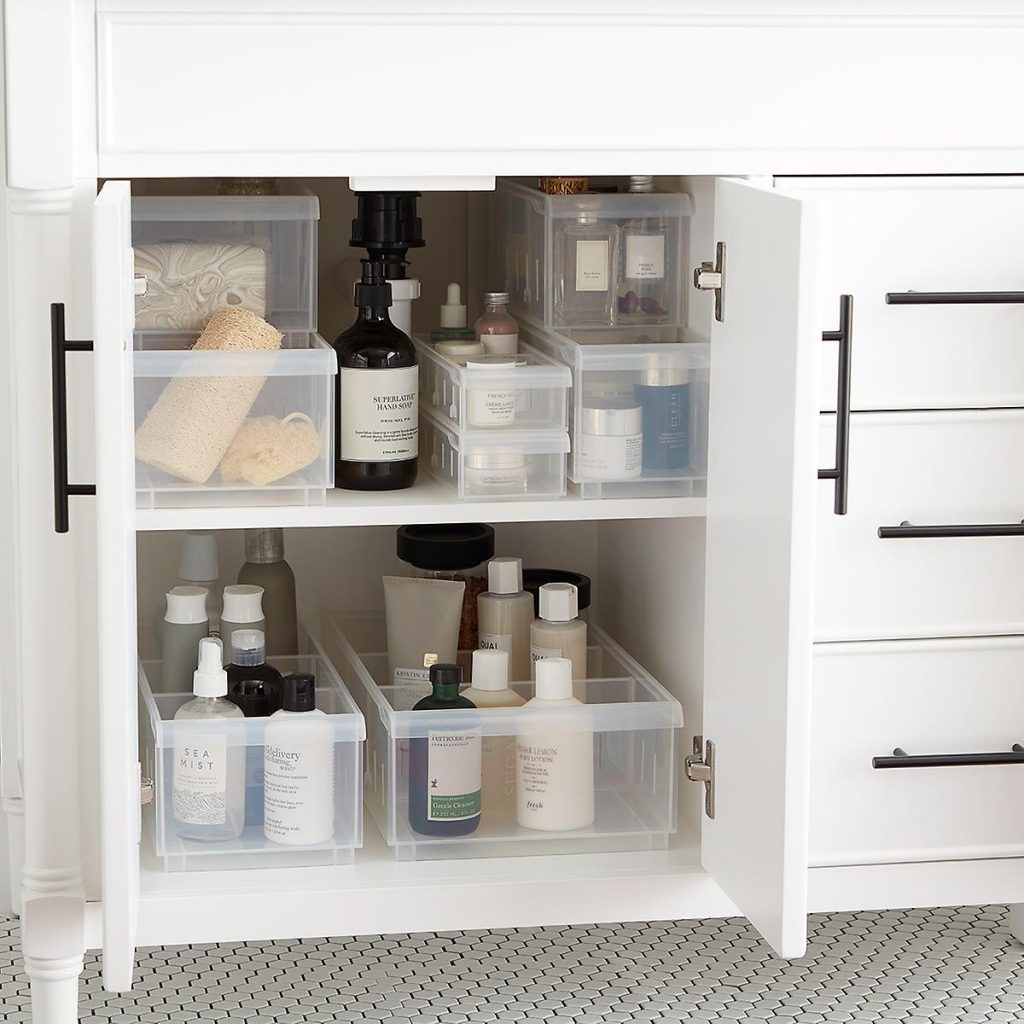 Another great option is to organize your medicines under the bathroom sink.  Let's just say that our under sink area is a project for another day.  But it's also not a good solution for our family because I want all of our medications to be centrally located.  Also in our old house we had a lot of items stored under our bathroom sink and then we had a leak.  So I think I'm traumatized by that.
I think the our organized medicine cabinet works best for my family of four.  My kids are older so I think that helps.  They still know to ask if they need medicine though.  We don't have prescription medications but when we do, they'll go in our personal medicine cabinet in our bathroom.  In case you were wondering.
How do you organize your medications?
{SHOP THIS POST}