Last week I was invited to attend the McDonald's Biscuit Bake-Off Semi-Final Event.  McDonald's biscuit makers traveled to Greenville, NC for the event, from more than 40 restaurants.  The bakers competed during bake-off rounds throughout the day with celebrity judges sampling their best biscuits.  The Biscuit Bake-Off contestants received cash prizes, awards and gifts as well as the opportunity to compete against the finalists from the Triangle and Sandhills in the McDonald's Biscuit Bake-Off Finals that will be held in Cary, NC on May 8, 2014.

I popped in real quick on my lunch break.  Unfortunately it was on the opposite side of town from my job, so I couldn't stay long.  I did however get to meet the Franchise Owner/Operator of the area McDonald's… Mr. Wade Dixon.  He was the owner/operator of the ones in Goldsboro, NC…my very first job at the age of 15.

To be honest, it took a lot for me to even go.  I'm so to myself and not really outgoing like that.  But my horoscope said to step out of my comfort zone and meet new people.  So I did.  I also met my PR contact for the blogging side of things.  Always nice to put a name to a face.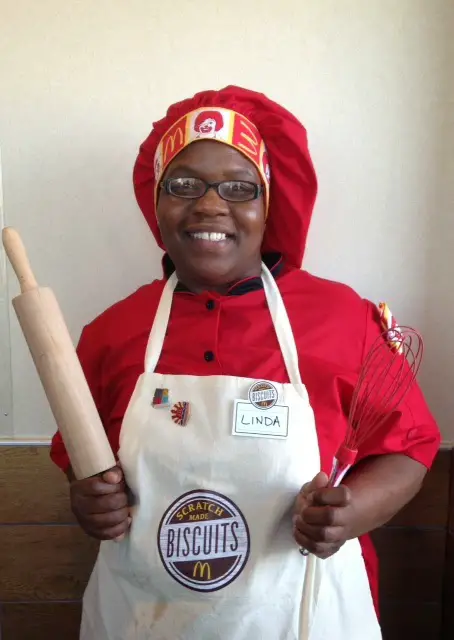 Linda Carney (winner) above
Brenna Babcock
Judges photo left to right:
 Jane Hudson (writer for Daily Reflector), Kevin Howard (GVegas Magazine), Bryan Hanks (Editor of Kinston Free Press), Meghan King(House Manager for RMH of Eastern NC) and Keith Combs (Kiss FM on-air personality).
Bakers photo left to right: 
Kristin Marshall, Betty Stalion, Blanca Diaz- Castaneda, Quamayne Johnson, Carolyn Swartz, Linda Carney (winner) and Brenna Babcock.
I must say that I appreciate a McDonald's biscuit maker.  They are up every morning before sunrise, preparing delicious scratch made biscuits for customers every day.  They are my favorite breakfast biscuit since before I worked there.  If only they would have breakfast all day long that would be totes amaze!  


I'm working on a giveaway coming in the next few weeks and by attending, I got a few things to use for just that.  Stay tuned!